In recent years the popularity of Poodle mixes (also known as Doodles) has skyrocketed; for a good reason. These dogs have lovely temperaments and beautiful non-shedding coats. Mix these Poodle characteristics with other breeds' unique and equally wonderful characteristics, and you get the perfect companion.
You may have heard of some famous doodle breeds, such as Bernedoodles, but you may not be as familiar with lesser-known combinations such as the Pyredoodle. Today, we will compare the Bernedoodle vs. Pyredoodle to help you better understand which dog is the best fit for you.
Before scrolling down, we recommend you: Bernedoodle Dog Breed Guide.
What is a Bernedoodle?
A Bernedoodle, also known as a Bernese Mountain Poo, is a designer dog consisting of a Bernese Mountain Dog and Poodle. These are a relatively new dog breed, recently gaining attention and popularity for their beauty and temperament. Bernedoodles inherit all their parent dogs' best qualities and naturally make great companions with loving dispositions. They are a great addition to any family.
What is a Pyredoodle?
A lesser-known Doodle dog breed, the Pyredoodle is a hybrid combination of the Great Pyrenees and Standard Poodle. These dogs also go by other names such as Pyrepoo, Pyreneesdoodle, and Pyreneespoo. Although not as popular as some other Poodle mixes, Pyredoodles are lovely dogs who make great companions. Because of their genetics, these dogs are huge but don't let that deter you; these gentle giants are calm and loving.
Size
When it comes to the size of any Doodle, many different factors must be considered. First, the size of the parent Poodle will affect the puppy's size. Poodles can be Toy, Miniature, Medium, or Standard in size. Therefore, the smaller the Poodle parent, the smaller the puppy.
On the other hand, the other parent dog also contributes to the size of the puppy. These different combinations can lead to a variety of sizes among Doodles. Some stand taller but weigh less, while others may be shorter but weigh more. So, it is essential to know the size of the parent dogs before committing to a puppy: your little puppy might grow into a giant.
Bernedoodle Size
Height: 12-29 inches
Weight: 10-90 lbs
As you can see, Bernedoodles come in a wide variety of sizes. There are three different sizes of Bernedoodles that you can choose from: Standard, Miniature, and Tiny. Standard Bernedoodles have a Standard Poodle parent, making them the largest Bernedoodle option. These dogs are typically 23-29 inches tall and can weigh anywhere between 70-90 lbs. Miniature Bernedoodles are slightly smaller than Standard, usually standing between 18-22 inches tall and weighing between 24-49 lbs. The smallest Bernedoodle option is the Tiny size. Tiny Bernedoodles are 12-17 inches tall and 10-24 lbs in weight.
Pyredoodle Size
Height: 15-32 inches
Weight: 85-100 lbs
Pyredoodles tend to be larger than most Bernedoodles. Because of the large size of the Great Pyrenees, Standard Poodles are almost exclusively used when breeding Pyredoodles. Therefore, these puppies will grow into large dogs. A full-grown Pyredoodle typically weighs 85-100 lbs and stands 15-32 inches high.
However, it is crucial to keep in mind that Pyredoodles are still a relatively new designer dog breed. Therefore, there are no official standards to rely on yet. This means your Pyredoodle may be slightly smaller or a little bit larger than the size given above. However, the reason and likelihood are still unknown.
Appearance
When comparing Bernedoodles and Pyredoodles, it is vital to note the differences (and similarities) in their appearances. It is also important to remember that you can never guarantee the appearance of a puppy before it is born. So, keep an open mind when looking to adopt a puppy. They will provide you with so much love regardless of what they look like.
Bernedoodle Appearance
When it comes to the color of a Bernedoodle, you have many options. The most sought-after color of Bernedoodle closely resembles a Bernese Mountain Dog. These have a combination of white, black, and brown throughout their coat. However, Bernedoodles come in solid colors as well, such as black. However, this solid pattern is relatively uncommon: most Bernedoodles combine two colors, such as black and white or black and brown.
The texture of a Bernedoodle's hair can vary based on whether it takes after the Poodle parent or Bernese Mountain Dog parent more. If your Bernedoodle takes after its Poodle parent, it will have wavy/curly hair. This curly hair will shed minimally and is typically considered hypoallergenic like the Poodle that this dog takes after.
On the other hand, if your Bernedoodle favors its Bernese Mountain Dog parent, its hair will be straighter. However, with this straight hair comes a higher likelihood of shedding.
Pyredoodle Appearance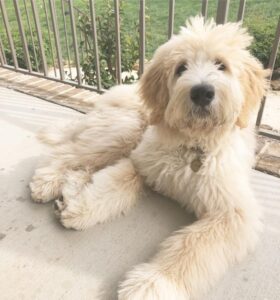 Pyredoodles come in a variety of colors. The most common colors among these dogs are white, cream, apricot, gray, and black. They can sometimes be a combination of colors, but this is not as common. These colors come from the combination of parent dogs. Poodles come in all colors, while Great Pyrenees typically come in lighter colors. However, Pyredoodle puppies can be a dark color if the Poodle is black.
Similarities can be drawn to Bernedoodles when it comes to the texture of your Pyredoodles' coat. Depending on which parent dog your Pyredoodle takes after more, it might have curly hair or straight hair. The Great Pyrenees shed a lot but combining this with a Poodles' tendency not to shed at all; you get a low to non-shedding Pyredoodle. These dogs may also inherit a double coat from their Pyrenees parent. A double coat helps keep your dog warm in the winter but needs special grooming to remain healthy.
Grooming
Now that you know what Bernedoodles and Pyredoodles look like, you may be wondering how much maintenance is required to keep these dogs looking their best. Well, the most important factor in proper grooming is knowing what coat type your dog has. If you cannot distinguish this yourself, you can also take your dog to a professional groomer or veterinarian who will be able to tell you. Once you know your dog's coat type, it is easy to maintain a regular grooming routine.
Bernedoodle Grooming
If your Bernedoodle has a curly coat, it will need to be brushed more regularly than a straight coat Bernedoodle. This is because curly hair sheds less. Therefore, it gets knotted easier. A regular brushing routine, done every 2-3 days, will avoid any problems your dog may have with knots.
A straight-coat Bernedoodle requires slightly less maintenance because it naturally sheds more. These dogs still need to be brushed, but once a week will suffice. Remember, although this may sound easier than a curly coat, straight-coat Bernedoodles are not as hypoallergenic.
When it comes to washing, you should bathe both types of Bernedoodle coats approximately every 4-6 weeks. You should also get your Bernedoodle's hair trimmed every few months. This can be done slightly sooner or slightly later, depending on the growth rate.
Pyredoodle Grooming
Similar to Bernedoodles, your Pyredoodle's grooming is directly related to the type of coat it has. If your Pyredeoodle has thick, curly hair, it likely has a double coat that requires frequent brushing. If this is the case, your dog will require daily brushing to avoid matting. However, if your Pyredoodle has a single coat straighter in texture, it will only need brushing once every week.
If your Pyredoodle spends a lot of time outdoors, you may have to wash it more often. However, bathing your Pyredoodle should be done sparingly as this can dry out their skin.
Temperament
Both Bernedoodles and Pyredoodles are bred for their beautiful temperaments. So, if you are trying to choose a dog based on its personality, either of these dogs is a great choice. However, please keep in mind that although there is a common temperament among a breed, all dogs still have their own personalities, making them unique. The best way to choose the right fit for you is to meet puppies individually or contact a breeder with experience with each potential puppy. They will be able to guide you when choosing your perfect match.
Bernedoodle Temperament
Bernedoodles possess the best qualities of both parent breeds. These dogs have the high intelligence of Poodles with the charming and happy personality of Bernese Mountain Dogs. These dogs are highly social in nature, making them great for families with children and other pets. However, this sociability is also trainable and will need to be reinforced from an early age. This training ensures your Bernedoodle grows up to be comfortable around others. Overall, these dogs are seen as intelligent, goofy, and loyal.
Pyredoodle Temperament
Pyredoodles may be huge, but they are truly gentle giants. These dogs are loyal to their family, making them seem intimidating to strangers, but they are actually very timid. Therefore, your Pyredoodle will alert you to a stranger but is not likely to approach or be aggressive. These dogs are calm, even-tempered, and gentle, making them a great addition to families with children or other animals. However, these dogs are also known for being stubborn, so training your Pyredoodle can be challenging. But, don't let them fool you. They inherit the Poodle's intelligence, so once they trust you, they are easy to train.
Health
Like all hybrid dogs, Bernedoodles and Pyredoodles are exposed to health issues from both parent breeds. However, generally speaking, both designer dog breeds are known for living long and healthy lives.
Gathered below are some of the most common illnesses that these breeds suffer from. That being said, not all dogs will experience these problems; some may never get sick at all, while others may suffer from multiple issues at once. Breeding plays a large role in ensuring your dog remains healthy. So, if you get your dog from a reputable breeder, it is less likely to suffer from these illnesses as their parent dogs have been health-tested.
Bernedoodle Health
These dogs are exposed to illnesses that can be found among Poodles or Bernese Mountain Dogs. Some of these illnesses come from both parents, while some come from one or the other. Keep in mind that the size of your Bernedoodle plays a role in what conditions it is more likely to be susceptible to. For example, hip dysplasia is more commonly found among big dogs, so your Mini Bernedoodle is already less vulnerable to it (this does not mean it can't have this condition, just less likely).
Most common health problems found among Bernedoodles:
Malignant Histiocytosis
Elbow Dysplasia
Hip Dysplasia
Luxating Patellas
Von Willebrand's Disease
Bloat
Eye Problems
Skin Problem
Pyredoodle Health
Pyredoodles are exposed to illnesses commonly found in Poodles and Great Pyrenees. Once again, these dogs are large in size, making them more susceptible to certain conditions such as luxating patellas. Remember, this is a relatively new designer breed, so much is still being discovered about the health of Pyredoodles.
Most common health problems found among Pyredoodles:
Addison's Disease
Cushing's Disease
Bloat
Luxating Patellas
Cancer
Epilepsy
Hypothyroidism
Conclusion For Bernedoodle vs Pyredoodle
Now that you know everything there is to know about Bernedoodles and Pyredoodles, it is easy to decide which of these beautiful dogs would fit best into your life. Both of them have great temperaments and beautiful coats. However, the size difference can be significant between these dogs. Regardless, both Bernedoodles and Pyredoodles make lovely additions to any family!
You will also like:
Want to learn more about the Pyredoodle? Check out the video below:
Garrett loves animals and is a huge advocate for all Doodle dog breeds. He owns his own Goldendoodle named Kona. In addition, he volunteers at the Humane Society of Silicon Valley, where he fosters dogs and helps animals. Garrett enjoys writing about Doodles and believes that dogs can teach humans more about how to live than humans can teach a dog.
Why Trust We Love Doodles?
At We Love Doodles, we're a team of writers, veterinarians, and puppy trainers that love dogs. Our team of qualified experts researches and provides reliable information on a wide range of dog topics. Our reviews are based on customer feedback, hands-on testing, and in-depth analysis. We are fully transparent and honest to our community of dog owners and future owners.