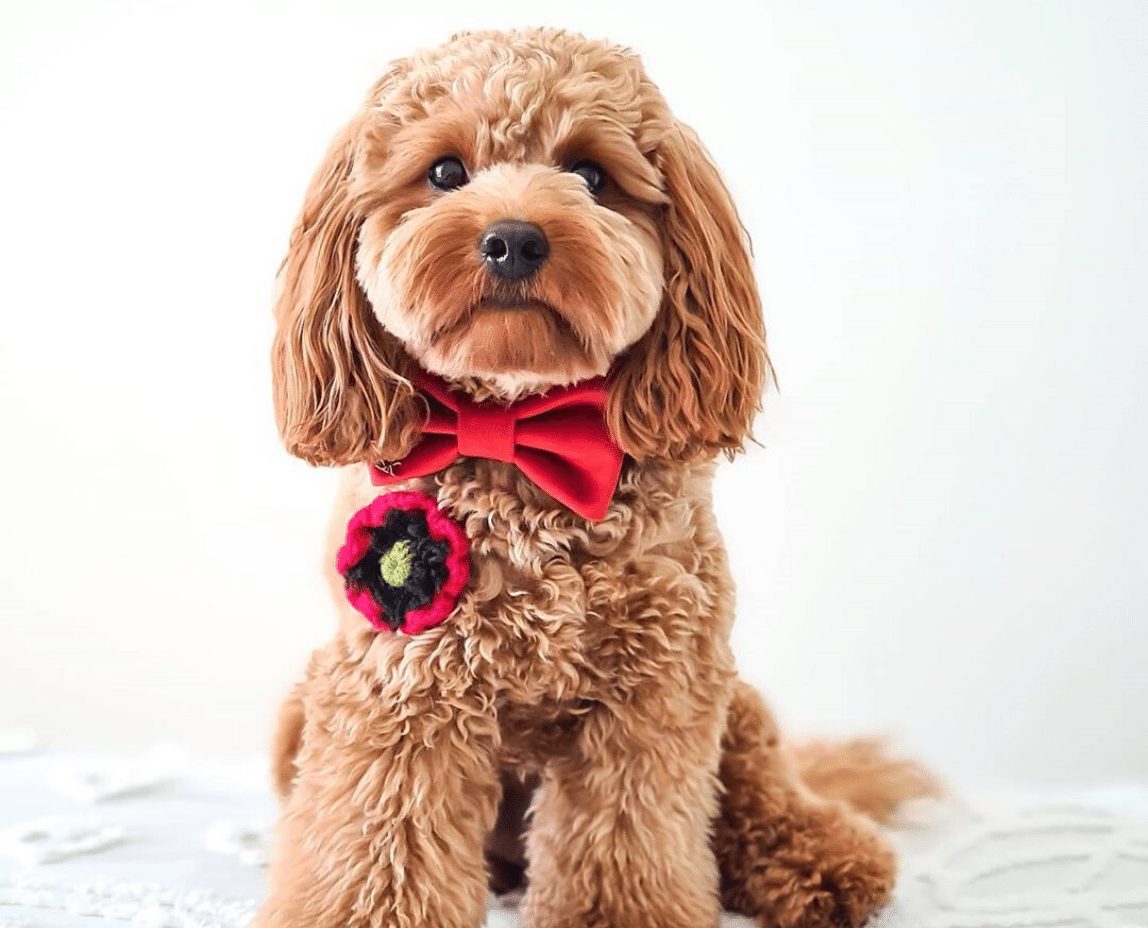 A Spoodle is a designer dog breed that mixes the Cocker Spaniel and the Poodle. They are also commonly known as the Cockapoo, Cockerpoo, Cockerdoodle, or Cocker Spaniel Poodle mix. However, in Australia, they are typically called the Spoodle. The Spoodle is one of the world's top 5 Doodle dog breeds because they are constantly happy, friendly, and great family members. In addition, the Spoodle has fantastic genetic traits that make it nonshedding and hypoallergenic — this means that you'll be vacuuming significantly less and sneezing a lot less. Lastly, one of the most common reasons people buy a Spoodle is because they look like a little teddy bear.
Since the Spoodle is a crossbred dog, it will come in several different sizes and colors. Their personalities tend to be highly sociable and energetic but also very cuddly. Because the Spoodle is a very friendly dog, they are incredibly easy to train, great with kids, and fun to be around. We hope our article helps you learn something about one of the most popular doodle dog breeds!
What is a Spoodle dog?
The Spoodle is a crossbred dog that mixes two extremely popular dog breeds: the Cocker Spaniel (either American Cocker Spaniel or English Cocker Spaniel) and the Poodle. The Cocker Spaniel and Poodle are pretty different dogs in terms of personality and temperament, but they combine to make one of the cutest dog breeds in the world. They are commonly known as the Cockapoo.
Spoodles are one of the smallest doodle breeds in the world, making them highly desirable for many people who live in smaller spaces. Since they are also typically smaller, they have much less energy than some doodle dogs like the Goldendoodle and Labradoodle, who will run around all day. In addition, Spoodle dogs also come in several different desirable colors that people can choose from.
Spoodle History
The exact origin of the Spoodle is unknown, but they have started to become extremely popular over the last 15 years. The idea of the "doodle" dog originated in the 1980s when Wally Conron tried to create a Labradoodle for a visually impaired pet owner who suffered from allergies. The idea was to create a guide dog using the Labrador Retriever genes and combine them with a hypoallergenic Poodle! Well, the idea worked, and today doodles are a very common dog breed. This Cocker Spaniel and Poodle mix is simply one of the doodle dog breeds! Let's take a brief look at the history of the Cocker Spaniel and Poodle.
Cocker Spaniel History
The Cocker Spaniel has a deep history dating back to the 16th century when they were frequently used for hunting birds like waterfowl. Despite their small size, these dogs were outstanding bird hunters and would cause birds to "spring" out of their hiding places. In 1935, the AKC officially recognized the English Cocker Spaniel as an official dog breed. This small dog breed has evolved from being adept hunters to a gentle, smart, and happy dog breed. They generally stand 15 inches at the shoulders and weigh between 20 and 25 pounds.
Poodle History
Poodles likely never existed in the wild but instead were domesticated from various dog breeds, including the wolf. The earliest known beginnings of the Poodle were from a 15th-century drawing from a German artist who tried painting the world's future. Since then, the Poodle has evolved from being a hunting, farming, and "guard" dog. The Poodle is also a great swimming dog breed and would retrieve objects and animals from the water after being hunted. Since the early roots of the Poodle, they have become the 7th most popular dog breed in the world because they are hypoallergenic and nonshedding dogs. There are more than 10 official colors of the Poodle and several different sizes.
The Spoodle Dog Breed
This Cocker Spaniel Poodle mix is an extremely popular doodle dog breed. Like most doodle dogs, they aren't officially recognized by the AKC because they are a crossbreed. However, the AKC does allow you to register your Spoodle under their AKC Canine Partners program, but your Spoodle will be described as "All American Dogs" for competition and titling purposes. There are also several independent associations like the American Cockapoo Club, but there are no official establishments for the Spoodle. Since the Cockapoo has become so well-known, several different sizes and colors exist. The three most popular sizes are below:
Toy Spoodle
The Toy Spoodle is the smallest size of this dog breed. The toy size for a Spoodle generally is around 10 inches tall and weighs less than 12 pounds. The Toy Spoodle is generally bred between a Toy Poodle and a smaller female Cocker Spaniel to get the "toy" size. The Toy Spoodle is great for people who live in smaller living spaces or aren't looking to get a bigger-sized dog.
Mini Spoodle Size
The Mini Spoodle size is the middle size of the breed. Generally speaking, a Mini Spoodle will range in weight from 12 to 22 pounds and stand around 13 inches tall. Since the Spoodle is one of the smallest doodle breeds, their miniature size is much smaller than a mini Goldendoodle or mini Huskydoodle. There is no official or standardized size and weight, but instead is more of a rule of thumb. The Mini Spoodle works great for people who want a dog that isn't super small but also isn't large enough to be intimidating.
Standard Spoodle Size
The Standard Spoodle size is the largest of this dog breed. The Standard Spoodle is any Spoodle dog over 22 pounds and typically stands around 15 to 16 inches. Spoodles typically won't exceed 30 pounds, so it's rare for this dog to get extremely large. The Standard Spoodle size is great for owners who want a dog that will exercise a lot and can take them on outdoor activities like hiking.  
Common Spoodle Colors
There are infinitely many colors of the Spoodle since it mixes two breeds. The Poodle has 10 standard colors, and the Cocker Spaniel has many different colors. Some of the most common Spoodle coat colors are below:
Golden Spoodle / Apricot Spoodle
A golden Spoodle, also known as the apricot Spoodle, is probably the most sought-after color because it reminds people of a teddy bear. The AKC recognizes the Apricot Poodle color, but people often mistake it for a Golden Spoodle. An apricot Spoodle typically has black features like eyes, noses, and toenails. The Golden Spoodle is one of my favorite colors because they sometimes have a white chest. However, multi-colored Spoodles are usually known as Parti Spoodles or Parti Cockapoos.
Black Spoodle
A black Spoodle is relatively popular, but black is a recessive gene, so it is typically masked by other colors and is considered more "rare." Usually, pure black Spoodles are rarer than multi-colored Spoodle.  When you get a black-colored Spoodle, they will usually have some white mixed in on their chest. The black color is usually bred from a black Poodle and darker-colored Cocker Spaniel. Black is common in a Parti Spoodle as well as all tri-color Cockapoos.
Red Spoodle
Red is the most vibrant Spoodle color. It is closest to the teddy bear and stands out amongst the crowd. A red Spoodle isn't a traditional bright red color but more of a red-mahogany color. A red Spoodle will be much brighter in color than a Golden Spoodle.
White Spoodle / Cream Spoodle
A white Spoodle is a relatively common color because white is typically a dominant gene. You'll see the white-colored Spoodle in several shades of white, including cream. In addition, cream Spoodles and white Spoodles are very common colors in multi-colored Spoodles like the parti Spoodle, merle Spoodle, or phantom Spoodle.
Chocolate Spoodle / Brown Spoodle
The chocolate Spoodle is like a darker-colored teddy bear, sometimes called the brown Spoodle.  Typically, the chocolate Spoodle will have all chocolate or brown features, including noses and toes. Their eyes can typically range in various colors, from green, blue, black, or brown, making them special. Chocolate Spoodles are relatively rare since the darker brown color is usually a recessive gene from the Cocker Spaniel.
Spoodle Grooming
Since the Spoodle typically doesn't shed any hair, you must groom this dog every 6 to 12 weeks. We have several grooming and shaving guides where you can try grooming your Spoodle dog yourself: Doodle Grooming Guide. If your Cockapoo dog develops a lot of mattes, you'll have to shave your dog. If this is the case, see our guide: Shave your Doodle. Spoodle grooming isn't too difficult once you practice and develop a process.
Spoodle Lifespan
The average Cockapoo should live easier over 10 years as long as they are well-taken care of both physically and mentally. Since Spoodle dogs are crossbred, they inherit something called Hybrid Vigor, which allows them to live longer than any of the parent purebreds typically live. Hybrid Vigor simply means that a crossbred dog will minimize the number of genetic defects and diseases passed along from a purebred dog. This means that a mix of Cocker Spaniel and Poodle should have a long lifespan.
Spoodle Generations
You've probably wondered what the letters and numbers mean when people say F1B Spoodle or F1 Spoodle. The letter "F" stands for filial, which means the Cockapoo is a crossbred dog instead of a purebred one. The number (1 or 2 or 3) is the generation of the Spoodle. The letter "B" stands for backcrossed, which means it was bred with a 100% purebred dog, typically the Poodle. The genetic percentage of each Spoodle Generation is below:
F1 Spoodle:

50% Poodle and 50% Cocker Spaniel

F1B Spoodle:

75% Poodle and 25% Cocker Spaniel

F1BB Spoodle

: 87.5% Poodle and 12.5% Cocker Spaniel

F2 Spoodle:

50% Poodle and 50% Cocker Spaniel

F2B Spoodle:

 62.5% Poodle and 37.5% Cocker Spaniel

F2BB Spoodle:

81.25% Poodle and 18.75% Cocker Spaniel

F3 Spoodle or Multi-generation Spoodle:

Several generations of Spoodle breeding typically backcrossed to the Poodle.
Please reference our Best Doodle Generations article for all the details regarding generations of Doodle dogs. People typically want to purchase a Spoodle dog with a significant amount of Poodle genetics because they are more nonshedding and hypoallergenic.
Spoodle Dog Diet
It's important to provide Spoodles with a balanced diet. Dog food is the primary source for Spoodles, or any dog for that matter, to receive the necessary vitamins, minerals, and nutrients essential for their overall health.
In the United States there is currently no dog food on the market specifically formulated for Spoodles/Cockapoos. Your choice of food will greatly rely on the specific Spoodle. Not every dog has the same needs, and not every dog will react the same to a specific dog food.
You will find that dog foods are often designed for specific size ranges and age ranges. Different sizes of Spoodles need different levels of nutrients. For example, a mini Cockapoo may need different food than a standard Spoodle. Spoodles are typically mini to medium-sized dogs, so you should check the recommended weight ranges on the food packaging.
For a complete guide to Spoodle food based on size, age, and other conditions such as allergies, check out our Best Dog Food for a Cockapoo article.
Common Spoodle Health Problems
Even though crossbreeding typically reduces the chance for diseases and genetic conditions often found in the parent breeds, Spoodles are still prone to certain ailments. According to Purina, the top 8 common health problems for Spoodles are:
Luxating patella, a.k.a. dislocated kneecap
Hip dysplasia
Ear problems
Progressive retinal atrophy (loss of sight)
Cataracts
Glaucoma
Allergies
Rage syndrome
If you get a Spoodle, you'll want to monitor your Spoodle extra closely for these common health problems. A reputable breeder will run a number of health tests and provide you with the results before purchasing a Spoodle dog. You can also talk to your veterinarian about screening for specific ailments or dietary supplements if you are concerned about specific health risks.
Should I get a Spoodle dog?
A Spoodle is a perfect dog to get because they're sweet, smart, and train quickly. Additionally, they don't shed and are allergy-friendly.
However, there are downsides to the Cocker Spaniel and Poodle mix. First, Spoodles require grooming every 6 to 12 weeks to prevent mattes and tangles in their fur. That includes daily brushing, regular haircuts, and regular trimming of nails. This will take up a significant amount of your time and is absolutely necessary to keep your dog healthy and happy. Second, the Cocker Spaniel Poodle mix has tons of energy and will run around a lot. A cockapoo might not be the right dog for you if you don't lead an active lifestyle. However, this crossbred is a pretty sweet dog and extra cute!
Conclusion for our Spoodle Dog Breed Guide
Spoodles not only look like sweet little teddy bears but behave like them as well. The Cockapoo's cuddly and sweet personality makes them the perfect dog for families and kids. Moreover, this type of dog is perfect for people with pet allergies who want a dog that doesn't shed hair. Since this is not a purebred dog, it is nearly impossible to predict the Spoodle's coat color, temperament, and personality. These are very adorable dogs that are nonaggressive and small in stature. They would make a perfect addition to most households.
Other articles for you:
FAQs about Spoodles
Do Spoodle dogs shed?
In general, Spoodles are very light shedders. If you get a Cocker Spaniel and Poodle mix with a significant amount of Poodle traits, then it is likely that they won't shed at all. You can tell if your Spoodle has a lot of Poodle genetics because their coat will be wavy or curly.
Is a Spoodle dog hypoallergenic?
Spoodles are considered hypoallergenic because it inherits genetic traits from the Poodle. However, no dog is 100% hypoallergenic, but the Spoodle is as close as you can get. So a Cockapoo might be the right dog if you have pet allergies and want a dog.
Are Spoodles smart?
Spoodles are extremely smart. They get genes from two of the smartest dog breeds in the world (Poodle and Cocker Spaniel). Thus, they are easy to train.
Garrett loves animals and is a huge advocate for all Doodle dog breeds. He owns his own Goldendoodle named Kona. In addition, he volunteers at the Humane Society of Silicon Valley, where he fosters dogs and helps animals. Garrett enjoys writing about Doodles and believes that dogs can teach humans more about how to live than humans can teach a dog.
Why Trust We Love Doodles?
At We Love Doodles, we're a team of writers, veterinarians, and puppy trainers that love dogs. Our team of qualified experts researches and provides reliable information on a wide range of dog topics. Our reviews are based on customer feedback, hands-on testing, and in-depth analysis. We are fully transparent and honest to our community of dog owners and future owners.