When adopting a dog like a Bernedoodle, it's important to consider whether they will get along with other dogs that could be living in your home or even going on play dates with your friend's fur baby. So, do Bernedoodles get along with other dogs?
Bernedoodles are well-known to be a very easy-going breed that will get along with just about any other breed of dog. It's important to remember that the key to a dog's acceptance of other dogs or children is effective training and socialization.
Keep reading below as we talk about which breeds the Bernedoodle is most compatible with and how to socialize it with the rest.
Before reading this guide, "Do Bernedoodles Get Along With Other Dogs," check out: Do Bernedoodles Shed? Why Is My Bernedoodle Shedding? (2023) and Are Bernedoodles Hypoallergenic? (2023).
About Bernedoodles
The Bernedoodle was bred specifically to be a family pet. The breed gets its brains from its Poodle ancestry and its personality traits from the Bernese Mountain Dog. Bernedoodles love being around their families, especially children, and they enthusiastically join in on games and snuggle sessions.
Due to the fact that this breed is relatively new, it may be challenging to make accurate predictions regarding specific dogs within the breed. There are moments when they look more like Poodles, and other times when they take on more Bernese characteristics.
Fans of the Bernedoodle breed, however, are particularly fond of the breed's sociability, wit, intellect, and warmth. Additionally, they have a greater propensity to be hypoallergenic, which is a wonderful quality for people who suffer from allergies.
Bernedoodles can have a wide range of temperaments and physical traits. Their coats can be straight or wavy and are available in a wide range of colors. Poodles can be born in toy, mini, or standard sizes, depending on the size of the parent.
Bernedoodles tend to be easy-going and flexible. While Standard Bernedoodles require a yard for exercise, smaller Bernedoodles are more suitable as city pets. The moderate exercise requirements of this breed are often satisfied by at least one lengthy walk per day.
You won't find a better option than the Bernedoodle if you're looking for a dog for the complete family or if you're an individual owner seeking a beloved, intelligent mixed breed with excellent health who is going to put a big grin on your face through their shenanigans.
Do Bernedoodles Get Along With Other Dogs?
For the most part, Bernedoodles can get along well with different types of dogs. The majority of them have pleasant dispositions and get along well with others. If you already have pets and are searching for a dog that will get along well with them, this is a breed to consider.
Bernedoodles are bred to get along well with many different types of dogs. Unfortunately, not all breeds get along with Bernedoodles. Rottweilers, Doberman Pinschers, Boxers, Bulldogs, Spaniels, Chow Chows, Boston Terriers, and Pit Bulls are all examples of such breeds. As a general rule, it's safe to assume that any dog of Terrier origin might not be suitable.
Doodles should only be bred by responsible professionals. They are aware of the fact that Bernedoodles and any of the dogs or breeds listed above should never be bred together. Any of these breeds combined with a Bernedoodle might cause serious health issues and even dangerous traits in the offspring.
Explore the internet for as much information as you can. Don't be shy about asking your breeder about the temperaments of the puppies in a particular litter. If you already have a dog and are considering getting a Bernedoodle, you need to make sure their breeds are compatible.
Breeds Most Compatible With Bernedoodles
The following dog breeds are most compatible with Bernedoodles.
Cirneco Dell'etna
The average lifespan of the Italian hunting dog, the Cirneco dell'Etna, is 12 to 14 years. The friendly and docile Cirneco dell'Etna gets along well with other dog companions. It calls for intensive socialization training. The Cirneco dell'Etna, like your Bernedoodle, possesses a strong instinct to hunt.
English Toy Spaniels
The English Toy Spaniel is sometimes referred to as the King Charles Spaniel. This reserved breed is easy to train and gets along great with other pets, including cats. If you give your English Toy Spaniel some training, it won't mind if your new Bernedoodle moves in with him.
Greyhounds
The muscular Greyhound has a reputation for being a calm and quiet dog. These hounds are quite mild-mannered and peaceful. The dogs participate in group activities with great enthusiasm. So, it's safe to say that Greyhounds and Bernedoodles get along quite well.
Finnish Lapphunds
Finnish Lapphunds are friendly and loyal dogs with remarkable herding abilities. These dogs require company at all times and prefer to explore the woods in groups. The Finnish Lapphund will warmly welcome a Bernedoodle into its owner's household.
Japanese Chin
The Ancient Japanese Chin makes a great lap dog and is obedient and friendly toward the other pets in the house. This loyal pet dog is highly perceptive and gets along well with all other animals. The Japanese Chin is quite mellow and enjoys playing fly ball. It will be happier if it is able to become friends with your Bernedoodle.
Miniature Bull Terriers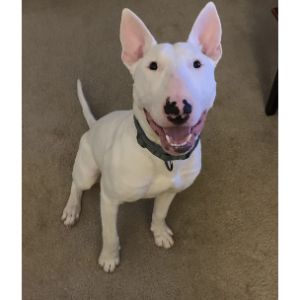 Playful and optimistic Miniature Bull Terriers are little, mild-mannered terriers that are just as inquisitive as your Bernedoodle. The Miniature Bull Terrier is a brave dog that enjoys the company of other dogs. Therefore, your Bernedoodle will feel at ease in the company of this terrier.
Old English Sheepdogs
Old English Sheepdogs have a lot of energy, and their entire bodies are covered with fluffy fur. Your Bernedoodle will get along great with the Old English Sheepdog because of their shared intelligence and adaptability. From the moment you bring home your new Bernedoodle, you should enroll it in a behavior management program.
Redbone Coonhounds
A short, dense coat distinguishes the Redbone Coonhound, a Native American hunting dog. The Redbone Coonhound is kind and family-oriented, so it is unlikely to trouble your other pets. These dogs are self-aware and can learn to get along with your Bernedoodle if you give them the chance.
Rhodesian Ridgebacks
The Rhodesian Ridgeback is extremely tolerant of humans, other dogs, and even smaller animals. The noble and sensitive Rhodesian Ridgeback enjoys engaging in playful antics with its dog friends. The determined Rhodesian Ridgeback's presence will calm your Bernedoodle down.
Gordon Setters
The Gordon Setter is a large dog breed bred primarily as a bird dog. Your Bernedoodle will have a fearless companion by its side on all of its exciting adventures thanks to this Gordon Setter. Your Bernedoodle is safe with this watchful setter dog.
We feel very confident that your Bernedoodle will be able to make a pal out of one of the aforementioned breeds. After all, these dog breeds are known for their friendliness. Nevertheless, you should make sure that your Bernedoodle is well-socialized.
How to Introduce Your New Bernedoodle
You should take your time and be cautious when introducing a new Bernedoodle puppy or adult to your existing dog (or dogs). Even if your dog gets along great with others in the park, bringing one home to live with them is a whole new ballgame.
Because of this, it's best to hold the first meeting in a neutral setting, such as a park your dog hasn't visited before.
The best-case scenario is that you have someone close to you who can assist you. You're going to split up into pairs, each taking one of the dogs. Bring the dogs together so they can meet and play. Keep the leash as loose as possible so the dog doesn't feel restrained.
Now, both dogs can respond in a variety of ways. They may indicate their eagerness to meet one another by circling and sniffing each other.
They may urinate in close proximity to one another, encircle one another, or completely disregard one another. Allow them to pursue their own desires with minimal interference from you. Keep the interaction to a minimum.
Dogs should not have their leashes pulled if they are fighting or acting aggressively toward one another. Instead, you can separate them by waving a reward in front of each of their noses.
Get them to relax. Hold on to them in close proximity to one another, but not so close that they are able to reach across to grab the other. They will feel much better if you provide them with pets, an abundance of snacks, and various other reassuring items.
If everything goes well, you could try going on a stroll together. If it seems as though all of the dogs still get along with one another or if they are apathetic, then you can take them home and observe how they react there.
In the beginning, make sure to keep them on a leash so that you can intervene immediately if the situation becomes dangerous. After that, they should be allowed to spend time together exploring and getting to know one another.
Should I Take My Bernedoodle to the Dog Park?
It's crucial to remember that your dog's first visit to the dog park shouldn't be the first time your dog has ever interacted with other dogs. Keep in mind that the dog park might be frightening for a dog.
You can't prepare a puppy or dog for the world beyond your home, where there are unfamiliar sights, sounds, and restrictions. That's why you should kick things off with some suggestions for getting your dog comfortable around other dogs and then move on to the dog park.
If you introduce your Bernedoodle to the dog park too soon, they may develop a phobia of the environment, which could affect their future interactions with other dogs.
If your Bernedoodle has met and gotten along well with other dogs, then it's time to take him or her to the park.
Frequently Asked Questions
Do Bernedoodles attach to one person?
Generally speaking, Bernedoodles prefer to spread their love among an entire family rather than focus on a single person.
Are Bernedoodles calmer than Goldendoodles?
Goldendoodles tend to be more energetic than Bernedoodles, but it ultimately depends on the individual dog.
Do Bernedoodles like to be alone?
Bernedoodles don't do well alone for long stretches of time during the day and would always prefer to have company.
Conclusion

for "Do Bernedoodles Get Along With Other Dogs"
So, although Bernedoodles are great pets to keep if you already have a clan of your own, it's important to make sure that you introduce your new Bernedoodle to other pets slowly. Patience is key in such situations.
If you find this guide, "Do Bernedoodles Get Along With Other Dogs" helpful, check out:
Learn more by watching "7 Reasons You SHOULD NOT Get a Bernedoodle" down below:
Garrett loves animals and is a huge advocate for all Doodle dog breeds. He owns his own Goldendoodle named Kona. In addition, he volunteers at the Humane Society of Silicon Valley, where he fosters dogs and helps animals. Garrett enjoys writing about Doodles and believes that dogs can teach humans more about how to live than humans can teach a dog.
Why Trust We Love Doodles?
At We Love Doodles, we're a team of writers, veterinarians, and puppy trainers that love dogs. Our team of qualified experts researches and provides reliable information on a wide range of dog topics. Our reviews are based on customer feedback, hands-on testing, and in-depth analysis. We are fully transparent and honest to our community of dog owners and future owners.