Sap is, simply put, quite a nuisance! In the warmer months, the sticky stuff drips down onto your windows, your vehicle, your outdoor living space, and even your dog. Are you wondering how to get sap out of dog fur? How to remove pine sap from dog paws?
Well, we've got you covered. In this guide, we'll talk about how to remove the seemingly impossible substance from your pup without harming him.
So, whether your pup is dirty from a long day of play or you just want to be prepared for the occasion that it does happen, read on to discover how to get sticky sap off dog fur for good.
Before you read this guide, "How to Get Sap Out of Dog Fur," check out: How to Get Sticky Seeds Off Dog Fur: 5 Helpful Tips! (2023) and How to Get Mats out of Dog Hair: Fast and Easy Methods! (2023).
Where Does Sap Come From?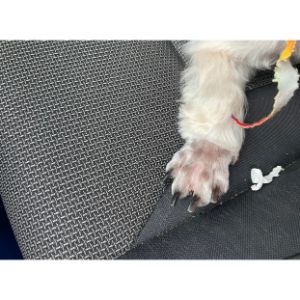 Sap is a sticky substance that typically comes from pine, but will originate from other plants as well. The thick, viscous liquid is filled with nutrients that are carried throughout the tree. However, obstructions or tree cuttings can cause your tree to "bleed."
Not all sap is bled through the tree, though. In fact, you may have noticed that several different species of trees seem to "spit" the stuff. Maybe you accidentally parked your car under a pine tree, or maybe your yard is home to several. In any event, it's clear that sap is abundant in nature and will inevitably find its way onto your dog's paw pads or fur.
Your dog may accumulate sap on his body just by walking through your yard, as some trees will drip. He may have used a tree trunk to scratch an itch, or he may have been playing with a pine cone! Irrespective of how the sap got there, you need to know how to get sap out of dog fur ASAP.
Why Is Sap Problematic for Pups?
Sap poses a few problems for dogs. First, it's sticky and annoying! When your dog gets sap on his fur, there's a good chance you'll also have sap on your furniture and your floors.
Moreover, your dog may be allergic to sap. When he licks the sap to remove it from his body, he may get an upset belly and may even start vomiting.
If your dog is allergic or sensitive to sap, you may notice the following symptoms:
Upset stomach
Vomiting
Lethargy
Loss of appetite
Excessive drooling
Should you notice any of these signs, please contact your vet as soon as possible.
In the meantime, you'll want to remove the sap from your dog's fur to prevent further ingestion. Let's take a look at a few tried-and-true methods of removing sap from a dog's body. Here is our step-by-step guide to removing sap from your dog's fur using materials you probably have on hand.
Use a Blow Dryer to Soften the Sap
How long has tree sap been on your dog's fur? If it's hardened, you'll want to try to use a blow dryer to soften it. Keep the dryer on a low setting, and apply in short bursts to your dog's fur by simply waving the dryer back and forth.
From time to time, put your hand between your dog and the blow dryer. This will help you determine whether the air is getting too hot for your dog.
Within a few minutes, the sap will soften and it will become easier to remove.
Use Oil to Loosen the Sap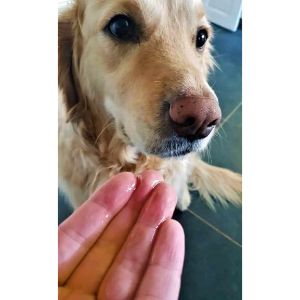 Even when tree sap is soft, it's sticky! You may find that using water and a cloth isn't cutting it when it comes to removing all the residue from your dog's fur.
Try using a bit of olive, coconut, or mineral oil (like baby oil) to further lessen the sap's grip on your dog's hair. In a pinch, peanut butter will work, too. Let it sit for a few minutes to saturate the sap, then continue with the steps listed.
Be sure you only use pet-friendly oils for this step, as your dog will likely try to remove the remainder of the oil from his fur with his tongue.
Use Your Fingers
We know you don't want to get sap on you, but sometimes it's the best way to remove it from your dog. Once the oil has had time to loosen the sap on your dog, use your fingers to work it around to loosen its grip on his fur.
A wide-toothed comb can help with the process. Be sure not to use a fine-toothed comb as this may pull your pup's hair. Keep a paper towel or clean rag handy to wipe the sap from your fingers and from the comb as you go.
As a last Resort, Trim Your Dog's Hair
In some cases, your dog may have been too adventurous. He may have sap all over his body, and you may simply not be willing to spend the time to remove it little by little.
If this is the case, it may be time for a haircut. You'll want to use scissors close to your dog's skin to remove hair around the affected areas. Only after all the sap has been removed should you take clippers to your dog.
A groomer can help you if your dog isn't in love with the idea of the DIY approach. They have harnesses and other tools that can help keep your pup still while he gets his new haircut.
Wash Your Dog
After all the steps above are finished, it's time for a bath! A conditioning shampoo that's specially formulated for your dog, like our We Love Doodles shampoo, is ideal.
Warm water is key, as this will help keep the sap loose and soft. Plus, your dog will be more comfortable. A second wash may be necessary, but you're well on your way to getting all that sap off your dog's fur.
Pine Sap on Dog Paws
If you have pines or other sap-laden plants in your yard, you'll eventually find sap on your dog's paws. You'll handle this much in the same way as you would sap on your dog's fur, but your dog may be less likely to sit still for the process.
If your pup has pine sap on his paws, you'll want to skip the blow dryer. Your pup is more likely to get antsy — and, as a result, burned — by the dryer, so just skip straight to the oil.
Using the oil, massage your puppy's paws to loosen and remove the sap in the same way we described above. If the sap is still a little hard, a cloth with warm water can be used to loosen it in lieu of a blow dryer.
Then, using scissors, carefully remove the hair between his paw pads. Again, a groomer can be enlisted if you need a little assistance.
Frequently Asked Questions
Still curious about how to remove sap from your dog's paws or hair? Here are some questions our readers have asked about the process.
Is tree sap toxic to dogs?
Tree sap can be toxic to dogs. In addition to being a nondigestible substance, the sticky stuff can cause itching, rash, or outbreaks.

You can help mitigate the reaction by removing the tree sap as soon as you find it. By not allowing the sap to remain, you lessen the probability that your dog will break out, and you'll also lessen the probability that your dog will ingest it when he tries to clean himself.
How do you get sticky residue off dog fur?
We've talked about removing tree sap from a dog's fur, but the process of removal remains similar. In some cases, you won't want to utilize a blow dryer. For example, chewing gum can become even stickier if you apply heat, and the best course of action is to just snip off the fur.

In almost all cases, it's safe — and smart — to apply peanut butter or another food-safe oil to the area to lessen the sticky stuff's hold on your dog's fur. Then, using your hands and a comb, remove the rest before you give your dog a bath.
How can I keep sap from sticking to my dog?
The short answer is that you can't. Nature's going to do what nature's going to do, and short of cutting down your trees there's not much you can do to eliminate sap from your yard.

There are products on store shelves that are supposed to help eliminate the buildup of sap and other sticky stuff on your dog's paws. But reviews vary wildly — it works for some and not for others.

Sap is relatively easy to remove, and the removal is even easier when you find it before it becomes a problem. Give your puppy a clean, tree-free space to explore outdoors, away from pines and other particularly drippy trees.
My dog had an allergic reaction to sap — what should I do?
In some cases, you may discover that your dog has an allergy to tree sap. He may break out, develop sores in the affected area, or just be paying attention to one particular spot on his body.

The first thing you'll need to do is to remove the sap. Follow the steps outlined above, and give your pup as many baths as necessary. Then, you can apply a cream formulated for dogs such as a cortisone ointment or even an antibacterial. This will prevent itching and infection.

Meanwhile, call your vet for her advice. She may be able to prescribe a medication for your dog or recommend a product that will work to alleviate itching and rash.

Remember that, if your dog has open sores from allergy or from scratching, they can become infected. It's important that you treat them right away.
Conclusion for "How to Get Sap Out of Dog Fur"
If you play with your dog in the woods or just have pine trees in your yard, there's a good chance that you'll find sap on his fur from time to time.
Thankfully, removing sap from dog fur and from paw pads is easy. Using a blow dryer and some peanut butter, you'll be able to get the sap off your dog in no time at all.
If you find this guide, "How to Get Sap Out of Dog Fur" helpful, check out:
Learn more by watching "How To Get Tree Sap Out Of Your Dog's Fur" down below:
Garrett loves animals and is a huge advocate for all Doodle dog breeds. He owns his own Goldendoodle named Kona. In addition, he volunteers at the Humane Society of Silicon Valley, where he fosters dogs and helps animals. Garrett enjoys writing about Doodles and believes that dogs can teach humans more about how to live than humans can teach a dog.
Why Trust We Love Doodles?
At We Love Doodles, we're a team of writers, veterinarians, and puppy trainers that love dogs. Our team of qualified experts researches and provides reliable information on a wide range of dog topics. Our reviews are based on customer feedback, hands-on testing, and in-depth analysis. We are fully transparent and honest to our community of dog owners and future owners.