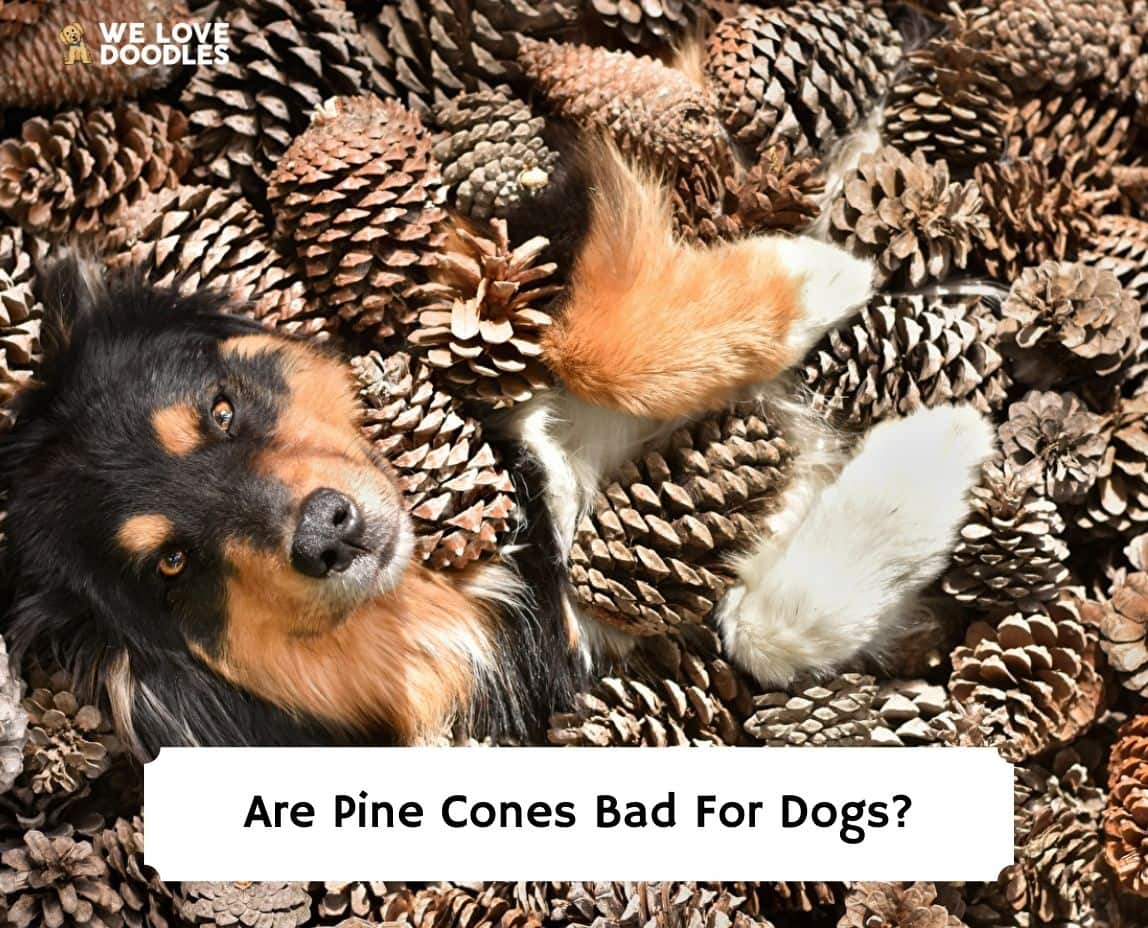 Are pine cones bad for dogs to be around or consume? Hiking is a fun activity you can enjoy with your dog, and it's important to ensure that you and your dog are safe during any outdoor excursions. One safety factor is keeping your dog from picking up and eating random objects off the ground.
Pine cones are common objects that you'll come across in parks and hiking trails. But are pine cones bad for dogs? Fortunately, they're not poisonous, but they're still not safe for dogs to eat. Here's what you need to know about pine cones and what to do if your dog tries to eat them.
Before scrolling down this guide, "Are Pine Cones Bad For Dogs," you can check out these similar content from our team at We Love Doodles: Are Cough Drops Bad For Dogs and Can Dogs Eat Garlic Bread?
Are Pine Cones Poisonous To Dogs?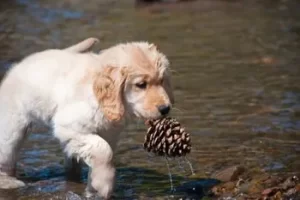 There are about 49 species of pine trees in North America, and none produce pine cones that are poisonous to dogs. When you're outside, you'll probably encounter pine cones that dropped from these common varieties of pine trees:
Eastern White Pine
Western White Pine
Sugar Pine
Red Pine
Pitch Pine
These pine trees will drop pine cones that differ in size and shape. When they fall to the ground, you and your dog will most likely encounter green pine cones or more mature brown pine cones with scales that have opened up. Neither of these forms contains toxic properties. Your dog can technically eat a pine cone without getting poisoned.
However, since pine cones are a protective casing that conceals pine nuts, there's a very rare chance that your dog may have an allergic reaction if it's allergic to nuts and seeds. Pine cones are also edible but usually prepared a certain way. If you're in a survival situation, you can gain some nutrients from eating a pine cone while in the green form.
Some people also boil these pine cones with sugar and other ingredients to create jams and syrups. However, these recipes are for human consumption and aren't for dogs. Raw pine cones may contain some nutrients and fiber, but they're not very easy to digest. Since your dog can end up getting an upset stomach, it's fair to say that pine cones can end up doing more harm than good.
Related: Best Dog Treat-Dispensing Cameras.
Can Dogs Chew Pine Cones?
If your dog doesn't have food allergies, it won't suffer from any poisoning if it chews on pine cones. Pine cones may be a good size and have a fun texture that dogs may like. They can be round like a ball or more oblong and easy for dogs to grip with their mouths.
Pine cones containing seeds can also rattle, which can be a curious sound for dogs, and they might want to pry them open to see what's inside. Overall, pine cones may seem like fun toys for dogs. However, it's not the best idea to let your dog chew on pine cones for several reasons.
Pine Cones Aren't Sanitary.
First, it's probably not very sanitary. There's a good chance that the pine cones you find on the ground have been there for a long time. This means they can be moldy, or other animals could have touched them as they tried excavating the inner seeds.
Pine Cones May Contain Insects
Pine cones can also have bugs and parasites, such as cone worms. So, it's probably best to err on caution to prevent your dog from ingesting anything that would end up giving them an upset stomach.
Pine Cones Can Be a Choking Hazard
Pine cones can also be a choking hazard for dogs. The narrow varieties can be easy for medium and large-sized dogs to accidentally swallow. The mature pine cones have scales that can break off easily, so they're also potential choking hazards, especially for small dogs and puppies.
So, Can Puppies Chew Pine Cones?
It's not the end of the world if your dogs chew up a pine cone because it doesn't have any toxic properties. However, it's best not to encourage your puppy to play with them and use them as chew toys. It can be risky because you won't know how dirty the pine cone is, and there's also the chance that your dog can choke on it.
Related: Best Dog Treat Dispenser.
What To Do When My Dog Eats Pine Cones
Sometimes, your dog may wander off, pick up a pine cone, and take a bite out of it. You first want to try to get any pieces out of your dog's mouth. Then, look for any signs of an allergic reaction. Here are some symptoms that you can look for in your dog:
Itchy skin, especially ears, paws, rear end, or stomach
Hives
Swollen face
Releasing gas
Vomiting
Diarrhea
On very rare occasions, a dog can go into anaphylactic shock due to allergies. If your dog has immediate allergic reactions, take it to the nearest animal emergency hospital or call your veterinarian. A veterinarian can provide antihistamines to address swelling and other medication to alleviate symptoms. If your dog appears fine, monitor its condition for the next few days.
If your dog has eaten pieces of a pine cone, you'll want to look for signs of an upset stomach:
Decreased appetite
Drinking less water
Fatigue
Excessive gulping
Excessive licking of lips, air, or objects
Vomiting
Diarrhea
Some dogs may also eat grass as a means of trying to settle an upset stomach or alleviate nausea. Contact your veterinarian for additional advice and determine if a visit is necessary. Your veterinarian may advise you to provide a bland diet, such as feeding your dog 100% pure canned pumpkin or having your dog fast for a short period.
Another helpful and important thing to do is provide plenty of water to keep your dog hydrated. If you notice your dog not drinking a lot of water, you can try feeding it ice cubes or ice chips to help it stay hydrated without upsetting its stomach even more.
You'll want to seek additional help if your dog's symptoms progressively worsen or if you notice these other signs:
Increased discomfort
Having consecutive vomiting or diarrhea episodes
Blood in vomit or stool
Weakness
Collapse
Related: Beefhide vs. Rawhide Treats For Your Dog.
How to Prevent Dogs From Eating Pine Cones
While it's not very common for dogs to take a liking to chewing up pine cones, it can still happen. If you have a dog that has a particular fondness for pine cones, there are several things you can do to discourage this behavior.
Keep Your Dog Leashed
The first thing you want to do is to make sure to keep your dog leashed in areas that have pine trees. This is one of the best ways to ensure that your dog is always in sight and at a distance where you can act and intervene quickly if your dog sniffs out a pine cone.
It's best to keep your dog leashed in these areas until your dog receives the proper training. They shouldn't roam off-leash until you can fully trust them to listen to commands in outdoor settings.
Polite leash walking can also benefit you and your dog because it trains your dog to be more aware of where you're at and puts you in a position to lead the walk. It can also help your dog focus and listen to additional commands.
Distract Your Dog With Another Toy
When you're outside, bring one of your dog's favorite toys with you, particularly one that has a loud squeaker or can make a loud noise. When you notice your dog sniffing a pine cone, bring the toy and encourage your dog to play with it instead of the pine cone.
This distraction is a relatively temporary solution. The best way to prevent your dog from chewing pine cones is to practice obedience training and gradually train in areas with more distractions.
Here are some valuable skills that can prevent your dog from rushing off to play with pine cones:
Teach The "Leave It" Command
The "Leave It" command can be a life-saving training tool for your dog because it can prevent it from eating anything harmful. It can take months to train a dog to consistently respond to this command, especially because it must learn to listen to it in various settings. For the best chances of success, start small and in very controlled situations.
Then, gradually make training sessions more challenging by using more enticing foods and training in different settings outside your home. If you find that you or your dog are getting frustrated with training, enlist the help of a professional dog trainer who can help you figure out a more effective training plan.
Related: Trader Joe's Dog Treats.
Conclusion For "Are Pine Cones Bad For Dogs"
If you were wondering, "are pine cones bad for dogs" now you know that while they're not poisonous, they're still unsafe and risky for your dog. Pine cones may seem the perfect size to be a natural chew toy for dogs, but they can be very unsanitary and cause choking.
You can do several things to protect your puppy from chewing up pine cones, such as teaching useful commands or bringing distractions with you. Spending time outside with your dog can be a fun way to bond with your dog. By keeping your dog safe from various items, you'll be sure to create many fun and fond memories together as you go on your outdoor adventures.
If you find this guide, "Are Pine Cones Bad For Dogs," helpful, you can check out:
You can learn more about what you can give your dog by watching "Human Foods That Are Good For Dogs" down below: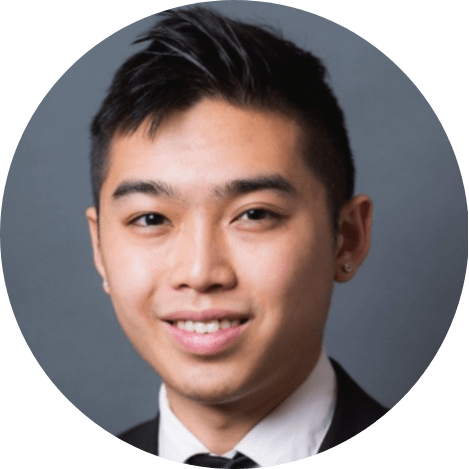 Andy is a full-time animal rescuer and owner of a toy doodle. When he's not saving dogs, Andy is one of our core writers and editors. He has been writing about dogs for over a decade. Andy joined our team because he believes that words are powerful tools that can change a dog's life for the better.
Why Trust We Love Doodles?
At We Love Doodles, we're a team of writers, veterinarians, and puppy trainers that love dogs. Our team of qualified experts researches and provides reliable information on a wide range of dog topics. Our reviews are based on customer feedback, hands-on testing, and in-depth analysis. We are fully transparent and honest to our community of dog owners and future owners.