Chocolate is commonly known to be a toxicsubstance for dogs, as they cannot metabolize a certain substance within it. However, there are other seemingly benign substances that are also toxic to dogs as well.
Are cough drops bad for dogs? Unfortunately, they are potentially toxic. Though not usually fatal, cough drops have certain substances that can cause gastrointestinal problems and more serious effects if left untreated.
In addition, cough drops pose a choking hazard to smaller dogs. Because of these factors, cough drops should be kept away from dogs and stored in a dog-proof container so they can't tear into the packaging.
Other articles you would like: Can Dogs Eat Mochi and Are Smoked Bones Safe For Dogs?
Can Dogs Have Cough Drops?
Cough drops contain several components that help soothe a person's throat and relieve coughing. However, these same components can be fatal for dogs, especially young or small dogs. These components are xylitol and menthol, and occasionally benzocaine.
Menthol
Are menthol cough drops bad for dogs? Menthol is an organic compound that's extracted from plants such as corn mint or peppermint. The substance is used in cough drops to create a cooling sensation in the mouth or throat.
However, menthol acts as an irritant to dogs. That cooling sensation humans get irritates their gums and mouth, causing general discomfort. Not only this, but this irritation extends to your dog's gastrointestinal system.
For puppies, menthol is very dangerous and may lead to death. The menthol can depress the lungs, preventing the correct synthesis of oxygen, ultimately causing suffocation and death.
How much menthol can kill a dog? Thankfully, the dosage would have to be substantially high well into the thousands of milligrams.
Menthol Symptoms
The first sign is usually vomiting or diarrhea from stomach lining or gastrointestinal lining irritation. Severe symptoms can include the inability to walk coupled with fatigue and trouble breathing.
Xylitol
Xylitol is classified as a chemical component usually used as a sweetener. The substance is commonly used as a sweetener in dental products and is said to promote better dental health.
However, this artificial sweetener is toxic to dogs since ingesting xylitol for dogs is akin to having an insulin dose. Do cough drops have xylitol? Some do. Unfortunately, if enough xylitol is ingested, then it can lower your pet's blood sugar, also called hypoglycemia.
Xylitol Symptoms
Symptoms of xylitol poisoning can set in as soon as half an hour to an hour after ingesting the substance. Vomiting is the first symptom and is commonly followed by fatigue and muscle impairment, also called ataxia.
In severe cases, xylitol could prevent blood from clotting correctly or lead to blood clots throughout the body and eventual liver failure. Shortness of breath or excessing wheezing or muscle impairment are signs of blood clots. Advanced symptoms include coughing up blood or blood in the urine or stool.
Benzocaine
Often marketed under the brand name Orajel, benzocaine is usually applied topically to help soothe oral ulcers and mouth sores. However, benzocaine can also be found in lozenges like Ricola and Luden's cough drops.
Like the two other substances, benzocaine causes gastrointestinal tract irritation. However, if ingested in large enough amounts or in extreme cases, benzocaine causes anemia. That occurs when there is a lack of healthy blood cells to carry around oxygen to the body.
Benzocaine has the capacity to numb areas of a dog's mouth or throat if swallowed or chewed. That occurs when there is a lack of healthy blood cells to carry oxygen around the body.
Benzocaine Symptoms
The first signs of benzocaine poisoning are similar to xylitol or menthol. Vomiting, stomachache, or similar symptoms are the first to appear. However, because benzocaine can cause anemia, those symptoms manifest as depression, weakness, jaundice (a condition in which pink tissues such as gum line or inner ears turn yellow), rapid breathing, or swelling in the face or jaw.
Other Hazards From Cough Drops
In addition to the components within cough drops, the hardness of the candies themselves poses a choking hazard for small dogs especially. The cough drop lodges in the throat, causing choking and, in some cases, severe asphyxiation.
Cough drops are also wrapped in wax-like paper, and since dogs can't unwrap candies, they tend to ingest the wrapper as well. That irritates their stomach more, which only complicates issues.
What Should I Do If My Dog Ate a Cough Drop?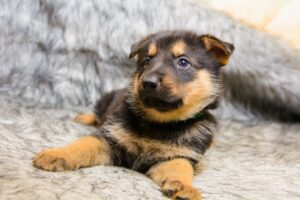 If your dog is exhibiting potentially life-threatening symptoms such as breathing difficulties, prolonged vomiting, or trouble walking or standing, call your veterinarian immediately.
However, most of the time, symptoms will not be this severe, so there are a few steps you can take to make sure your dog is comfortable.
Observe
First, observe your dog right after you suspect it of ingesting a cough drop. Preliminary symptoms will often begin 30 minutes to an hour after ingesting the substances. If your dog hasn't ingested that many, then the cough drop may just pass through without any complications.
Induce Vomiting
In some cases, it may be necessary to induce your dog to vomit. A hydrogen peroxide solution may need to be used to induce vomiting. The most common mixture is a 3% solution. To do this, make sure you follow the steps outlined below.
Only use a 3% mixture as a higher concentration is toxic.
The suggested ratio for the mixture is 1 teaspoon per 5 pounds of dog weight, so a 1:5 ratio. Do not use more than 3 tablespoons for dogs over 45 pounds.
Use a feeding syringe or turkey baster to squirt the substance as far back into the mouth as possible. You can hold your dog's mouth gently closed and stroke its throat to promote swallowing. Don't let your dog inhale the mixture.
Wait until your dog vomits, and do not let your dog re-ingest the vomit.
Prevention Tips
Beyond answering "are cough drops bad for dogs?", it's a good idea to stop dogs from ingesting drops in the first place. You can take a few precautionary steps to keep your dog safe.
Storage
Keep your medicines away from your dog in a dog-safe container or store them up high so that they won't be able to reach them. That is a best practice to enact with all drugs or medicines since human medication and pills pose serious risks for any pets.
Train
In addition to keeping toxic materials away from your dog, you can also train your dog to leave items on command. That comes in handy on multiple occasions but can save your dog's life when they come into contact with something toxic.
You can start early with this training, and consistency is crucial. Usually, you can start with something more benign, such as a toy. While playing fetch, you can get your dog to give you the item by saying a stern but gentle "drop it" or "leave it." Gently take the toy from your dog and repeat the exercise on a consistent basis.
Gradually move from toys to other objects such as food, treats, etc. That way, your dog associates those words with automatically leaving anything alone. Eventually, it will be able to transfer that to all situations.
Toxicity and Name-Brand Cough Drops
Since many people often purchase name-brand cough drops, it's good to know whether these specific cough drops pose dangers to your dog.
Ricola Cough Drops
Ricola cough drops are marketed as all-natural herb cough drops, so their main component is the menthol substance. That, as mentioned earlier, poses a danger if your dog ate Ricola cough drops.
Ricola cough drops also contain other herbs that are not necessarily toxic to your dog but can be irritating.
Halls Cough Drops
Are Halls cough drops bad for dogs? As they contain menthol as their active ingredient, these cough drops may pose a danger to dogs.
They also contain citric acid. While okay in small quantities, foods with a high citrus content irritate a dog's internal system, and most will avoid foods with citrus in them.
Other Toxic Substances
In addition to the substances in cough drops, there are several other seemingly benign objects that dogs are allergic to as well. These substances range from everyday household foods to non-edible things.
Toxic Foods
Chocolate
Macadamia nuts
Grapes or raisins
Onions
Legumes
Overly fatty foods
Raw bread dough/yeast products
Non-Edible Items
Antifreeze
Ice melting products
Mothballs
Rat/mouse bait
Bleach
Plants
Plants can be particularly toxic to many animals, so it's essential to figure out whether or not a particular household plant poses a danger to your dog. These include:
Almond plants
Aloe
Amaryllis
Daylily/True Lily
Dogbane
Hibiscus
Philodendron
Poinsettia
Rhododendron
Azalea
Yew bush
Lilac
For a more comprehensive list, check the FDA's list of potentially hazardous items for all pets.
Conclusion for Are Cough Drops Bad For Dogs?
So, now you know the answer to "are cough drops bad for dogs?" By making sure you're aware of the potentially dangerous substances found in cough drops and household objects, you can keep your dog from getting poisoned.
Simple steps such as training exercises and storing your toxic substances in a dog and pet-safe container far away from their reach can potentially save their life. Your dog's health is all that matters.
Other articles you would like:
If your dog ate several cough drops, you may want to watch the video below and consider inducing vomiting:
Garrett loves animals and is a huge advocate for all Doodle dog breeds. He owns his own Goldendoodle named Kona. In addition, he volunteers at the Humane Society of Silicon Valley, where he fosters dogs and helps animals. Garrett enjoys writing about Doodles and believes that dogs can teach humans more about how to live than humans can teach a dog.
Why Trust We Love Doodles?
At We Love Doodles, we're a team of writers, veterinarians, and puppy trainers that love dogs. Our team of qualified experts researches and provides reliable information on a wide range of dog topics. Our reviews are based on customer feedback, hands-on testing, and in-depth analysis. We are fully transparent and honest to our community of dog owners and future owners.