Beautiful and fragrant jasmine is a plant that is popular in some regions of the nation, but is jasmine poisonous to dogs? Most jasmine plants are safe for dogs to be around. However, the American Society for the Prevention of Cruelty to Animals (ASPCA) notes that there are exceptions.
Jasmine is not poisonous to dogs, but some plants are mistakenly nicknamed jasmine, and they are poisonous to dogs. The three most common types of poisonous non-Jasmine are Night-blooming Jasmine (Night-blooming Jessamine), Day-blooming Jasmine (Day-blooming Jessamine), Cape Jasmine (Gardenia), and Carolina Jasmine (Carolina Jessamine). Eating a true jasmine plant won't cause a dog the more severe symptoms of poisoning, but it could still lead to gastrointestinal symptoms. Any animal that eats a plant that is not typically a part of its diet might feel uncomfortable.
Despite being native to Central America and the Caribbean, you may find jasmine plants most frequently in the southeast of the US. Since they're commonly found in households and even used in tea, it's good to question if they are safe for dogs to consume.
Read on to learn more about both varieties, their effects on dogs, and how to treat dogs when poisoned by jasmine.
Before reading more about this dog question, "Is Jasmine Poisonous to Dogs," check out these other dog-related articles by our team at We Love Doodles: Why is My Dog Eating Grass? and Are Slugs Poisonous to Dogs.
Jasmine vs Jessamine: What's the Big Deal?
Animals like cats and dogs cannot be poisoned by jasmine plants. Although the plant itself is OK, the name "Jasmine" is problematic. Non-toxic jasmine flowers and plants can be found in the Jasminum genus.
However, there are other plants bearing the name "jasmine" that sprout in the wild as well, and because they don't come from the Jasminum genus, they are extremely harmful to animals.
Three pseudo-Jasmines have been found to be extremely toxic to dogs and even children, according to recent research. The three types are the Night-blooming/Day-blooming Jasmine, Cape Jasmine, the Carolina Jasmine.
Although they share a name with the dog-friendly Jasminum genus, these flowers are not actually related to that group at all.
Which Jasmine Is Toxic?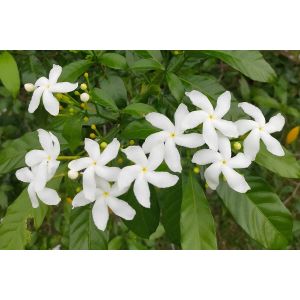 The following plants with jasmine in their names are toxic to dogs:
Carolina Jasmine (Carolina Jessamine)
Carolina Jasmine is part of the gelsemium species which contains the dangerous gelsemium alkaloid. They flourish in Southeast America, where they are less prevalent. This plant thrives in Central America and the Caribbean.
In the scientific world, these plants are referred to as jessamine. Due to the widespread usage of word-of-mouth communication, jessamine is occasionally mispronounced as jasmine and the rest is history.
Due to the highly deadly gelsemium alkaloid included in them, dogs who consume them pass away. Reports claim that children have been poisoned after consuming their nectars. Dogs who ingest their nectars run the danger of getting sick.
The first symptoms of poisoning from Carolina Jasmine include muscle twitching, numbness, and paralysis. This is followed by seizures, dyspnea, breathing difficulties, and, in rare circumstances, death.
Day-Blooming Jasmine (Day-blooming Cestrum)
Day-blooming Jasmine is toxic to dogs. You may recognize alternative names, including Day-blooming Cestrum and Day-blooming Jessamine.
All plant components of the Cestrum species are poisonous, but the berries are particularly hazardous. Day-blooming jasmine contains a glycoside of 1,25-dihydroxycholecalciferol (Cestrum diurnum), which is digested in the gastrointestinal system to create an active vitamin D3. This allows the body to absorb too much calcium and leads to calcification of tendons, liver, and arteries. Calcification causes debilitating damage and is fatal to the affected animals.
Night-Blooming Jasmine
Night-blooming jessamine is hazardous to people and animals. It is toxic from the floral sections through the leaves and even the berries.
The book "Poisonous Plants of Paradise: First Aid and Medical Management of Injuries from Hawaii's Flora" states that night-blooming jasmine is among the most lethal of Hawaii's flora. Both the glycoalkaloid solanine and atropine-like alkaloids found in jasmine are poisonous to dogs if they are consumed.
These substances are thought to be extremely harmful to both people and dogs. The California Poison Control System has given them the maximum rating of hazard that plants can have: severe danger.
Symptoms of Jasmine Poisoning in Dogs
Your dog may display any of the following symptoms if he has ingested any of the false jasmine listed above:
Slow muscles
Paralysis
Difficulty swallowing
Slowed breathing
Lack of vision
Nausea
You should seek medical care if your pet exhibits serious or persistent symptoms. Don't take any chances with your pet's health; see the vet immediately and bring a sample of the problem plant. That will make it easier for the doctor to treat your pet appropriately, even if they identify the plant incorrectly.
Diagnosis of Jessamine Poisoning in Dogs
Jessamine poisoning is diagnosed by gathering information about previous exposure and intake. Seeing chewed leaves or blossoms in your dog's mouth might be a good indicator of plant consumption if you didn't see your dog consume the plant. Dog owners should be aware of plants in the surrounding area if their pets suddenly begin showing signs of poisoning.
As soon as you can, dial a poison hotline or seek veterinary care. Provide a detailed description of the plant and, if feasible, bring a sample for identification. After handling the plant, wash your hands, then store the sample in a tight container.
The doctor can determine whether the signs that your dog is exhibiting are consistent with the plant's toxicity. The amount of toxicity may also be assessed using blood testing.
Dogs who regularly consume even a tiny amount of Cestrum species may develop hypercalcemia when their blood is tested for anything else.
Dog Poisoning by Jasmine: Effective Treatment Options
The vet can opt to induce vomiting if your dog recently swallowed jasmine. The veterinarian may also employ further techniques, like gastric lavage, activated charcoal, or other drugs, to flush the toxin from your dog's system.
In order to avoid dehydration, your dog could also need fluids through an IV as well as medicine to manage any other symptoms that develop.
If your dog gets immediate medical assistance, the prognosis is good, but how much of the plant your dog has taken can also affect the result. The majority of dogs will be alright, but they must be treated right away by a veterinarian.
You need to get rid of any of these plants from your dog's yard. It's important to monitor your dog's behavior when you're out on walks, no matter where you may be. He has the ability to quickly grasp and swallow something. If you're out on a stroll with him, make sure he doesn't eat anything.
Other Dog-Friendly Species
If you'd still like to own a jasmine plant while being a dog owner, then we have good news. Below are a couple of jasmine species you can keep that are safe for dogs.
Pink Jasmine (Jasminum Polyanthum)
Starting in February, this lovely plant will bloom for almost the whole year, filling your house with its lovely aroma and giving you gorgeous star-shaped white and pink blooms. It thrives in the abundant indirect sunlight of a Pacific Northwest summer but can get by with less light throughout the winter.
The soil should be kept wet throughout the summer; however, it can dry out slightly in between waterings. Fall is the time to water it less, and winter and spring are the times to let it become a little dry. The blooms need a humid environment, which is not difficult to create in the many regions in the US.
Nevertheless, if you see that the plant is losing its blossoms too rapidly, you may sit the pot on top of a pan full of pebbles and add a thin layer of water to the stones; when the water evaporates, it will moisten the air.
Be aware that not all Jasmine plant varieties can survive being housed inside. Some can reach a height of 15 feet, which would give you a large wall of beautiful blooms but would certainly be a challenge to maintain.
When buying a jasmine plant, be sure to choose one that can survive inside. It's preferable to position it on a high shelf, place it in a hanging basket, or provide it with scaffolding to climb because it will also like to trail.
Madagascar Jasmine (Stephanotis floribunda)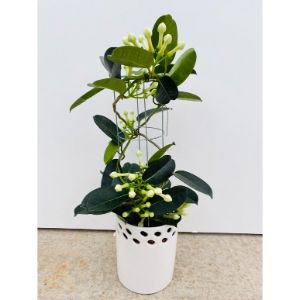 While this plant is referred to as "Madagascar Jasmine," it is not a member of the Jasmine family. Stephanotis floribunda is native to Madagascar, as opposed to jasmine, which is native to China. It also bears lovely white blooms in the shape of stars and has a nice scent, but its leaves are bigger and darker than those of Pink Jasmine.
Despite the fact that Madagascar Jasmine is a little more delicate than Pink Jasmine, you won't need to worry about them when you go on vacation.
The Madagascar Jasmine needs direct, yet intense, sunlight. They require loamy soil that retains moisture while draining properly. Be sure to get top-notch potting soil when you go plant shopping instead of worrying about making your own mix.
Consider placing their container on top of a rock plate with a thin layer of water that can drain during the day to provide humid air for them. You may also use a spray bottle to mist the area.
FAQs
Is Jasmine safe for dogs?
Jasmine is generally safe for dogs to consume, however, not all plants that have jasmine in the name are actually jasmine. Consuming plants that are in the jasmine family should not hurt your dog, but berries can be poisonous. If your dog consumes a part of the jasmine plant, is possible that they may have side effects that correlate with introducing foods that aren't a part of their diet, including nausea and vomiting.

Some jasmine varieties that are safe around dogs include Pink Jasmine, Madagascar Jasmine, Arabian Jasmine, White Jasmine, Common Jasmine, and Star Jasmine.

Jessamine varieties are sometimes called jasmine, which is an important distinction because Jessmaine is very toxic to dogs. Avoid Day-blooming Jasmine, Night-blooming Jasmine, Cape Jasmine, and Carolina Jasmine at all costs.
Are dogs allergic to jasmine flowers?
Jasmine can cause contact allergies for some dogs when in close proximity to pollen. Jasmine may cause an upset stomach when ingested. True jasmine plants are not toxic to dogs, but jasmine that is in the Jessamine family can be lethal.
Which jasmine is poisonous to dogs?
Day-blooming Jasmine, Night-blooming Jasmine, Cape Jasmine, and Carolina Jasmine are poisonous to dogs, as well as most other animals. These plants are in the Jessamine and Gardenia families and are not actually jasmine plants.

Jasmine berries that form after blooming are toxic to dogs.
Conclusion For "Is Jasmine Poisonous to Dogs"
Jasmine is a popular houseplant for its sweet citrus smell. It is also common outdoors in warm climates. Common Jasmine is even made into tea. Jasmine is not poisonous to dogs, but they should not consume jasmine. If dogs consume jasmine, they could have an allergic reaction, but it should not normally hurt them outside of an upset stomach.
You must be careful when it comes to jasmine and dogs. Most species are completely harmless, but some can be potentially deadly. We hope this guide can help you decide which plants to stay away from and which you can keep.
If you find this guide, "Is Jasmine Poisonous to Dogs," helpful, you can check out these other dog-related questions from our team at We Love Doodles:
You can learn more about poisonous plants for dogs by watching "10 TOXIC PLANTS for DOGS and Their Effects 🐶 ❌ 🌷" down below:
Garrett loves animals and is a huge advocate for all Doodle dog breeds. He owns his own Goldendoodle named Kona. In addition, he volunteers at the Humane Society of Silicon Valley, where he fosters dogs and helps animals. Garrett enjoys writing about Doodles and believes that dogs can teach humans more about how to live than humans can teach a dog.
Why Trust We Love Doodles?
At We Love Doodles, we're a team of writers, veterinarians, and puppy trainers that love dogs. Our team of qualified experts researches and provides reliable information on a wide range of dog topics. Our reviews are based on customer feedback, hands-on testing, and in-depth analysis. We are fully transparent and honest to our community of dog owners and future owners.