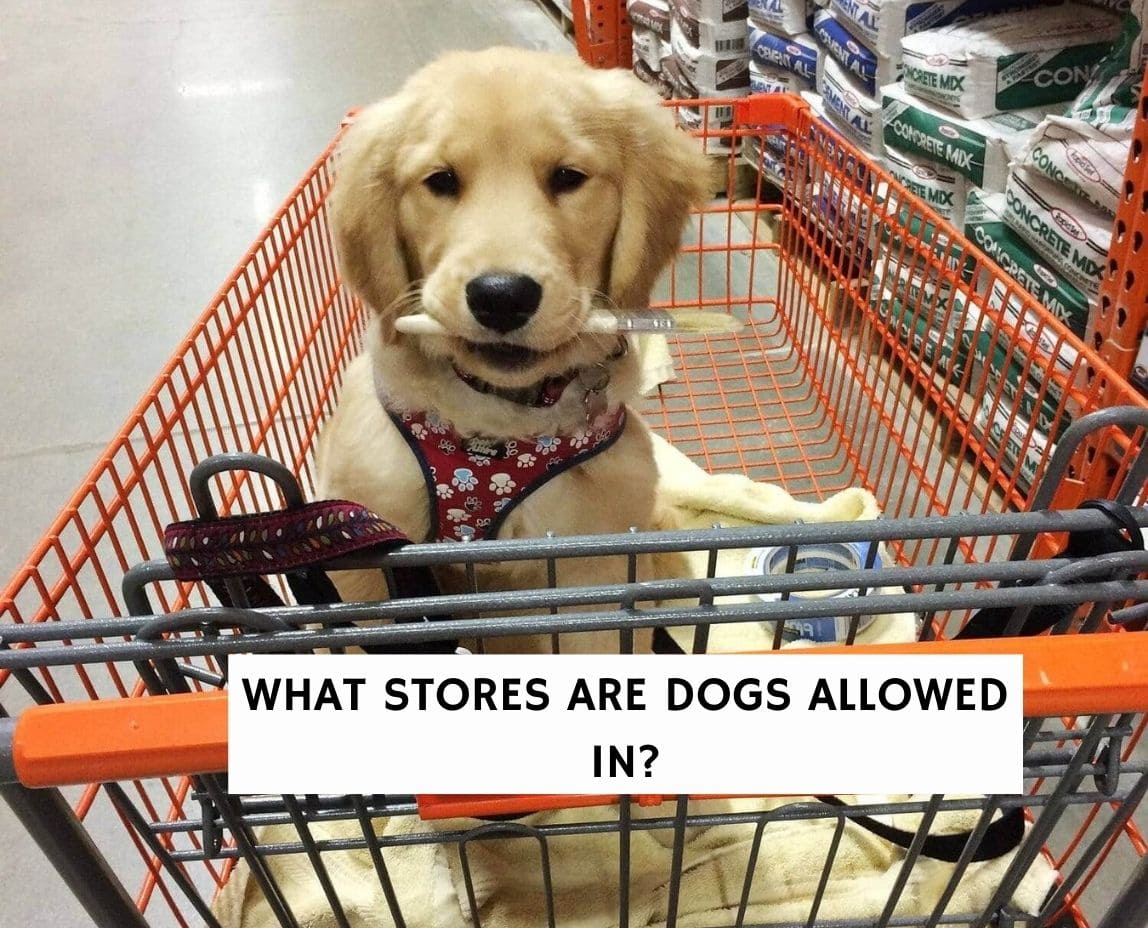 Sometimes owning a dog can be difficult. Finding time to go shopping while being a dog owner can sometimes pose problems. Maybe you do not want to leave your dog at home alone, or perhaps you are out and need to make a stop but cannot leave your dog in the car. Well, some companies understand these challenges and have created dog-friendly policies that ensure that both you and your dog are welcome in their stores. Below you will find a list of some of the companies that allow dogs in their stores.
Before scrolling down, here are some related articles: Are Dogs Allowed in Home Depot? Dog Policy & Info
What Stores Are Dogs Allowed In?
The key to bringing your dog to the store with you is good training. If your dog is not well-behaved, you may be asked to leave the store, so keep that in mind when deciding whether your dog is ready for this little adventure. Good socialization from an early age ensures your dog will handle going to the store well. Some people even bring their puppies to stores to help with socialization. 
That being said, if your dog is not ready to go to the store with you, please leave it at home. Never leave your dog in a car during extreme weather. If the weather is extremely hot or freezing, your dog faces the risk of sickness and even death. So, if you do not want to bring your dog into the store with you, leave it at home. 
Home Depot
Home Depot is known for being pet-friendly. This may vary slightly between locations, but their official pet policy allows dogs to enter as long as they are on a leash. However, specific areas have turned dog owners away at times, as this is ultimately decided by the store manager. So, we recommend you call ahead to ensure your dog is welcome.
Additionally, if your dog has an accident, no big deal, but you are responsible for cleaning it up, and if you do not, you may be asked to leave. Your dog must also be well-trained before entering Home Depot. There are many opportunities for it to get into trouble which can be dangerous for you and the other shoppers. 
Lowes
Similar to Home Depot, Lowes is known for its acceptance of dogs in its stores. However, the Lowes animal policy may confuse some as it does not directly state that dogs are allowed. The policy is only specific about the allowance of service animals in their stores. Therefore, store managers are permitted to make the final call on other animals in the store. Do not let this deter you though, most store managers are more than happy to have dogs in the store as long as they are well-behaved and on a leash. The best way to ensure that your dog is welcome in the store is to call ahead.
Tractor Supply Co. 
At Tractor Supply Co., dogs are always welcome as long as they are on a leash and well-behaved. Some Tractor Supply Co. locations even have dog washing stations available where you can get your dog a full wash for a small fee. However, they kindly ask that all customers ensure that their dogs are friendly while in the store. In some cases, dogs have been asked to leave the store because they misbehave and make other customers uncomfortable. So, always ensure your dog is well-socialized before bringing it to Tractor Supply Co. 
Bass Pro Shop 
As an outdoor recreation store, Bass Pro Shop welcomes and encourages its customers to bring their dogs while shopping. Bass Pro Shop even holds an annual Dog Day in which they place all their dog supplies on sale and encourage canine customers to come in. Many people even bring their young dogs to Bass Pro Shop to develop good socialization skills with people and other dogs. So, if you have a puppy or a well-socialized older dog, take them to Bass Pro Shop, where they will be welcomed with open arms. 
Lush 
Lush is known for its cruelty-free cosmetics, so it should come as no surprise that they welcome your dogs while shopping. This company has taken a strong stance against animal testing and uses only vegetarian ingredients in its products. Their love of animals does not just extend to their products but their customer service experience as well. They would much rather you bring your dog in the store with you than leave it unattended in a car or tethered outside. So, next time you are looking for some animal-safe cosmetics, bring your puppy with you to Lush!
The Apple Store
When it comes to The Apple Store, location plays a significant role in whether dogs are allowed or not. Overall, the store is pet-friendly, but certain restrictions may lead stores to disallow dogs from entering. For example, many Apple Stores are located in shopping malls with a general policy prohibiting dogs. If this is the case, your dog will not be allowed in The Apple Store. However, in larger cities, you are likely to find standalone Apple Stores that are not in malls; dogs are almost always welcome in these cases. 
Nordstrom
Both Nordstrom and Nordstrom Rack have allowed dogs to accompany shoppers for years. In their official pet policy, Nordstrom clearly states that all well-behaved dogs are welcome in the store as long as they remain on a leash for the length of their stay. It is still highly recommended that you call your local Nordstrom before bringing your dog in just to double-check. This is because similar to The Apple Store, Nordstrom is sometimes a part of shopping malls. If this is the case, you may not be allowed to bring your dog in because of mall policies, not Nordstrom policies. 
Pottery Barn 
If you are looking for some new home furnishings, Pottery Barn has you covered. And if you want your dog's opinion on these new furnishings, even better. Although they do not have an official dog policy, Pottery Barn allows dogs to accompany customers while they shop. Please note, however, that your dog is not allowed on the furniture in the store. So its opinion must be solely based on sight and smell. To prevent curious dogs from jumping on furniture, they must be kept on a leash at all times while in the store. 
Macy's 
As one of the most popular department stores in America, Macy's is known to be a great place to take your dog shopping with you. The company also shows its love for dogs in other ways, including its collaboration with the Society for the Prevention of Cruelty to Animals (SPCA). However, like many department stores, Macy's is often connected to malls. So you should always call ahead to confirm the dog policy for your desired location.  
Pet Stores
Many different pet store companies allow dogs into their locations. Therefore, generally speaking, there is a high likelihood you can bring your dog with you when going to a pet store. Petco and Petsmart are great examples of the welcoming nature of these stores, as they are known for having inclusive and welcoming pet policies. 
An important thing to note about bringing your dog to the pet store is the use of a leash. Pet stores have large numbers of dogs of all ages and training levels. Therefore, keeping your dog on its leash ensures that all dogs are experiencing a controlled and comforting environment. 
Additionally, it is highly recommended that you avoid bringing your dog to a pet store if it is unvaccinated. Puppies are especially prone to catching diseases, such as parvovirus, from other unvaccinated dogs. So, if your dog is unvaccinated, please avoid bringing it to the store as it can pose a risk to other dogs. And, if your puppy is not fully vaccinated, it is encouraged that you wait until it is fully vaccinated before making a trip to the store. 
Places Dogs Are Not Allowed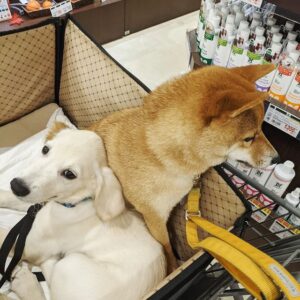 Without getting too specific, it is time to look at places dogs are not allowed. Like we mentioned before, stores that are part of large shopping structures may ask that you refrain from bringing your dog with you. Therefore, even the dog-friendly companies above may not allow dogs simply because of their location. 
Additionally, you should avoid bringing your dog to any store or establishment that serves food or has unsealed food available. This includes restaurants and grocery stores. However, if you happen to be out and want to grab a bite to eat, some restaurants do allow dogs on or near the patio, so you may be able to stay with your dog as you eat. On the other hand, grocery stores do not allow dogs for sanitary reasons, so if you plan on getting some groceries while you are out, leave your dog at home. 
Notes On Service Dogs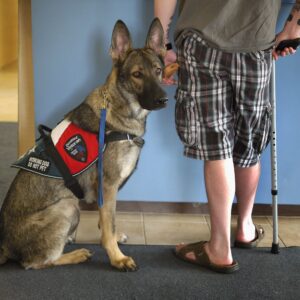 It is important to note that the above are companies that allow ALL dogs into their stores regardless of whether they are working animals or not. However, service animals are allowed in many more places than this. Most businesses will allow service animals as they want their customers to have a safe and happy shopping experience. If you require the assistance of a service animal, you may want to check the accessibility policy of the store you wish to bring your dog to. This will provide you with the most up-to-date information about service animals. 
Conclusion What Stores Are Dogs Allowed In?
As you can see, many stores allow dogs. Therefore, there is no excuse to ever leave your dog in a hot or cold car while shopping. If you are unsure if a location allows dogs, call ahead. Otherwise, leaving your dog at home is a safer and better option for both you and your puppy!
You will also like:
Garrett loves animals and is a huge advocate for all Doodle dog breeds. He owns his own Goldendoodle named Kona. In addition, he volunteers at the Humane Society of Silicon Valley, where he fosters dogs and helps animals. Garrett enjoys writing about Doodles and believes that dogs can teach humans more about how to live than humans can teach a dog.
Why Trust We Love Doodles?
At We Love Doodles, we're a team of writers, veterinarians, and puppy trainers that love dogs. Our team of qualified experts researches and provides reliable information on a wide range of dog topics. Our reviews are based on customer feedback, hands-on testing, and in-depth analysis. We are fully transparent and honest to our community of dog owners and future owners.