The beauty and fragrance of lilacs make them a household favorite, but are lilacs poisonous to dogs? Many pet parents worry that their canine companions may eat their lilacs. As naturally inquisitive animals, curious dogs often eat plants which can be harmful if ingested.
There are many different species of lilac, including variations such as bushes and trees. Thankfully, most species of lilac are relatively harmless for dogs.
This is why many pet parents choose lilac for their homes! However, some species are more toxic than others and could cause gastrointestinal issues. Read on to learn more about lilacs and dogs.
Before you read this guide, "Are Lilacs Poisonous to Dogs," check out: Is Terro Ant Killer Poisonous to Dogs? (2023) and Are Slugs Poisonous to Dogs? (2023).
Are Lilac Flowers Poisonous to Dogs?
There are about 20 lilac species, most of which originate from Asia, but are lilacs poisonous to dogs? The common lilacs, Syringa vulgari, are not considered poisonous to dogs, and they come in many different fragrances, colors, shapes, and sizes.
These common lilacs are considered safe, and the ASPCA does not include them on its list of toxic plants. However, two flowers associated with lilacs are toxic for dogs. We'll cover these in-depth below.
The Persian Lilac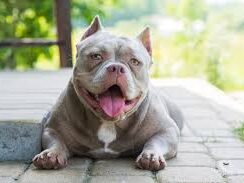 This flower, also called the chinaberry, white cedar, or Texas umbrella tree is not considered a true lilac because it is not in the same family. However, they are associated with lilacs, so it is important to note that these flowers are poisonous to dogs.
The Persian lilac contains Melia toxins A & B that can be found in the seeds, the bark, and small amounts in the leaves. The most toxic part of the plant is the berries, and the toxins at work are Tetranortriterpenes (meliatoxins).
When ingested in low doses, these toxins cause vomiting, salivation, diarrhea, and colic in dogs. High doses can cause tremors, muscle contractions, collapse, possible seizures, and even death.
Other side effects include a labored or irregular respiratory rate. Your dog could also suffer from depression and weakness after ingestion.
The French Lilac
The rare French species of lilac contains toxins harmful to your furry friend. There is not much to worry about, though, because you are unlikely to run into this species of lilac in any garden you may visit.
Even if you did happen to come across the French lilac, animals are unlikely to ingest this flower. Animals only eat this flower if there is no other food source available, and the French lilac is the only true species of lilac that contains toxins.
The French lilac, also called Goat's rue, Italian fitch, or professor weed is neurotoxic and hypotensive. The poison comes from the ingredient galega, and ingestion of this toxin can cause massive pulmonary edema, fluid accumulation, and hydrothorax in tissues, resulting in death.
Although the French lilac is most lethal to livestock, it is also dangerous for your dog. Animals who ingest this toxin either die or appear to adapt. Other side effects include severe difficulty breathing, and your dog may also cough due to "pulmonary congestion" and edema.
Are Lilacs Toxic to Cats and Dogs?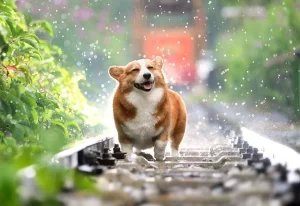 The Persian and French lilacs are toxic for cats and dogs, and the side effects are generally the same. However, the toxins could take three to four days to take effect. It is imperative to take your pet to the emergency veterinarian and monitor them for some time after ingesting Persian or French lilac.
After eating Persian lilac, your dog may have difficulty walking, become lethargic, appear to have yellow or pale gums, show signs of excessive thirst or urination, and grow hyperactive or nervous. These side effects can appear in both dogs and cats.
However, even the common lilac can be harmful to your pets if ingested regularly or in large quantities. It is important to keep your pets from chewing on lilacs because they are not edible.
Here are some health concerns that could affect your cat or dog after ingesting lilacs.
Stomach Upset
Even though they are considered non-toxic, too much of this plant material can disrupt your pet's gut. Ingesting the common lilac in excess can cause your dog diarrhea, gastrointestinal issues, and vomiting.
Pesticides
Never let your cat or dog near plants that have received pesticide treatment. If you find your pet eating a lilac that has received treatment for pesticides, you should call your veterinarian immediately. Pesticides can be dangerous for your pets.
Leaves or Stems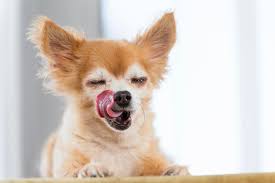 If your pet has eaten too many lilac leaves or stems, they could cause a blockage in your pet's gut. The obstruction would cause your dog to avoid food, vomit, and be sluggish. If your pet displays any of these signs, you should contact your veterinarian.
Allergic Reactions
Dogs and cats can become allergic to almost anything. If your dog's face begins to swell or if he starts drooling excessively after eating lilacs, he could be allergic to the plant. Your dog may also vomit, become dull, and display difficulty breathing.
Cats display similar symptoms to allergic reactions. If your cat is allergic to lilacs, they may begin to cough, wheeze, and have difficulty breathing.
Your cat could also show signs of irritation and swelling, and these reactions can cause an acute asthma attack. If you believe your pet is having an allergic reaction, contact your veterinarian immediately.
Don't fear! The common lilac is non-toxic and safe for your household. However, it is important to be sure that the plant your pet ingested outside of your yard was, in fact, a lilac.
If you are concerned that the plant your dog ate may be toxic, you can call your veterinarian or one of the helplines for animal poisoning like ASPCA Poison Control Center or Pet Poison Helpline.
Are Lilac Trees Poisonous to Dogs?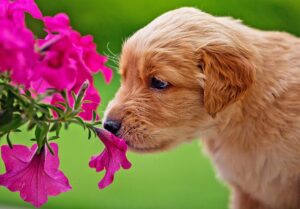 Lilac trees are non-toxic and perfectly safe for your dog. As with any plant, the above concerns are present, but lilac trees do not contain any threat of harmful poison.
The Japanese tree lilac, or Syringa reticulata, is a prominent species of the lilac tree. They come in wide different varieties. All of these varieties, which include Ivory Silk, Chantilly Lace, and Summer Snow, are non-toxic. Their fragrant, white flowers appear in June.
The Pekin lilac, or Syringa pekinensis, is a species related to the Japanese tree lilac. This lilac tree is also safe for your dog! It is a finer texture and is multi-stemmed. The flowers on this tree are yellow-white, appearing late in May and June.
Is There a Difference Between a Lilac Tree and a Lilac Bush?
There are a few prominent differences between lilac trees and lilac bushes. A lilac tree features a singular trunk and impressive height. They are typically at least thirteen feet tall.
Here are some key differences between the lilac shrub and the lilac tree.
Stems
The breakdown between lilac shrubs and trees mainly concerns the placement and amount of stems. Lilac bushes possess multiple stems that arise from the plant base, and Lilac trees differ because they have one woody stem that arises from the base of the trunk.
However, some lilac shrubs may be grafted, meaning multiple plants are joined together. The shrub could be made to form one single stem, which is called a standard. They then appear as a small tree instead of shrub.
Size
The length and height of the lilac shrub compared to the lilac tree is another key difference. The Japanese tree lilac grows between 20 and 30 feet in height with a spread of 15 to 25 feet. The stems and leaves form an oval or rounded shape. The Pekin lilac can grow between 15 and 20 feet in height.
Lilac shrub varieties can be separated into two categories: large and upright or dense and branched. The common lilac belongs to the first category and typically grows to eight feet tall. Some varieties will be shorter, growing only four feet tall.
The branched and dense lilac shrubs are grown specifically for many flowers in a smaller, contained space. The Manchurian lilac species can grow between eight and twelve feet tall and wide.
This lilac is dense with branches and has many bright, blooming flowers. Smaller varieties, such as Miss Kim, grow five or six feet tall (occasionally taller) and four or five feet wide.
Do Dogs Like to Smell Lilacs?
Dogs love to investigate, and the garden is the perfect place for your pup to get his nose into trouble! Due to the strong fragrance of lilac flowers, the plant may attract dogs. Dogs tend to investigate smells with their mouths to inspect the texture. You may need to keep your furry friend out of your lilacs.
Frequently Asked Questions
What happens if a dog eats lilac?
If your dog eats lilac flowers or leaves, they may get an upset stomach but should be fine otherwise. The common lilac is not toxic to dogs.
Are hostas toxic to dogs?
Dog owners should avoid planting hostas as they contain the toxic glycoside saponins.
Are peonies toxic to dogs?
Dogs can become ill from eating peonies as they contain the toxic paeonol.
Conclusion for "Are Lilacs Poisonous to Dogs"
Lilacs are popular, beautiful flowers that make a great choice for your home, but are lilacs poisonous to dogs? Rest assured, lilacs are predominately safe and non-toxic for your beloved pets. The common lilac is non-toxic from its roots to its stems, making it beautiful and a good choice for dog owners.
However, it is important to remember that even non-toxic plants can harm your pets if overeat. Your dogs will be safe if you avoid the Persian and French lilacs.
Call your local veterinarian immediately if you fear your dog may have ingested poisonous lilac and is suffering from poisoning or an allergic reaction.
If you are a pet parent looking to become a plant parent as well, you may want to conduct additional research to verify what plants are safe for your pet. There are many non-toxic fragrant, flowering plants for you to try. Your pup will thank you!
If you find this guide, "Are Lilacs Poisonous to Dogs," helpful, check out:
Learn more by watching "10 PLANTS That Can KILL Your DOG 🐶❌🌷" down below:
Garrett loves animals and is a huge advocate for all Doodle dog breeds. He owns his own Goldendoodle named Kona. In addition, he volunteers at the Humane Society of Silicon Valley, where he fosters dogs and helps animals. Garrett enjoys writing about Doodles and believes that dogs can teach humans more about how to live than humans can teach a dog.
Why Trust We Love Doodles?
At We Love Doodles, we're a team of writers, veterinarians, and puppy trainers that love dogs. Our team of qualified experts researches and provides reliable information on a wide range of dog topics. Our reviews are based on customer feedback, hands-on testing, and in-depth analysis. We are fully transparent and honest to our community of dog owners and future owners.