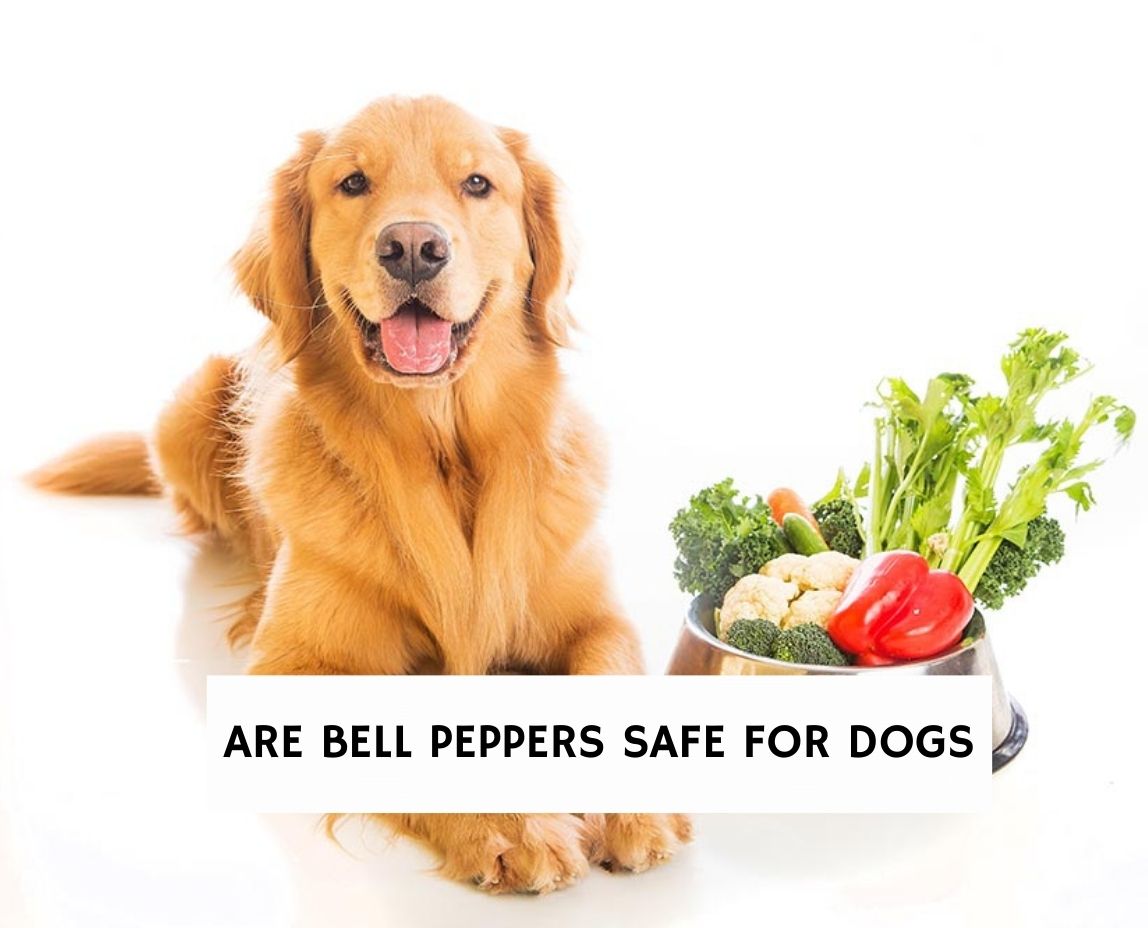 Have you ever started chopping peppers for yourself and felt some intense puppy dog eyes watching you? Maybe this led you to wonder, "Are bell peppers safe for dogs?". Well, bell peppers are safe for dogs. As long as it is adequately prepared, this sweet pepper is actually a healthy treat because it is low in calories but high in nutrients. So, next time your dog gives you puppy dog eyes, consider sharing some bell peppers!
Before scrolling down this list, check out these other recommendations: Best Dry Dog Foods for Loose Stools (2021) – Cure Digestive Issues!
Are Bell Peppers Safe for Dogs or Are Bell Peppers Bad For Dogs?
If you have ever wondered, "Are bell peppers safe for dogs?" you are not alone. There are many human foods that people give their dogs while others are unsafe. Fortunately, bell peppers are a safe and healthy treat for your dog!
So, not only are bell peppers safe for dogs to eat, they are actually beneficial. These peppers add essential vitamins and minerals to your dog's diet. They are also low in calories meaning your dog can get more nutrients without drastically adding to its daily caloric intake.
Can Dogs Eat Sweet Peppers?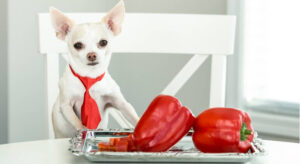 Many people use sweet pepper and bell pepper interchangeably. However, bell peppers are only one type of sweet pepper. Other types of sweet peppers are less safe for dogs to consume because of their higher spice content.
Unfortunately, some sweet peppers are still too spicy for dogs to eat. Dogs can eat sweet bell peppers and mild banana peppers. But, other sweet peppers such as Anaheim peppers, cherry peppers, cubanelle peppers, pepperoncini peppers, and poblano peppers are best avoided.
Bell peppers and mild banana peppers have smaller amounts of capsaicin. This chemical compound is responsible for spice. Therefore, the more capsaicin present in a pepper, the less safe it becomes for your dog to eat. This is why you should only feed your dog sweet peppers with low capsaicin.
Can Dogs Eat Orange Peppers?
Bell peppers come in many different colors, such as orange, red, yellow, and green. Now, you may be wondering whether the color of bell peppers affects whether dogs can eat them. And the answer is no. Regardless of the color of the bell pepper, dogs can eat it.
However, while all colors are safe for dogs, some colors provide more health benefits than others. Red and yellow bell peppers are the healthiest of the bunch, with the highest levels of antioxidants and vitamins. Specifically, red and yellow bell peppers have higher amounts of vitamin A and C than other colors.
Green and orange bell peppers, on the other hand, have slightly smaller amounts of vitamins and minerals. However, that does not mean they are unhealthy. These peppers still have high doses of these essential vitamins and minerals. So, regardless of the color of bell pepper that you have, it still has health benefits for your dog.
Health Benefits of Bell Peppers
Bell peppers have fantastic health benefits for both humans and dogs. These tasty vegetables are packed full of vitamins and minerals, making them an excellent treat for your pup. Below you will find the vitamins and minerals found in bell peppers and how they help your dog stay its healthiest self.
Vitamin A: Beta-carotene, which is also found in bell peppers, is converted into vitamin A in your dog's body. Vitamin A is responsible for healthy eyes and skin. So, if you notice your dog is struggling to see or has sensitive skin, adding some bell peppers to their diet can help with these problems.
Vitamin B6: Vitamin B6, also known as pyridoxine, helps your dog metabolize amino acids. These acids are responsible for muscle repair, brain function, bladder health, and energy production. So, bell peppers are a great way to increase vitamin B6.
Vitamin B9: Vitamin B9, also known as folate, is beneficial for growing dogs. This vitamin aids in the growth of red blood cells and healthy immune systems. These developmental benefits make this an essential vitamin for pregnant and young dogs. Just be careful when giving your puppy peppers, as they can be a choking hazard.
Vitamin C: Bell peppers are one of the most vitamin C-rich foods you can find. With almost three times the amount of vitamin C found in an orange, bell peppers are an excellent choice for dogs who need extra amounts of this antioxidant.  This vitamin helps with many of the body's essential functions, such as producing collagen, strengthening the immune system, and neutralizing free radicals. Vitamin C is an excellent supplement for aging dogs, especially those suffering from joint problems.
Vitamin E: Vitamin E is an antioxidant responsible for the muscular and nervous systems. Therefore, if your dog struggles with muscle pain, you might want to add vitamin E to its diet. Additionally, this vitamin can help combat degeneration of the eyes. So, if your dog suffers from these problems, adding bell peppers to their diet is an easy and delicious way to help.
Potassium: Bell peppers are high in potassium which provides many incredible benefits to your dog's health. Potassium is responsible for many biological functions such as muscle growth, metabolism speed, cognitive function, and bone strength. Therefore, potassium is one of the most essential nutrients for your dog's health.
Portion Sizes of Bell Peppers for Dogs
The health benefits of bell peppers are immense, but there is still a limit to the number of bell peppers you should be feeding your dog. When deviating from your dog's regular diet, it is always best to start slow and gradually introduce new items. This allows your dog's digestive tract to adjust to these new foods. Therefore, if you want to start giving your dog bell peppers, start with one or two small pieces to ensure no adverse side effects for your pup.
Once you have gradually introduced the bell peppers into your dog's diet, you can slowly increase the amount. However, there is still a limit to the amount your dog should eat. Small dogs should have no more than ¼ of a bell pepper at a time. Large dogs should not exceed more than ½ a bell pepper at a time.
Too many vegetables in your dog's diet can cause gastrointestinal upset. This is because of the high amounts of fiber found in these foods. Therefore, you should always treat bell peppers as a treat and limit the quantities you are giving to your dog.
What to Avoid When Giving Your Dog Peppers
As you can see, there are many benefits to giving your dog bell peppers. However, you must be vigilant when giving your dog treats of any kind. The preparation of peppers can affect whether they are safe for your dog or not. Below you will find essential things to avoid when giving your dog bell peppers.
Seasonings
When serving your dog peppers, it is crucial not to season them. Seasoning may seem like a nice extra treat for your dog, but in fact, it can be perilous. For example, garlic is toxic for dogs and can cause gastrointestinal problems and sometimes even death.
Other additions people make while cooking peppers include oil and salt. The most commonly used oils, such as canola and olive oil, can cause upset stomachs in dogs and contain high amounts of fat. High doses of salt can lead to dehydration in dogs. Therefore, you should avoid adding any extra salt to your dog's diet.
Spice
As we mentioned, bell peppers have low amounts of capsaicin. Therefore, they are relatively mild compared to other peppers. You must remember this when feeding your dog peppers. Many peppers can look like bell peppers but are incredibly spicy. You must be extremely mindful when providing your dog peppers. If you doubt that what you are giving your dog is spicy or not, it is best to avoid it altogether.
How to Serve Bell Peppers to Your Dog
There are a couple of different ways to serve your dog bell peppers. Always remember, however, to avoid additives and seasonings when giving your dog these vegetables, or it can cause more harm than good.
Many people just give their dog raw bell peppers. Serving bell peppers in this way maintains the maximum amount of vitamins and minerals. This is because many of the crucial vitamins, such as vitamin C, break down when heated. The only problem with this serving method is that some dogs struggle to chew the pepper's skin. If this is the case, there are other options available.
Dogs that have dental problems may struggle to chew raw peppers. So, it is best to cook them down slightly to reduce some of the crunchiness. Therefore, you can boil or steam bell peppers for your dog to make them softer and easier to eat. In other cases, some people will puree the peppers for easier consumption and may even add the puree to regular dog food.
Conclusions for Are Bell Peppers Safe For Dogs?
Bell peppers are a great source of nutrients for dogs. So, whether they are red, orange, yellow, or green, give these peppers to your dog for an ultimate health boost! However, if you're first starting to feed your dog bell peppers, we recommend that you feed it to them in moderation. Too much bell pepper can give them an upset stomach as they adjust to a new type of food.
You will also like: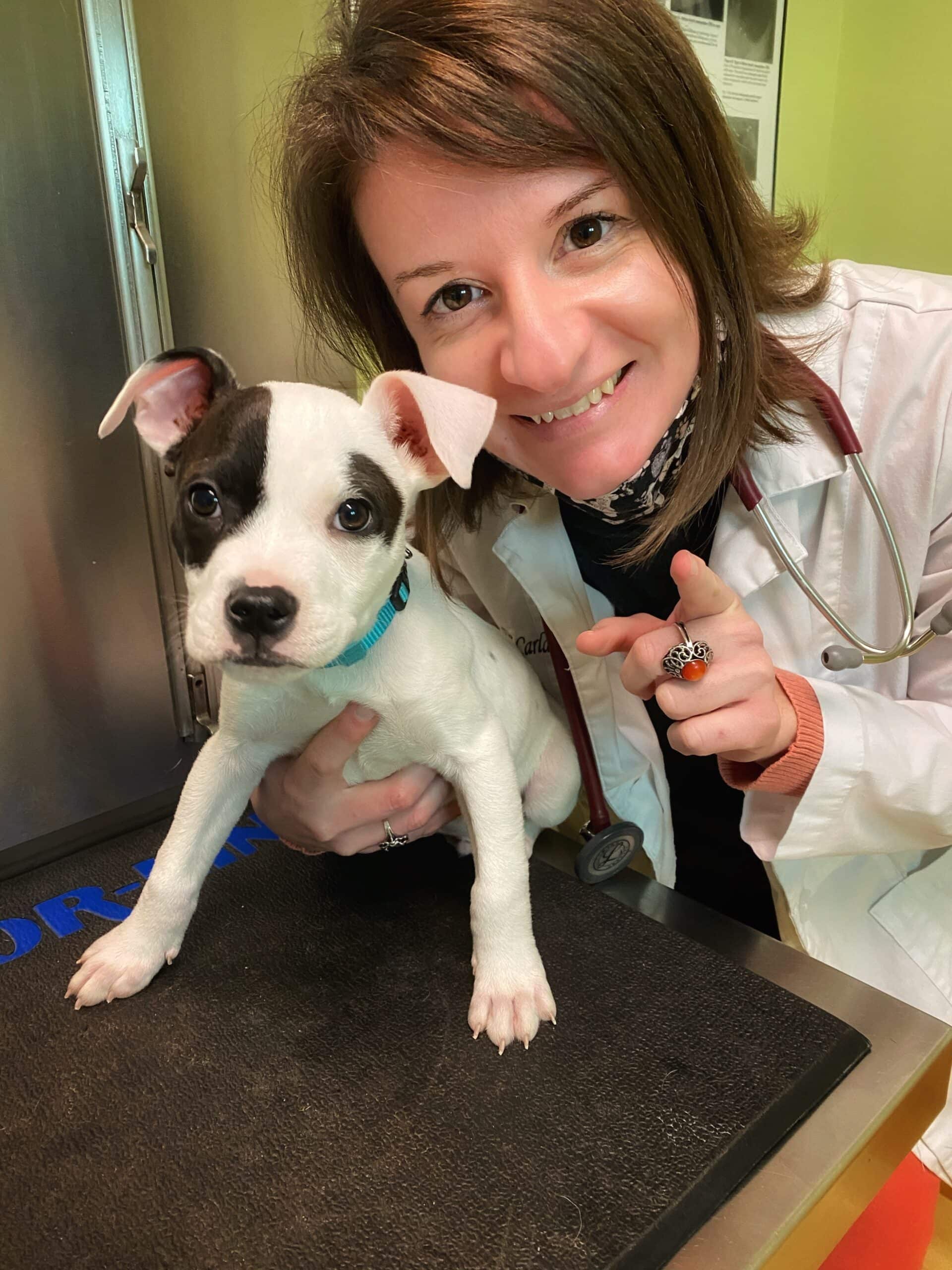 Dr. Carla Rodrigues is the owner of the veterinarian clinic Pawsitive Healing based in Jacksonville, Florida. She graduated from Montclair State University with a Biology degree and did her Doctor of Veterinary Medicine degree at Ross University. Dr. Carla Rodrigues completed her clinical at the University of Minnesota and began practicing in California and North Carolina before founding her own clinic.
Dr. Rodrigues specializes in canine rehabilitation and wants to help all pets recover whether they are a puppy or a senior dog! She practices neurologic recovery, arthritis recovery, and does orthopedic surgery. When Dr. Rodrigues isn't working or traveling, she spends time with her two loyal rescue dogs, Stella and Jackson.
Why Trust We Love Doodles?
At We Love Doodles, we're a team of writers, veterinarians, and puppy trainers that love dogs. Our team of qualified experts researches and provides reliable information on a wide range of dog topics. Our reviews are based on customer feedback, hands-on testing, and in-depth analysis. We are fully transparent and honest to our community of dog owners and future owners.