From its taste to crispiness, many people enjoy eating pork rinds, and you probably do too. Are you in a scenario where your dog is giving you that "sad look" because it wants to enjoy these snacks with you? Before providing these pork rinds to your companion, you're probably wondering: Can dogs eat pork rinds, and is it safe? Before you decide on giving your dog pork rinds – don't. However, if you're in a situation where your companion accidentally consumes pork rinds, you should immediately check the ingredients. Whether it's leftovers on a plate or a bowl of food, your companion could've accidentally eaten this, and you weren't there on time.
In addition to accidentally consuming food, numerous dogs have a fascination for chewing on things like sticks, rawhides, or even bones. People have often thrown pork rinds into that category of delicious treats for dogs without realizing the potentially harmful ingredients. Should you allow your dog to munch on pork rinds as a special treat, and is it safe? To help you with the best practices in caring for your dog's health, WeLoveDoodles present to you important things to keep in mind when it comes to feeding your companion savory pork rinds.
Before scrolling down, we think you might find these articles helpful: Can Dogs Eat Wheat Things, and Can Dogs Eat Gummy Worms or Bears?
What Are Pork Rinds?
Pork rind comes from the skin of a pig. It's often prepared by boiling a pig's skin to soften it and then drying it out to eliminate the moisture. Eventually, the pig's skin is fried, roasted, or whichever way is preferred. These rinds are provided in small quantities because they're generally dense and lack nutritional value. These pieces often start larger at first, but they shrink into a Dorito chip's size as they sit in the fatty oil when fried. During frying, these pieces of pork skin become puffy and crispy by the time it's done. Overall, pork rinds are a pretty addictive snack.
If you've stumbled across the term "chicharron," then you should know that it's a famous Spanish term used for this snack. In the United Kingdom, pork rinds might be called "scratchings." Depending on where you are in the world, pork rinds can be prepared with a wide range of flavor combinations, from spicy to savory. Pork rinds can be customized in many ways that could cater to the flavor you most enjoy. You can find pork rinds at numerous store locations packaged like a bag of chips with an endless amount of flavor selections.
Keep in mind that while pork rinds might be packed with protein and extraordinarily crispy, they're considered unhealthy snacks. You should limit your consumption of these snacks as they come with a high-calorie count, astronomical sodium, saturated fat, and other harmful components. While it's harmless for humans, what bout dogs? If you want to feed your companion pork rinds or accidentally consumed them, then would your dog be safe?
Similar Articles: Can Dogs Eat Crawfish?
Should Dogs Have Pork Rinds?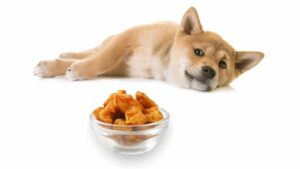 For many dog breeds, meats like pork might be their go-to. After all, they'll obey your commands because they have a simple love for these types of food. Before feeding your dog pork rind, you should think twice because there are several safety risks to remember. You have to read the ingredients and preparation methods used to fully understand whether you can give the pork rinds you have or not. Whether you make the pork rinds at home yourself or purchase these delicious snacks from a store, it's best to avoid giving this to your dog.
Pork Rind Safety Risks For Dogs:
Ingredients
Every dog owner seeks to promote the best health and well-being for their dogs. You want your dog to grow strong, feed them the proper dietary needs, help them grow, and keep them active. Pork rinds don't fall under this category at all. It's not enough as a well-balanced snack. Since the pork rinds you see around you are explicitly created for humans, it should remain that way.
Unlike humans, dogs have a smaller digestive system and a less tolerant stomach to certain ingredients. Even though pork rinds are advertised as pigskin, most manufacturers throw in other ingredients like gristle, fat, and other things that could harm your dog.  The variety of ingredients might be safe for humans, but it could lead to unfortunate consequences for dogs.
If you own a dog, you probably have a fair-share idea of harmful ingredients that dogs should never consume. For instance, ingredients like garlic, onions, and certain salt products can be dangerous and challenging for a dog to handle. These toxic ingredients should stay away from your companion if you want it to live a comfortable life.
Preparation
In addition to the ingredients used in pork rinds, the preparation method may also lead to adverse side effects for your dog. As pork rinds are boiled, dried, and then deep-fried, the intense level of oil and saturated fat can upset a dog's stomach. For the most part, this cooking method should be avoided for your dog.
What To Do If Your Dog Eats Pork Rinds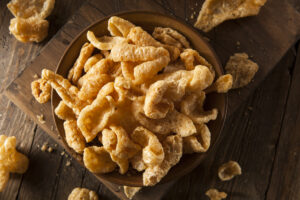 In case you accidentally left a bag of pork rinds out or dropped a piece on the floor, and your dog consumed it, then here's how you can deal with this situation. If your companion finished one or two pieces of pork rinds, it could likely cause an upsetting stomach. However, with a few pieces, your companion should be fine. Keep in mind that your dog might have a worse adverse reaction after consumption. Like how certain dogs have allergies, the effects of consuming pork rinds will be different.
Once your dog accidentally consumes it, it's best if you keep an eye out and observe your dog's behavior. You should watch to see any significant negative effects like diarrhea, vomiting, or extreme tiredness. If it doesn't look too good or if you have any concerns, your best path is:
Bring your companion to a dog hospital.
Meet with your veterinarian.
It's important to note that the ingredients so you'll have an idea of your companion's consumption. This information will help the dog doctor as well. If you notice any negative side effects beforehand, then report them to your dog's vet. To avoid any discomfort for your companion and more significant issues, try to take action as soon as possible.
Alternatives: How To Cook Eggs For Dogs and How To Cook Chicken For a Dog
Conclusion For "Can Dogs Eat Pork Rinds"
Feeding your dog pork rinds isn't the best idea. If you don't want your dog to suffer from a dull and bland diet, there are alternatives similar to pork rinds. You can create your pork rind recipe that's dog-friendly and safe for your companion, but keep in mind that it's challenging. There are alternatives similar to this snack that you can purchase at a store without cooking up a recipe.
Snacks and treats created specifically for dogs are much better for their overall health and being. Healthier sources of protein like meats can be a much better alternative that'll sit better for your companion. Even certain fresh vegetables and fruits could work. It's best to do your due diligence and find what ingredients are good and bad for your dog.
For more similar content by our team at WeLoveDoodles, check out:
To learn more about the wrong harmful ingredients for dogs, watch "Harmful Foods Your Puppy Shouldn't Eat" from Alpha Paw down below: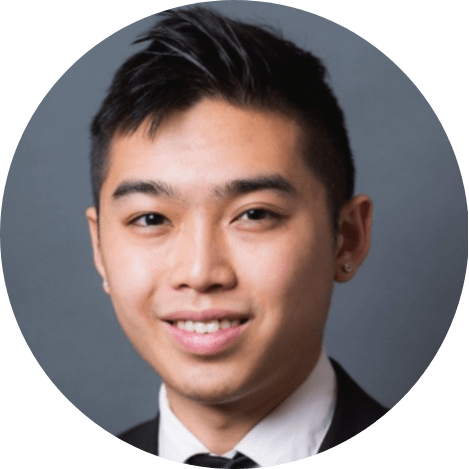 Andy is a full-time animal rescuer and owner of a toy doodle. When he's not saving dogs, Andy is one of our core writers and editors. He has been writing about dogs for over a decade. Andy joined our team because he believes that words are powerful tools that can change a dog's life for the better.
Why Trust We Love Doodles?
At We Love Doodles, we're a team of writers, veterinarians, and puppy trainers that love dogs. Our team of qualified experts researches and provides reliable information on a wide range of dog topics. Our reviews are based on customer feedback, hands-on testing, and in-depth analysis. We are fully transparent and honest to our community of dog owners and future owners.