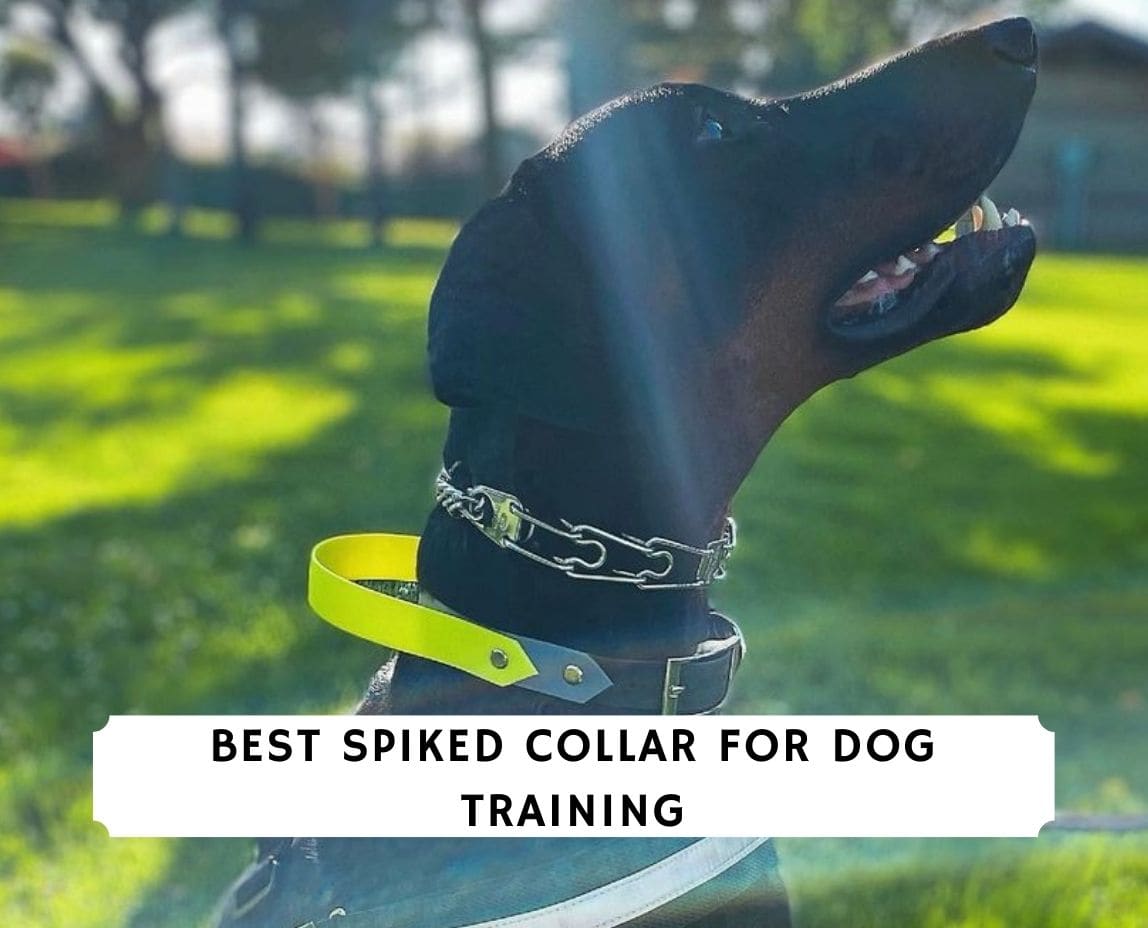 Spiked collars, also called prong or pinch collars, are popular among dog trainers and owners. People also use them if they have recently acquired a dog. Additionally, dog owners may use them if their furry friend becomes difficult to control. These collars are fashioned with small prongs or appendages with blunt endings on the inner side.
While popular, these kinds of collars have wrongfully gained a bad reputation among some trainers and owners. They may look like they are hurting the dog, but, you fit them properly, they do no such thing. Quite the contrary; these collars protect the dog's vulnerable neck from attacks. They also keep the dog's trachea from bruising caused by jerking on a leash.
How Spiked Collars Work
Dogs often tug at their leashes out of excitement or impatience. Although endearing, this action can cause the dog and the owner significant discomfort. With this collar, whenever the dog tugs at the reins, he will feel a slight pinching sensation by the spikes or prongs, causing him to stop his frantic movements. This kind of reinforcement trains the dog to develop better leash manners. To avoid the pinching sensation, the dog will behave itself, and the owner can walk peacefully.
So, if you have an easily excitable dog that tends to sprain or bruise your shoulder or wrists, you will benefit from getting this collar. When placed around the neck, the change in your dog's behavior will be wonderful. You will be surprised to find your canine walking in a docile, calm manner. Walking will seem less like a chore with a spiked collar. After you complete the dog's training, you will feel more connected to your dog than before, adding value to both the dog's and your life.
However, you should note that these collars are not harmful to dogs if used properly. The collar should be fastened as close to the ears as possible and not be fitted tightly. If you misuse it and disregard instructions, then you can't expect the same outcome and results with its usage.
Top Spiked Collar Picks
There are a lot of products available for you to browse through in the market. While variety is important, it can become tedious and overwhelming to find the right product. With pronged collars, proper research regarding the product is even more important, because it can affect your dog's well-being. We understand that you want the best and safest collar for your furry friend; for this purpose. we have compiled a list of the best spiked collars to meet your needs.
In a rush? Here are the top picks!
Product
Best Overall
Supet Dog Prong Collar
Runner Up
Aheasoun Dog Prong Training Collar
Budget Pick
Herm SPRENGER Spiked Collar
Dog-Think Spiked Training Collar
Image
Supet aims to provide quality products for pets and their owners; one such example is their Dog Prong Collar. The collar consists of stainless steel with chrome-plated 0.5 mm-long prongs. The spike links are attached to a nylon strap ending in metal D-rings. The D-rings can accommodate any leash.
The collar is strapped into place with a plastic buckle, integrated into the strap. You can effortlessly open the buckle with the push of a button. It is easy to strap, will stay in place, and won't get caught in your dog's fur.
The prongs provide a comfortable pressure to the dog to diminish bad behavior. To mimic a mother dog admonishing its pupper, the collar evenly distributes the pressure. To take the dog's comfort one step further, the prong ends have a covering of smooth rubber caps. You can remove them at your discretion. This strategy results in less tugging by the dog. Above all, the collar does not cause any pain to the dog. In fact, it protects the dog's airways and neck from all sorts of damage.
The product comes in many sizes; we have included the XL collar, but you can select the collar size that better suits your dog. This size can easily accommodate dogs that weigh 90lbs with neck girths of 20 inches.
You can effectively train your dog to obey your commands with Training Prong Collar provided by Dog-Things. Made from interlocking steel links and covered with a chrome finish, the collar is a quality build. The design of the collar is not only stylish but also maximizes the comfort of the dog.
The spikes or prongs on the collar provide a gentle pinch when the dog acts out, allowing you to communicate and train your pet. The pinch does not cause any harm; instead, it corrects the dog's behavior with a gentle nudge. The action mimics a mother dog carrying its pup in its teeth.
It can fit dogs with a neck girth of about 18 inches. Hence, it can efficiently discipline large dogs into following your commands and staying calm when going on walks or confronting other animals.
Aheasoun provides dog owners with an instant solution to pulling with their Prong Training Collar. Made of strong,chrome-plated, stainless steel, this collar can stand the test of time. An additional silver coating reduces the risk of rusting, also giving it a sleek finish.
Most importantly, the links are structured in a manner that the pressure of the prongs is distributed towards the side of the neck, away from the airways. This means your dog does not feel any pain or breathing difficulties.
The prong ends have smooth rubber tip covers, providing more relief. The rubber tips do not, however, reduce the effect of the prongs. Therefore, you don't have to compromise on your comfort or the dog's.
The links are also adjustable. Although they can accommodate a neck girth of 23.6 inches, you can modify this by adding or removing links to the collar.
Herm Sprenger has a solid reputation when it comes to dog collars. They aim to produce collars that train dogs to be obedient and calm. A dog owner can't go wrong with trying a Herm Sprenger collar at least once on their dogs.
This particular collar consists of chrome-plated steel and is incredibly sturdy. The prongs do not place pressure on the trachea; instead, they direct it evenly towards the sides. This provides maximum safety to your canine. The chain has a length of 24 inches and can comfortably fit around a 22-inch neck. You can adjust the size by removing or adding links to the chain.
A unique feature of this collar is the center plate. This ensures that the prongs are placed symmetrically around the neck of your dog, resulting in maximum comfort for your dog and effective communication. Walking your dog becomes a breeze with this collar.
The CompanetDog Prong Collar is a premium prong collar thatevery dog owner should have on their radar. The chain consists of stainless steel and has chrome plating, providing durability. The chain is attached to a nylon strap with an integrated buckle. The buckle allows quick and easy fastening of the collar.
The prongs are meant to provide gentle pressure while not being too uncomfortable. Additionally, the spikes have rubber tips attached to provide more comfort.
The chainhas a length of 23.6 inches and can easily accommodate medium to large dogs with a neck girth of 23-22 inches. You can also adjust the size by adding or removing links to the chain.
Companet provides you complete equipment for training your dog, including a high-grade leash with this purchase. The leash is made from encrypted nylon and provides good traction and a comfortable grip. It is comfortable to hold and won't result in hand burns. Overall, it is a great deal at an excellent price.
How To Choose a Spiked Collar for Dog Training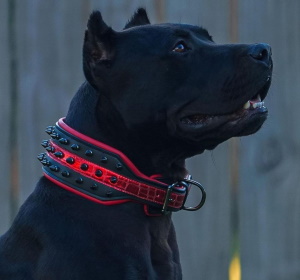 Don't like the products we've chosen? No problem! Regardless, we want to help you in your decision-making process. To ensure you buy a product that doesn't harm your furry friend, keep the following factors in mind:
Size
This is a significant factor. It is important to correctly measure the circumference of your dog's neck before buying any specific size. Measure the neck from behind the ears and under the jaws for an accurate size. While all of the collars mentioned here are adjustable, some are not. Even the adjustable ones require you to buy extra prongs. It is best to avoid your dog and wallet any discomfort by measuring correctly.
Material
The material of the collar should be able to withstand usage. Stainlesssteel metal is a must-have feature as it is resistant to rust and hence, it is very durable. If a stainless steel option is not available, be sure to buy a collar that uses a metal of similar strength and resistance to rust. Usually, some type of fabric is also a part of the collar, which can help keep it in place around the neck. Your dog will give the occasional tug, especially during the beginning of your training; the collar must be able to bear it.
Functions
A spiked collar can come with more than one feature. It might surprise you to find out about aspects like rubber tips, easy-fastening buckles, choker function, and much more. Look into the versatile options available and select a collar with the features you want.
Quality
The collar you buy should be of good quality. You don't want to get a cheap option that does not have comfortable prongs, causing pain to your dog. A collar should be reliable and durable enough to avoid needless costs on your part. Make sure to assess the quality and build of the collar you decide to buy.
Conclusion for Best Spiked Collar for Dog Training
Spiked training collars have earned a bad reputation because of their look, feel, and claims that they are inhumane. This is not accurate at all. Such collars are great for training misbehaving dogs without causing any injury. In fact, these collars provide additional protection to the dog's airways.
We would like to point out to our readers that when you fasten them incorrectly, these can do more harm than good. We suggest seeking expert help or watching tutorials on how to correctly place these collars on your dogs.
When your dog's behavior improves, stop using these collars. They are only for training purposes, not for extended use. After training with spiked collars, you will notice a drastic change in your dog's walking behavior. You will no longer feel like the dog is walking you, instead of you walking it.
Lastly, we understand if the products mentioned above don't fit your criteria; everyone has their own inclinations. However, we do hope that the information we have presented helps you to make an informed and safe decision for the sake of your doggo.
Want to learn more about how to use a prong spiked collar for dog training? Check out the video below:
Garrett loves animals and is a huge advocate for all Doodle dog breeds. He owns his own Goldendoodle named Kona. In addition, he volunteers at the Humane Society of Silicon Valley, where he fosters dogs and helps animals. Garrett enjoys writing about Doodles and believes that dogs can teach humans more about how to live than humans can teach a dog.
Why Trust We Love Doodles?
At We Love Doodles, we're a team of writers, veterinarians, and puppy trainers that love dogs. Our team of qualified experts researches and provides reliable information on a wide range of dog topics. Our reviews are based on customer feedback, hands-on testing, and in-depth analysis. We are fully transparent and honest to our community of dog owners and future owners.