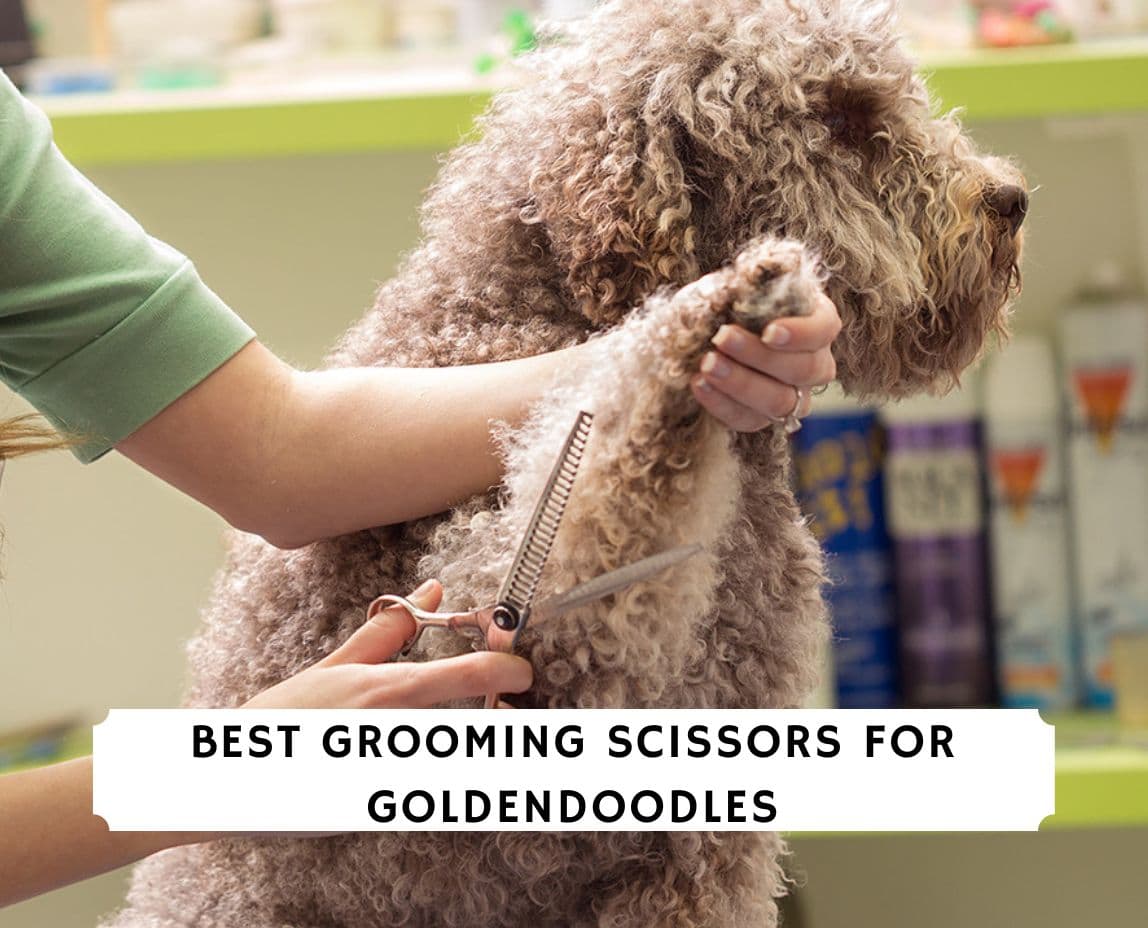 The Goldendoodle is a popular cross between the Golden Retriever and the Poodle. These dogs are known for their hypoallergenic coats and friendly, outgoing personalities. Goldendoodles require regular grooming to keep their coats looking their best.
In this buying guide for the best grooming scissors for the Goldendoodle, we're going to show you our best grooming scissors for Goldendoodles based on our own experience, reviews, and research.
We're also adding two low noise, low vibration pet clipper kits that include dog grooming scissors to help you save money and time for at-home Goldendoodle grooming. All our top picks are under $30, with thousands of positive reviews.
We'll also provide a few tips on how to use them effectively. Learning how to groom your Goldendoodle in the comfort of your own home is probably one of the best things you can do in in-between visits to the groomer. Not only will it save you money, but it will also bond you and your pup even closer. Let's get started!
Product
Best Overall
We Love Doodles Dog Grooming Scissors Kit
Runner Up
Glad Dog Grooming Scissors
Editor's Choice
Gimars Dog Scissors for Grooming
Image
The We Love Doodles dog grooming scissors kit just launched in November 2022 with raving product reviews. It includes a straight scissor, curved dog scissor, thinning dog scissor, and a comb. This is the perfect at-home grooming scissors kit for Goldendoodles.
The dog scissors are made out of professional-grade stainless steel which means they have sharp edges for easy grooming. Additionally, all the scissors have an ergonomic handle that easy to hold and snip the hair off your Goldendoodle. Your hands won't get sore or uncomfortable after using these scissors.
This scissor also comes with a 100% satisfaction guarantee so if you or your Goldendoodle aren't happy, you can return them at any time. The straight dog scissors are meant to cut the body of your Goldendoodle, while the curved dog scissor is used to trim around their face, belly, and paws. The thinning dog scissors help blend the hair of your Goldendoodle together. Before you start trimming, you can also use the stainless steel comb to remove any knots, tangles, or mats.
Features
Affordable grooming scissors
Includes thinning shears, curved scissors, and straight scissors
The scissor tips are longer than any other scissors on our list
Higher-grade stainless steel than any other products on our list
Gimars dog grooming scissors are made of 4CR stainless steel materials and dipped in a ceramic coating. The blades will not rust and are also sharpened to a fine point so that you can get a precise cut every time that will make your Goldendoodle look and feel great. 
The takeaway with these is that you have five fun color choices and small to large different size options in this dog scissor grooming kit. The sharp convex edge makes the cutting of these dog grooming scissors professional and more smooth and stable, great for eliminating hair mats and tangles.
The scissors' handles are also comfortable to hold so that you can get a good grip on them while you are grooming your pet. A finger rest is also built into the handle so that you can have more control over the scissors while using them. 
The Gimars 6 in 1 Professional 4CR Stainless Steel Safety Round Tip Dog Scissors also come with a carrying case to keep them safe and sound when you are not using them. When you are ready to use the scissors, all you need to do is take them out of the case, and they are ready to use. This product has over 9,800 positive reviews and is priced so reasonably.
Features
Affordable for multi-pet homes
Six fun color options
Professional grooming scissors
Scissor sound eliminator for anxious dogs
Over 9,800 positive reviews
Six assorted pairs of scissors
Includes thinning shears, curved and straight scissors, and round-tipped dog grooming scissors.
The GLADOG Professional Grooming Scissor kit features over 7,800 positive reviews and includes a grooming comb for your Goldendoodle. There's also a 90-day back guarantee.
The GLADOG Professional Grooming Scissors for Dogs with Safety Round Tips is a 5-in-1 grooming scissors set that is sharp and durable. The set includes 1 × 6.5-inch thinning shear, 1 × 6.5-inch curved scissor, 1 × 6.5-inch straight scissor, 1 × pet comb, 1 × cleaning cloth, 1 × black leather case.
The round tips of the Goldendoodle scissors are made of 4CR titanium coated stainless steel, which is sharp and durable and doesn't snag at the coat. These pet grooming shears have safety tips to prevent accidents. They are also comfortable to hold and use. 
Features
3 pairs of grooming scissors and 1 grooming comb with close and wide teeth
Over 7,800 positive reviews
Crafted with 4CR titanium coated stainless steel
Affordable
Soft finger ring inserts
Rounded tips for safety
Adjustable screw for tension control
Cuts well
Low sound
These Japanese-style scissors are high-quality stainless steel and feature a comfortable grip. The unique design is perfect for grooming your pet's facial hair and body. The round tips provide a safe and easy experience for you and your pet. They are also comfortable for right- or left-handed use.
This product has over 10,200 positive reviews and is a must-have for every Goldendoodle pet grooming kit. With this kit, you get a complete pet grooming set with two pairs of scissors: a longer pair with smooth blades for trimming body fur and a smaller pair with micro-serrated blades for close work on your pet's face and paws. 
These are one of our top facial area picks and are safe to use around the face and ears. There are also cushioned handles and extra finger rest for maximum comfort during long grooming sessions. Priced affordably, these are one of the most popular dog grooming scissors.
Features
Over 10,000 positive reviews
2 Scissor set (includes a larger pair 16.5 long and a smaller pair 15.2cm long.)
Rounded tips for facial and sensitive areas
Pre-sharpened to a fine cutting edge 
Affordable
Surgical stainless steel blades.
6-inch serrated grooming shears
Boshel dog grooming scissors for the Goldendoodle feature over 2,800 positive reviews. The small scissors are perfect for trimming your dog's face, ears, nose, and paws. This is a two-piece grooming set that's light to hold and easy to use.
The larger scissor is excellent for cutting through thick fur. Both scissors have rounded tips for safety and sharp blades for easy cutting. one smooth-bladed long pair for body fur and a smaller pair that features micro-serrated blades for intricate work on their delicate, sensitive paws and face. 
We like these dog grooming scissors for the Goldendoodle because they feature cushioned anti-slip handles and rounded tips for optimal grooming safety. 
Features
Two-piece grooming scissor kit for Goldendoodles
Micro serrated blades
1 7″ straight scissor + 1 5″ micro-serrated scissor
Affordable
Over 2,800 positive reviews
Blue color
Safety tips
One smooth blade for long hair and one short blade for facial and sensitive areas.
Holdog dog clippers are the professional standard for dog grooming. We like this clipper for the Goldendoodle because it features a new type of 33 teeth titanium-ceramic blade combined with the ceramic movable blade, including a curly wavy coat and long coat design. It can also clip a heavy double coat. 
As with all dog, horse, and pet clippers, you should use a blade coolant to keep the blades cool so as not to burn your pet while clipping. need to use with Andes Cool Care Plus 5-In-One Coolant, disinfectant, lubricant, cleaner, and rust preventative)
With a heavy-duty motor and 3-speed settings, these clippers have the power to tackle thick and heavy coats with ease. The low noise design means your dog won't be disturbed by the clipping process, and the cordless design means you can take them anywhere. 
These clippers come with a rechargeable battery, so you'll never have to worry about running out of power. This kit includes dog grooming scissors and four adjustable(3mm/6mm/9mm/12mm) clipping combs that are applicable for clipping hair of different lengths. This product features over 13,600 positive reviews.
Here's the takeaway:
Features
Affordable for every Doodle home
Titanium and ceramic material
Three color options: black, silver, and white
Ergonomic design
Three-speed rotary motor
33 teeth titanium-ceramic blade with ceramic movable blade
Low noise and low vibration
Powerful without additional heat or noise
Includes sharp Goldendoodle grooming scissors
Over 13,600 positive reviews
This grooming kit for Goldendoodles features over 16,000 positive reviews on Amazon. It includes everything you need to groom your Doodle at home, including clippers, scissors, combs, and a nail trimmer. The kit is also rechargeable and cordless for ease of use. 
We like this Goldendoodle grooming kit because it includes two pairs of grooming scissors, and you get five color options black, chrome, gunmetal, white, and gold. 
The low-vibration, precision motor ensures whisper-quiet operation and a stress-free grooming experience. This kit is best for thin to medium coats and is cordless. If you're looking for a professional-grade grooming kit for your Goldendoodle, this is the one to get.
Features
Lightweight at 1.5 pounds
Over 16,000 positive reviews
Low vibration and low noise
Battery powered
Complete set of Goldendoodle grooming tools
Affordable
Includes two pairs of scissors 
Dog Clippers Or Scissors for Goldendoodles?
If you're looking for the best grooming scissors for Goldendoodles, you'll want to consider a few factors. Today pet clipper and scissor manufacturers continue to create highly innovative Goldendoodle grooming products to help pet stylists and pet parents work efficiently and safely at home or the salon.
First, while clippers can be used for basic grooming, you'll need scissors to get the perfect look for your Goldendoodle's coat. You should always thin a thick coat with scissors to avoid any jamming. Here's the takeaway:
How to groom a GoldenDoodle at home?
Types of Grooming Scissors For Goldendoodles
You'll first want to consider the type of scissors you need. There are two main types of scissors: straight and curved. Straight scissors are better for general trimming, while curved scissors can help you create a more groomed look. You'll also want to consider the size of the scissors. Smaller scissors are better for delicate work, while larger scissors can handle thicker coats.
Once you've decided on the type of scissors you need, you'll want to choose a pair that's comfortable for you to use.
This means finding a pair that fits your hand and that you can hold easily. You'll also want to make sure the scissors are sharp. Finally, dull scissors can pull at the hair and be more challenging to use.
Do I need special grooming scissors for my Goldendoodle?
Yes, you will need special grooming scissors for your Goldendoodle. These scissors are designed specifically for dogs with Goldendoodle type coats. The blaGoldendoodle-typehorter and have a curve to them. This helps to prevent the hair from being cut too short. It also helps to get into those hard-to-reach areas.
Grooming kits for Goldendoodles
For pet parents that want to make the most of their Goldendoodle scissor grooming kit, it's best to have grooming kits like the We Love Doodles scissor kit for Goldendoodles that includes everything you need to groom at home.
Products like the Pet Union clippers with scissor kit can also be used as a trimmer for the Goldendoodle together with Goldendoodle grooming scissors. The grooming combs are contoured for the most skin-friendly grooming experience, and thanks to the precision-cut titanium blades, there's no snagging.
If your Goldendoodle is prone to plenty of mats and tangles, products like the Holdog Professional clipper kit for the Goldendoodle include scissors. These are a good option for dogs with grooming issues or who are not regularly brushed or bathed.
When choosing which grooming tools to stick at home for your Goldendoodle, you should look at dog grooming products that are best suited for your dog's coat and that will work between professional grooming to maintain optimal skin and coat health for your Goldendoodle. 
Different coats require different tools, and pet parents should learn how to use each of these tools without causing damage to the skin or coat.
Do you clip or snip your Goldendoodle?
Today there are endless options when choosing dog grooming scissors, as there is much to consider when buying dog grooming scissors for your Goldendoodle. Here's what to look for when selecting the best Goldendoodle scissors for trimming.
Good fit: The scissor should fit in your hand comfortably, allowing you to have optimal control and reducing the possibility of stress on the hand and wrist.
Material: Dog grooming scissors should be made from high-quality steel and cut smoothly. They should also keep a sharp edge for a while.
Clean & Natural Cut: Good dog grooming shears should make the most awful-looking coats look clean and natural. You should be able to use them on the outside of the coat like shears, and you should be able to use them on most dogs.
Long-lasting: Professional grooming products should be long-lasting, allowing maximum sharpness and efficiency in trimming or cutting performance.
Affordable: Every pet parent should be able to afford high-quality dog grooming scissors and tools to keep their dogs looking good.
Safety: Safety is the most important theme in all dog products, and all dog grooming products should be safe and easy to use and come with easy-to-understand product manuals, instructions, or videos.
Frequently Asked Questions
What should I look for in dog grooming scissors?
Dog grooming scissors for the Goldendoodle are best used with plant-based detangling dog shampoo and a gentle Doodle slicker brush like the We Love Doodle slicker brush for all Doodle mixes. Grooming scissors should feature stainless steel and should come in a variety of styles such as the following:
Curved grooming scissors: designed to produce curves and to add a finish to a curved area on the dog.
Straight grooming scissors: designed to create shape and finish off a trim. This is a must-have and the most important dog grooming scissor to have at home.
Detailed, safety-tipped grooming scissors: designed for the facial area and sensitive body parts, like the feet, ear edges, around the eyes, and other areas that require small hairs to be removed.
Blending and thinning scissors: designed to lift, then hold the hair and remove some of the coat.
Texturizing shears: designed to give a soft and smooth textured finish on a correctly prepared coat.
Conclusion For The Best Grooming Scissors for Goldendoodles
Grooming scissors for the Goldendoodle is a vital tool to have to create a beautiful coat. If you're new to grooming, you can reach out to a professional groomer for tips on using grooming scissors on your pup in between professional visits. 
You can also find many helpful videos online. The most important takeaway is to be gentle with your pup while grooming and use the proper tools for your coat type. Grooming products like the We Love Doodles slicker brush and the We Love Doodles conditioning shampoo with plant botanicals are also vital in maintaining a healthy Goldendoodle coat and skin. 

Claudia Bensimoun is a writer who specializes in dog content and veterinary topics! Aside from writing for We Love Doodles, Claudia also writes for other major dog blogs like Fido Friendly, Animal Wellness Magazine, and the United States Dog Agility Association (USDAA). She has a ghostwritten over 50 different dog e-books. Her passions include animal welfare, veterinary research, and wildlife conservation.
Why Trust We Love Doodles?
At We Love Doodles, we're a team of writers, veterinarians, and puppy trainers that love dogs. Our team of qualified experts researches and provides reliable information on a wide range of dog topics. Our reviews are based on customer feedback, hands-on testing, and in-depth analysis. We are fully transparent and honest to our community of dog owners and future owners.