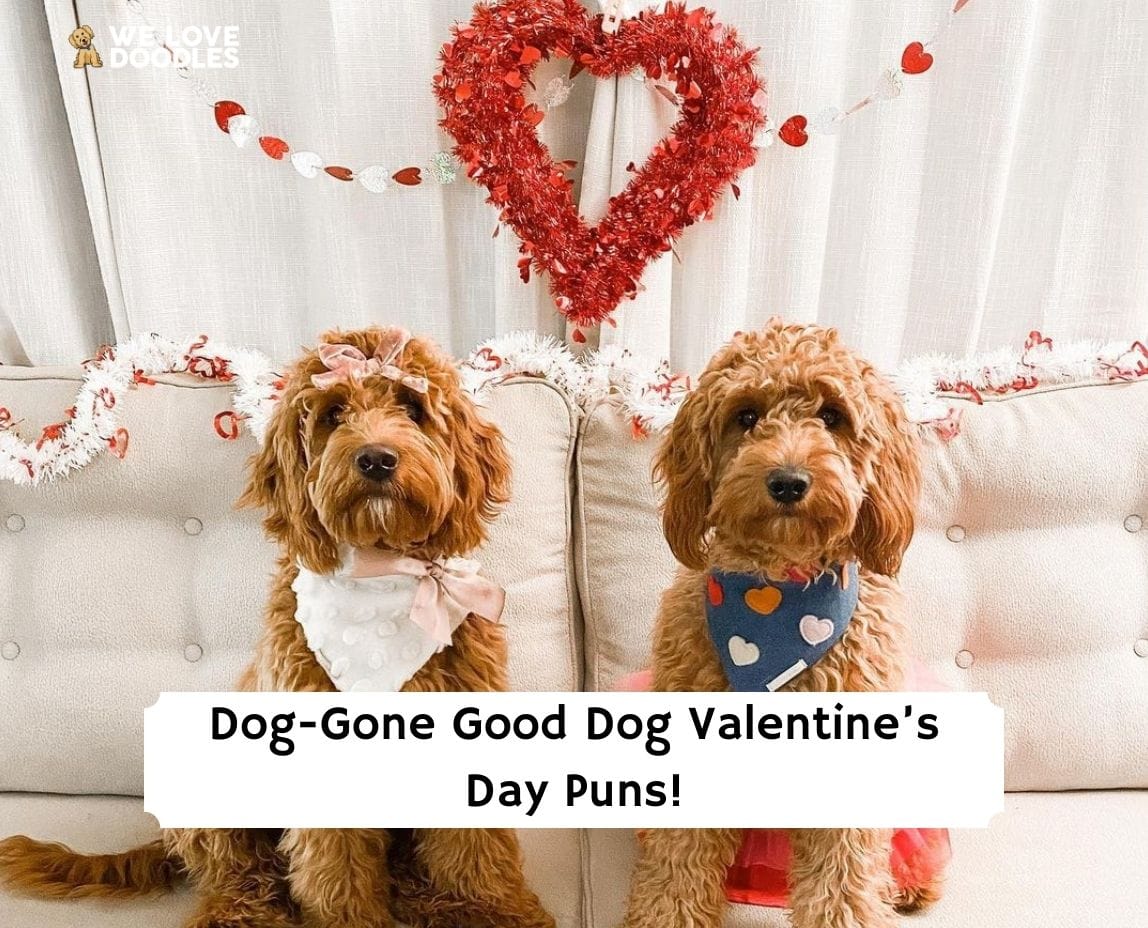 With Valentine's Day just around the corner, it's time to get your notes and cards ready to send to your loved ones. Whether you're young or old, it's fun to receive something special on Valentine's Day. And if you're an animal lover, in particular, Valentine's Day is a great time to show your love to your pets as well as family members.
Are you looking to share the perfect pet pun with someone you care about? If you have friends or family who are dog lovers, then you know how much they'll appreciate creative dog Valentine puns. It doesn't matter whether they like big dogs or little dogs, long-haired dogs or short-hair dogs—everyone can enjoy some happy, warm fuzzies.
Oh, and don't worry if the cat's got your tongue—we are here to share the love for the fur-ends of the canine variety. From cute puppy Valentine sayings to dog love puns, we've got you covered!
Other articles you would like: Scared Dog Memes and Dancing Dog Memes.
13 Cute Ways to Say "I Wuff You"
These are cute ways to tell someone you love them, no matter who they are. You could send these to your parents, friends, or that special someone in your life. Kids especially love funny puns, and you might even send your child a valentine from the dog him- or herself—that will be sure to get some genuine smiles!
There's no bones about it—you're my favorite person!
Dear Valentine: I totally woof you.
You're paws-itively awesome!
Pugs and kisses, Valentine!
I'll bark it loud and clear: I ruff you!
You're my perfect pup of tea!
Will you paw-lease be my Valentine?
Out of all the chew toys in the whole world, I'd still chews you!
 Dear Valentine: I really dig you. No bones about it.
It's im-paw-sible to ruff anyone more than I ruff you, Valentine!
You're my bone-ified best friend for life, Valentine!
Valentine, I give you a round of a-paws for how wonder-fur you are!
Valentine: I'm paw-solutely mutts about you!
13 More Ways to Send a Message of "True Ruff"!
Even if you're an adult looking to send your dog-loving partner some puppy Valentine puns, you can still be playful and a little saucy. Here are some more ways you can show your fellow pet parent that you care while still being just a little flirtatious. (And don't worry—things here stay pretty tame.)
I woof you oodles and poodles!
Let's be Valentines fur-ever!
My life would be ruff without you, valentine. I woof you fur always!
You're my furry best friend in the whole world, Valentine!
Woof you be mine? I hope I'm not barking up the wrong tree!
Happy Valentine's Day! You are so adogable!
Wow, Valentine! You look pawsitively fetching! Woof you be mine?
I've got a mastiff crush on you, Valentine.
You bring the pupcorn; I'll bring the movie. Let's have a pawsitively great night!
Valentine, falling in ruff with you is the best time I've effur had.
Happy Valentine's Day to a rebarkable lover!
Huggles and puggles to my fave-fur-ite Valentine!
I found an oppawtunity I couldn't pass up: Calling you my pawfect Valentine!
13 Additional Ways to Say "Be Mine Fur-ever!"
Are you having fun yet? Even if you're not the biggest fan of puns, you have to admit that they're furry fun when it comes to Valentine's Day. Our pets can be great inspiration for us, and it can be so much fun to create Valentine pet sayings!
Still haven't found the perfect pun for your special someone yet? Don't fret—we still have a few more tricks up our sleeves. From funny musings to flirtatious one-liners, these next few dog Valentine puns are sure to play catch with your attention.
Valentine, you have the pet-tential to capture my heart!
I just want somepawdy to ruff me—will it be you, Valentine?
Nothing is impawsible with you, Valentine. Let's take on the world togeth-fur!
You're the ultimutt friend, Valentine!
I've often pawndered how paw-mazing you are, Valentine.
Our love will last furever, Valentine!
Oh, my pugness! How lucky I am to call you mine, Valentine!
Hot dog, you're cute! Woof you be mine?
I labradore you, Valentine!
Fur real: You're the best Valentine effur.
It's not just puppy love, Valentine: It's the real deal!
I puggin' love you, Valentine.
Will you spaniel life with me?
Dog Valentine Puns – Single Words and Puns
There are so many fun ways you can combine dog pun words and well-known sayings to create your own Valentine pet sayings. It's entertaining to try to concoct the cutest, fuzziest, the most heartfelt statement you can.
But maybe you don't want to use one of the phrases we've suggested here. That's okay! Sometimes, you might feel like creating your own special message from scratch—you just need the nudge to get started. If you're looking for something that you couldn't find on this list, why not try some of these creative ideas to really make your mind roll over?
Adogable (adorable)
Bone-ified
Corgeous (gorgeous)
Diffurent
Effur (ever)
Fetching
Furbidden
Fur-ends (friends)
Furever
Furgot/furget
Impawsible
Mutts
Pawdon
Pawlease
Pawnder
Pawsible
Pawsome
Paws-itively
Rebarkable
Ruff
Somepawdy
Togeth-fur (together)
Ultimutt
Whatev-fur (whatever)
Wonder-fur (wonderful)
Dog Valentine Puns – Sayings and Puns
Single words may be great to use in your Valentine's cards and notes, but what about fun sayings? These plays on classic phrases often have a breed-specific twist, making them perfect for the proud owner of corgis, pugs, terriers, dalmatians, and more. Here are some classic sayings with a little doggy twist:
Bark it loud and clear
Barking up the wrong tree
Can't terrier myself away from you
Collie me (call me)
Dalmatian me crazy
Go mutts for you
I labradore you
I really dig you
Looking corgeous, my dear!
Meeting you was a mastiff relief
Oh my pugness
No bones about it
Pugs and kisses
Pup of tea
Raise the ruff
Round of a-paws
Ruff around the edges
Spaniel time with me
Quotes About Dogs
Sometimes we want to say more than just one "punny" line. If you have a special someone in your life and you want to go the extra mile, why not include some quotes about dogs on your Valentine's Day cards and notes? There's a reason dogs are called "man's best friend"—because people have loved having the company of dogs for thousands of years. See if one of these quotes fits the message you want to send.
Here are just a few heartwarming statements you might want to include in your note or card to your special person:
"The dog is a gentleman; I hope to go to his heaven, not man's." –Mark Twain
"No one appreciates the very special genius of your conversation as the dog does." –Christopher Morley
"A dog will teach you unconditional love. If you can have that in your life, things won't be too bad." –Robert Wagner
"Dogs are our link to paradise." –Milan Kundera
"There is no faith which has never yet been broken, except that of a truly faithful dog." –Konrad Lorenz
"When an 85-pound mammal licks your tears away, then tries to sit on your lap, it's hard to feel sad." –Kristan Higgins
"My little dog—a heartbeat at my feet." –Edith Wharton
"A dog is the only thing on earth that loves you more than he loves himself." –Josh Billings
"The better I get to know men, the more I find myself loving dogs." –Charles de Gaulle
"It's amazing how much love and laughter they bring into our lives and even how much closer we become with each other because of them." –Josh Grogan
"Petting, scratching, and cuddling a dog could be as soothing to the mind and heart as deep meditation and almost as good for the soul as prayer." –Dean Koontz
Every day is Valentine's Day when you have man's best friend by your side. Whether you have had a dog for a long time or you're looking to adopt, these quotes about dogs will ring true to anyone who truly appreciates the pooch.
Conclusion for Dog Valentine Puns
Whether you're a dog lover or your Valentine is a doting dog parent, these cute Valentine's dog puns will make anyone smile.
Dogs are something special, after all: They love you no matter what, whether you're having a bad hair day or forgot to wash your socks. They will be your best friends, listening intently when you tell them your woes—and they'll help you wipe away their tears with puppy kisses and nose nudges when you need them the most.
We hope you found your perfect pun somewhere in this list, and if not, we hope it served as inspiration for you to craft the best note or card ever. Happy Valentine's Day to you and your loved ones, furry or otherwise!
Other articles you would like:
Garrett loves animals and is a huge advocate for all Doodle dog breeds. He owns his own Goldendoodle named Kona. In addition, he volunteers at the Humane Society of Silicon Valley, where he fosters dogs and helps animals. Garrett enjoys writing about Doodles and believes that dogs can teach humans more about how to live than humans can teach a dog.
Why Trust We Love Doodles?
At We Love Doodles, we're a team of writers, veterinarians, and puppy trainers that love dogs. Our team of qualified experts researches and provides reliable information on a wide range of dog topics. Our reviews are based on customer feedback, hands-on testing, and in-depth analysis. We are fully transparent and honest to our community of dog owners and future owners.