"My dog ate a balloon, what do I do" was precisely what one of my friends asked me back in the day. It doesn't sound possible, but it does happen. Large or small, lively or tame, dogs can be known for getting into some trouble. From the trash to the kitchen counter, the places where dogs can find themselves in some mischief are endless. While adequate training will undoubtedly help curb their negative behavior, sometimes dogs do what they're naturally inclined to do.
And especially for the curious dogs, that curiosity can bring them to want to taste whatever they can get their tongue on. The fascination that dogs have with licking things may make owners scratch their heads. There's no way something like old trash or a shoe can be delectable. And yet, they attempt to get it in their mouth, no matter what. They may even be wanting to eat up something that could be potentially harmful to them. Take a balloon, for example.
These inflatable bags can bring excitement and joy to people, as they're often used to celebrate special occasions. Yet, these balloons may prove to be dangerous for your dog when they consume them. You want to keep your pet healthy at all times. What are you going to do if your dog happens to ingest a balloon? To help you care for your pet even when they eat things they shouldn't, here we share what you need to know about when a dog eats a balloon and what your next steps should be.
If your companion tends to chew and eat everything up, these articles might be helpful: "My Dog Ate a Baby Wipe. What Should I Do" and "What To Do When Your Dog Ate a Sponge."
What Are Balloons Made Out Of?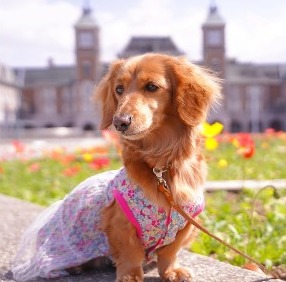 When you think of a decoration used for birthday parties or events marking special occasions, chances are – inflated balloons come to the top of your mind. If you don't blow them up yourself with your air, they're also inflated with helium or other gasses. Of course, water balloons are filled with liquid water and may have a very different purpose. You can find balloons in all kinds of colors, patterns, styles, and materials. They can also be made out of different types of materials.
Most often, the party balloons thought of are made out of latex that comes from rubber trees. The elasticity of a balloon makes them so versatile and able to be inflated to such great sizes. However, their stretchiness is also what makes them dangerous if consumed. Balloons have also been considered inadequate for the environment as their latex residue is often littered on the ground and can be consumed by unknowing animals.
If your companion consumed coconut oil or grass, we linked several solutions for you.
Are Balloons Bad For Dogs?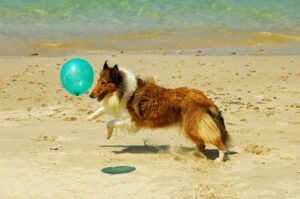 As with almost all other non-food items, balloons should not be consumed by dogs. The latex material, or whatever material the balloon is made out of, can cause a blockage in their through, stomach or intestines as they attempt to digest it. The balloon also includes the string or ribbon to which the latex balloon is attached. This part of the balloon could also cause serious concern if your dog finds its way into eating it. Dogs should be monitored when around balloons, particularly if they are not blown up yet or if they have been popped and the pieces of the balloon are laying on the ground, free for your unsuspecting dog to pick up. Your dog should also avoid other rubber things like rubber bands or gloves at all times.
More Dog-Related Questions: Are Dogs Allowed in Home Depot and Are Dogs Allowed in Lowe's?
What To Do After Your Dog Ate a Balloon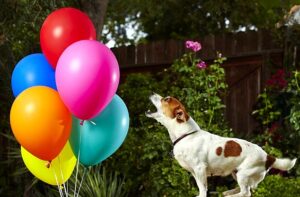 Sneaky as dogs are, they can eat up what they shouldn't very quickly before you can even stop them. If you notice that your dog has eaten a balloon, it's essential to act on the situation as soon as possible. The sooner you can help get the piece of latex out of your dog's system, the better and easier it will be. Keep in mind that the size of the portion of the balloon your dog has consumed will determine the level of severity of the situation. A very tiny remnant of a balloon may be able to be passed through your dog, mainly if it's a large dog.
However, eating a whole balloon piece before it being blow up or another significant part of latex will result in a much more difficult situation. If you have a small dog, the size of the piece does not matter; get them to a veterinarian as soon as possible. If you've noticed that your dog has eaten a bit of a latex balloon, your window for action is only about 1-2 hours before the situation becomes particularly severe. Here are some of the first steps you should take once you realize your dog has eaten a balloon.
1. Call Your Veterinarian
One of the most important things to do first is to call your veterinarian. Explain the situation and be sure to get clear directions of what to do next. It's vital to make this call as soon as possible before your dog's digestive system begins to try to pass the balloon. Quick action is critical when your dog eats something that it should not have eaten. If you wait longer than two hours, chances are the latex balloon will already be in the intestines.
2. Notice Any Side Effects
If you didn't see them eat the balloon, their intestinal discomfort might still be very apparent to you. Symptoms of ingesting something that they cannot digest include things like vomiting or abdominal pain. They may be constipated or appear very tired and lethargic. Excessive drooling can also be a sign that something is stuck in there through or digestive system. These symptoms, in particular, are reasons to call up your veterinarian.
3. Pass it Through
If the balloon piece was small enough, there is a chance that it can pass through their digestive system and come out in their feces. If you don't notice any adverse side effects such as nausea or lack of appetite or energy, that may be a sign that your dog can pass the piece of the balloon through easily enough. If you notice their stool is particularly water or loose, ensure that they have enough water to get dehydrated. Drinking water and eating specific foods to help in digestion can also help them get the balloon pieces out easier and quicker. While a dog may not always pass the balloon's piece through, this way is preferred and does not require an additional procedure. Make sure you monitor their health throughout the process.
4. Vomit it Up
Your veterinarian may also suggest providing something for your dog to make it get sick and vomit up the piece of the balloon before it can get into the intestines. While inducing vomiting is not always the right choice, it can be a way to get the piece of the balloon out fast. If your dog has any other underlying health concerns or is not responsive enough to vomit, you may want to seek an alternative option. Be sure to connect with your veterinarian to ensure this is the right approach for your dog's health. As with any time your dog vomits, be sure to give them plenty of water so that they do not become dehydrated.
Related: Is Hydrogen Peroxide Safe For Dogs?
Conclusion For "My Dog Ate a Balloon"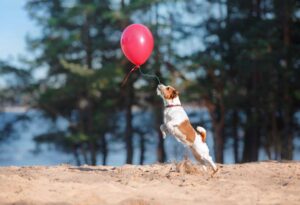 Like most other non-food items, latex balloons should not be ingested by dogs. Their intestines cannot break down the material, resulting in severe blockage and other concerning side effects. When you have balloons around your dog, be sure to monitor them and what they eat. If you notice a balloon has popped or that your dog has popped a balloon, remove the balloon before they can pick it up. If you see that your dog has taken a bite of a balloon, be sure to seek medical attention as soon as possible. Take care of your dog by monitoring their health and behavior. While balloons can be fun to have around, make sure your dog cannot taste one out for themselves.
For more dog-related articles from our team, check out:
To learn more about this subject, watch "25 Harmful Foods Your Puppy Shouldn't Eat" from Alpha Paw down below: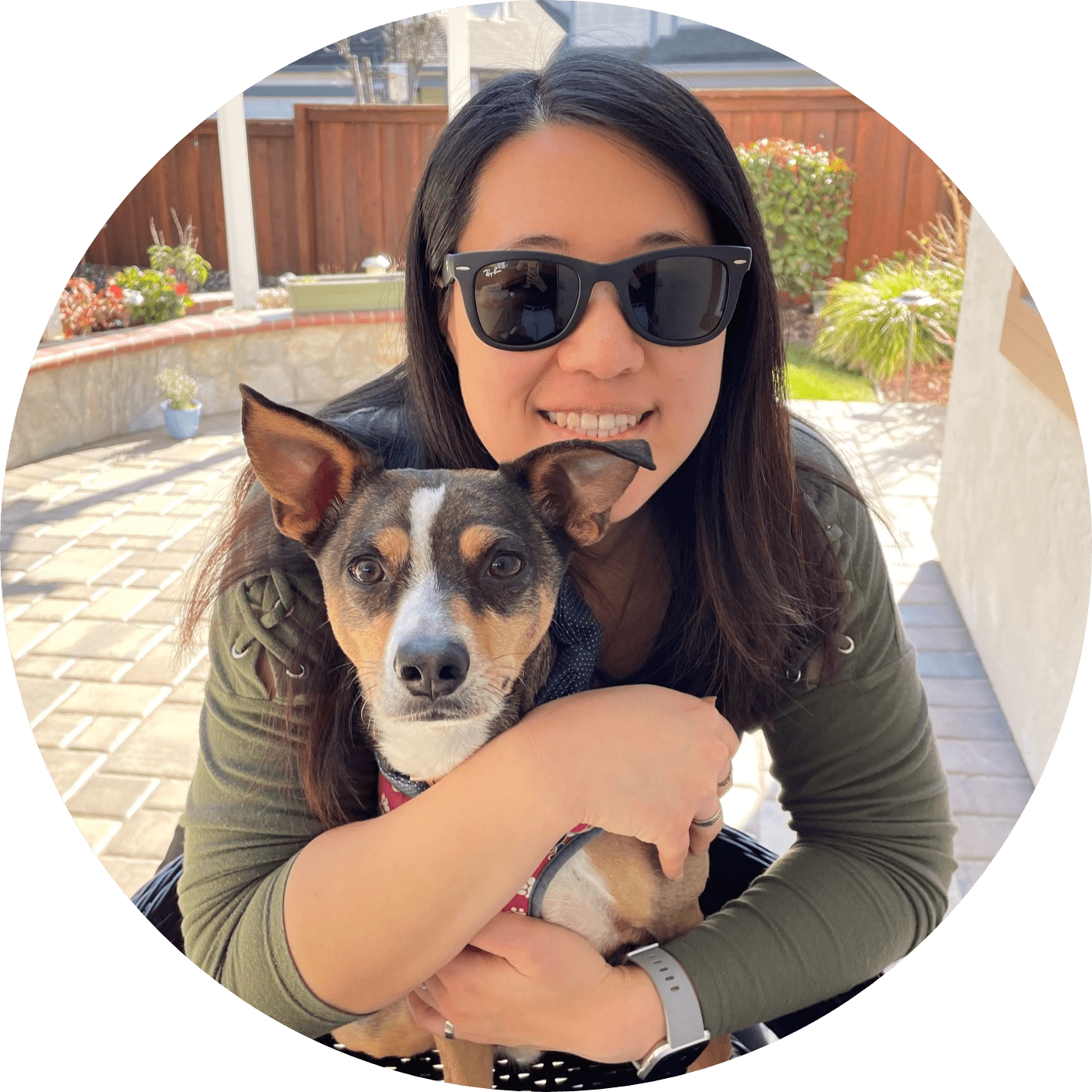 Dr. Sabrina Kong graduated from the Royal Veterinary College in England in 2016 and has been working at a small animal clinic in Northern California since then. She grew up in the Bay Area and got her bachelor's degree from Cal Poly San Luis Obispo. She also became a Certified Canine Rehabilitation Practitioner through a program at the University of Tennessee.
When she isn't in the clinic taking care of her four-legged patients, she enjoys traveling and trying new foods with her friends and her three-legged dog, Apollo. She adopted Apollo from her clinic when he was a puppy with numerous health issues. Dr. Kong truly cares about taking care of animals.