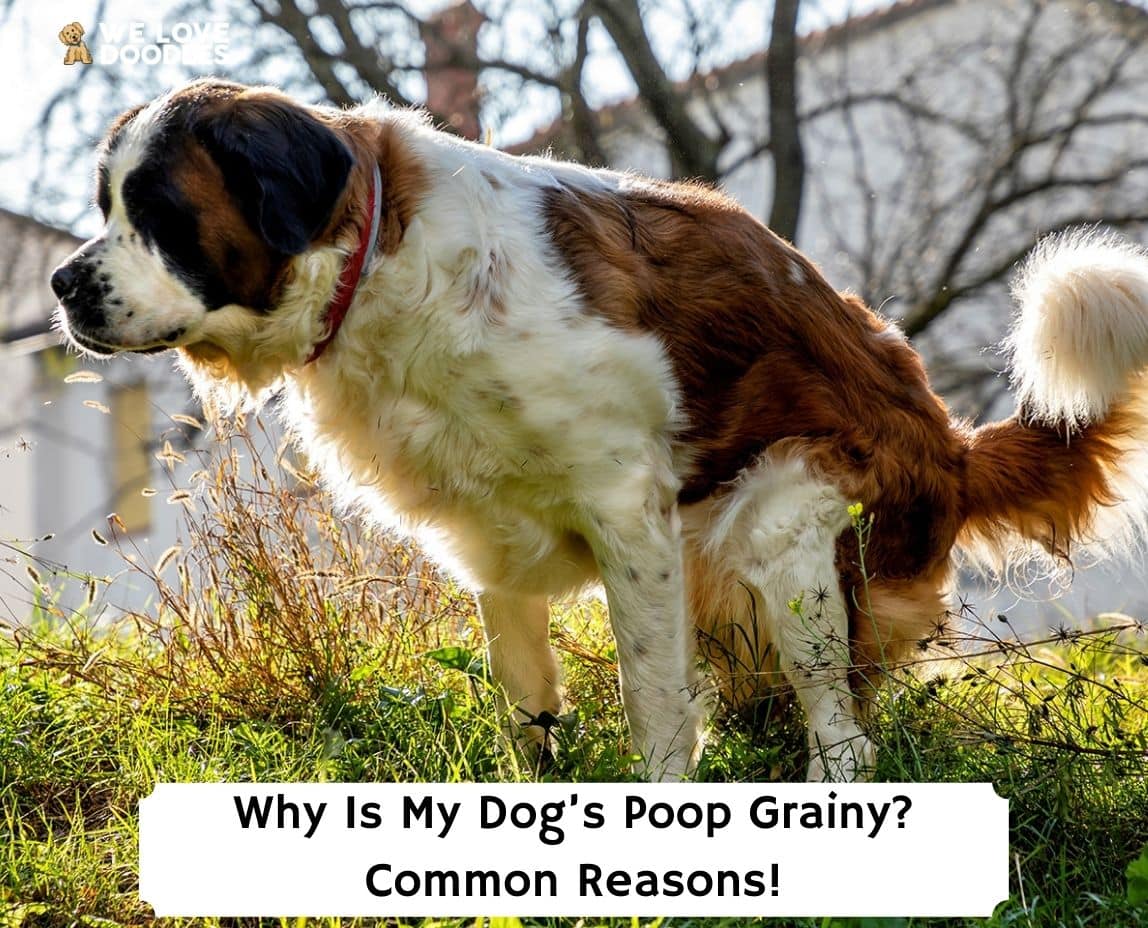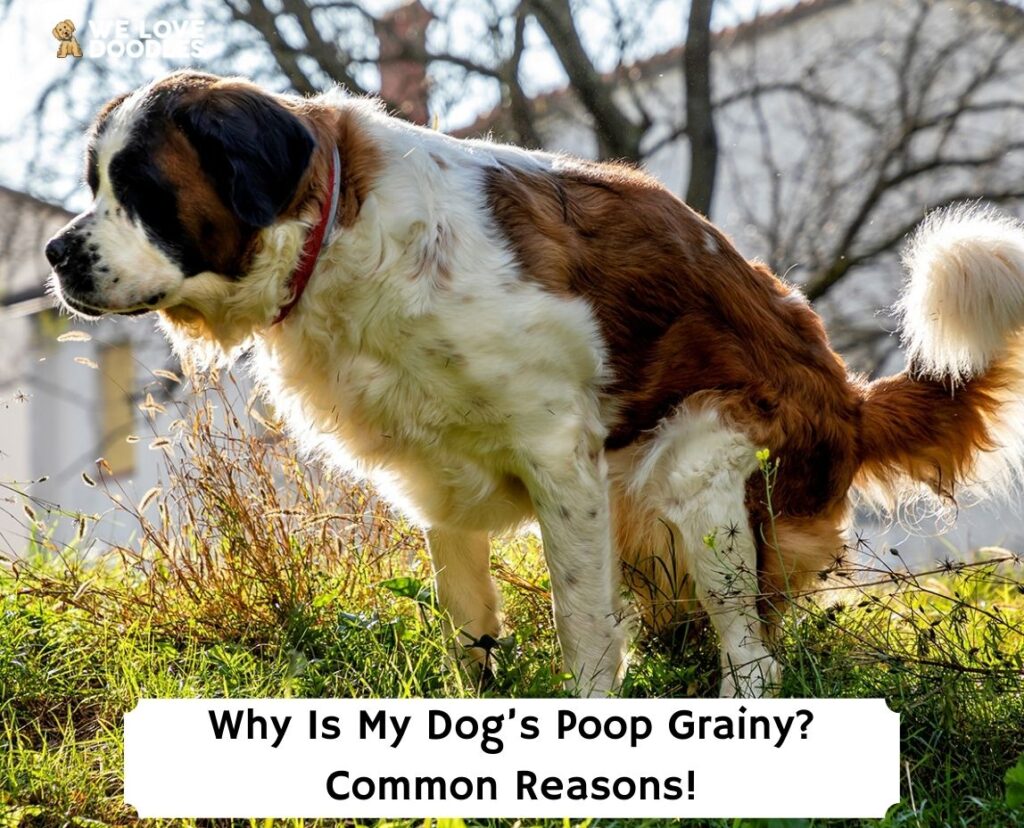 Owning a dog is much like caring for a baby in the sense that your eyes probably can't help but automatically assess your dog's poop—especially as you walk your dog in a neighborhood and pick it up with a bag.
Therefore, you're understandably concerned if you suddenly encounter grainy dog poop.
Several common scenarios exist to explain what exactly grainy dog poop means. Luckily, many of them are harmless or easily fixable. We'll share the top reasons with you here.
Other articles you would like: Why Do Dogs Rub Their Face? and Why Is My Dog on Furosemide Wetting the Bed?
Top 6 Reasons for Grainy Dog Poop
No one likes to think about dog poop, least of all look at it, but when you notice a grainy color, it may be a warning sign of something more serious. Let's take a closer look at six of the most common reasons for grainy dog poop.
Reason 1: They Ate Grain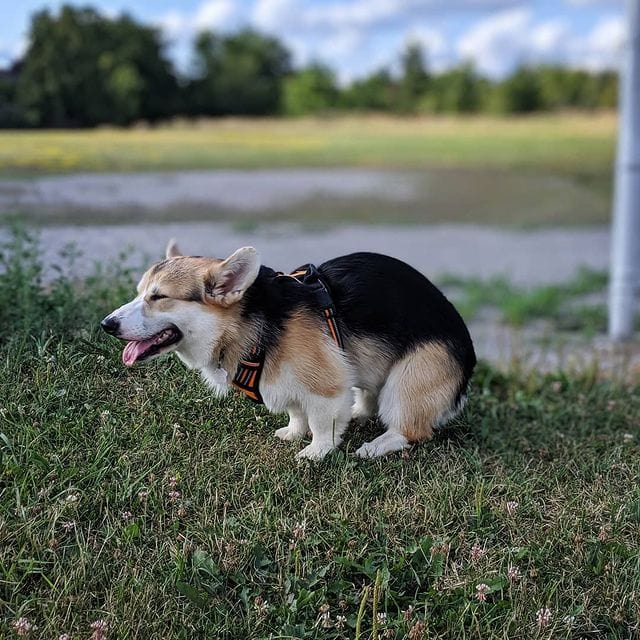 You read that right—your dog's poop may look grainy because you are, in fact, staring at grain.
If you're throwing your arms in the air screaming, "But I feed my dog!" we get it. However, dogs are curious creatures and will often nibble on innumerable foods and non-foods alike (called pica) that they come across.
Finding grain in dog poop is particularly common on farms where dogs may eat horse or cow poop, ingesting the undigested grains.
Here's the good news—grains aren't harmful to most dogs. In fact, according to Purina, less than 1% of dogs have grain allergies.
Similarly, if your dog's poop looks smaller than grains, you might find yourself thinking, "My dog's poop looks like sand." That may actually be what they consumed.
Indeed, it's possible that your dog's poop graininess looks like a combination of grain and sand because your dog accidentally ingested some sand on the ground while they were dining on grains.
Reason 2: They Have Tapeworm
It's not always fun and games when you notice your dog dealing with grainy poop. In fact, they might have parasites.
In particular, tapeworms are a parasite that most closely resembles grains—grains of rice, to be specific. As a warning, what we're about to describe isn't for the faint of "stomach."
Dogs get tapeworms by consuming an infected host carrying tapeworm eggs. More often than not, fleas are the main culprit of a tapeworm infection.
If you have your dog pictured roaming around your yard looking for fleas to munch on, think again. Instead, your dog likely has a flea infection, swallowing a tapeworm-infected flea when they bite at their itchy skin.
If your dog has grainy diarrhea, this is often a classic sign of a tapeworm infection. Other symptoms include:
Scooting along the ground
Vomiting
Weight loss
The good news is that tapeworms are usually easily treatable and preventable.
Reason 3: They're Dehydrated
Grainy poop is often a sign that your dog is in the process of becoming dehydrated. That's because they don't have enough water to break down food particles and form healthy excretions.
The good news is that your dog doesn't likely have severe dehydration, as when this occurs, they often become so constipated that they may not poop at all.
If you suspect your dog is undergoing dehydration, offer them water immediately (and make sure they're staying hydrated throughout the day). Ice cubes can also help get liquids in your dog's body and cool them down on a hot day.
Besides not drinking water, diseases like kidney failure can also cause your dog to become dehydrated, as can any medicine that could cause a diuretic effect.
If you suspect that your dog has a dehydration issue due to a medical concern, take them to the veterinarian right away.
Check out for more: Why Does My Dog Act Like a Cat? and Why Does My Dog Sound Congested?
Reason 4: They Have Gastrointestinal Inflammation
Many dog foods on the market advertise that their products contain whole grains, such as corn, oats, rice, wheat, and barley. Under normal conditions, your dog can digest these grains relatively well.
However, if your dog has gastrointestinal inflammation or another digestive system disorder, you may notice grain from their dog food showing up in their poop.
Gastrointestinal inflammation can occur for many reasons, so a trip to the vet might be necessary to get to the bottom of the issue.
As a start, consider changing your dog's food to see if their grainy dog poop disappears. Sometimes, such digestive disorders can occur because of a food allergy or sensitivity.
Other reasons that can cause gastrointestinal inflammation in dogs include:
Inflammatory bowel disease
Bacteria overgrowth
Parasite infection
Defective lymphoid tissue
The bottom line? When in doubt about your dog's digestive health, take them to the veterinarian.
Reason 5: They Need More Fiber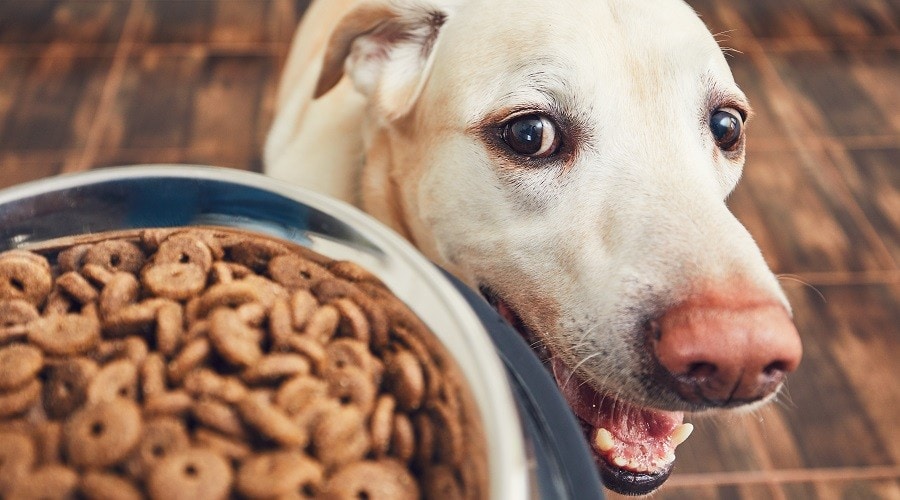 According to the American Kennel Club, it's crucial for a dog to maintain a sufficient level of high-quality fiber in their diet for optimal health.
Otherwise, if your dog isn't getting enough fiber, or if you're feeding them low-quality fiber food, it could cause their poop to appear grainy.
Pet food companies can be misleading with their marketing. For example, some dog food that claims to have cellulose may actually use shredded paper as the source.
Grainy puppy poop as a result of too little or poor quality fiber intake is especially troublesome, given that puppies need the right balance of nutrients to grow into healthy adults.
So, what is the optimal high-quality fiber amount you should be feeding your dog?
On average, adult dogs should have 2.5-4.5% of daily fiber intake. Puppy fiber intake is slightly less, ranging from 2-4%.
Consider yourself lucky if you discover that your dog's poop is grainy because of low fiber intake. By catching the problem early, you can help your dog avoid more serious complications such as blocked anal glands, colon disease, and obesity.
Reason 6: They Have Allotriophagy
Going along with the first reason we discussed, you may encounter grainy dog poop because your dog has allotriophagy.
Allotriophagy is a condition that causes your dog to crave foods that they shouldn't. So, whereas your dog may eat grain out of curiosity or ingest it by eating another animal's poop (something that's more natural for dogs to eat) if your dog has allotriophagy, they'll actively seek out grain to eat.
The first action you should take is to remove whatever grain your dog is eating from their reach. If you live on a farm, this can get tricky as you may need to block them from large areas of your barn.
Then, assess the dog food you're feeding your dog. Is it a high-quality, nutritious food? Are you feeding them the recommended portion according to their weight?
When in doubt, it's also smart to consult with your vet. They might recommend a different type of dog food or test your dog's blood to see if they're deficient in a particular nutrient.
How Can I Prevent My Dog's Poop From Being Grainy?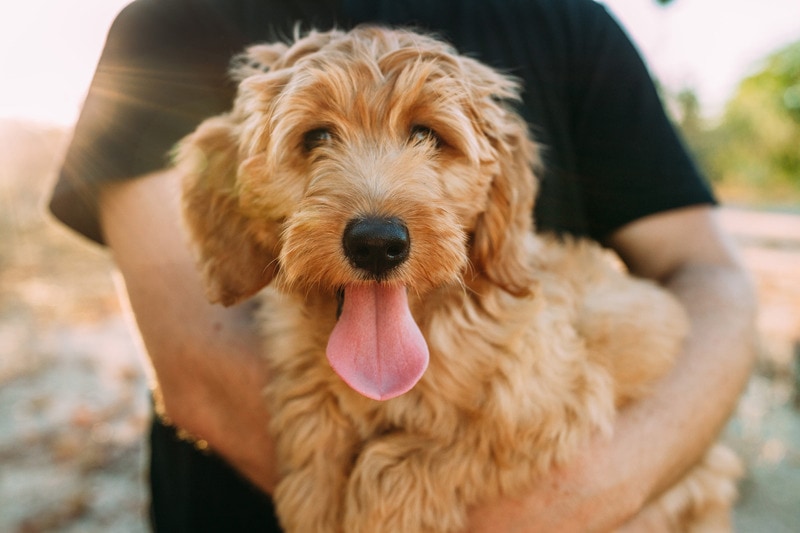 To prevent your dog's poop from being grainy, follow the recommendations below.
Keep your dog on dewormer, tick, and flea medication to prevent parasites like tapeworms.
Place water bowls in your dog's favorite places and ensure they remain filled with fresh water.
Remove access to grains, and try to keep your dog away from eating other animals' poop.
Offer them high-quality dog food with natural sources of dietary fiber.
Give your dog a probiotic supplement to promote a healthy gut.
Conclusion for Why Is My Dog's Poop Grainy?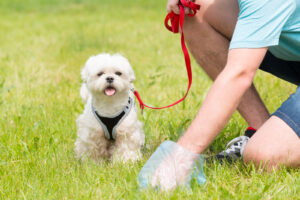 Encountering grainy or gritty dog poop isn't a reason to panic, but it does require action.
We recommend combing through each of the reasons we described here to get to the bottom of why you have a case of grainy dog poop on your hands. Is it merely a matter of your dog's curiosity? Or do you suspect they could have tapeworms or another medical condition?
Taking your dog to the veterinarian is sometimes necessary to treat their grainy poop. If you're on the fence about whether a trip to the vet is a good idea, we encourage you to do so.
You will also like: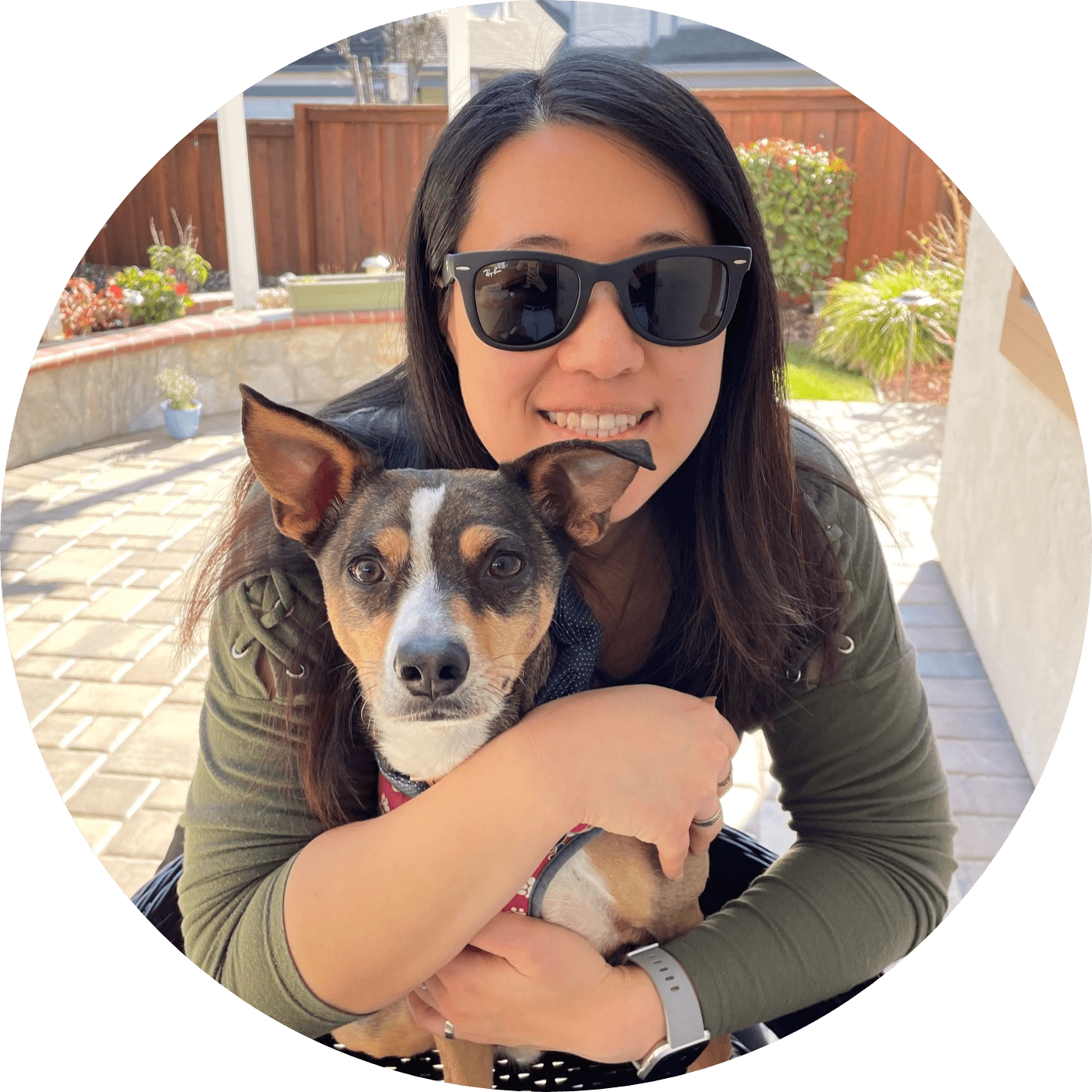 Dr. Sabrina Kong graduated from the Royal Veterinary College in England in 2016 and has been working at a small animal clinic in Northern California since then. She grew up in the Bay Area and got her bachelor's degree from Cal Poly San Luis Obispo. She also became a Certified Canine Rehabilitation Practitioner through a program at the University of Tennessee.
When she isn't in the clinic taking care of her four-legged patients, she enjoys traveling and trying new foods with her friends and her three-legged dog, Apollo. She adopted Apollo from her clinic when he was a puppy with numerous health issues. Dr. Kong truly cares about taking care of animals.