It's no secret that all dog owners love cuddling their dogs in bed. Now, imagine you found a tiny flea crawling on your dog while you did so. You'll understandably panic, but what are the logical steps you can take? What should I do to eradicate fleas when my dog sleeps in bed with me?
Your next steps should address two areas: treating your dog's fleas and treating the potential flea infestation in your house. Treating your dog's flea problem may be much easier, but if you follow the steps in this article, the latter shouldn't be too big of a headache either.
Keep reading below as we describe what you need to do step-by-step.
Before reading this guide, "Dog Has Fleas and Sleeps in My Bed: What Should I Do," check out: Will Groomers Take Dogs With Fleas? (2023) and Does Alcohol Kill Fleas? (2023).
Can I Get Fleas if My Dog Sleeps With Me?
Fleas are a type of ectoparasite, which means they infect their hosts' skin rather than their inside organs. They are generalists in the sense that they can infest many different kinds of hosts, including those of completely different species. People are not an exception.
When fleas reach the adult stage of their life cycle, they become parasites and infect our animals by leaping onto their skin. At this point in their life cycle, they are dependent on a host for survival.
After that, they produce eggs, which are attached to the surface of the skin. When the time is right, the eggs will hatch, and the larvae will go through a series of three phases of development known as the instar stages. As they do so, they consume organic materials, but they do not bite humans.
The larvae transform into pupae at the end of their life cycle. The parasite completes its metamorphosis into an adult within the pupa. They detect a possible host by detecting changes in carbon dioxide levels, vibrations, or body temperature.
The adult flea will then infest the new host, and the process will begin again.
Dog Has Fleas and Sleeps in My Bed — What Should I Do?
Fleas are more easily spotted than internal parasites in dogs. We are able to identify them as dark spots moving on the skin of the dog; however, this will be a more challenging task in cases when the dog has long or dark fur.
A dog with fleas would scratch itself constantly, which is the first sign of the problem. This happens as a result of the irritation that flea bites inflict on the dog's skin. You should take your dog to the vet if you find fleas, and you should never let a dog that has fleas sleep in your bed.
It is crucial that we are aware of the need for a holistic approach when dealing with fleas. If the dog has fleas, we also need to treat any other people or pets in the area.
There are two essential steps in any flea treatment plan:
Treating the Dog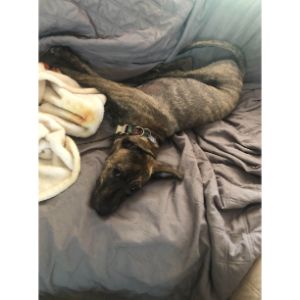 Follow the steps below to effectively treat your dog's flea problem.
Flea Bath
The best way to rid your dog of fleas is to give him a bath with flea shampoo. Always fully rinse your dog after shampooing him, as directed on the shampoo container.
Use a Flea Comb
After drying your dog off, go through his or her fur with a flea comb. If there are any fleas or flea eggs left, you can get rid of them using the comb.
Use Flea Medication
Consult your vet and give your dog flea medication to reduce the likelihood of recurrent flea infestations. Spot-on treatments, oral pills, and flea collars are some of the options for flea medication.
Treating the Environment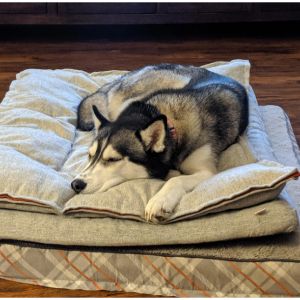 Follow the steps below to rid your house of fleas.
Vacuum the Bed
Vacuuming is an effective method for eradicating fleas from a bed. Although handheld vacuum cleaners are ideal, a regular vacuum with an upholstery adapter can also do the trick.
The vacuum's suction kills adult fleas and snags and destroys flea eggs. Vacuuming also removes the flea droppings and dirt they track in. Fleas can survive in a vacuum for up to two weeks, so be sure to empty it right away.
Use Flea Powder Liberally
If the fleas in your home have spread to the carpet, you should use flea powder. There are many options for treating flea infestations, but we suggest locating a solution that is effective against both adult fleas and their larval stages.
Use the powder to sprinkling it on the suspected region. Flea powders might take a few hours to a few days to be effective. Keep in mind that many flea powders have dangerous components, so it's better to keep kids and animals out of the treated area.
Steam Your Bed
Steam cleaning your bed might be necessary if you have a serious infestation. There are three stages of fleas: adults, larvae, and eggs. However, this kind of cleaning may hasten the development of some flea eggs, leading to the appearance of a few more fleas than before.
To get rid of dirt and dust before steam cleaning, you should first vacuum your bedding. Then, using an upholstery attachment on a steam cleaner, thoroughly steam the area. Wrapping a cloth around the steam cleaner's head is another option.
Keep Your Curtains and Bedding Clean
If you find fleas in your bed linens, wash them in hot water immediately. You need to do this at regular intervals to make sure the eggs haven't hatched.
We also suggest routinely washing any long window curtains. Fleas can crawl up from the floor and lay their eggs in the fabric.
Signs That There are Fleas in Your Bed
There are countless varieties of fleas. Ctenocephalides canis and Ctenocephalides felis are the two most frequent species of fleas in the United States. Both types are capable of biting dogs, cats, rabbits, and other mammals with fur. Birds are another potential victim if they get the chance.
Fleas can cause bites on humans, but they won't stick around for long. Fleas are more at home in fur or feathers than in human hair. Fleas require a blood meal every day to survive.
They won't move in with you, but they will leave traces of their visit on your sheets. If your dog has fleas, the flea eggs could fall off and land on your bed. A bed can quickly get infested with adult fleas due to their impressive jumping abilities.
The following symptoms could be a sign that you have fleas in your bed:
Bites
Red specks itching on your lower legs, ankles, and feet could be flea bites. Bites from multiple fleas tend to line up in a row on your legs and feet. Flea bites have been known to cause a ring of redness in some cases.
Fleas prefer to munch on your legs and feet, whereas bed bugs favor your face, arms, and neck. They tend to bite at the warm, moist area behind a person's knees.
Bites to the upper torso and elbow creases are possible if your dog prefers to sleep in close proximity to your head. Flea bites are not the only possible cause of red dots on your body.
If you have an allergy to fleas or a severe reaction to flea bites, you may experience additional negative effects. Among the symptoms are indications of anaphylaxis, including hives, swelling, a rash, acute itching, and shortness of breath.
Defecation (or Flea Dirt)
Fleas are insects, and insects poop. Flea dirt, often known as flea residuals, resembles tiny black spots. If your flea-infested pet shares your bed, you may wake up to a smudged mattress or sheets.
Flea dirt consists mostly of the blood of the host insect. When a host is close by, fleas drink a lot more blood than they need to stay alive each day. While feeding, fleas may emit as many as ten droplets of flea dirt.
Pet Scratching
Flea bites can be difficult to spot, so it's important to monitor your pet's scratching behavior. There's a chance your pet is gnawing or biting at their own skin.
Fleas can spread to any part of an animal's body. This results in generalized irritation and itching. Without treatment, your pet's continuous scratching could lead to skin infections or a rash.
Fleas can infest your home even if your pet never leaves the house. Fleas can hitchhike into houses on the bottoms of shoes or the fabric of garments. Fleas are a common cause of itching in pets.
Flea and Flea Egg Appearance
Although fleas don't live very long, they do go through various life stages during which they also change appearance.
Eggs
Each time a female flea feeds, she can lay as many as eight eggs. The eggs, which are oval in shape, are free to move around. They could land on your bed, a tree, or anything else.
They can stay there for anywhere from one to twelve days until they hatch. Flea eggs have a transparent to white tint and resemble particles of dandruff or table salt.
Larvae
Eggs laid by fleas hatch into larvae. Flea larvae resemble tiny maggots or worms due to their translucent appearance. Under a microscope, you might be able to make out dark stuff in their bodies. This period often lasts for seven days.
Pupae
In order to develop into adult fleas, flea larvae spin cocoons. Because of the stickiness of their cocoons, dust can easily accumulate on them. Flea pupae resemble flea dirt in appearance. Pupae can survive for up to a year in warm, humid circumstances, ready to hatch.
Flea Adults
Fleas might be small, but they aren't microscopic. You can find evidence of an infestation in your home's carpets or linens. Fleas don't have wings. Their colors go from a rusty reddish brown to a deep black. They have sturdy bodies that can be difficult to squash.
Fleas may jump up to 13 inches in one jump and move with lightning speed. You may notice them crawling about on your pet's skin, but they are unlikely to be hiding in the fur. Your dog's underbelly is the best place to look for them.
How Soon Will the Flea Treatment Begin to Work?
You may be wondering whether it's possible that your pet has fleas after the treatment. Since the treatment doesn't completely eliminate fleas for up to 24 hours, this is a small possibility.
Applying a topical medication like Frontline or Advantage straight to the skin rather than the fur is essential. Put it on the base of the tail, the region surrounding the neck, and the space behind the ears; these are all places where fleas tend to hide.
It's crucial to keep an eye out for fleas after applying the medication. Flea bombs and routine vacuuming might help eliminate any lingering fleas in your home.
If you still find fleas or flea eggs on your dog's bedding, wash it in hot water (at least 130 degrees Fahrenheit) to eliminate the problem. Alternatively, you can use the dryer's high heat setting for 30 minutes on the bed.
Be sure to give your bedding a hot wash if your dog has been sleeping on it. Also, if you're worried about fleas, you can use a lint roller to sweep up any stray ones from your bed.
Frequently Asked Questions
Can my dog sleep on my bed if they have fleas?
Your dog can't sleep in your bed if it has fleas, as they can infest the bedding and, ultimately, you.
How long can fleas live in a bed?
Fleas can live up to two weeks in a bed before they die without a host.
Do I need to wash my bedding if my dog has sheets?
You should wash your bedding with hot water to kill off any remaining fleas, eggs, and waste.
Conclusion

for "Dog Has Fleas and Sleeps in My Bed: What Should I Do"
So, now that you know all the effective tips and tricks to rid your dog and home of fleas, get back to cuddling with your dog in bed. If you find that your dog's flea problem is not going away despite your best efforts, it may be best to consult a veterinarian for a long-term solution.
If this guide, "Dog Has Fleas and Sleeps in My Bed: What Should I Do," helped, check out: 
Learn more by watching "Fleas In Dogs | Vet Explains" down below:
Garrett loves animals and is a huge advocate for all Doodle dog breeds. He owns his own Goldendoodle named Kona. In addition, he volunteers at the Humane Society of Silicon Valley, where he fosters dogs and helps animals. Garrett enjoys writing about Doodles and believes that dogs can teach humans more about how to live than humans can teach a dog.
Why Trust We Love Doodles?
At We Love Doodles, we're a team of writers, veterinarians, and puppy trainers that love dogs. Our team of qualified experts researches and provides reliable information on a wide range of dog topics. Our reviews are based on customer feedback, hands-on testing, and in-depth analysis. We are fully transparent and honest to our community of dog owners and future owners.