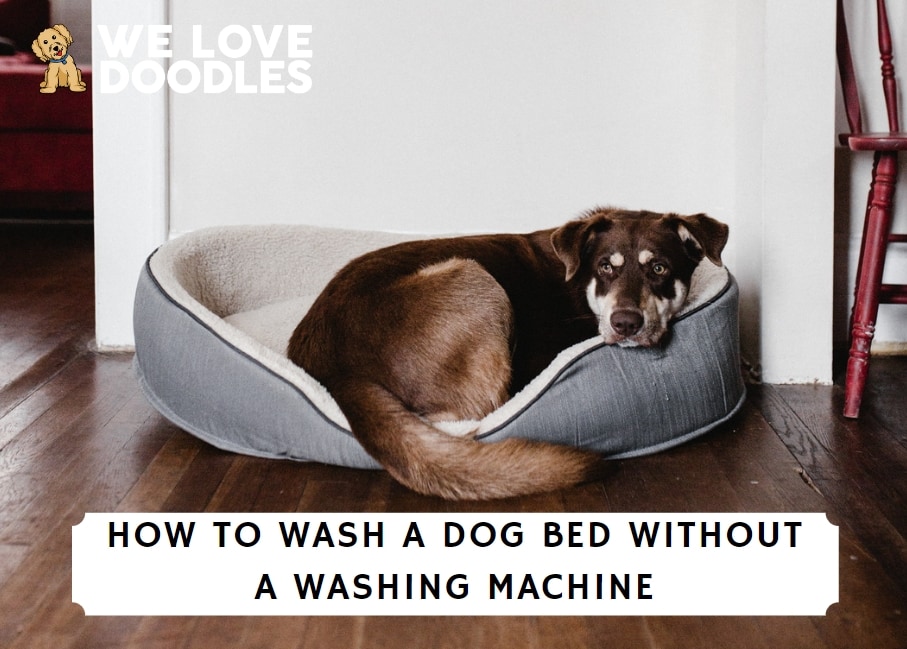 Here's what you need to know to learn how to wash a dog bed without a washing machine. Dog beds provide both comfort and security for dogs. But cleaning a dog bed can sometimes be a difficult task. Many dog beds may not be machine washable, and others will not fit into a washing machine. This is why learning how to wash a dog bed without a washing machine is beneficial.
To wash a dog bed without a washing machine, you can wash the bed and its covering in a large bucket of water with detergent and baking soda. Let the bed soak in warm, soapy water, and squeeze and scrub the bed. Thoroughly rinse the bed, drain excess water, and allow the bed to air dry.
Do you need to wash your dog's bed without a washing machine? You will be pleased to know that this is certainly possible! Only a few additional supplies are needed to wash a dog bed manually, and the process is quite simple. This guide will take you through every step of the process.
Before scrolling down this guide on how to wash a dog bed without a washing machine, check out these other how-to content from our team at We Love Doodles: How to Put Ear Drops in an Aggressive Dog and How to Stop Your Dog From Digging.
Should I Clean a Dog Bed Before Washing It?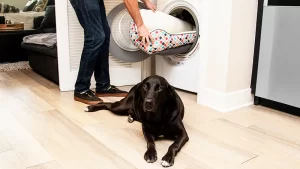 Dog beds can easily get dirty, but there are other matters to be aware of, primarily dog hair. Before we get into washing your dog's bed without a washing machine, let's first explore how to prep the bed for thorough cleaning. Dog beds come in all shapes, materials, and sizes. A standard dog bed is typically machine washable, but many are not.
This could be due to size, materials, or fabrics that do not hold up well in a washing machine. Cleaning the bed can make washing easier, no matter the dog bed details. Nothing is worse than submerging a dog bed in a wash bucket only to have the water swimming in dog hair! Let's take a look at how to clean a dog bed.
How to Clean a Dog Bed Properly
If your dog's bed has a removable cover (most beds do), you can start by removing this. Give the cover a firm shake outside to release dirt, dust, dog hair, and dander. This is also important to prevent clogging up the hose on your vacuum cleaner.
After shaking the cover, lay it flat on a surface and vacuum the cover thoroughly with a hose attachment for your vacuum cleaner. This will thoroughly prep the cover for the washing process and save you time and work during the washing and scrubbing process.
If the bed is made out of plastic or some other non-fabric material, you can wipe the bed down with antibacterial wipes. You can then place the cover back on the bed once it dries after washing the bed. If the dog bed is also fabric, vacuum the bed as much as possible and then follow the steps outlined below for washing a dog bed manually.
How to Clean a Dog Bed Without a Removable Cover
Some dog beds are full of fabric and cushioning that lack a removable cover. For these beds, you can still prep and clean the bed before the manual washing process. The process is still the same in that you want to remove as much dog hair from the bed as possible.
Take the bed outside, shake it, or beat it against a firm structure to release dirt and hair. You can then vacuum the bed as outlined above. Now that you have prepped and cleaned your dog's bed, it is time for manual washing.
Related: Best Dog Beds For Separation Anxiety.
Washing a Dog Bed Without a Washing Machine
Even if your dog's bed is machine-washable, it is not always a great idea to do this. Dog hair can clog up washing machines, and some detergents may aggravate a dog's allergies.
Follow these steps to wash your dog's bed without a washing machine.
Step 1: Clean Stains
After the cleaning process (see above), the first step is to address any stains on your dog's bed. Urine, saliva, and even food can easily stain a dog bed, but removing the stains is possible. If the stains are fresh and moist, for example, a urine stain, it is important to try to soak up as much liquid as possible. You can use several paper towels or an old washcloth to do this. Make sure you wear gloves as well.
Once the excess liquid is absorbed, you have a few options for addressing the stain. You can use a store-bought stain remover for pet stains or a solution of warm water, one teaspoon of baking powder, and one tablespoon of white vinegar mixed in a spray bottle.
Apply a brand-name stain remover to the stain according to the manufacturer's directions. Apply two to three sprays on the stain for the baking powder solution. Allow the stain remover of choice to soak into the stain for at least 15 minutes. You can gently scrub the stain with a brush or an old washcloth.
Step 2: Remove and Clean Coverings
Once you have cleaned the dog bed and addressed any stains, you will need to remove any coverings and clean those separately. For example, if you have a dog bed with a fabric covering and the bed itself is plastic, you will need to wash the covering. Clean the covering first, as outlined in the section above, for how to clean a dog bed. It is still a good idea to wipe down and sanitize plastic bed bases.
Step 3: Choose Your Detergent and Add Baking Powder and White Vinegar
When you are ready to wash your dog bed or cover, you can use standard clothes washing detergent if you like. But suppose your dog is sensitive to detergent. In that case, a simple solution of warm water, a few shakes of baking powder, and a couple of ounces of white vinegar can be a viable cleaning solution.
Fill a large wash bucket or tub with warm water. If the bed is not heavily soiled, you can add cold water from a hose if you are washing the dog bed outdoors. But for very dirty dog beds, consider adding warm water to the container. You can add some detergent (not too much) or the baking powder solution mentioned above.
Step 4: Thoroughly Wash the Bed
Once you have added your water and detergent of choice to a large bucket or wash tub, you are now ready to place the entire dog bed or the cover into the container. Consider allowing the dog bed to soak in the solution for about 5 to 10 minutes.
To wash the dog bed, begin by vigorously squeezing the bed or cover in the water and using a scrub brush to scrub the detergent into the fabric gently. The key is to try and mimic the action of a washing machine, so make sure you slosh the materials around in the water and scrub accordingly.
If you have a scrub board, this could work wonders for cleaning a dog bed cover. For an entire dog bed, squeeze the bed in the solution as much as possible since this allows the cleaners to absorb into the fabric. You are now ready to rinse the dog bed.
Step 5: Rinse the Bed
Empty the bucket or tub and rinse out the soap and grim. Refill the container with cold water and then submerge the dog bed or cover it in the water. Slosh the bed or cover around in the water to completely rinse the fabrics and release any remaining dirt and cleaning solution. Rinse the dog bed or cover it with cold water after removing it from the container is also a good idea.
Step 6: Dry the Dog Bed
Wring out the dog bed or cover as much as possible to remove excess water. This may be a bit difficult for an entire bed, but as much water you can remove, the quicker the dog bed will dry. Set the cover in the sun or in front of a fan to allow it to air dry. Or, you can place a removable cover in the dryer if the fabric can be machine-dried. Once dried, your dog's bed is now fresh and clean.
Related: Best Outdoor Dog Beds.
How Often Should I Manually Wash a Dog Bed?
According to Pet MD, washing your dog's bed every week or bi-weekly is recommended to promote proper cleanliness. But this is totally up to you regarding how often you think the dog bed needs washing. If your dog is a completely indoors dog, the dog bed may not get dirty as quickly as a dog bed for an active, outdoor dog.
With this in mind, the bi-weekly washing model is a good point to remember. Dogs also tend to collect more dirt during the spring and summer, so once a week may be advisable for those times of the year.
Related: Best Dog Beds Not Made in China.
How to Kill Fleas and Ticks in a Dog Bed Without a Washing Machine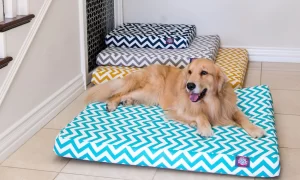 Another major problem with dog beds is flea or tick infestations. Once spring sets in, these parasites become major problems for dog owners everywhere. Thanks to the fabric of a dog bed, fleas and ticks can also have a perfect spot to multiply and hide.
Just as important as ensuring you bathe your dog with flea and tick shampoo, ensuring their bed is free from the parasites is also crucial. If fleas and ticks have infested your dog's bed, you will want to treat the bed before cleaning it thoroughly. Consider vacuuming the area around your dog's bed and off the bed.
You can manually wash the dog bed to kill fleas and ticks, but it is also important to treat the area surrounding it. Spray the area down with a strong but safe flea and tick killer until the problem is eradicated. You will want to move your dog's bedding area and keep your dog away from the treated area.
Related: Best Odor Resistant Dog Beds.
Conclusion For "How to Wash a Dog Bed Without a Washing Machine"
As you can see, it is very easy to wash a dog bed without a washing machine. Consider washing a dog bed bi-weekly to ensure it stays clean year-round.
If this guide on how to wash a dog bed without a washing machine helped you, you might be interested in these dog beds below:
For more advice on dog beds, like this guide on how to wash a dog bed without a washing machine, we recommend you watch the "Every Dog Needs This Bed" video down below:
Garrett loves animals and is a huge advocate for all Doodle dog breeds. He owns his own Goldendoodle named Kona. In addition, he volunteers at the Humane Society of Silicon Valley, where he fosters dogs and helps animals. Garrett enjoys writing about Doodles and believes that dogs can teach humans more about how to live than humans can teach a dog.
Why Trust We Love Doodles?
At We Love Doodles, we're a team of writers, veterinarians, and puppy trainers that love dogs. Our team of qualified experts researches and provides reliable information on a wide range of dog topics. Our reviews are based on customer feedback, hands-on testing, and in-depth analysis. We are fully transparent and honest to our community of dog owners and future owners.