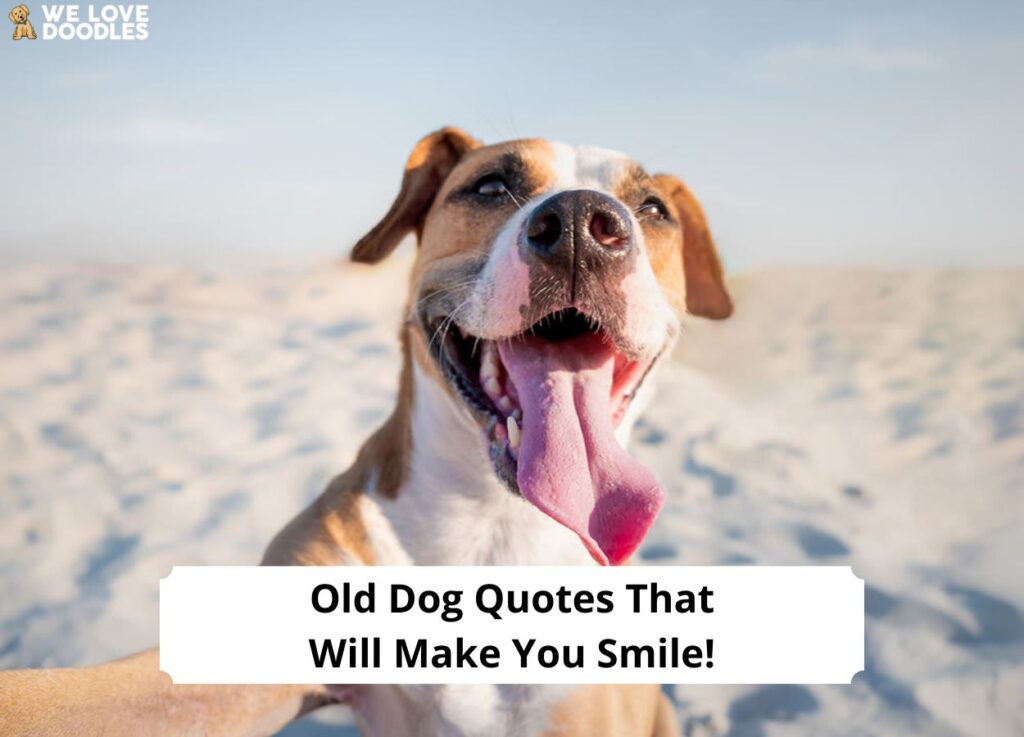 Old dogs are so close to our hearts. They have shown us affection and loyalty for many years and are aware of our preferences.
Older dogs have so many wonderful qualities, like soulful eyes, the fact that they are always up for a cuddle, and the ability to help us slow down and value life more. Many people have expressed their sincere and passionate feelings about their aging pets. They have published those wonderful words for everyone to read and appreciate.
Here is a collection of the best old dog quotes for you to express your love for your dog or become inspired to bring one home.
Before you scroll down this guide, "Old Dog Quotes That Will Make You Smile," check out these articles: Goldendoodle Quotes and Dog Birthday Captions for Social Media.
50 of the Most Heartfelt Old Dog Quotes
"Old dogs can be a regal sight. Their exuberance settles over the years into a seasoned nobility, their routines become as locked into yours as the quietest and kindest of marriages." – Gail Caldwell
"Old dogs, like old shoes, are comfortable. They might be a little out of shape and a little worn around the edges, but they fit well." – Bennie Wilcox
"Every white hair is one day of experience in being the very best friend you've ever had." – Jaymi Heimbuch
"Such short little lives our pets have to spend with us, and they spend most of it watching for us to come home each day." – John Grogan
"A dog wags its tail with its heart." – Martin Buxbaum
"My dog does this amazing thing where he just exists and makes my whole life better because of it." – Unknown
"You think dogs will not be in heaven? I tell you; they will be there long before any of us." – Robert Louis
"I think dogs are the most amazing creatures; they give unconditional love. For me, they are the role model for being alive." – Gilda Radner
"Dogs come into our lives to teach us about love, they depart to teach us about loss. A new dog never replaces an old dog. It merely expands the heart." – Author Unknown
"Dogs die. But dogs live, too. Right up until they die, they live. They live brave, beautiful lives. They protect their families. And love us, and make our lives a little brighter, and they don't waste time being afraid of tomorrow." – Dan Gemeinhart
"Dogs have given us their absolute all. We are the center of their universe. We are the focus of their love and faith and trust. They serve us in return for scraps. It is without a doubt the best deal man has ever made." – Roger A. Caras
"The bond with a true dog is as lasting as the ties of this earth will ever be."—Konrad Lorenz
"Life is a series of dogs."—George Carlin
"The love of a dog is a pure thing. He gives you a trust which is total. You must not betray it." – Michel Houellebecq
"When we adopt a dog or any pet, we know it is going to end with us having to say goodbye, but we still do it. And we do it for a very good reason: They bring so much joy and optimism and happiness. They attack every moment of every day with that attitude." – Bruce Cameron
"Dogs' lives are short, too short, but you know that going in. You know the pain is coming, you're going to lose a dog, and there's going to be great anguish, so you live fully in the moment with her, never fail to share her joy or delight in her innocence, because you can't support the illusion that a dog can be your lifelong companion. There's such beauty in the hard honesty of that, in accepting and giving love while always aware that it comes with an unbearable price." – Dean Koontz
"Sometimes we put our great treasures in museums, other times we take them for walks." – Unknown
"Dogs are small rays of light caught on earth for a short time to brighten our days." – Anonymous
"Dogs are small rays of light caught on Earth for a short time to brighten our days." – Anonymous
"Everyone is taught that angels have wings, but the lucky ones of us find they have 4 paws." – Jury Nel
"I have found that when you are deeply troubled, there are things you get from the silent, devoted companionship that you can get from no other source." – Doris Day
"Dogs have a way of finding the people who need them and filling an emptiness we didn't ever know we had." – Thom Jones
"At 4 months, you were cute. At 6 months, you ate most of my shoes. At 1 year, you were getting big. At 2 years, you were hyper. At 4 years, we were best friends. At 9 years, we were inseparable. At 14 years, I wish I could do it all over again." – Anonymous
"He had not realized how much he needed this sweet, friendly sound. How much he needed someone to settle in next to him. He didn't know that he needed to not be so solitary until at last he wasn't. So many needs in one old dog." – Kathi Appelt
"After years of having a dog, you know him. You know the meaning of his snuffs and grunts and barks. Every twitch of the ears is a question or statement, every wag of the tail is an exclamation." – Robert McCammon
"Who's this – alone with stone and sky? It's only my old dog and I – it's only him, it's only me. Alone with stone and grass and tree. What share we most – we two together? Smells and awareness of the weather. What is it that makes us more than dust? My trust in him, in me his trust. – Siegfried Sassoon
"Old dogs are the wise ones. There's a depth, a feeling, like aged wine. You don't get the same depth and experience with younger dogs. It might take a couple of weeks before they get used to the house, but you can see when they realize they are home – the tension melts away." – Anne Solli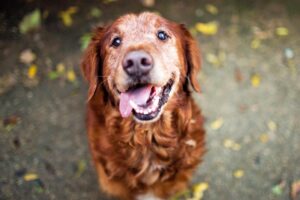 "The dog of your boyhood teaches you a great deal about friendship, love, and death. Old Skip was my brother. They had buried him under our elm tree. They said this, yet it wasn't totally true. For he really lay buried in my heart." – Willie Morris
"If when you look at me, you only see a white face and cloudy eyes, a burden, or a hassle…you've missed out on the best part of me…Love me until the very end, for I am a gift. With each wag of my tail, I say thank you."– Bacardi Reynolds
"Blessed is the person who has earned the love of an old dog". – Sidney Jeanne Seward
"Old dogs, like old shoes, are comfortable. They might be a bit out of shape and a little worn around the edges, but they fit well." – Bennie Wilcox
"Regardless of the age of a dog, they remain our babies to the end of time." – Anonymous
"Dogs' lives are too short. Their only fault, really." – Agnes Sligh Turnbull
"If the kindest souls were rewarded with the longest lives, dogs would outlive us all." – Anonymous
"I love puppies, but there's nothing like the sweet soul of an old dog." – Anonymous
"If only they could live as long as we, and not a moment longer." – Kate McGahan
"People are born so they can learn to live a good life. Dogs already know how to do that; that's why they don't have to stay as long." – W. Bruce Cameron
"My dear old dog, most constant of all friends." – Anonymous
"Better to have loved and lost a senior dog than to let one die alone in a shelter." – William Croswell Doane
"A puppy plays with every pup he meets, but an old dog has few associates." – Josh Billings
"We're never too old to love and be loved." – Anonymous
"You can teach an old dog new tricks, and this old dog wants to learn." – Thomas P. O'Neill
"Love never grows old. Adopt a senior dog." – Anonymous
"You'll never walk alone because I'll always be with you. Love, Your Old Dog." – Anonymous
"A new dog never replaces an old dog; it merely expands the heart." – Erica Jong
"Who says your soulmate has to have two legs?" – Anonymous
"Old dogs care about you, even when you make mistakes." – Tom T. Hall
"Old roads, old dogs, old folks, and old ways still have a lot to offer in this sped-up world we live in." – Anonymous
"His head on my knee can heal my human hurts. His presence by my side is protection against my fears of dark and unknown things. He has promised to wait for me… whenever… wherever-in case I need him. And I expect I will-as I always have. He is just my dog." – Gene Hill
"When I am wrong, he is delighted to forgive. When I am angry, he clowns to make me smile. When I am happy, he is joy unbounded. When I am a fool, he ignores it. When I succeed, he brags. Without him, I am only another man. With him, I am all-powerful. He is loyalty itself."
Conclusion For "Old Dog Quotes That Will Make You Smile"
We hope that after reading a few of these old dog quotes, you will either develop a newfound love for your old dog or be motivated to foster or adopt one.
If you find this guide, "Old Dog Quotes That Will Make You Smile," you can check out these other dog guides from our team at We Love Doodles:
You can learn more about dog quotes by watching "Dog Quotes – Inspirational Dog Quotes – Quotes About Dogs" down below:
Garrett loves animals and is a huge advocate for all Doodle dog breeds. He owns his own Goldendoodle named Kona. In addition, he volunteers at the Humane Society of Silicon Valley, where he fosters dogs and helps animals. Garrett enjoys writing about Doodles and believes that dogs can teach humans more about how to live than humans can teach a dog.
Why Trust We Love Doodles?
At We Love Doodles, we're a team of writers, veterinarians, and puppy trainers that love dogs. Our team of qualified experts researches and provides reliable information on a wide range of dog topics. Our reviews are based on customer feedback, hands-on testing, and in-depth analysis. We are fully transparent and honest to our community of dog owners and future owners.