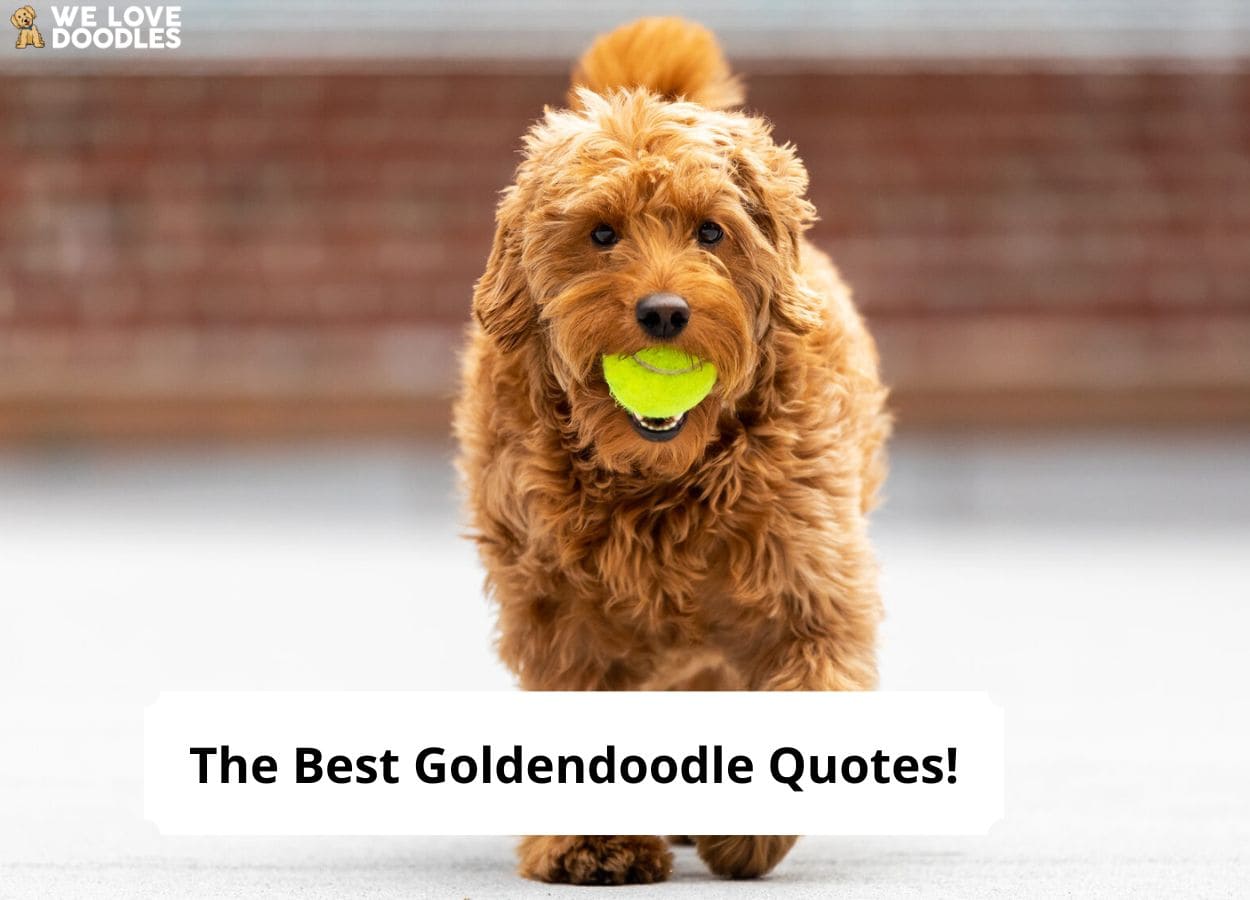 Goldendoodles are stunning dogs who love to have fun and play. This dog breed is calm and gentle, preferring to spend time with young children who can get rowdy to lounging in the sun.
These dogs are perfect for families and can be gentle on allergies since they come from a Poodle parent known to shed less than other dog breeds.
Your Goldendoodle is more likely than not to have you meet the world on your daily walk. These dogs prefer to introduce themselves to a stranger for pets and rubs, no matter where they are.
Goldendoodles act like their Golden Retriever parent and won't make effective guard dogs since they are eager to meet new people.
Goldendoodles are a perfect dog breed for many, and it makes sense why so many people have come up with the funniest and greatest quotes for these adorable dogs. Read on to see some of the best Goldendoodle funny quotes.
Before you scroll down this guide, "The Best Goldendoodle Quotes," check out these articles: Types of Goldendoodle Colors and Best Goldendoodle Haircuts.
Goldendoodle Funny Quotes
There is nothing quite like the appearance of a Goldendoodle, and it may come as no surprise that there are dozens of funny dog quotes. Goldendoodles are great, so whether you love their curly locks or need a break from brushing, you'll adore these quotes.
"I Comb my Hair Like I Comb my Dood."
Goldendoodles are famous for their need for consistent care and grooming. Combing your hair at the same time you comb your Goldendoodle can prevent tangles!
"Scratch a Goldendoodle and You'll Have a Permanent Job."
Goldendoodles love affection and will lay at your feet to get more of it. This dog breed thinks they can fit anywhere, especially on a lap.
"Some People Eat Apricots. I Walk An Apricot."
Apricot is a stunning coat color for some dogs, and Goldendoodles can inherit this color.
"Chasing Sunsets is Golden With You."
Sunsets and Goldendoodles have a lot in common, but it's mostly their coloration and stunning view.
"My Dad is a Golden Retriever, but I Never Got the Gold."
This quote is perfect for a sign around your Goldendoodle's neck. This cute and funny quote can be perfect for Halloween or parties.
Personality Quotes
Goldendoodles have a distinct, loving personality and these quotes highlight everything good about their adoring nature. Although each Goldendoodle is different from the next, these dogs can be the perfect companions for an adventurous family. These quotes capture the very essence of that bond.
"Silence is Golden; Unless You Have a Goldendoodle. Then It's Suspicious."
Goldendoodles are notoriously mischievous and will get into anything left unattended. Always check out on them if they're silent.
"Goldendoodles May Be Golden, But They're Also Selectively Deaf."
Goldendoodles are so much fun, but they may have a tough time understanding when the fun is over and they need to listen.
"Home Sweet Gold."
This cute quote suggests that a Goldendoodle is truly where the home lies.
"Replace The Weight of The World on Your Shoulders with the Warmth of a Dog at Your Feet."
Nothing is like having a Goldendoodle cuddling up to you on a cold night.
"Goldendoodles May Be the Only Member of the Family You Like."
Goldendoodles, like most dogs, are loving, affectionate, and kind. These dogs are also loyal.
Pop Culture Reference Quotes
Goldendoodle and pop culture? That's a combination that may have you making a custom pillow or blanket for your couch. These quotes are the cutest blend of everyday pop culture references and the stunning characteristics of your precious pup.
"May the Fur Be with You, Young Pawdiwan?"
This Star Wars reference may have any fan shaking with laughter, especially since this one has two references in one.
"I Binge-Watched Every Episode of The Office Because I Can't Get Enough of Jim Howl-pert."
Get your blankets and pillows ready for a The Office marathon. Your Goldendoodle can join you!
"Keep Calm and Love Your Goldendoodle."
This Keep Calm quote is perfect for those who need to disengage and spend time with their Goldendoodle.
"The Fur Is Strong with This One."
This is another Star Wars quote for those who adore a play on words and adore fur.
"Obi-Paw Kenobi."
This quote is a stunning play on the famous Star Wars character named Obi-Wan Kenobi.
Goldendoodle Birthday Quotes
One of the most common trends lately is the definition quote that applies to birthdays and highlights something special about something that makes it unique. Goldendoodles don't need any help being more unique or special, but these birthday quotes can be fun and exciting.
"Goldendoodle: a Fluffy Toddler Who Loves Chaos, Mischief, and Cuddles."
This definition seems accurate, considering how much trouble a Goldendoodle can cause with simple curiosity.
"Home: Where My Doodle Is."
When it's your birthday, home is where your Goldendoodle is!
"A Home Without a Goldendoodle Is Just a House."
Homes without a Goldendoodle may feel empty and devoid of adorable chaos, love, and affection.
"Goldendoodle: a Mischievous Creature That Steals Your Bed, Heart, and Socks."
Goldendoodles are famous for their mischief and they love to play. They may bring socks into the bed to chew on. Keep an eye on what your Goldendoodle does when they think you're not looking.
"Doodles: Cheaper Than Therapy."
Goldendoodles may be cheaper than therapy in the long run, but we recommend doing both. Your Goldendoodle will thank you for it!
Life Goldendoodle Quotes
Living with a Goldendoodle can make your life more robust, rich, and happy. These quotes capture that happiness and ensure you can live your days knowing how much your Goldendoodle has added to your happiness meter.
"Everything Is Golden with You."
A Goldendoodle can offer your life years of love, adventure, and affection that other dog breeds simply cannot offer.
"Just a Girl Who Loves Sunshine and Goldendoodles."
Sunshine and Goldendoodles go hand-in-hand. If you're a dog lover, being out in the sunshine with your buddy is your sweet spot.
"It's a Wonder-fur World with Dood."
The use of the word fur in the word wonderful makes this quote so much more authentic and funny. Get this quote printed on a pillow or blanket!
"All You Need Is Love and a Goldendoodle."
This quote couldn't be more true. There is nothing you need more than the love of your Goldendoodle…and maybe some ice cream.
"Remember the Goldendoodle Rule: Hide Everything."
One of the first rules of having a dog is keeping everything out of their mouth, and Goldendoodles are no different.
Conclusion For "Goldendoodle Quotes"
Goldendoodles are stunning dogs that come from Poodles and Golden Retrievers. These dogs take plenty of traits from both of their parent breeds to make a stunning and friendly dog who doesn't shed too much and will fill your days with happiness and joy.
It will come as no surprise that your Goldendoodle is the subject of many happy, funny, and lively quotes online. These dogs are always friendly, kind, and loving. Although they won't make good guard dogs, they will certainly keep you entertained, social, and full of love.
Goldendoodle quotes cover many topics. Most will be a reflection on life with your Goldendoodle puppy, but others will focus on pop culture references, appearance, and personality. Some quotes may be focused on parties for your Goldendoodle, quotes about love, and training commentary. Whatever your fancy, there is a Goldendoodle quote that you'll love.
If you find this guide, "The Best Goldendoodle Quotes," you can check out these other Goldendoodle guides from our team at We Love Doodles:
You can learn more about the Goldendoodle dog breed by watching the "Goldendoodle Dog Breed Guide" down below:
Garrett loves animals and is a huge advocate for all Doodle dog breeds. He owns his own Goldendoodle named Kona. In addition, he volunteers at the Humane Society of Silicon Valley, where he fosters dogs and helps animals. Garrett enjoys writing about Doodles and believes that dogs can teach humans more about how to live than humans can teach a dog.
Why Trust We Love Doodles?
At We Love Doodles, we're a team of writers, veterinarians, and puppy trainers that love dogs. Our team of qualified experts researches and provides reliable information on a wide range of dog topics. Our reviews are based on customer feedback, hands-on testing, and in-depth analysis. We are fully transparent and honest to our community of dog owners and future owners.