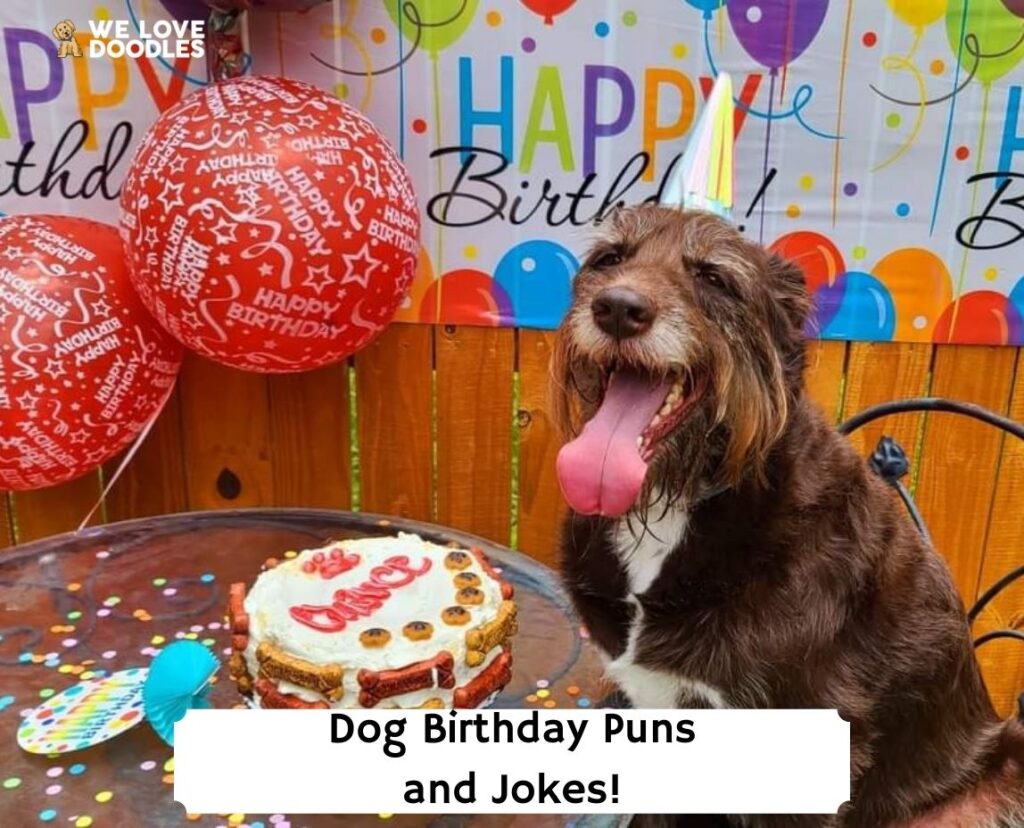 It's a dog's birthday, so it's time to make some paw-some puns to bring a barking good time to their special day! Whether you want to write a card to a friend, serenade your own furry friend, or come up with fun dog party puns as decorations, we have you covered.
Other articles you would like: Dog Birthday Captions For Social Media!
Basic Dog Puns
We'll get started by establishing a few basic dog puns. These are some of the building blocks that we will use to create birthday-specific puns/jokes. You can also use these to craft dog puns of your own for a birthday!
Pawsitive (positive)
Pawfect (perfect)
Furtunate (fortunate)
Pupular (popular)
Adogable (adorable)
I ruff you (I love you)
Furbulous (fabulous)
Furever (forever)
Ruff (rough)
Dog Birthday Card Puns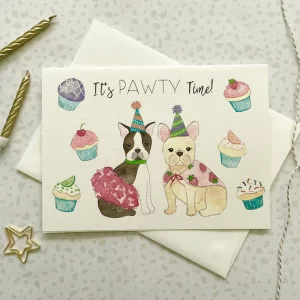 First things first, we'll dive into some happy birthday dog puns that work well in a birthday card context. That means any time that you're wishing someone (a human, typically) a happy birthday using some combination of text and images. These puns work as well on a physical birthday card as they do on a text message. Enjoy!
Check out for more: Funniest John Wick Dog Memes! and Funny Smiling Dog Memes!
Dog Puns for Birthday
As you turn one year older, remember: anything's paws-ible, no matter what age you are!
It must be someone's birthday – the pup-arazzi are here! Note: this one is best if accompanied by an image of dogs holding cameras.
It's your birthday! We're celebrating you today! Don't terrier self up!
Who let a birthday girl in here looking so fetching?
For your birthday, I'm giving you the corg-key to my heart.
I am the mighty wizard Labracadabrador! Hear my proclamation on this grand day. I hereby grant you a paw-some birthday. I ruff you! Note: this one works best if you put the first two sentences on the first page with a picture of a stern-looking dog in a wizard's hat, then the last two sentences on the inside with that same dog now adorned by heart eyes.
It's your birthday: let's get this pawty started!
You are glowing today! You should be on the Vanity Fur cover.
Spotted! It's the birthday boy/girl/kid! Note: this works best with a picture of a dalmatian, preferably one wielding a magnifying glass.
Dog-gone it, would you look at that! He's gotten another year wiser, more experienced, and more beautiful! Happy birthday! I hope you have many more to come.
Happy birthday, let's hope it's a Great Day-ne!
Start your special day off right: with some Woofles and a pot of Earl Greyhound tea. Note: this is best accompanied by a picture of a greyhound dog sipping tea and eating waffles.
You're a whole year older?! That's mind beagle-ing!
The twenties/thirties/forties/etc. have ended their reign of terrier, let the paw-some thirties/forties/fifties/etc. begin!
Front: I hope you have a grrr-ape birthday! Inside: But please do not have a grape birthday. That would be extremely poisonous for me. Note: Both the front and inside should be accompanied by a picture of a dog.
Front: Happy birthday! I brought you something… Inside: It's a bark-uterie board! Note: On the front, include a picture of a dog holding something behind its back. On the inside, have the same dog present a charcuterie board with dog treats.
Front: I have to a-paw-logize to you… Inside: I let all my friends in here to wish you a happy birthday! Note: On the front, include a dog looking sheepish. In the background, you can also depict household items that are mostly hiding different dogs. On the inside, include a scene of all those dogs popping out and wishing the reader a happy birthday.
Front: For your birthday, I got you a Furr-ari! Inside: I didn't, that was a lie. I'm so sorry. I hope you have a happy birthday anyway. Note: This works especially well if you paste a gift card to the inside of the card, or accompany the card with a small, key-shaped gift. A rare alternative to consider is to simply gift them a real Ferrari.
Front: For your birthday, I'm going to welcome you home with some… Inside: Paw-cussion! Note: For this one, include a picture inside of a dog playing drums. It's probably best to have a dog not playing drums on the front as well.
General Dog Jokes
Maybe you aren't wishing a happy birthday to a dog-loving friend, and you're just looking for dog jokes as a birthday party theme. If so, these more general dog party puns can work excellently.
Why do dogs pee on trees so often? The trees are always barking at them!
My dog isn't loud. He's just a little ruff on the edges!
You must smell like my garden – because my dog digs you.
Have you heard about the new movie about the Dachshund in the eating contest? I hear it's an Oscar Weiner!
A man knocks on his neighbor's door in the middle of a storm, and the neighbor answers. The man says, "Hi! Sorry to bother you, but my roof has started falling apart. Our whole attic is flooded, and our house is getting ruined by the second. Can I borrow your phone to call a contractor? The neighbor replies, "I can do you one better – don't worry about a thing. My dog is a perfectly good woof-er!"
I went to the strangest vet's office the other day. She promised to make my dog "heal," but they just spent the entire time walking around together!
I don't know why my dog is so moody. I pamper her with treats and I give her so much attention – she even seems happy almost all the time. But whenever I ask her how her day is going, all she says is "rough, rough, rough"!
What dog breed is best at drawing? A Golden Doodle.
Why do Dachshunds hate warm weather? It feels weird to be a hot dog.
Where do dogs go to get a new tail? The re-tail store!
What do dogs order as movie snacks? Pup-corn.
Why did the dog have an existential crisis? Too much paw-ndering the meaning of life.
What do dogs say when they have trouble breathing? I am riding the Pug-gle bus!
"Have you ever heard of the dog that worked at a bank?" "Can't say I have." "He was so pups-ecsful they made him branch manager!"
"Did you hear about the new dog's rights flag?" "There's a flag for dog rights?" "Yup! It's Indogo and Grrr-een."
"Why don't dogs get driver's licenses?" "For a whole lot of reasons. They don't have hands, thumbs, or human legs. Their brains–" "No, no – it's because they think going to the DMV is a mastiff waste of time." "Ah. Okay." "The rare few that get driver's tests always keep the car in bark." "Yes, I get it." "You can help them, though. There's a charity to gift self-driving cars to dogs.""That's crazy."
"You can help it with just a small monthly Dalmatian."
"What did the dog say to the mean girls at school?" "I can't imagine the dog would say anything." "Stop calling me fat! I'm literally just a little husky."
"Did you hear about the all-dog theatre company that's coming to town?" "That sounds incredibly strange." "They're performing A Winter's Tail." "Ah, I see." "The one by William Shakes-paw."
Dog Pun Birthday Party Ideas
If you have a friend who loves puns, a friend who loves dogs, or even a dog you want to celebrate, you can use any of these puns and jokes to plan a delightful evening.
One way to do so would be to hide different ones throughout the venue, letting people discover them as they go to the bathroom or grab another drink.
Another potential activity is to give everyone one half of a pun or joke and then give out a prize to the first, second, and third people who find their joke "match" at the party.
You will also like:
Garrett loves animals and is a huge advocate for all Doodle dog breeds. He owns his own Goldendoodle named Kona. In addition, he volunteers at the Humane Society of Silicon Valley, where he fosters dogs and helps animals. Garrett enjoys writing about Doodles and believes that dogs can teach humans more about how to live than humans can teach a dog.
Why Trust We Love Doodles?
At We Love Doodles, we're a team of writers, veterinarians, and puppy trainers that love dogs. Our team of qualified experts researches and provides reliable information on a wide range of dog topics. Our reviews are based on customer feedback, hands-on testing, and in-depth analysis. We are fully transparent and honest to our community of dog owners and future owners.