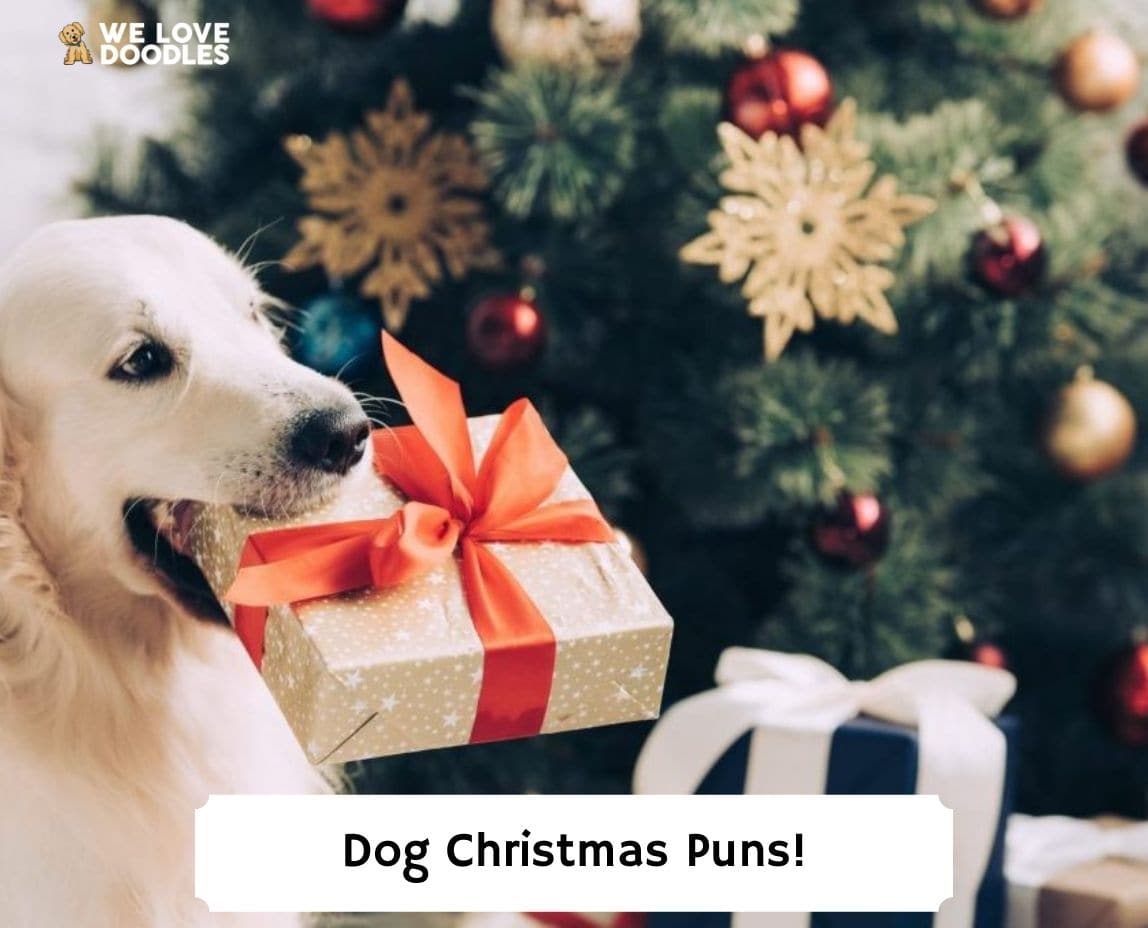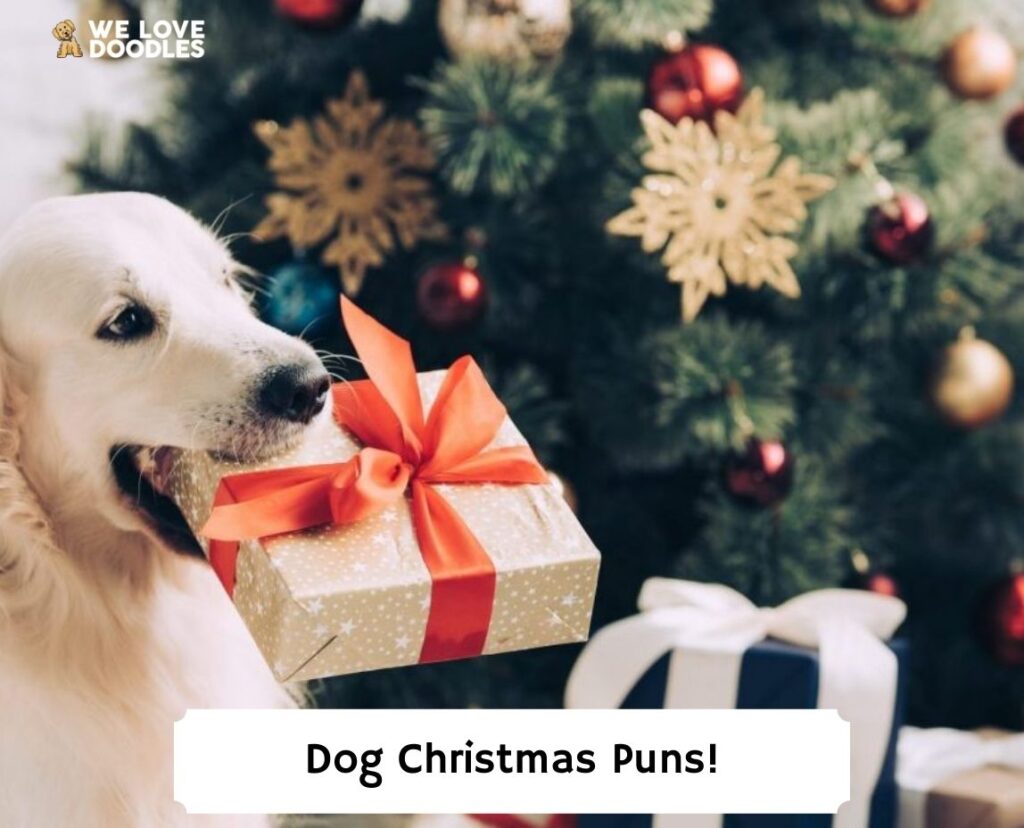 Man's best friend is a good source of humor any time of the year, but dog Christmas puns are some of the most fun. When most people are with friends and family, having a source of humor – and groans – can be a valuable resource. Dog Christmas puns are great icebreakers.
Whenever you get together with other people, whether your pets are there or not, you can insert dog Christmas puns into the conversation. Even if they groan, fellow pet-owned people will find a connection through the amusement and laughter that puns provoke.
It is pawsitive that whatevfur dog-related puns you can find and share will amuse someone. Below is the ulti-mutt list of Christmas puppy puns, with a few other pet puns thrown in for good measure.
Other articles you would like: Dog Birthday Puns and Hilarious Dog Puns.
Merry Christmas Dog Puns
Christmas time is pawsitively pawsome. It is a great time to sing, watch movies, eat treats, and just generally spend good quality time with the family, including the pets. Keep the remote away from the dog, though, so he doesn't hit the paws button.
Add some of these fun dif-fur-ent options to your holiday playlist.
Try out the dog version of some popular Christmas carols for dog lovers:
Bark! The Herald Angels Sing
There's No Treat Like Bone for the Howlidays
Have a Holly Collie Christmas
Fleas Naughty Dog
O Tannen-pom
O Christmas Treat
Christmas movie night goes to the dogs with these pupified versions of popular movies:
National Lampoodle's Christmas Vacation
The Santa Claws
The Newfoundland Before Christmas
8-Bite Christmas
While you watch or listen, it is fun to eat. Enjoy a bite of scrumptious snacks such as these fun dog pun treats:
Candy canines
Pupcorn
Pupperoni Pizza
Pupsicles
Woofles with syr-pup
Dog Pun Christmas Cards
Send Christmas cards to keep in touch with family and friends. You always want to include your pets, and fur-tunately you can use some of these card choices to keep the pets in the forefront. If you make your own cards, add your pet's paw print for a special touch.
Here are some captions to write on the front of the card:
Happy Howlidays
Happy Holidogs
Happy Pawlidays
Furry Christmas
Merry Woofmas
Yappy Holidays
Jingle Paws, Jingle Paws, Jingle all the way
Use these inside greeting options to finish the sentiment:
After a couple of ruff years, we wish you a won-dog-ful Christmas.
Unleashing joy this season.
Wishing you a collar-ful Christmas.
After going through a rough pooch, may your holidays be happy.
Hope you are pup to your ears in gifts.
May your Christmas be furry and bright.
Check out for more: Dog-Gone Good Dog Valentine's Day Puns! and Funny Smiling Dog Memes!
Christmas Dog Jokes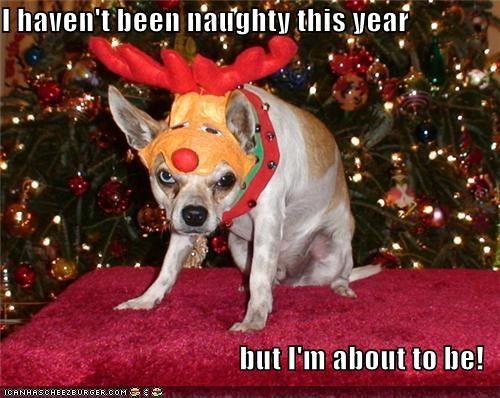 Everyone likes telling jokes, and these are especially punny puppy jokes just for the holiday season. Whether you live in a place where it snows or not, these are seasonally enjoyable bits of humor for the whole family.
If you are having a holiday get-together, save some of these to interject into conversations to garner some groans and add some hilarity to the occasion. Laughter is the best medicine and it brings people together in a way that no other experience does.
How do you get to the store in a blizzard? Dachshund through the snow.
What is Scrooge's line in the dog version of A Christmas Carol? Bah, hum-pug.
What do a Christmas tree and a dog have in common? Bark.
Did the Christmas tree get watered? Yes, the dog watered it.
What do you give your friend who wants to collect dogs? You give him a couple of pointers.
What did the dog say to the bone he got for Christmas? "Nice gnawing you."
It's raining cats and dogs, what do you do? Nothing, it is ok as long as it doesn't reindeer.
What is a hound's favorite time of the year? The howl-idays.
What did the dog put in his letter to Santa Claus? Nothing, a dog can't write.
Why did the snowman name his pet dog Frost? Because Frost bites.
Why did the snowman turn yellow? Ask that little dog over there.
What do you call a dog outside at Christmas? A chili dog!
Why did the dog cross the road? The chicken was on Christmas break.
What do you give a dog for Christmas? Give him a mobile bone.
What did the dog say to another dog when they were served Christmas dinner? "Bone appetit."
Why should you leave your dogs home from the Christmas dance? They have two left feet.
What do dogs do at a holiday party? They whine and dine.
What type of dog do you get for Christmas? A pointsetter.
What did the puppy drink on Christmas morning? A puppuccino.
What was the dog's favorite Christmas drink? A pugkin latte.
What was the dog after eating all the Christmas candy? A wide retriever.
What did the dog listen to while preparing presents? Wrap music.
Did you hear about the dog who tried to put the star on the oak? He was barking up the wrong tree.
One gift was a robot puppy. Its name was Dogmatic.
Where does a dog go to buy new tails for Christmas? A retail store.
What do you do when your dog chews up the dictionary you just got for Christmas? You take the words right out of his mouth.
What did the dog say after he opened his presents? "Thanks fur everything."
Happy Holidays Dog Puns
Some people celebrate other holidays, but whatever holiday you celebrate, there are dog puns that can be used that relate. No matter who you are, you can toss a dog pun or two into your holiday conversations or update letters. Some of these are especially cute when paired with a photo.
(On a photo of a dog in the snow) Walking in a winter wonderlab.
Deck the halls with bones and collies.
The puppy did not unwrap the presents, it just terriered them a little.
Santa is not fat, he is husky.
Paws and reflect on the wonders of the season.
The dog can hardly wait to woof down some holiday dinner!
I will be home for the howlidays.
Come hear some exciting tails of holidays past.
Pet Puns for Christmas
Despite the common phrase "fighting like cats and dogs," many homes have both pets cohabitating. Some families have many pets of all types. These puns are purr-fect for families with menageries, and whose houses include a bit of cattitude.
Kitties resting by an open fire, puppy nipping at your nose.
Meowy Christmas!
We woof you a merry Christmas.
Hairy Christmas and yappy new year.
Wear a pugly Christmas sweater.
Sending pugs and kisses for Christmas.
Merry Christmas to my pawsome friends.
Why do cats climb Christmas trees? They should be afraid of the bark.
Hope You Enjoyed These Christmas Dog Puns
Hopefully, all of these adorable Christmas dog puns have brought a bit of laughter and delight into your life. No matter what season of the year you read these, you are sure to giggle or groan. Whether you read them to yourself or share them with a crowd, laughter is a good way to lower stress levels.
This holiday season, pair up photos of your pups with some of the fun puns above and share them with your friends. They are sure to thank you for thinking of them and including them on your Christmas list.
You will also like: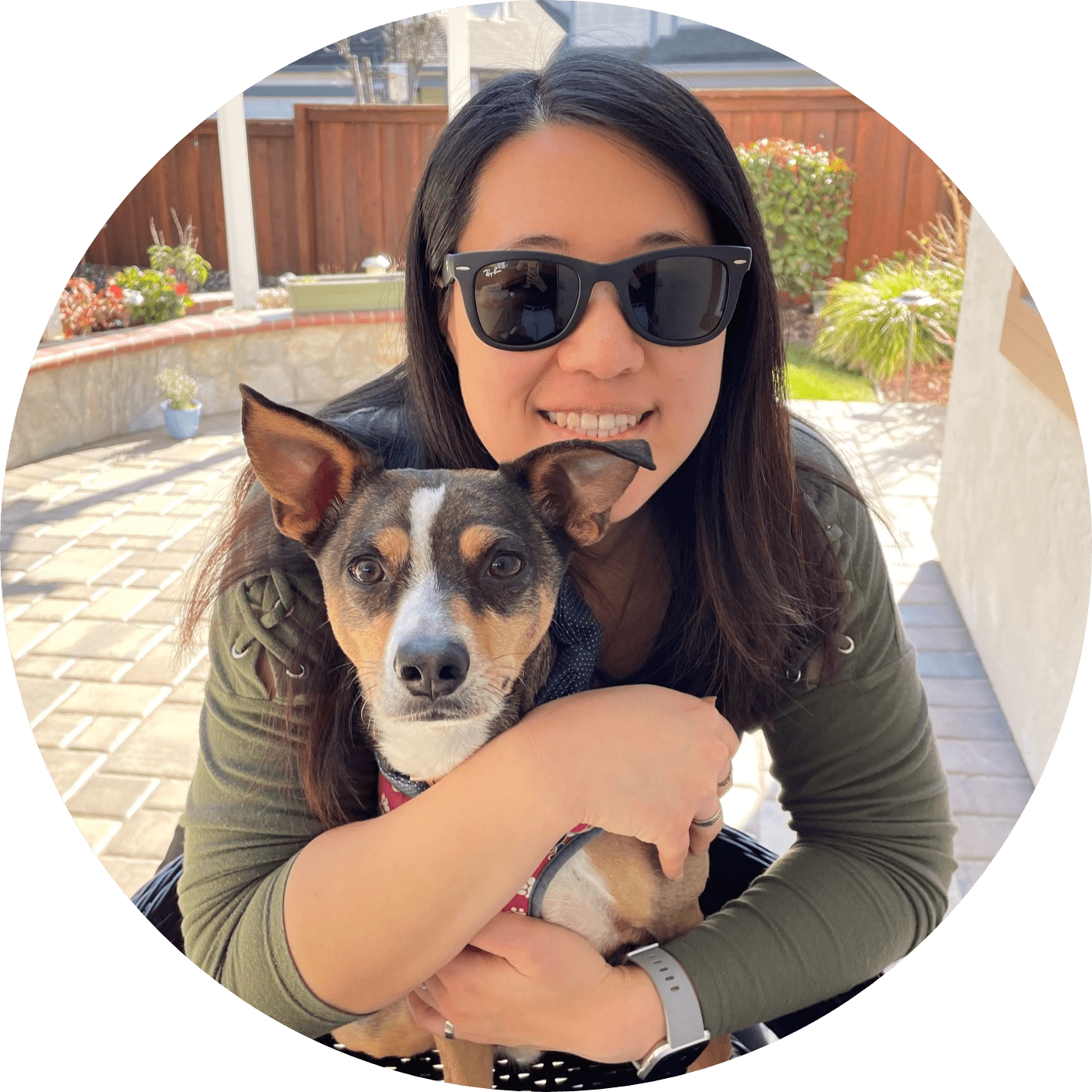 Dr. Sabrina Kong graduated from the Royal Veterinary College in England in 2016 and has been working at a small animal clinic in Northern California since then. She grew up in the Bay Area and got her bachelor's degree from Cal Poly San Luis Obispo. She also became a Certified Canine Rehabilitation Practitioner through a program at the University of Tennessee.
When she isn't in the clinic taking care of her four-legged patients, she enjoys traveling and trying new foods with her friends and her three-legged dog, Apollo. She adopted Apollo from her clinic when he was a puppy with numerous health issues. Dr. Kong truly cares about taking care of animals.