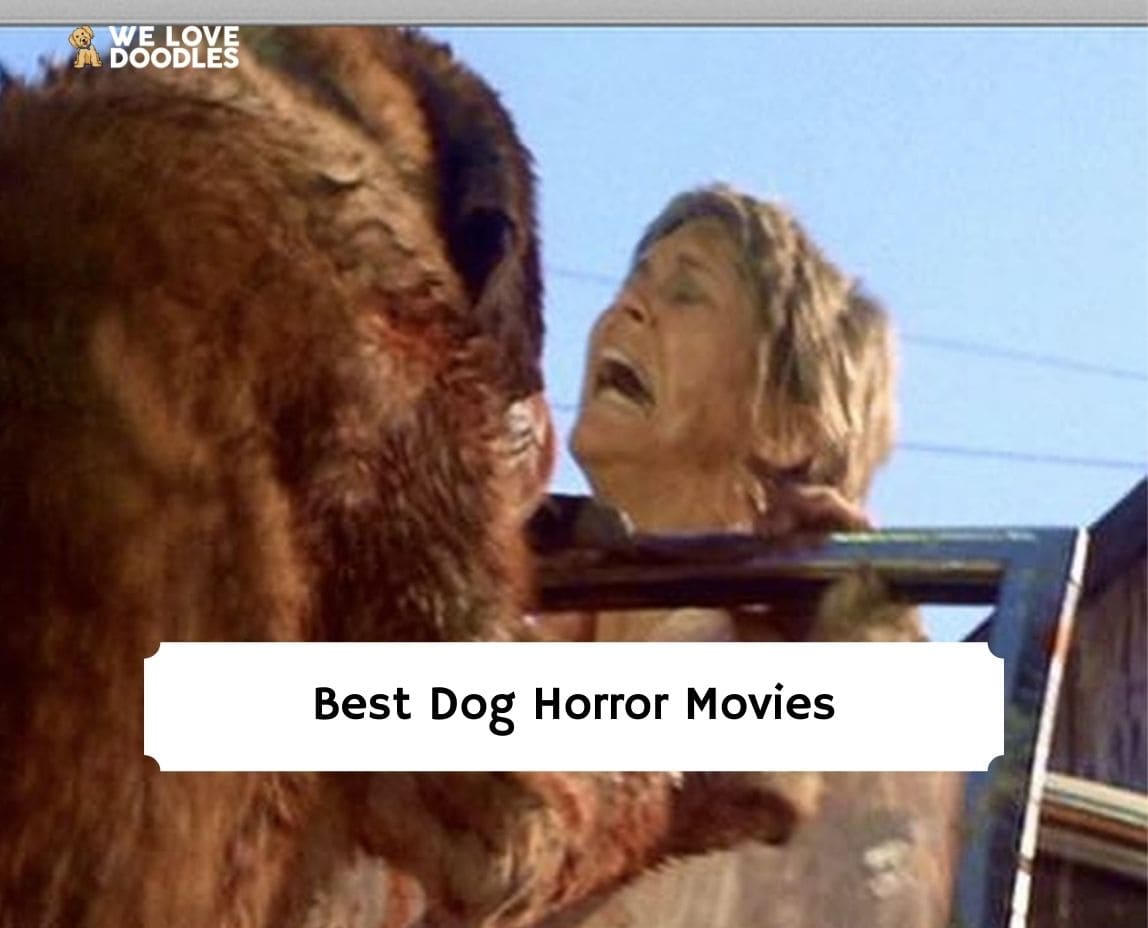 When you think about it, what could be more frightening than having a lovable and friendly dog become a rabid, blood-thirsty killer? Scary and killer dogs have long been a popular horror film trope ever since Stephen King released Cujo in the early 1980s. But what exactly is it that makes dogs could source material for horror movies?
Dogs are considered to be the most faithful and loving companions that people can have. Due to the trust and security placed in dogs as part of the family, turning a dog evil is a scary and nightmarish proposition. Dogs in horror films are able to reflect our worst domestic fears becoming a reality.
Ever since horror movies were first developed, dogs have always been a popular trope in horror movie history. If not the villains of the film itself, then dogs are typically the savior of people against the villains. This list will focus on the scariest dog horror movies where dogs are the central villain or feature in a frightening supporting role.
Other articles you would like: Funny Dog Movies and War Dog Movies.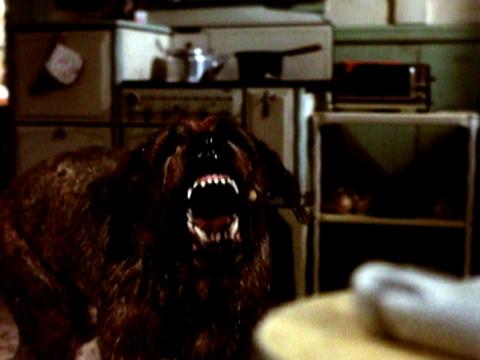 It almost seems redundant to include Cujo on a list of dog horror movies, but no list is complete without it. Based on Stephen King's classic, claustrophobic horror novel of the same name, Cujo did for St. Bernard's what Jaws did for great white sharks. It is impossible not to think of St. Bernards the same way after seeing this movie.
But it's still just a movie, and one heck of a horror movie at that. The story is simple in that it explores a family who become concerned when their normally lovable St. Bernard starts acting aggressively. Little do they realize, Cujo has been bitten by a rabies-infected bat while out exploring a nearby cave one afternoon.
By the end of the film, Cujo is rabid to the point of killing virtually any living thing he sees, including his family who can only escape from him by hiding in their stuffy and hot car outside.
The scenes of a rabid Cujo are frightening, but what really hits hard about this horror film is that it shows how unfortunate it can be when dogs contract rabies. It is no fault of their own, but the only end they can face is to be put down.
Cujo is currently available to stream on Amazon Prime Video.
An often forgotten dog horror film is Man's Best Friend from the early 1990s. The film is about a TV Reporter named Lori (Ally Sheedy) who takes in a Tibetan Mastiff dog named Max that has managed to escape from a genetic research facility.
Over time, she begins to notice Max's incredibly violent tendencies, which comes from random tests performed on him at the facility. This movie is fairly similar to Cujo, except the dog attack scenes are far scarier and much more violent and gruesome.
The creepiest parts of the movie are when Lori tries to give Max away to various dog owners only for Max to kill them and find his way back to Lori. This is man's best friend in reverse. There is some justification for Max's condition as he manages to get back at the scientists who performed the experiments on him to make him so violent.
The film also explores themes regarding the natural instincts of dogs that can be manipulated by people for nefarious purposes.
Man's Best Friend is available to Rent or Purchase on YouTube or Vudu.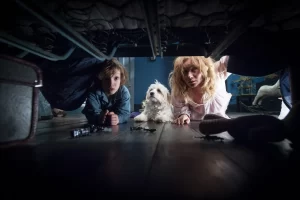 Watchers is also a forgotten dog horror movie that deserves a thorough retrospective re-release.
The movie stars Corey Haim as Travis, a teen who rescues a Golden Retriever that he finds running down the road late at night. The dog was escaping from a secret laboratory where it was being tested on in relation to a large, mutated monster-dog/primate hybrid in the same lab.
As the monster known as the 'OXCOM' escapes the facility in pursuit of the dog, the film's scares begin as the beast tracks the dog and kills anyone in its way. It is never made clear as to why the monster is tracking the dog, but this only adds to the film's mystery and scares that are surprisingly effective for a low-budget, 80s horror film.
The dog is the hero of the film, but we are led to believe the monster must be tracking the dog since there is some canine link between the two. Since this film came out in the 1980s, the monster effects are all practical, but great detail was placed in the ferocious design of the monster hybrid.
This is certainly an underrated dog horror film.
Watchers is available for purchase on DVD or can be streamed on YouTube here.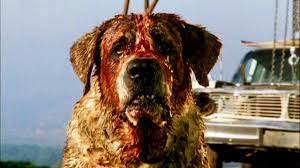 If you have seen John Carpenter's The Thing, then you already know that this is not a dog horror film. But the film does feature one unforgettably scary scene that involves an Alaskan Malamute dog.
The dog is a guard dog watching over a team of scientists and pilots at a remote research facility in Antarctica. Unbeknownst to the inhabitants of the outpost, a shape-shifting, parasitic alien has infiltrated the facility with the ability to transform and completely consume any living thing it comes into contact with.
The Thing's very first victim is the facility's free-roaming dog that manages to infect all the other dogs at the facility once in their confinement area.
As for the scene when the dog transforms into the alien, the special effects are so well-done, and the pacing of the scene so excellent, that this makes for perhaps the scariest scene in the entire film.
Although not a total dog horror film, The Thing is worth watching for this one scene alone.
The Thing is available for Rent or Purchase at YouTube and Vudu.
Like The Thing, Resident Evil is not solely about monstrous dogs, but the scenes featuring the film's (and video game's) iconic zombie dogs is certainly worth mentioning. Resident Evil is about a survivor named Alice (Milla Jovovich) who bands with a group of military operatives to fight against and contain a zombie virus from spreading to the wider world.
A bit past the film's midway point, Alice walks down a corridor in the facility to be greeted by a pack of zombified, blood thirsty Doberman Pinschers. Her fight with the zombie dogs is incredibly suspenseful, and the effects work to create the zombie dogs is both terrifying and completely realistic.
If you do not like zombie fiction, the film is probably not for you, but if you enjoy dog horror, it is worth seeing if only for this one terrifying scene.
Resident Evil is available to stream on HBO Max.
Monster Dog is a low-budget, mid-1980s dog horror film that featured rock star Alice Cooper in the lead role. For many horror fans, that one sentence alone is likely all you need to know.
This underrated gem of a horror film is about a rock star (Cooper, of course) who decides to take his bandmates to his old, abandoned childhood home in the remote countryside to film a music video.
Sooner rather than later, a group of violent, seemingly rabid dogs roaming the countryside post outside the house seeking to get in and devour its inhabitants. They are led by a large and even more ferocious monster dog that makes its appearance in the film's suspenseful final scenes.
Like most low-budget 80s horror movies, this film has an element of cheesy fun in the plot, but it completely surprises your low expectations once the scares start. The makeup effects of the monster dog are well-done for the time, and the pack of wild dogs are equally as frightening.
Although not well-known, this is a must-see for dog horror film fans.
Monster Dog is available to stream for free on Tubi.
Conclusion for The Best Dog Horror Movies
Dog horror movies run the gamut from an official horror movie sub-genre all their own to some incredibly effective supporting parts. Each of these movies is different in terms of style and tone, but each is also certifiably scary depending on which story pulls you in the most.
Dog horror movies respond to our fears of what could happen if our beloved dogs turned to the dark side. Thankfully, that is typically only found in the movies.
Garrett loves animals and is a huge advocate for all Doodle dog breeds. He owns his own Goldendoodle named Kona. In addition, he volunteers at the Humane Society of Silicon Valley, where he fosters dogs and helps animals. Garrett enjoys writing about Doodles and believes that dogs can teach humans more about how to live than humans can teach a dog.
Why Trust We Love Doodles?
At We Love Doodles, we're a team of writers, veterinarians, and puppy trainers that love dogs. Our team of qualified experts researches and provides reliable information on a wide range of dog topics. Our reviews are based on customer feedback, hands-on testing, and in-depth analysis. We are fully transparent and honest to our community of dog owners and future owners.