At first, it may seem odd to think of dogs featuring in movies about war. But there have been several films made that depict this setup. Dogs are, after all, man's best friend, and this is true during good times and chaotic times. Interestingly, there are also some dog breeds that can perform tasks during war. With this in mind, what makes a good dog war movie?
Although not as popular as funny or scary dog movies, war movies featuring dogs either as companions to soldiers or affected citizens have become popular in the 21st century. Films like My Dog Skip and Dog Jack depict the undeniable bond between dogs and their war-torn masters.
Are you currently trying to find a good war movie that features a dog in a supporting role? This list was crafted with a range of war interests in mind. From dogs that actually assist soldiers during war and movies that show how dogs can remain a faithful companions to war-torn civilians no matter what, this list features a wide range of war dog movies.
Other articles you would like: Funny Dog Movies and Scary Dog Movies.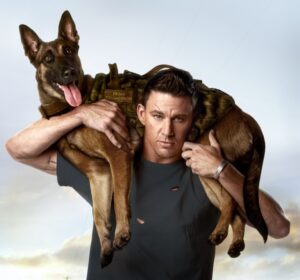 Dog is the most recent war dog film released, and this movie packs an emotional punch as well as a humorous one. Starring Channing Tatum, this is a movie about a U.S Army Ranger who suffers from PTSD, and is tasked with taking in his deceased former squadmate's Belgian Malinois named Lucy to prevent her from being euthanized.
The Belgian Malinois is a well-known military dog thanks to its fierce loyalty, herding capabilities, and retrieval behaviors. But what this film does so beautifully is to show the incredible intelligence of this breed combined with their undying loyalty for their pet parent.
The movie is basically a road movie as Tatum's character must travel to his squadmate's funeral in Arizona with Lucy. Their scenes together are funny and heartfelt, as well as poignant and well-crafted.
Once they both reach Arizona and Tatum's character is assigned to active duty in Pakistan, the scene where his character decides to go forward with allowing Lucy to be euthanized and then changes his mind and rescues her is unforgettable.
There are many moments of beauty in this film, and the film excels the most at showing the love and affection dogs and their owners share with one another in equal measure.
Dog is currently available for Rent or Purchase on YouTube or Vudu.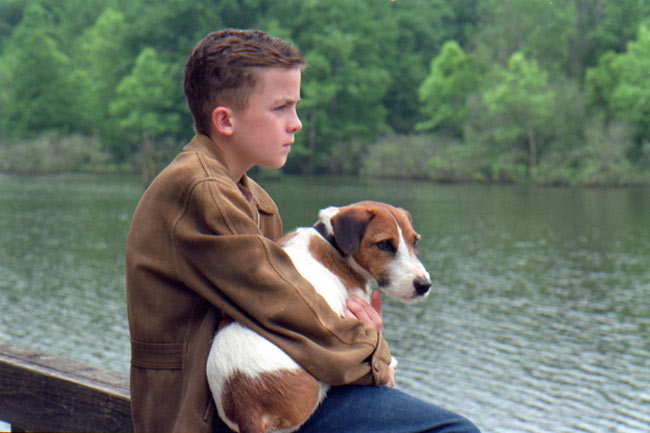 Someone recently asked me why so many dog movies end sadly? I honestly didn't know what to say apart from acknowledging that this seems to be a trend. One reason is that unfortunately, dogs, for all of their absolute perfection and undying companionship, live very brief lives. It's almost as if dogs are brief and valuable friendships put here to remind us about compassion.
When the movie is as good as My Dog Skip, the tears are painful but you are glad you watched the film. Set during World War II-era Mississippi, the movie is fairly simple in that it tells the story of a young boy and his experiences with his Jack Russell Terrier.
For anyone who grew up with a family dog, we can all likely look back on such fond and sincere memories related to our childhood dog. At a time when the world was fighting, this is a movie that focuses on the innocent and tender moments of childhood, with a furry companion as its central focus.
The film ends on a somber note, but there is so much sincerity and authenticity to the story. It reminds us that no matter what our frustrations and disappointments may be, our dogs are always there, ready and waiting to offer a friendly lick and companionship when the world unleashes disappointment.
My Dog Skip is currently available to stream on Netflix.
Max is another war film about a Belgian Malinois dog named Max, but unlike Dog, this film actually shows a Belgian Malinois in active combat in Afghanistan with the U.S. Marines. We get to see how this breed is used to scout for combatants with the intent of charging them in vicious fury to help take them down.
But Max's war scenes are brief as the main focus of the film is Max's assimilation into his deceased master's family back home in America. Max then becomes a guard dog for the family, specifically over Justin, Max's deceased owner's brother. Justin commits low-level crimes that eventually get him entangled with a drug cartel.
The story is adequate and a bit familiar, but we get to see how this unique dog breed maintains its guardianship instincts over its family both on and off the field of combat.
Unlike many other similar dog war films, this movie actually does have a happy ending, which is a refreshing welcome.
Max is currently available for Rent or Purchase on YouTube and Vudu.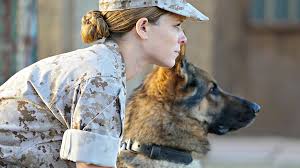 Megan Leavey is a U.S. Marine who saw active duty in Iraq during the 2000s. Her unique position in the military as a Military Police K-9 handler, which brought her to the ownership of a German Shepherd named Rex who became both her charge as well as her war-time partner during the fierce combat both experienced in both Fallujah and Ramadi.
This film is an autobiography depicting Megan and Rex's wartime experiences together with Megan being played by actress Kate Mara.
One of the movie's most suspenseful scenes occurs when both Leavey and Rex were wounded in combat from an IED (improvised explosive device) in Ramadi. The explosion occurred as both Leavey and Rex were leading a U.S Army Patrol through combat, which would later see Leavey being awarded the Purple Heart for bravery for her heroism.
What is touching is how Leavey ensures that Max is also mentioned and thanked for displaying the same level of heroism that she did.
This is a very entertaining, insightful, and well-made film that shows just how important the role of military combat dogs can be during wartime. Thankfully, Megan was allowed to adopt Rex after their combat tour ended.
Megan Leavey is currently available to stream on Hulu.
War Dog: A Soldier's Best Friend is a documentary film that is a must-see for anyone interested in the role military dogs play during combat.
What is also great about this insightful documentary is that it also shows how important military dogs are to soldiers once they are back at home as well. The film focuses on three military dogs in particular, and details how the dogs are trained to disable enemies in addition to the support and companionship they offer troops as well.
It should be noted that this film is adult-oriented. There is some rough language used and even depictions of war violence, some of which are targeted at dogs.
I recently viewed this documentary, and I simply could not take my eyes off it. If you are curious as to how or why dogs become both brave and selfless, this is a must-see.
War Dog: A Soldier's Best Friend is currently available to stream on HBO Max.
Like My Dog Skip, Dog Jack is a heartwarming and heartfelt movie about the bonds between children during wartime and the companionship they share with their dogs. Set during the American Civil War in the 1860s, the movie is about Jed, a young boy that escapes from slavery to join the Union Army during combat.
He takes along his dog named Jack, a Mastiff with strong intelligence and tracking skills. Jack would later go on to become the official mascot of the 102nd Pennsylvania Regiment thanks to his useful skills and companionship to soldiers within the regiment.
This movie is touch and heartfelt, while also being important and historically accurate.
Dog Jack is currently available to stream for free on Tubi.
Conclusion The Best War Dog Movies
As you can see, there are more dog war movies than you may have initially thought. This list features a mix of dog war movies that are set during wartime and actually feature some breeds in active combat.
Each of these movies showcases the intelligence, loyalty, and importance that dogs serve both to people as companions and to military units. It is fascinating that dogs actually serve in combat units.
Garrett loves animals and is a huge advocate for all Doodle dog breeds. He owns his own Goldendoodle named Kona. In addition, he volunteers at the Humane Society of Silicon Valley, where he fosters dogs and helps animals. Garrett enjoys writing about Doodles and believes that dogs can teach humans more about how to live than humans can teach a dog.
Why Trust We Love Doodles?
At We Love Doodles, we're a team of writers, veterinarians, and puppy trainers that love dogs. Our team of qualified experts researches and provides reliable information on a wide range of dog topics. Our reviews are based on customer feedback, hands-on testing, and in-depth analysis. We are fully transparent and honest to our community of dog owners and future owners.