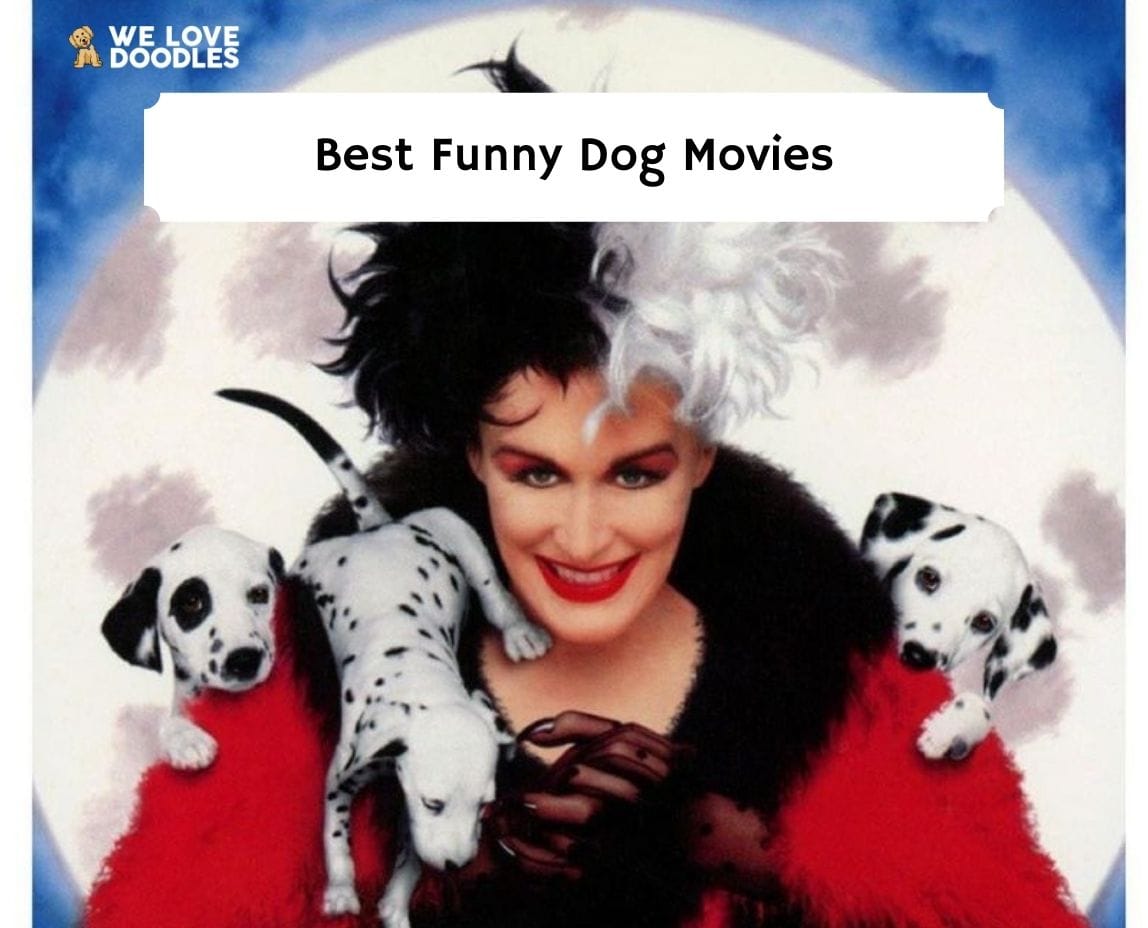 In the long history of cinema, the playfulness and outright hilarious behavior of dogs has long been captured on the silver screen. There are sad dog movies, courageous dogs movies, and even scary dog movies, but funny dog movies are the best for a feel-good experience. But what traits lineup to make a dog movie truly funny?
The funniest movies that feature dogs are the ones that always display the playful and mischievous spirit of dogs. Movies such as Turner & Hooch, Beethoven, and all the Benji films feature dogs as central characters that incite laughter simply for their naturally mischievous behavior.
There are countless funny dog movies out there, but only a select few of these movies can stand the test of time. In this guide, we have watched, analyzed, and will share with you 6 of the funniest dog movies of all time. Each of these films is a canine classic and will appeal to a broad range of viewers ages and tastes.
Other articles you would like: Best War Dog Movies and Best Horror Dog Movies.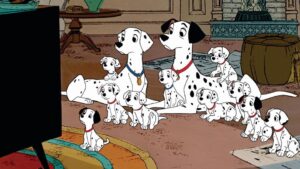 Nobody does funny dog movies quite as well as Disney. Dogs featured in several Disney animated movies before 101 Dalmatians, but this influential film brought the comedy to a greater degree over Lady & the Tramp (1955). The movie tells the story of Pongo and Perdita, and their large extended family of Dalmatian puppies in 60s Era Regent's Park, England.
Whether it is the Dalmatians' ongoing struggle to outsmart and defeat the wicked Cruella de Vil, or the slapstick, physical comedy, this film brings out the laughter. Danny the Great Dane and Colonel the Sheepdog are the funniest dog personalities in the film. But just watching all the dogs outsmart Cruella every time is both satisfying and hilarious at the same time.
101 Dalmations can currently be found on the Disney+ streaming service.
It was only natural that The Walt Disney Company would have more than one title on this list, and The Fox and the Hound is another undeniably funny animated dog movie. For many years, this film was sorely underrated, but recent years has seen a reappraisal of the film and its superb mixture of friendship and humor.
The film tells the story of two natural opposites: Tod, a fox, and Copper, a Hound Dog. This movie is not pure comedy all the time, but it is the small moments of comedy that make it so unforgettable.
The scene where a young Copper always agitates the senior Hound Dog Chief or all the moments featuring the woodpeckers trying to chase down a well-hidden caterpillar are standouts.
This film is also a wonderful story about friendship and how opposites in life get pulled apart but reunited once they mature. You will laugh, and there are moments you may cry, but this is what makes The Fox and the Hound such a wonderfully heartfelt comedy.
The Fox and the Hound is currently available to stream on Disney+.
The 1980s featured many different funny dog movies, but Turner & Hooch is certainly the standout film of the crowd. The movie stars Tom Hanks as California Detective Scott Turner who is stuck inheriting a large, mischievous, but friendly French Mastiff named Hooch, who witnesses a murder that Turner is investigating.
When taken as a pure comedy, this movie is roaringly funny. All of the scenes featuring the initially dog-phobic Turner learning to adapt to a dog's rambunctious behavior are truly classic in every way. The movie also does a great, albeit far-fetched job of displaying some of the acute intelligence of the French Mastiff dog breed.
One classic comedy scene after the next unfolds once Turner takes in Hooch. Hooch was played in the film by Beasley the Dog (1978-1992), and watching the film allows you to see what is probably one of the most famous dog performances ever next to the Benji films.
Beasley's natural talent on cue and adorable behavior is what makes the film so special amongst dog movies. Like most well-made dog-centered movies, there is an element of drama in the movie too, but the combination of comedy and drama is what makes the film worth seeing.
Turner & Hooch is currently available to stream on Disney+.
What makes a funny dog movie great is when the action of the film solely revolves around the animals, and this movie is one of the most memorable all-animal films ever.
Released at the end of the dog movie-filled 1980s, The Adventures of Milo & Otis revolves around a Pug Dog named Otis and a stray cat named Milo. There are no people characters in the film, and the story is completely the fun and humorous adventures of a dog and cat who become firm friends once they get lost in the countryside.
Dudley Moore narrates the film and plays the voice of each character, and much of the hilarity comes from his exceptional voice work. But the many playful scenes, whether it is Otis trying to intimidate a bear or Milo playing footsie with a fiddler crab or funny simply from the natural behavior of the dog and the cat.
The movie also showcases the strong survival instincts that both dogs and cats are capable of when they are on their own in the world. This is a pure family film that also happens to be incredibly funny in ways you likely were not expecting.
Trivia: The Adventures of Milo & Otis is a wholly Japanese film originally released in Japan as The Adventures of Chatran in 1986. The film was edited and dubbed into English for an international release as The Adventures of Milo & Otis in 1989. The original Japanese film is certainly worth tracking down as it contains footage not seen in the international version.
The Adventures of Milo & Otis is currently available to stream on HBO Max.
Beethoven is a dog movie that regularly tops most any funny dog movie list. And this is for good reason: it is non-stop funny. The film is about a suburban family that wakes up one morning to find a lovable and bulky St. Bernard puppy in their home having escaped from a pet store.
Like Turner & Hooch and The Adventures of Milo & Otis, the film uses expertly-trained St Bernard's to act on cue. For anyone who does or has ever owned a St. Bernard, you already know full-well how playful and assertive these dogs are. Add in their massive size, and playtime with this breed can be pretty destructive.
The movie shows this in one hilarious scene after the next. The film also manages to share some important insights on animal health and the stunning intelligence that dogs can display throughout their lives.
Beethoven is currently available to stream on Peacock.
For anybody who grew up in the 1990s, along with Beethoven (1992), Disney's Homeward Bound: The Incredible Journey was the go-to dog movie when you needed a feel-good laugh. This live-action remake of the original film from the 1960s features superb voice-acting along with excellently-trained animals.
The story focuses on Chance (American Bulldog), Shadow (a senior Golden Retriever), and a classy Himalayan cat named Sassy. After temporarily being left alone at a farm by their relocating family, the two dogs and cat decide to travel all across the Sierra Nevada Mountains to track the scent of their pet parents.
Along their way, the comedy of the film starts to take center stage. Sassy's pampered and classy nature makes for hilarious laughs, as does Shadow's older and wiser wisecracks towards the young and rambunctious Chance.
This movie is similar in style and story to The Adventures of Milo & Otis, but the jokes and narrated rapport between the animals in this film is much more bawdy and funny in nature.
Homeward Bound: The Incredible Journey is currently available to stream on Disney+.
Conclusion for Funny Dog Movies
Finding a funny dog movie is certainly not hard, but there are some titles from the past that may sometimes get overlooked. Each of these 6 films has entertained audiences far and wide for decades now and is well worth watching.
Some other funny dog movies to check out include Because of Winn-Dixie (2005), Best in Show (2000), Snow Dogs (2002), My Dog Skip (2000), Bolt (2008), The Shaggy Dog (1959), and Marley & Me (2008).
Garrett loves animals and is a huge advocate for all Doodle dog breeds. He owns his own Goldendoodle named Kona. In addition, he volunteers at the Humane Society of Silicon Valley, where he fosters dogs and helps animals. Garrett enjoys writing about Doodles and believes that dogs can teach humans more about how to live than humans can teach a dog.
Why Trust We Love Doodles?
At We Love Doodles, we're a team of writers, veterinarians, and puppy trainers that love dogs. Our team of qualified experts researches and provides reliable information on a wide range of dog topics. Our reviews are based on customer feedback, hands-on testing, and in-depth analysis. We are fully transparent and honest to our community of dog owners and future owners.