Several years ago, I was having dinner with my family with our Poodle running around. There was a small piece of pork bone, which our Poodle grabbed and ate a chunk of. I was constantly worried. Just like you, the negative thoughts and questions kept reoccurring: My dog ate a pork bone. What do I do in this situation?
After we called our veterinarian to collect some information, we were relieved that our Poodle was safe. Today, I'd like to share the information I learned from that experience and other vital information I have since learned. Of course, the image of your hungry companion chowing down on a huge pork bone or any other bone is so common that we don't even give it a second thought. We've all seen it in cartoons!
Because the "bone motif" is so prevalent in anything dog-associated, from the shape of dog toys to the shape of dog treats, and printed on anything dog-associated (poop bag dispensers, food bowls, collars, dog tags, etc.), we may assume that bones are ok for dogs to eat. However, when you give a dog bones to chew, it could lead to numerous safety risks.
Some bones are ok, but some are not. Much of bone safety depends on the size and shape of the bone. You can feed your companion raw bones, but it has to be grounded to fine pieces mixed with its meal. Many people give their dogs an entire bone piece, which isn't recommended and could lead to other risks. In this article, I'd like to share what I learned with the help of our team from WeLoveDoodles.
Don't give your dog human food. Give them bones and products created specifically for them: Pet Qwerks Barkbone Review and Best Horns For Dogs To Chew On
Not All Bones Are Similar To Pork Bones
Your dog might find it easier to chew certain bones compared to others. For instance, beef bones versus pork bones or chicken bones. Different animals' bones' structures vary, meaning some bones crumble upon chewing while others split and create sharp edges. For instance, bird bones are thin and full of air sacs, making them easier to digest if dogs consume them. On the other hand, pork bones are much bigger and more difficult to digest due to their thickness.
Bones from the same animal will generally react the same way when chewed. For example, the bone from a pork chop could cause the same damage as that from a grilled pork rib. When assessing danger, what matters here is the size of the consumed bone. Dogs bigger in size generally have larger intestines. It's easier for them to digest and pass bones through their body easier than smaller dogs. However, feeding bones to any dog breed should be avoided as much as possible if you want to avoid unnecessary problems.
Risks Associated With Dogs Consuming Pork Bones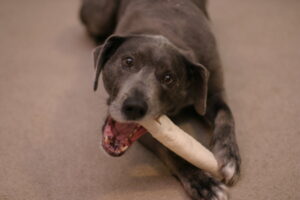 There are multiple risks when it comes to consuming pork bones. Although not all dog breeds or sizes will experience these kinds of threats, keep in mind that their chances are still there. Read below to find the possible risks associated with dogs consuming pork bones.
Bone Splinter Damage from Cooked Pork Bone
Cooked bones from any animal are more prone to splintering in the mouth because collagen is broken down during the cooking process. Collagen is a protein that allows bones to flex slightly and have some give without breaking, so when collagen is cooked out, bones become brittle. When a dog gnaws on a cooked bone, it will splinter into jagged pieces. A sharp edge on the shattered bone can cause a perforation in the intestine during digestion, leading to internal bleeding. Bone splinter damage is extremely severe and will likely require invasive surgery. When a dog suffers from bone splinter damage, it could lead to:
Change in appetite
Diarrhea
Abdominal Pain
A dog chewing up pork bones could potentially be fatal if the dog chokes on the bone or if the bone causes intestinal blockage. Across the dog community, it's never advised to feed dogs human food nor bones in general.
Bowel Obstruction
The other significant risk associated with feeding a dog pork bones is bowel obstruction. This means chewing on a pork bone could cause obstructions as it moves through the dog's stomach and intestines. Coughing or excessive salivation can signal that your companion is dealing with bowel obstruction. An obstruction in the stomach could stop blood flow to the tissue and result in severe illness or, sometimes, the passing of a dog. Bowel obstructions are very serious.
Indigestion
Dogs can digest some bones, but it's still more burdensome for them to do. Many dog breeds have smaller digestive systems than humans or many other mammals. However, various factors come into play, such as the type of dog breed and size. In a scenario where a dog eats a pork bone, it would most likely pass through its body if there weren't any shards. Keep in mind that there isn't any guarantee that the bone will get digested, which is why dogs consuming bones are riskier than many think.
What To Do if Your Dog Eats a Pork Bone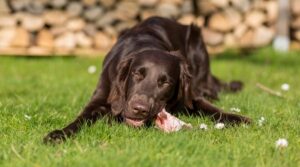 If you discover that your dog has eaten a pork bone, the first thing you should do is to stay calm. Behaving erratically or getting too worried can stress your dog more than it already is. Staying calm will help you make better decisions about what to do. Once you notice that your companion consumed a pork bone, these are the tips you should follow.
Step 1. Examine Your Dog
The first step you should take is to examine your dog. You should stay calm and observe by looking for signs of potential distress, such as choking, gagging, or pawing at the mouth. If you spot these red flags, then that's when you should take immediate action by taking it to a veterinarian or one of the nearest dog hospitals.
There's a high chance that a bone could get stuck in the mouth or throat before reaching the stomach. If you open your dog's mouth and can see the piece of pork bone, you may attempt to remove it. However, you shouldn't remove anything from your dog's mouth unless the object is visible on the tongue or if removing the item would cause damage to your dog's mouth.
Additionally, don't try to force your dog to vomit unless your vet asks you to. Inducing a dog to vomit could cause further problems if the bone gets stuck on the way up.
Step 2. Touch Your Pet's Stomach
While you're on your way to the nearest dog hospital, the next step is to feel your companion's stomach and observe its reaction. A light press on your companion's body is a good enough indicator to see how it'll react. If the dog howls or cries in pain, it may have consumed a sharp bone shard. Some dogs will use their body language to show that they're in pain. These indicators include:
Whining
Shaking
Raspy Breathing
Weakness
Other indicators that show your companion facing difficulties could be:
Bloody Feces
Diarrhea
Excessive Drooling
Stomach Ache
Loss of Appetite
Restlessness
Step 3. Clean Up
During the clean-up process, you want to clean up any bits of pork bone to ensure that your companion doesn't consume anymore. You want to find a way to keep human food out of reach to prevent this from happening again. You'll have to brainstorm creative ways to keep your food out of reach when you're done with the vet or dog hospital.
Step 4: Stay in Touch with your Veterinarian
Even if everything appears fine, staying in touch with your veterinarian is the best thing to do. You want to make sure that your companion is in good health. Your veterinarian might ask you to monitor your companion for any reoccurring signs of problems (vomiting, diarrhea, bloody excrement, lethargy, abdominal discomfort, etc.). If you notice any changes in your dog's behavior that last longer than several hours, you should book an appointment to revisit the vet. If your companion is lucky and manages to digest the bone or fragment, the bone should pass through and release as waste after approximately 48 hours.
Related Articles: My Dog is Panting and Shaking and Clingy. What Should I Do and Reasons Why Your Dog is Wobbly and Off Balance
Conclusion For "My Dog Ate A Pork Bone: What Should I Do"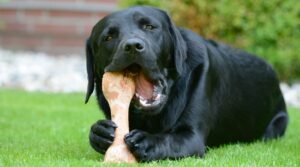 Dogs have a keen sense of smell and are attracted to anything that smells remotely of food. They always follow their sense of smell, especially if it leads them to something they think is edible. Against your wishes, your dog may gain access to your leftover cooked pork chop bones from dinner. Even though dogs have strong jaws and could likely chew through bones, their throats, stomachs, and intestines can be damaged if these bones are broken into shards.
While raw pork bones are generally ok, cooked pork bones pose serious health risks because they splinter into sharp pieces. In the end, it's best to avoid giving your companion pork bones as a treat to avoid unnecessary risks.
For recommendations, check out our other articles from the team of WeLoveDoodles:
Instead of giving your dog pork bones, watch "How To Make Beef Bone Broth For Dogs" from Gone to the Snow Dogs down below: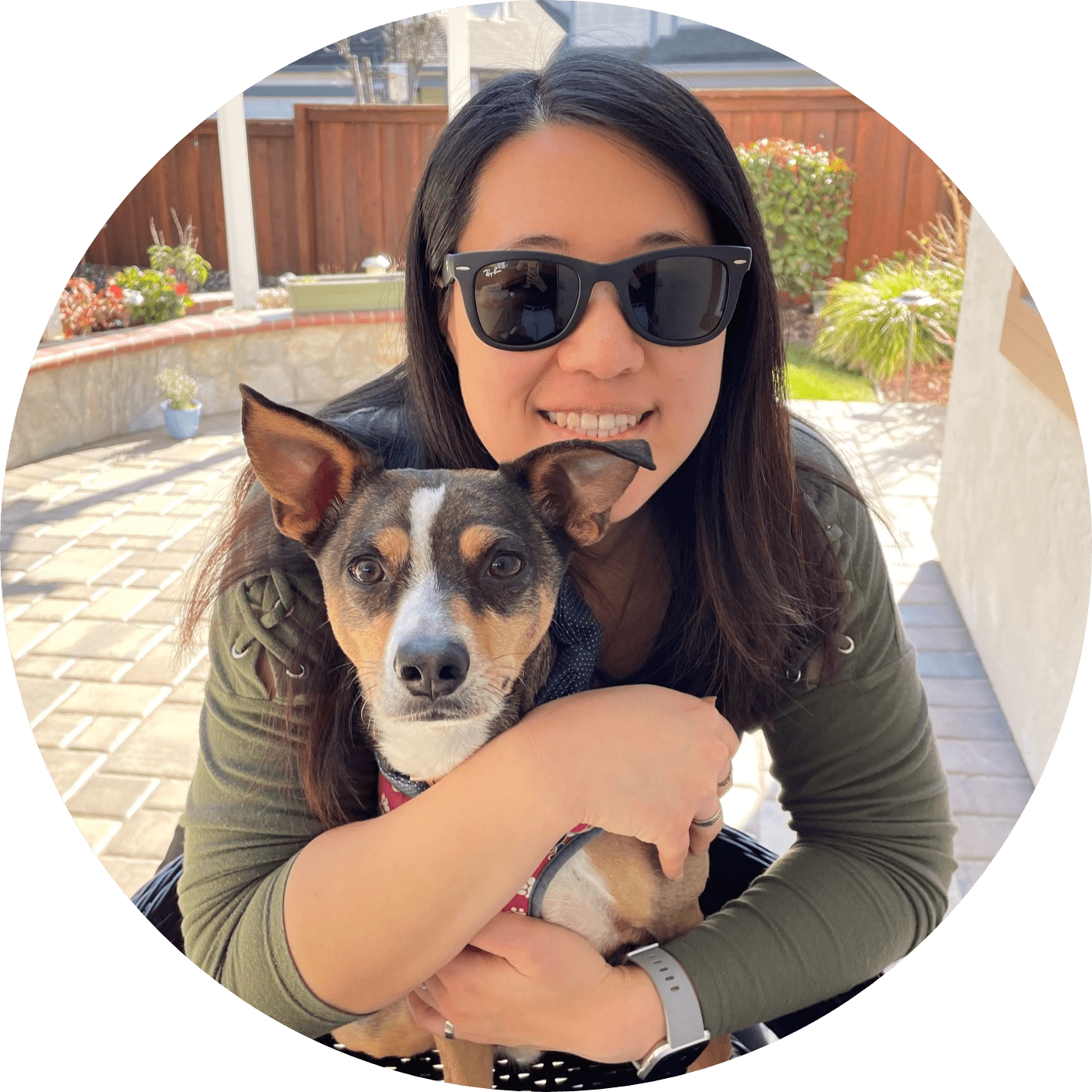 Dr. Sabrina Kong graduated from the Royal Veterinary College in England in 2016 and has been working at a small animal clinic in Northern California since then. She grew up in the Bay Area and got her bachelor's degree from Cal Poly San Luis Obispo. She also became a Certified Canine Rehabilitation Practitioner through a program at the University of Tennessee.
When she isn't in the clinic taking care of her four-legged patients, she enjoys traveling and trying new foods with her friends and her three-legged dog, Apollo. She adopted Apollo from her clinic when he was a puppy with numerous health issues. Dr. Kong truly cares about taking care of animals.