French Bulldogs are award-winning little pups with big personalities. Their toothy little smiles will warm your heart, and we're sure they love to see you smile, too! To help out, we've put together a list of the best French Bulldog jokes, puns, and memes.
Some of these jokes were found across the internet, while others were created by your favorite fellow dog lovers — us! Enjoy the jokes and don't forget to share them with your friends.
Before you read this list of French Bulldog jokes, puns, and memes, check out: Best Pug Jokes, Puns, and Memes! (2023) and Best Corgi Jokes, Puns, and Memes! (2023).
The Best French Bulldog Jokes on the Internet!
Tell these French Bulldog jokes to your family, then share them with your dog, too. Yes, we know they can't understand. But you'll get the giggles and that will make your dog happy.
Question: What's a French Bulldog's favorite type of pizza?
Answer: Pupperoni!
Question: What do you get when you cross a French Bulldog with a Yorkshire Terrier?
Answer: Something Terri-bull!
Question: What type of dog chases anything red?
Answer: A Bulldog!
Question: How is it possible that a Frenchie can jump higher than a building?
Answer: Buildings can't jump!
Question: What do you call a dog that went for a walk in the snow?
Answer: A pup-sicle!
Question: What's more amazing than a talking Frenchie?
Answer: A spelling bee!
Question: What does a Frenchie get when he finishes his obedience training?
Answer: His pet-degree!
Question: Why did the French Bulldog steal the shingles?
Answer: He wanted to be a woofer!
Question: Why did the Frenchie go to the therapist?
Answer: He was going through a ruff pooch!
Question: What do dogs eat for breakfast?
Answer: Woof-les!
French Bulldog Dad Jokes, Puns, and One-Liners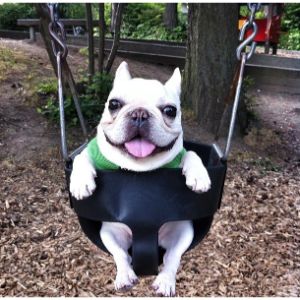 If you liked our French Bulldog jokes, you're going to love these Frenchie puns and dad jokes. They're perfect as icebreakers or just to embarrass your kids with!
My French Bulldog is so clever, he brings the paper in every morning! Weird thing is, I don't remember subscribing…
Outside a dog, a book is man's best friend. Inside a dog, it's way too dark to read.
I can't ever watch movies with my Frenchie because he always hits the paws button.
"Handle every situation like a Frenchie. If you can't eat it or play with it, just pee on it and walk away." ~Unknown
French Bulldogs give me the crepes.
My French bulldog never learned to speak. He's a hushpuppy.
The Best Funny French Bulldog Stories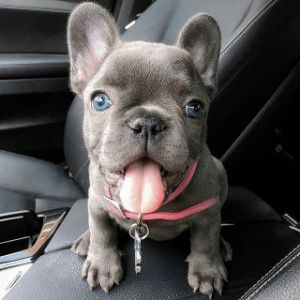 If you're looking for some longer jokes to captivate an audience, we've got you covered! Tell these to your work buddies or your cab driver, then thank us later.
The Most Dangerous Dog
A customer noticed a sign on the door of the store that read, "BEWARE OF THE DOG!"
He looked around, then entered, but only saw a snoozing French Bulldog on the floor beside the register.
"Is that the dangerous dog from the sign?" he asked.
"Yes," replied the store owner.
The customer smiled and said, "Well he doesn't look dangerous at all! Why would you need to put up a sign?"
"Because before I posted it, people kept tripping over him!"
Jesus Is Always Watching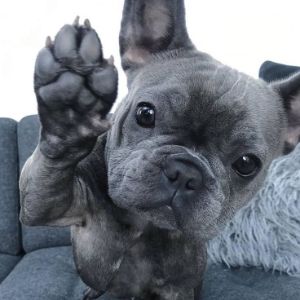 A burglar broke into a home, and heard a voice tell him "I see you, and Jesus is watching."
The burglar freezes, waits a few moments, and hears nothing more so he continues moving into the home. "I see you, and Jesus is watching."
The burglar, terrified, doesn't move for a good 30 minutes. Finally, he feels around on the wall for a light switch. A light comes on and a parrot is revealed! "I see you, and Jesus is watching," the parrot cackles.
"You're just a parrot! You don't scare me!"
"I may be just a parrot, but Jesus is a French Bulldog in a very, very bad mood!"
Working Dog
Three boys were at a parade, and they saw a fire truck pass by. On the truck was a French Bulldog, and the boys wondered about the pup's job.
"Maybe he's there to keep them happy!" said the first boy.
"No, he works with them doing crowd control," said the second.
"You're both wrong," said the third boy. "His job is to find the fire hydrants!
French Bulldog Memes to Save and Share
Everyone loves a good meme, and these French Bulldog memes are perfect to save to your phone or share with people you love. Enjoy!
What has ears but can't hear? Well, corn. But also your French Bulldog. They're stubborn little people, aren't they?!
From: Tom Kings Kennel
Most dogs get stinky with a little playtime outdoors, but French Bulldogs are known for passing some pretty stinky gas! Giving your Frenchie his own bed will help keep your space stink-free.
From: Img Flip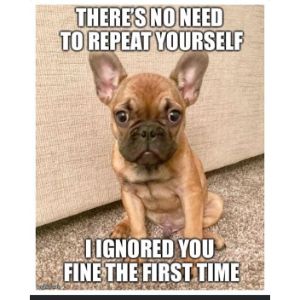 This French Bulldog meme is proof that you're not alone — nobody's Frenchie listens. It's a good thing they're so darn cute and fur-givable.
From: Pinterest
Not only are Frenchies adorbs, they're also highly addictive. Like the potato chips, we bet you can't snuggle just one.
From: Our Frenchie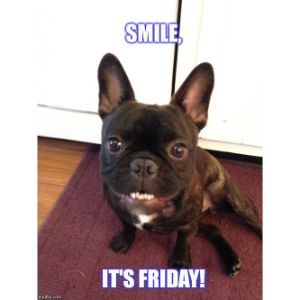 It may not be Friday where you are right now, but one thing's for sure: this little French Bulldog will bring a smile to your face no matter the day.
From: Img Flip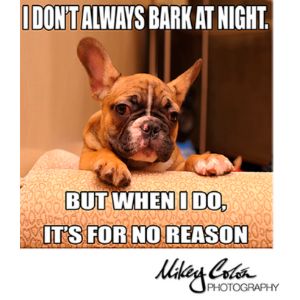 True story! French Bulldogs are friendly little creatures, so it's rare that they bark at strangers. When they do, though, it's three in the morning and there's absolutely nothing there. You can go back to bed now.
From: Flickr
You don't need to be a vet to understand the anatomy of a French Bulldog. They're paws-itively adorable from their zoomie launchers to their squirrel sensors!
From: Tom Kings Kennel
There's really not much to say about this French Bulldog meme, so we'll just leave it here because if you know, you know.
From: OuiOuiFrenchie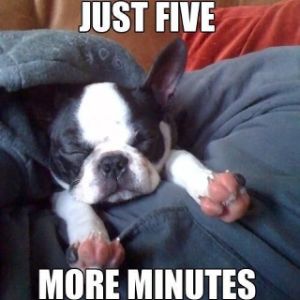 French Bulldogs would rather lie in bed all day, but wouldn't we all? Just looking at this little snuggle bug makes us want to roll over and nap alongside him.
From: Twitter
Frequently Asked Questions
Are French Bulldogs high maintenance?
French Bulldogs are considered high maintenance due to their health problems and potential for ear and skin infections.
Why are French Bulldogs so expensive?
French Bulldogs are expensive to breed due to health considerations and mandatory C-sections.
What is the life expectancy of a French Bulldog?
The average French Bulldog will live for 10 to 12 years.
Conclusion for "Best French Bulldog Jokes, Puns, and Memes"
We hope you enjoyed this collection of French Bulldog jokes and memes we've put together for you. May these little Frenchie puns and memes warm your heart as much as they warmed ours.
If you enjoyed these French Bulldog jokes, puns, and memes, check out:
Learn more by watching "DOG MEMES" down below:
Garrett loves animals and is a huge advocate for all Doodle dog breeds. He owns his own Goldendoodle named Kona. In addition, he volunteers at the Humane Society of Silicon Valley, where he fosters dogs and helps animals. Garrett enjoys writing about Doodles and believes that dogs can teach humans more about how to live than humans can teach a dog.
Why Trust We Love Doodles?
At We Love Doodles, we're a team of writers, veterinarians, and puppy trainers that love dogs. Our team of qualified experts researches and provides reliable information on a wide range of dog topics. Our reviews are based on customer feedback, hands-on testing, and in-depth analysis. We are fully transparent and honest to our community of dog owners and future owners.