Who can resist the Pug, with its cute little wrinkly body and resting grump face. Not us, and probably not you! We think you'll also fall for these Pug jokes, puns, and memes from around the web.
We think these jokes are good — or maybe they're bad in a delightful way. In any event, we hope you enjoy a laugh or two!
Before you read this list of Pug jokes, puns, and memes, check out: The 20 Best Funny Dancing Dog Memes! (2023) and 103 Best Hilarious Dog Puns & Jokes! (2023).
The Best Pug Jokes on the Internet!
These cute, short little jokes will keep your family and friends smiling like a Pug with a bully stick! You can spread them around or keep them to yourself, but we think you'll at least want to tell your dog a few.
Question: Why do Pugs sharpen their pencils?
Answer: Because if they don't, there's no point!
Question: Who's bigger, Mr. Bigger the Pug or his baby?
Answer: The baby, 'cause he's a Little Bigger!
Question: What happens when someone rounds up 196 Pugs in the backyard?
Answer: He gets 200 Pugs in the backyard!
Question: How do you turn a Pug into a watchdog?
Answer: You buy him a Rolex!
Question: Did you know that Pugs were born with straight tails?
Answer: Yeah, they got the curly one from the re-tail store!
Question: Why do Pugs get in trouble with the police?
Answer: Because they're all about that Pug life!
Question: What do you call a Pug crossing the 50-yard line?
Answer: A Pug-skin!
Question: What do you do when your Pug eats your homework?
Answer: You take the words right out of his mouth!
Question: What do you call a dog that hides in your bed and makes you itch?
Answer: A bedpug!
Question: What's a dog's favorite fall drink?
Answer: A Pug kin spice latte!
Pug Dad Jokes, Puns, and One-Liners
Did you like our little question-and-answer jokes? Did they have you "rolling" with laughter? Well, then you're going to love our Pug puns, dad jokes, and other one-liners.
Here are the top ten Pug-centric dad jokes you can find:
I only left the room for one minute. When I got back, I had a pug-a-roni pizza.
Okay, I'll admit it. Some of these dog jokes aren't really funny. In fact, they're re-pug-nant.
We went to the farmer's market in Sao Paulo, and a vendor asked my dog if he wanted a Brazilian treat. "Oh wow, I'm so lucky," my dog said. "How big is a Brazillion? I bet that's a lot of treats!"
A Pug walked into a bar and hesitated before ordering a Moscow mule. "Why the little pause," asked the bartender. "I don't know, I've had them my whole life," answered the Pug.
I would tell you a joke about the time my Pug ate my nachos, but it's too cheesy.
A three-legged Pug walked into a bar and said, "I'm looking for the man who shot my paw!"
The Pug has two favorite instruments: the trom-bone and the dinner bell!
Pugs are popular because they're fun and love to be social. They're quite the paw-ty animals!
Every time I come home from work, my dog showers me with Pugs and kisses!
My dog was celebrating his fifth birthday so I made him mashed pugtatoes and pawsta!
The Best Funny Pug Stories
Those jokes were short and sweet, just like your Pug. But if you're looking for something to read that's a little longer, check out our funny Pug stories, then share them with your friends!
They're all family-friendly and safe for work, don't worry.
Two Men Were Walking Their Dogs…
They were very hungry and decided to grab some food at a bar nearby. However, they spot a large sign posted next to the entrance door: "NO DOGS ALLOWED."
"I know what to do, just follow my lead," says the man with the Mastiff. He puts on a pair of sunglasses and walks in.
The waiter quickly spots him and points to the sign, saying "I'm sorry sir, no dogs allowed." The man replies, "Don't worry — I'm blind and this is my service animal."
"Really? A Mastiff for a guide dog?" The waiter asks.
"Of course, Mastiffs are very smart and loyal. They make excellent service dogs," replied the man. The waiter had no choice but to lead the man to a table.
The second man with the Pug throws on his sunglasses and enters. The waiter tells him "There are no dogs allowed, sir."
The man replies, "Don't you understand? I can't see — this is my guide dog."
"A Pug for a guide dog?" The waiter asks.
"A Pug?!," the man asks. "They gave me a Pug?!"
But Did He Like It?
My mom is trying out a new brand of kibble for our Pug.
Mom: Did the dog like his new food?
Dad: I don't really know.
Mom: I thought you fed him and he ate it all?
Dad: Well, yes — but he never told me whether he liked it.
A Funny Shopping Trip
I went to the grocery store to buy some dog food, and put two bags of kibble on the counter.
Cashier: Will that be all for you, sir?
Me: No, it's all for my Pug.
Pug Memes to Save and Share
We hope you enjoy our collection of adorable Pug memes from all over the internet! Save them to your phone or tablet or share them to your social media pages to get a laugh out of your friends.
Every Pug owner knows the struggle — and some of you enablers even build your Pugs ramps to get up on the bed. Thank goodness they're such good snugglepugs.
From: Boogie The Pug
No lie, they really do that. Pugs are known for their stinky gas, so make sure you're prepared to explain the situation to your friends.
From: Pin Img
No lies detected! We wonder what future archaeologists will think of the Pug skull when it's uncovered.
From: Memedroid
And so it goes. Evolution — and smarts — turned Pugs into couch paw-tatoes. That's okay, we like it better that way!
From: Pinterest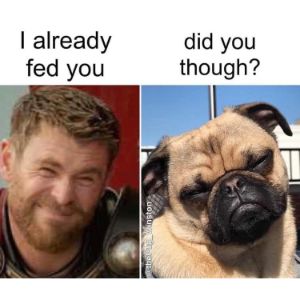 If your dog is a trickster like this Pug, you may need to keep him on a feeding schedule. Just look at that cute little face — it's begging to be fed again.
From: Reddit
No need for us to explain this one. We'll just leave it here for you to revel in the adorableness.
From: Youtube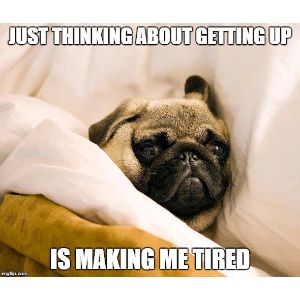 Us too, Pug. Us, too. Thankfully for the Pugs, they don't have to "roll" out of bed if they don't want to. Enjoy the snuggles, little one!
From: Twitter
Oh. My. Goodness. As far as we're concerned, this Very Good Boy can deliver us packages whenever he wants to!
From: Know Your Meme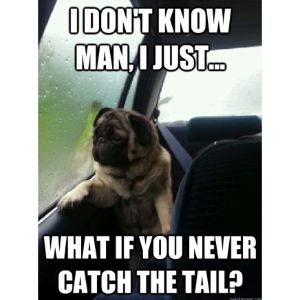 This introspective Pug is having a moment — let's just let him ponder the meaning of life, the meaning of leashes, and what happens if you never catch your tail.
From: Imgix
Frequently Asked Questions
What is a group of Pugs called?
Funny enough, a group of Pugs is known as a "grumble."
Are Pugs an easy dog?
While Pugs can shed a fair amount and be quite noisy, they are affectionate people-pleasers. Most Pug owners find them to be easy dogs to take care of aside from their occasional personality quirks.
Why do Pugs lay on you?
Pugs tend to snuggle up to physically and emotionally bond with their owners.
Conclusion for "Best Pug Jokes, Puns, and Memes"
Pugs are lovable, wrinkly, and short little dogs with a great sense of humor and a great deal of love to give. We hope you enjoyed our list of the top Pug jokes, memes, and puns on the internet as much as we loved sharing them.
Don't forget to check out our other dog jokes — Huskies, Beagles, and Poodles are all fair game.
If you laughed at these Pug jokes, puns, and memes, check out:
You'll also enjoy "Silly Unusual Dog Memes" down below:
Garrett loves animals and is a huge advocate for all Doodle dog breeds. He owns his own Goldendoodle named Kona. In addition, he volunteers at the Humane Society of Silicon Valley, where he fosters dogs and helps animals. Garrett enjoys writing about Doodles and believes that dogs can teach humans more about how to live than humans can teach a dog.
Why Trust We Love Doodles?
At We Love Doodles, we're a team of writers, veterinarians, and puppy trainers that love dogs. Our team of qualified experts researches and provides reliable information on a wide range of dog topics. Our reviews are based on customer feedback, hands-on testing, and in-depth analysis. We are fully transparent and honest to our community of dog owners and future owners.