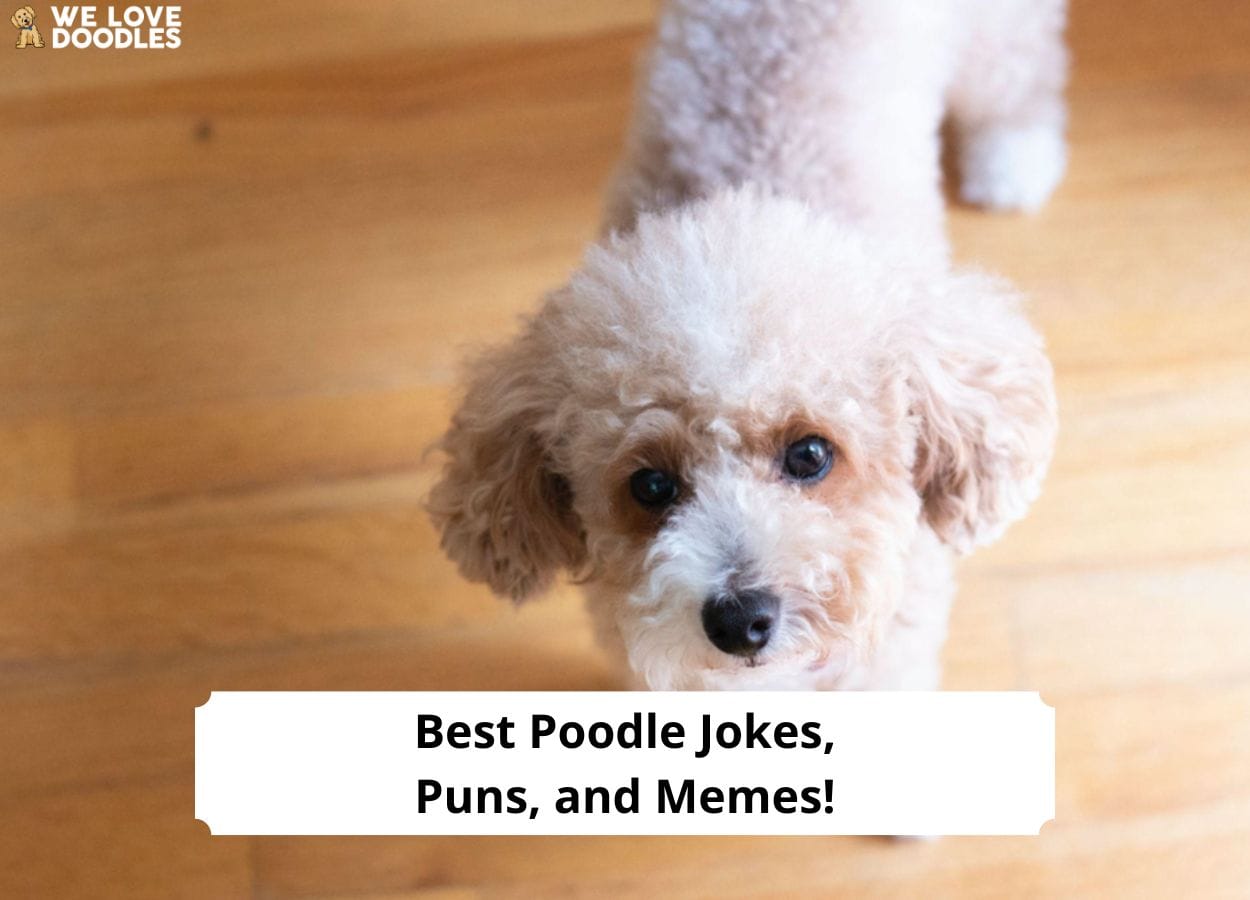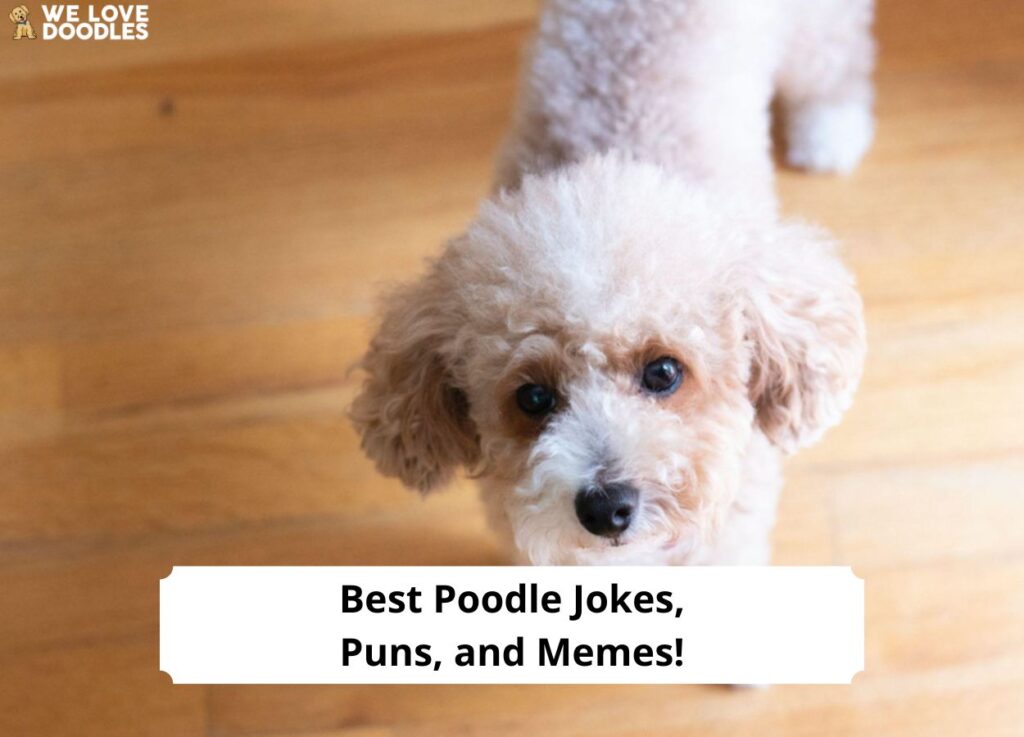 Poodles are intelligent, trainable dogs with big personalities. For that reason, Poodle jokes, puns, and memes are not lacking on the internet — and we've put together some of the best of them right here!
Feel free to share these with your friends or just enjoy them and our other dog memes for yourself. These wholesome Poodle jokes are guaranteed to make you smile.
Before you read this list of Poodle memes, check out: The 10 Funniest John Wick Dog Memes! (2023) and 22 Funny Smiling Dog Memes! (2023).
The Best Poodle Jokes on the Internet
These witty Poodle jokes and puns will have you and your friends rolling with laughter. Tuck one into your kid's lunchbox or leave one on the bulletin board at work!
Question: What happens when a Poodle eats garlic?
Answer: His bark is worse than his bite!
Question: Did you hear about the Poodle who gave birth in a parking lot?
Answer: She got a ticket for littering!
Question: What kind of dog loves her daily bath?
Answer: A shampoo-dle!
Question: How are Poodles and marine biologists different?
Answer: One wags a tail and the other tags a whale!
Question: What do you get when you cross a Poodle with a tiger?
Answer: No mail.
Question: Why do Poodles run in circles?
Answer: Because it's hard to run in squares!
Question: What do you get when you cross a Poodle, a Cocker Spaniel, and a rooster?
Answer: A cockapoodledoo!
Question: What's more incredible than a talking Poodle?
Answer: A spelling bee!
Question: How do you stop a Poodle from barking in your front yard?
Answer: Put him in the backyard!
Question: What do you call a Poodle underwater?
Answer: A sub-woofer!
10 Poodle Puns, Dad Jokes, and One-Liners
Poodles are funny little dogs — the pups can be quite regal and proper, but they have cute little senses of humor, too! You can match your Poodle's wit with these Poodle puns, dad jokes, and one-liners.
A Golden Retriever mixed with a Poodle is a Goldendoodle. Could be worse — they could've called it a poo retriever!
Why is lab-grown meat approved by the FDA, but Poodle-grown meat is not?
It's raining cats and dogs out there! I just stepped in a Poodle!
Can I sell these boat oars if my dog peed on them? In other words, can you peddle a paddle in a puddle of Poodle piddle?
Poodles are so smart — when I asked mine what's four minus four she said nothing.
The geese keep biting my Poodle, but not my Doodle. Must be because she's pure bread.
A telemarketer asked to speak to the person in charge of the household, so I put my Poodle on the phone.
A hairless Poodle is called a noodle.
Poodles can't operate MRI machines… but cats-can.
I didn't understand why my dog was motionless until I noticed he was on paws.
The Best Funny Poodle Stories
Need to take a break from work memos? These cute Poodle stories make great water cooler conversation; we promise you'll be the funny guy at work today when you share them with your co-workers!
Drinks on the House
A Poodle walks into a bar and says, "He, barkeep! It's my birthday today — how about a free drink on the house?"
The bartender looks at the Poodle, smiles, and says, "Sure! The toilet's right down the hall and around the corner!"
Lost Dog
A man was very upset when his Poodle ran away from home.
His wife asked him, "Why don't you put an ad in the newspaper?!"
Weeks go by with no response to the ad, so the man's wife asks, "What did the newspaper ad say?"
The man responded, "Here, boy!"
Diagnosis: Rotund
A man walks his Poodle into the vet. "Doctor, my Poodle is cross-eyed. Is there anything you can do to help him?"
The vet holds the Poodle up and looks him in the eye. He then checks the pup's teeth, paws, tail, and ears. "Hmmm," he says. "I think I'm going to have to put your dog down."
With a gasp, the man exclaims, "Really? Just because he's cross-eyed?!"
"No," the vet replied. "He's just too heavy for me to hold any longer."
Poodle Memes to Save and Share
Need some cheer on a rainy day? Just want to share your love for Poodles with strangers you meet on the internet? Check out these Poodle memes from Twitter, Facebook, and other places around the web.
A Poodle's fluffy, beautiful hair is just begging to be colored. Whether you're striping your pup like a candy cane for the holidays or just exploring a new 'do, consider asking your dog for her opinion!
From: Poodle Forum
Poodles are smart little pups but they don't "work" for free! Be sure you have plenty of treats on hand if you want your Poodle to sit, come, stay, or, well, pretty much anything else. They know what they deserve!
From: Buzz Sharer
When you brush out your pup's hair, this is what you get! We know this adorable little puppy is going to be the belle of the ball with this hairdo!
From: Always Pets
Goldendoodles are a designer breed — a Poodle mixed with a Golden Retriever. They're smart and super friendly. If you're looking for a watchdog, Poodle breeds may not be your best bet.
From: Floofy Doodles
Are you going to eat that? Well, are you?! If you don't teach your doodle his manners, you may get this question a lot!
From: Img Flip
Every Poodle knows that humans are the ones who need permission to get in the bed! It's true — Doodles have evolved to become quite cozy little creatures.
From: Pinterest
This Poodle meme speaks for itself. Can you spot the fur baby? If you look hard enough, you'll see a very good boy!
From: Cheezburger
Did you say motivation? Oh … I thought you said "mud"ivation. Well, this pup probably meant well.
We think this little pup was just trying to help! That's okay — the raking can wait. Let's go jump in some leaves!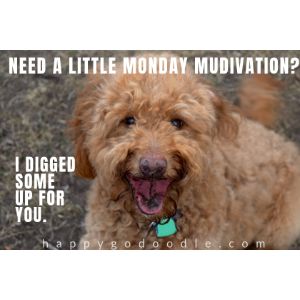 From: Happy Go Doodle
Frequently Asked Questions
How long can Poodles live?
Poodles typically live anywhere from 10 to 18 years.
Are Poodles happy dogs?
Poodles are generally happy dogs, and they are at their happiest when they have enough daily physical and mental stimulation.
Is a Toy Poodle a real Poodle?
Toy Poodles are the same breed as Standard and Miniature Poodles.
Conclusion for "Best Poodle Jokes, Puns, and Memes"
We hope these Poodle jokes, puns, and memes brought a smile to your face and some cheer to your day! Whether it's raining cats and dogs (don't step on a Poodle!) or you just need a break to giggle a bit, our memes and jokes are meant to brighten your day.
If you enjoyed these Poodle memes, you could also check out:
If you enjoyed scrolling through our list of Poodle memes, we think you'll enjoy watching "Doggo Memes #1" down below:
Garrett loves animals and is a huge advocate for all Doodle dog breeds. He owns his own Goldendoodle named Kona. In addition, he volunteers at the Humane Society of Silicon Valley, where he fosters dogs and helps animals. Garrett enjoys writing about Doodles and believes that dogs can teach humans more about how to live than humans can teach a dog.
Why Trust We Love Doodles?
At We Love Doodles, we're a team of writers, veterinarians, and puppy trainers that love dogs. Our team of qualified experts researches and provides reliable information on a wide range of dog topics. Our reviews are based on customer feedback, hands-on testing, and in-depth analysis. We are fully transparent and honest to our community of dog owners and future owners.