Cocker Spaniels are some of the most popular dogs in the entire world that were originally known for their hunting skills. However, this dog breed has become famous as companion pets due to their gentle and extremely smart personality. You'll find tons of Cocker Spaniel breeders in Texas, but they are not all the same.
In general, always look for a breeder who conducts genetic tests and health tests on their parent dogs. This is the best way to verify that your puppy won't have any hereditary diseases that will significantly shorten its lifespan. In addition, we always recommend people to visit a breeder in person, ask them questions, and verify that they aren't a puppy mill or backyard breeder. Remember, healthy Cocker Spaniels will easily live for 10+ years so you'll want to make sure you are getting a healthy puppy.
Check out these other articles: Border Collier Breeders in Texas and Beagle Breeders in Texas.
PuppySpot is a family-friendly marketplace for puppies in search of a loving home. If you're struggling to find Cocker Spaniel breeders in Texas, then check out PuppySpot to help save your valuable time since they screen all breeders. PuppySpot verifies and screens all breeders to USDA standards and has a 100 point inspection. Less than 10% of all Cocker Spaniel breeders will make the cut. This ensures that your future puppy is healthy and won't come from a puppy mill.
The website is easy to navigate and the process for your Cocker Spaniel companion is easier than you think. With a quick search and a few clicks, you'll save hours of your time contacting each Cocker Spaniel breeder individually. They also have Cocker Spaniel puppies for sale today so you won't have to wait on a long puppy waitlist since they are a network of breeders.
Whether you want a darker shade or lighter shade color for your Cocker Spaniel puppy, you can use PuppySpot's filter to find whichever listing suits you the best. From filtering out a certain age to a certain coat type, you'll find many options for your Cocker Spaniel. Before scrolling down this list, we highly suggest you check out PuppySpot's platform before scrolling further down this list. You can start browsing for a companion on PuppySpot without any sign-up required. We bought one of our puppies from them and really enjoyed our experience.
Cocker Spaniel Breeder Details
2. Touchgold Kennel Texas
Touch Gold is a small hobby kennel, located in Mico, Texas, in the hill country just west of San Antonio. They have worked hard to breed the best English Cocker Spaniels that will be happy and healthy.
The first priority is that each puppy they breed will be a loved pet with a great temperament. Touch Gold Kennels is also part of the English Cocker Spaniel Club of America and all of their dogs have health clearance from the ECSCA. This means that your puppy should also be very healthy.
Touch Gold Kennel believes in breeding and showing healthy dogs that adhere to the purebred standard. They only breed dogs that have all the breed club-recommended health clearances. In addition, their Cocker Spaniel puppies in Texas are beloved pets and many have gone on to achieve excellence in agility, obedience, and as therapy dogs. Touch Gold puppies in Texas have wonderful temperaments for those interested in a companion animal. For full pricing of Touchgold Kennel dogs, they ask that you contact them directly.
Cocker Spaniel Breeder Details
3. Huckleberry Hollow Kennel TX
Huckleberry Hollow is a hobby breeder of champion bloodline Cocker Spaniel puppies near Dallas and Fort Worth, Texas. They take pride in caring for their pets as all of their Cocker Spaniel puppies are bred for temperament and conformation to the breed standard.
Huckleberry Hollow has been in the dog breeding business with the Cocker Spaniel puppies since 1996. Their experience with raising quality, champion bloodline puppies has been one of the most rewarding experiences in their lifetime. It gives them such great pleasure to be able to place their Cocker Spaniel puppies in homes where they will be loved and nurtured.
They ask potential clients to come to visit their location so they can meet the puppy's new families face to face and make sure their dogs are going to the best homes possible. This Cocker Spaniel breeder in Texas likes to always verify that any potential new dog owner will be able to care for the lifetime of the dog.
Huckleberry Hollow Kennel asks that anyone interested in any of their puppies contact them directly for more information, including full pricing. For what it's worth, they are one of the oldest Cocker Spaniel breeders in Texas on our list.
Cocker Spaniel Breeder Details
Address: 10732 FM1385, Pilot Point, Texas 76258
Phone: (940) 365-3334
4. Red Creek Kennels of Texas
Red Creek Kennels of Texas is a second-generation premier dog breeding facility specializing in Spaniels. With decades of learning and practicing, they are confident that any buyer will love their Cocker Spaniel puppies as much as they do.
Their Spaniels are limitlessly loyal, incredibly intelligent, and athletic beyond measure. Their dogs have the ability to fit into a variety of family types and serve the family in many different ways. Red Creek Kennels of Texas has the goal of raising puppies that exceed breed and customer expectations.
Red Creek Kennels of Texas asks that anyone interested in any of their puppies contact them directly for more information. A buyer must also sign up to be put on the waiting list for future litters as they don't currently have any available puppies.
Cocker Spaniel Breeder Details
5. Hallmark Cocker Spaniel Puppies Texas
Hallmark Cock Spaniels is a breeder located in Ben Wheeler, Texas. It is their desire to help others obtain beautiful, well-bred Cocker Spaniels that hold true to AKC purebred standards.
At Hallmark Cockers Texas, they are striving to produce the most beautiful and healthy dogs they can for pet and show homes. Hallmark carefully selects the mom and dad dogs to make sure they each bring the best Cocker qualities to their offspring.
All their breeding dogs are health checked for hips, elbows, and heart by a licensed veterinarian and are certified healthy. Hallmark also has all their breeding dogs CERF/CAER tested/certified by an optometrist for eye issues including juvenile cataracts and glaucoma.​ These are some of the most common health issues that you will see in Cocker Spaniels.
They are also pleased to announce that they also do DNA testing on ​all of their adult Cocker Spaniels for several genetic and hereditary diseases to help ensure they are only breeding and producing the healthiest Cocker Spaniels in Texas.
​​Hallmark Cockers come from wonderful champion bloodlines. Their dogs are their babies that are lovingly spoiled and cared for in a home environment. All Hallmark puppies are socialized with a variety of experiences, sights, and sounds from birth till time to go to their new homes. They use the ​Puppy Culture program to help socialize them and prepare them for real-life environments. This helps their puppies transition to their forever homes with less anxiety and stress.
Hallmark puppies are $1600 for pet and companion homes. A deposit of $500 is required to place a hold on a chosen puppy and remove it from being advertised for adoption. They start accepting holding fees when the puppies are around 1-2 weeks of age.
Cocker Spaniel Breeder Details
6. Amanda's Spaniels Texas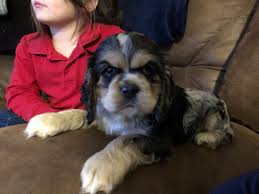 Amanda's Spaniels is a small-time hobby dog breeder based in Jacksonville, Texas. They have been breeding American Cocker Spaniels since 2018. Their puppies are born inside their own home and given lots of love and attention from day one.
Amanda's Spaniels strives to breed the best Cocker Spaniel puppies in Texas they can. They also take pride in educating their new dog owners and ensure these precious puppies get the love, care, and attention they deserve. Feel free to reach out to this breeder if you have any questions about the dog breed.
Amanda's Spaniels has a questionnaire that potential buyers can fill out, making sure they are a good fit for one of Amanda's Spaniels dogs. They take great care in the breeding of their dogs and want them to go to only the best homes possible.
For full pricing of their Cocker Spaniel puppies for sale in Texas, they ask that a buyer contact them directly, as well as to be placed on a waiting list for future litters.
Cocker Spaniel Breeder Details
7. Lakota Cockers TX
Lakota Cockers is a small hobby breeder based in El Paso, Texas, specializing in beautiful, healthy, and temperamentally sound Cocker Spaniels puppies. They are members of the American Spaniel Club, El Paso Dog Fanciers, and an AKC Breeder of Merit. They are definitely one of the most reputable Cocker Spaniel breeders in Texas.
They have bred their dogs both as family pets as well as show dogs. These show dogs have gone on to win many competitions which means their litters come from champion bloodlines.
Being a small Cocker Spaniel breeder, they do not always have puppies available so Lakota Cockers asks those interested to contact them directly for availability of puppies, future litters, and pricing. They can be reached via their website on the Contact Us page.
Cocker Spaniel Breeder Details
8. Petland Vineyard Texas
Petland Vineyard is a pet store in San Antonio, Texas, helping families find their perfect pets, including Cocker Spaniels. Their mission is to match the right pet with the right customer and meet the needs of both. For their customers who already have pets, they are dedicated to enhancing their knowledge and enjoyment of the human-animal bond.
Petland Vineyard puts the health and well-being of puppies first, by promoting responsible puppy ownership and continuous staff training.  At Petland, they make sure that they place their puppies in the most loving and caring homes possible. However, they are a pet store and don't breed their own Cocker Spaniels so you will want to ask many questions about the breeding practices and parent dogs.
Petland Vineyard offers special financing which is a great way to be able to afford your pet without having to pay everything upfront. All you need to do is to fill out an application either online or in-store. Once the application is processed there will be an approved amount. For full pricing of Cocker Spaniel puppies in Texas, contact them directly.
Cocker Spaniel Breeder Details
Address: 1309 N Loop 1604 E #101, San Antonio, Texas 78258
Phone: (210) 592-1234
Website: Petland Vineyard Texas
9. Warrior Spring Ranch Cocker Spaniels
Warrior Spring Ranch is located in West Central Texas in Coleman County. They breed, raise, and train Working English Cocker Spaniels. All of their breeding stock is directly imported from the top Great Britain Breeders. Their dogs are from the breeding lines of Chyknell, Maesydderwen, and Timsgarry.
These breeding lines produce exceptional Cocker Spaniel dogs that are good-looking with plenty of ability, intelligence, and a wonderful temperament. They make great companions dogs in the home or out in the hunting field. Additionally, they are easy to handle and extremely loyal.
Warrior Spring Ranch also actively trains its own Cocker Spaniel dogs. Throughout the year they are trained with pigeons and pen-raised game birds. During hunting season they hunt quail, pheasant, doves, and ducks.
During early fall, some of their Cocker Spaniels are taken to Pennsylvania for grouse and woodcock hunting. It doesn't matter what game a buyer might hunt because if they shoot it, a Warrior Spring Ranch dog will get it and bring it back every time.
Warrior Spring loves hunting with their Cocker Spaniels and enjoys introducing others to them. During dove season, local outfitters use their dogs exclusively because the Cockers are easy to handle, small, and do not dislike the dove feathers like other retrieving breeds. Their customers refer to them as "sweat little retrieving machines". If you want a Cocker Spaniel puppy in Texas that comes from a breeder with hunter experience, contact Warrior Spring Ranch today!
Cocker Spaniel Breeder Details
Conclusion for Cocker Spaniel Breeders in Texas
The Cocker Spaniel puppies for sale in Texas have gained widespread popularity. In fact, the AKC ranks the Cocker Spaniel as the 30th most popular dog in the world. It's no surprise that you'll find a ton of Cocker Spaniel breeders in Texas.
However, not all breeders are the same. In general, you should look for a Cocker Spaniel breeder who does health tests and genetic tests their parent dogs. This will help ensure that you don't get a puppy that will inherit genetic diseases. In addition, we always recommend that you visit the breeder in person to verify that they are not a puppy mill or backyard breeder. Good luck in finding your next puppy!
Other articles you would like: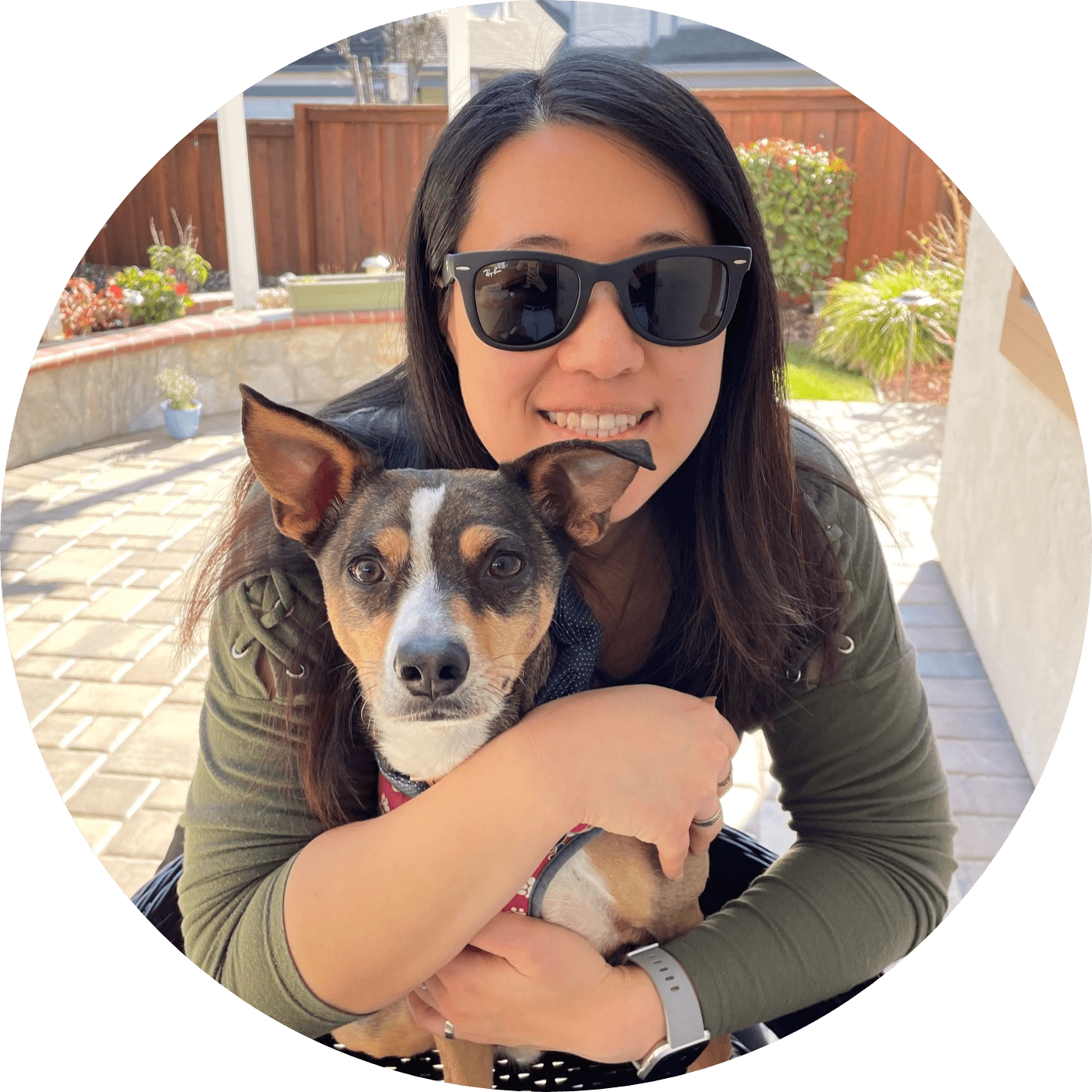 Dr. Sabrina Kong graduated from the Royal Veterinary College in England in 2016 and has been working at a small animal clinic in Northern California since then. She grew up in the Bay Area and got her bachelor's degree from Cal Poly San Luis Obispo. She also became a Certified Canine Rehabilitation Practitioner through a program at the University of Tennessee.
When she isn't in the clinic taking care of her four-legged patients, she enjoys traveling and trying new foods with her friends and her three-legged dog, Apollo. She adopted Apollo from her clinic when he was a puppy with numerous health issues. Dr. Kong truly cares about taking care of animals.