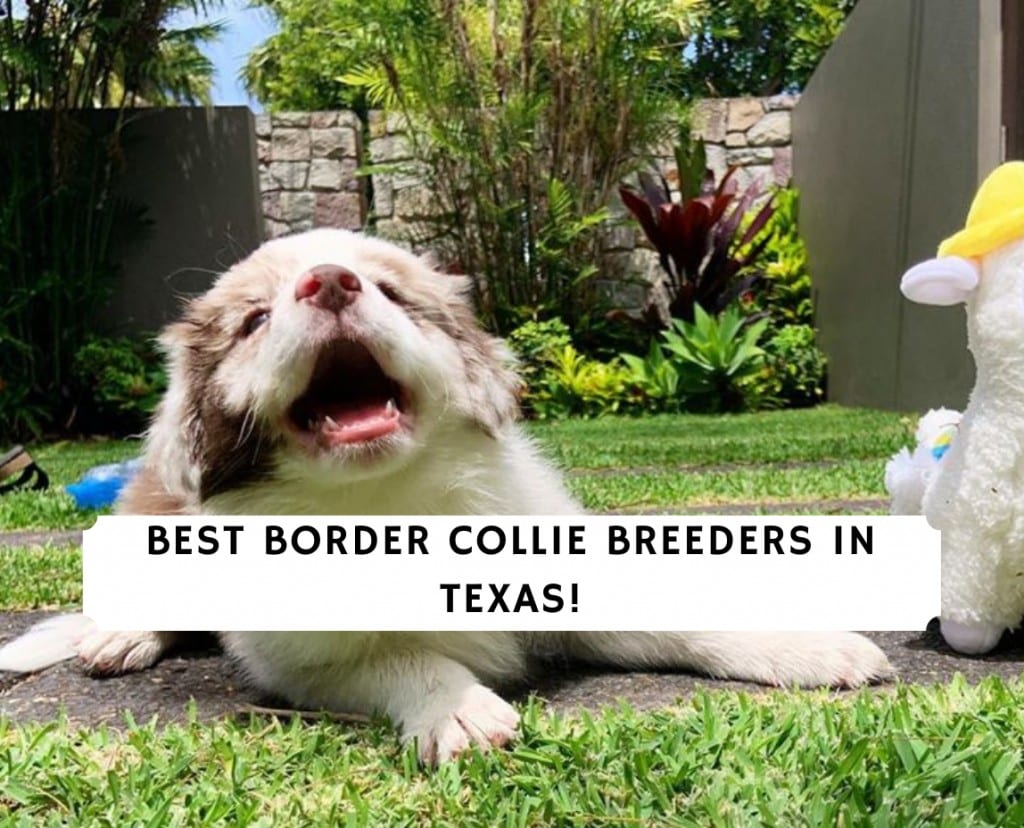 Muscular yet nimble, the Border Collie is an energy ball that loves to run. These energetic dogs stand at 18 to 22 inches at the shoulder and come in a variety of patterns and coat colors. Their coat can be smooth and short or medium and long rough.
Their intense gaze from their almond eyes is the breed's signature look. The herding dog claims its spot among the most balanced, agile, and durable citizens of the canine kingdom. According to the American Kennel Club (AKC), they are the 35th most popular dog in the world. Thus, you'll see a lot of Border Collie puppies for sale in Texas. The question becomes how do you choose a reputable breeder?
Well, if you're looking for the best Border Collie breeders in Texas, you're in the right place. We've done our own independent research to find breeders that we believe we not puppy mills or backyard breeders. However, it's important for you to always ask questions, ask for health checks, and visit their facility. You want a healthy and happy Border Collie puppy that will live a long time!
Other articles you would like: Golden Retriever Breeders in Texas and Aussiedoodle puppies in Texas.
1. JB Border Collies Texas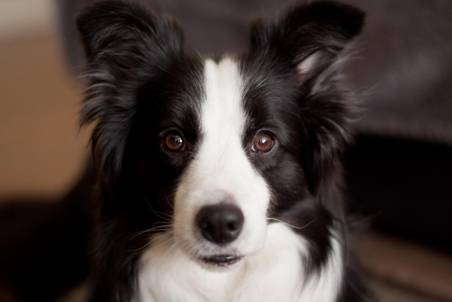 JB Border Collies is a family-run breeding business just north of San Antonio, Texas. The idea to breed Border Collie puppies was quite uncanny. Justin, a Co-founder, loved Border Collies growing up in north Texas but never had the chance to get one.
When he got married to Jeanne, the couple pursued getting a Border Collie puppy in Texas. After months of searching for the right border, Jeanne caught the bug. Years later, the couple got into the breeding business after researching and being mentored on how to breed Border Collies.
After 10+ years in the breeding business, the duo and their family still love the dog breed and produce Border Collie puppies in Texas for families and individuals looking for a companion.
Their Border Collies are registered by the American Border Collie Association (ABCA) and the American Kennel Club (AKC). They ensure their Border Collies are cleared for any genetic disorders before breeding.
The Border Collie puppies live in their home under their care and 24/7 observation. The puppies are well socialized and introduced to new things, sounds, environments, and activities to ease the Border Collie's transition. The breeder requires $300 to hold a Border Collie puppy after your application is approved.
Border Collie Breeder Contact Details:
2. Diamond Border Collie Texas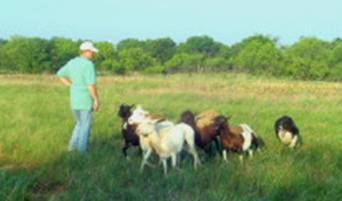 Diamond Border Collie is a north Texas breeder of Border Collies, just west of Bridgeport. Their goal is to breed Border Collies for performance and herding. Their dogs are AKC and ABCA registered and have undergone extensive health testing to ensure you get the best Corder Collie puppy that will be free of genetic diseases. You can check out their adults dogs' results on the OFA website or request them from Diamond Border Collie.
They raise Border Collie puppies with excellent care and happy personalities. They ensure the Border Collies are dewormed, parasite-free, given required vaccinations, and fed high-quality feed before they go to your forever home.
They only have a few Border Collie litters every year so we suggest you contact them and get on their waitlist. The duo behind the business, Cathay and Jody, are available for any questions you may have about Border Collies in Texas, their breeding program, or everything in between.
Border Collie Breeder Contact Details:
3. Rafter E Ranch Border Collies Texas
Ranch E Rafter is a purebred Border Collie breeder in north Texas near Florence. They breed their Border Collie puppies for happy personalities and intelligence.
The adult Border Collies are genetically tested to clear any genetic disorders down the line. The adults also have to conform to AKC and CKC standards prior to breeding.
Their Border Collie puppies in Texas are hand-raised in their home and socialized from a young age. In addition, they also receive basic training to help them adapt easily to their new home. Before they leave, they are dewormed, veterinarian checked, received their first shots, and microchipped.
The puppy package also includes CKC limited registration forms and full records. The puppies can be picked from their residence or as per the agreement with the breeder.  The breeder, however, encourages interested buyers to visit the premises and see their Border Collies prior to purchasing. If you're interested to visit, you can make an appointment with the breeder on the contact details below.
All of their Border Collie puppies in Texas come with lifetime breeder support from the ranch and a 2-year health guarantee. If for any reason, you cannot take care of the Border Collie, the breeder has an open-door policy on all sold dogs. You can return the dog instead of surrendering it to the shelter, rescue, or leaving it to roam the streets. Aside from breeding Border Collies in Texas, the breeder also has horses for sale.
Border Collie Breeder Contact Details:
4. Plate's Back Acher's Ranch
Pilate Back Archer's Ranch is a small breeder of ABCA Border Collies and black Brangus Cattle. The ranch is owned and managed by a dynamic duo, Michael and Robin, who trace their dog breeding years back over a decade ago.
The ranch narrows down on breeding the best of quality to ensure every animal has an important reason to be on their ranch. It is with this mindset that Plate Back Acher's pursue excellence and a responsibility to ensure you are informed and satisfied throughout the process.
The Border Collie breeder has 15 breeding females on their rank in Saint Hedwig, Texas. You can view the dogs on the website. For buyers who would like a specific Border Collie color, the breeder will try their best as they have several possibilities that can provide you with the color you like best.
The Border Collies puppies are lovingly handled daily. They expose them to different facets of living in a home from sounds, textures, sights among others to make the Border Collies more comfortable.
The Border Collie puppies receive age-appropriate vaccination, are dewormed, provided with basic training, come with a microchip, and have ABCA registration papers.  To buy a Border Collie puppy from this breeder, you will need a minimum of $300 as a deposit.
If you live in a different state, you will need to set up and pay for the shipper you deem best. For current pricing, please contact the breeder using the details below.
Border Collie Breeder Contact Details:
5. Seven Links Ranch Texas
Seven Links Ranch is a Border Collie breeder in the heart of Brownwood, Texas. They register their dogs with ABCA and AKC. Their Corder Collies are from proven working lines and live in their home as family companions.
You can check out their lineage and health records on the breeder's website. Aside from general health checks, the breeder also tests their Border Collies genetics before breeding to rule out any inherited disorders.
Several of their Border Collies puppies serve on working ranches and doing well. They encourage new owners to take their Border Collies through proper training to ensure they will perform excellently in any environment.
Their Border Collies in Texas have a variety of coat colors from blue merle, red and white, blue and white, to the classic black and white. Whether you're looking for a Border Collie as a loving pet or a working dog, Seven Links Ranch is one of the best Border Collie breeders in Texas you can buy from.
You can view upcoming Border Collie litters on their website and book a puppy on the waiting list for $200. Aside from breeding Border Collies, the breeder also raises Angus cattle and produces coastal hay.
Border Collie Breeder Contact Details:
More Information about Border Collie Puppies in Texas
The Borders love to do a job, whether it is herding or obedience training. Lack of a job spells trouble as Border Collies have tremendous physical and mental energy which needs a sustainable outlet. Failure to physically and mentally stimulate your Border Collie will like result in destruction around your house. It's important to make sure that you are willing to adapt to an active lifestyle.
Apartments are not habitable for this breed because of space limitations. Border Collies in Texas do best in areas with a place to roam about. Be prepared to have bi-weekly brushing or combing to avoid mats in their fur.
As far as temperature is concerned, Texas does get hot in the summertime. You'll have to be aware of the temperature as Border Collies don't do well in the heat especially if you leave their coat longer.
Conclusion for Border Collie Breeders in Texas
Whether you're looking for a working or companion Border Collie, the breeders on this list can assist you in every step. We recommend you speak to them and begin your journey to owning one (or many) Border Collies. The Border Collie is one of the best dogs you can open your doors to and can help you live an active lifestyle.
Other articles you should check out:
Garrett loves animals and is a huge advocate for all Doodle dog breeds. He owns his own Goldendoodle named Kona. In addition, he volunteers at the Humane Society of Silicon Valley, where he fosters dogs and helps animals. Garrett enjoys writing about Doodles and believes that dogs can teach humans more about how to live than humans can teach a dog.
Why Trust We Love Doodles?
At We Love Doodles, we're a team of writers, veterinarians, and puppy trainers that love dogs. Our team of qualified experts researches and provides reliable information on a wide range of dog topics. Our reviews are based on customer feedback, hands-on testing, and in-depth analysis. We are fully transparent and honest to our community of dog owners and future owners.