The French Bulldog is a popular small-dog breed, especially among city dwellers. Its large bat ears and even disposition make it a one-of-a-kind dog with unique looks. The French Bulldog breed's personality is playful, adaptable, alert, smart, and irresistible which is why the American Kennel Club (AKC) has the French Bulldog breed as the 4th most popular dog in the United States.
The charming Frenchie is a dog of few words and makes an excellent companion for families, singles, and couples especially in the large state of Texas. They don't require a lot of outdoor exercises and enjoy making a friend out of every stranger and pet.
If you're looking for French Bulldog puppies for sale in Texas, we've found some of the best breeders. We did our own independent research to help verify there are no puppy mills or backyard breeders on our list. With that being said, here are the 9 Best French Bulldog Breeders in Texas.
Other articles you would like: Labrador Breeders in Texas and Corgi Rescues in Texas.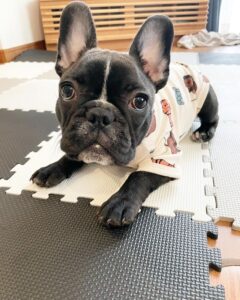 Update: Premier Pups is offering our readers a $250 coupon off a new puppy. Use code WLD250 at checkout. You won't find this coupon anywhere else.
Premier Pups is more than a company that connect the top French Bulldog breeders and puppy-seeking individuals and families. They are all about ensuring the new owner enjoys the experience of ordering a French Bulldog puppy and receiving it at their home.
At Premier Pups, they believe the right French Bulldog puppy for you can make a significant difference in the quality of your life. Therefore, the team is a passionate group of dog lovers and caretakers. Together they have made this complicated procedure of selecting and receiving your favorite puppy easy.
They are available 24/7 for any kind of assistance you need — from start to finish. You can also ask for FaceTime if you want to see your Frenchie before purchasing.
Their customer service does not end after the sale. They follow up with calls to help you and your puppy smoothly settle in the new environment. From your first night together to your puppy's first birthday celebration, Premier Pups is there with you all the way. We highly recommend that you check them out if you're looking for a French Bulldog today.
French Bulldog Breeder Information:
PuppySpot is a puppy marketplace that is disrupting the dog breeding industry. They screen and vet breeders for you so you don't have to worry about a puppy mill or backyard breeder selling you an unhealthy Frenchie. Additionally, there isn't an extremely long waitlist because they are a network of reputable dog breeders that are backed by the American Kennel Club (AKC). Thus, you don't have to worry about getting scammed when you put down your puppy deposit and you will get a healthy French Bulldog puppy sooner.
Additionally, we know that French Bulldog puppies in Texas come in all shapes, sizes, genders, and coat colors. Thus, you can filter for the exact puppy that you are looking for. If your perfect French Bulldog puppy isn't located in Texas, then PuppySpot will personally fly your dog out to you using its own airlines. We really like the experience that we had with PuppySpot and recommend it to others looking to get a puppy quickly and not wait 6 months to a year.
French Bulldog Breeder Information:
2. French Bulldog Texas
French Bulldog Texas has been producing French Bulldog puppies since 2001. They pride themselves on the quality of their French Bulldogs and friendly customer service that they provide. They offer a wide variety of patterns and coat colors from exotic Lilac Merle to standard Fawn.
They breed and raise their French Bulldog puppies in Houston, Texas. Each dog undergoes extensive health and genetic testing before breeding. This helps to ensure that their Frenchie puppies will be healthy and happy. The breeder also offers a 1-year health guarantee and lifetime support if you have any questions about your dog.
French Bulldog's Texas also has financing options available. You can get approved for up to $5,000 without affecting your credit using Credova. In addition, a flight nanny is available for shipping and delivery to all US states.
French Bulldog Breeder Information:
3. Dream Valley Frenchies Texas
Dream Valley Frenchies is a mother-daughter operation in Austin, Texas that has been breeding dogs for over 12 years. The duo specializes in breeding French Bulldogs with various coats and patterns such as blues, chocolates, creams, sables, fawns, brindles, and many more.
Their goal is to breed the ideal French Bulldog by selectively breeding for health, appearance, and temperament in accordance with the AKC. They raise all their dogs in their home in Austin with affection, love, and care. You can guarantee that their French Bulldog puppies in Texas are going to be well socialized and a loving member of your family.
Their puppies are AKC registered, veterinarian checked, microchipped, include a new puppy starter kit, and a 12-months health guarantee. Their French Bulldog puppy price starts at $3,800 and can go up to $8,000+ depending on the coat color. The more rare the coat color, the most expensive the French Bulldog will be.
A flight nanny shipping option is available if you don't live in Texas This service costs $400+ depending on where you live. However, we always recommend touring any potential French Bulldog breeding facility to make sure they are an ethical breeder. 
French Bulldog Breeder Information:
4. Blue Coat French Bulldogs Texas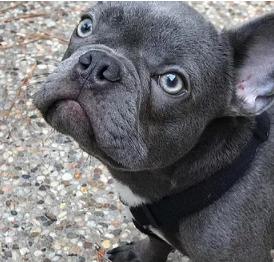 Bluecoat French Bulldog is an AKC French Bulldog breeder in Southern Texas. They regard themselves as French Bulldog owners first and breeders second. They aim to improve the dog breed of the Frenchie and only place their puppies with loving families that will care for the entire life of a dog. That being said, they breed only a few select French Bulldog puppies in Texas annually so they can be selective.
Their pricing starts at $6,000 and is officially determined at 4 to 6 weeks when the French Bulldog puppy's conformation and color can be seen. To book a spot on the reservation list, you will need to put down a $2,500 deposit. Each of their Frenchie puppies is started on potty training and leash training to make the transition to your home easier.
French Bulldog Breeder Information:
5. Wild Blue French Bulldogs Texas
Wild Blue French Bulldogs is a small breeder in the Dallas and Fort Worth Texas area. They have French Bulldog puppies in a variety of coat colors such as blue fawn, pied, blue, and merle. Their French Bulldogs are all purebred AKC registered.
They raise their French Bulldog puppies at home and expose them to a wide set of environments so they can adapt easily to noises, sounds, and sights. This French Bulldog breeder in Texas has limited litters every year so you usually have to sign up and wait. They update their planned breedings and available puppies on their website and social media pages.
Pricing starts at an average of $7,000 per blue French Bulldog. The breeder does not provide any shipping whatsoever so you'll have to pick up the Frenchie puppy near Denison, Texas. Make sure that you also plan to view their breeding facility before you commit to purchasing one of their puppies.
French Bulldog Breeder Information:
6. Bulldogs Texas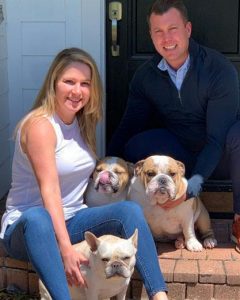 Bulldogs Texas is a USDA-licensed French and English Bulldogs breeder in Dallas. The breeder has been raising and selling healthy French Bulldogs for many years. The breeder focuses on 3 fundamental factors: excellent health, proper development, and love when breeding Frenchies.
All their French Bulldogs are AKC registered, and the puppies are crate trained, potty trained, and socialized with other dogs and humans. Once these puppies hit 8 weeks old and are ready to go to their forever homes, they won't have any anxiety or stress towards new noises.
You can view their available French Bulldog puppies on their website or social media handles. The French Bulldog breeder serves the Dallas Texas area.
French Bulldog Breeder Information:
Location: Dallas, Texas
Website: Bulldogs Texas
Telephone: 949-734-9938
Email: bulldogsofdallas@gmail.com
7. French Bulldog USA
French Bulldogs USA has been breeding high-quality bulldogs since 2005. They are one of the oldest French Bulldog breeders in Texas on our list. The Central Texas-based breeder takes great pride in producing top-notch AKC French bulldogs that are as close to the ideal breed standard as possible.
They have shipping available for interested buyers across the United States but charge extra money. Alternatively, you can either drive to their residence in  Central Texas, meet half-way, or have a flight nanny bring you your new charming Frenchie.
They give each French Bulldog puppy a 1-year health guarantee and lifetime breeder support. The deposit is on average roughly $400. They also have reasonable pricing for a French Bulldog puppy so you won't be breaking the bank.
French Bulldog Breeder Information:
Location: Killeen, Texas
Website: French Bulldogs USA
Telephone: 917-861-5378
Email: info@frenchbulldogusa.com
8. French Bull Kisses Texas
French Bull Kisses is an AKC French Bulldog breeder in Texas that produces a rainbow of coat colors. They have several French Bulldog litters every year and seem to be a pretty big breeding operation. Each puppy comes with a 1-year genetic guarantee along with veterinarian approval, deworming, and their first set of shots.
French Bull Kisses has partnered up with a finance company to help you make payment plans for your new family member if you need it. You can view their available puppies on their website.
The average price of a French Bulldog puppy from this breeder in Texas is $6,000. You can reserve your puppy with a $50 deposit and pay the rest when you pick up your dog.
French Bulldog Breeder Information:
9. VP Ranch Texas
VP Ranch breeds and raises top-notch AKC French Bulldogs and AKC Boston Terriers. Their French bulldogs are part of the family and enjoy being on a large farm with other dogs.
Their goal is to breed the best genes in all of their French Bulldog puppies. Their bloodlines include Ch. Fancibull Skye's the limit, Ch. Daystar's Fabulous Zeus, and Ch. Briapatch's Tennessee Walker. These are highly coveted French Bulldog bloodlines.
The breeder doesn't just breed for bloodlines, but they also breed for health, temperament, and conformation.
Their French Bulldog puppies are AKC registered and come with age-appropriate shots, vet approval, and deworming. The deposit for one of their French Bulldogs in Texas is $500 if the puppy is less than 8 weeks.
The breeder doesn't breed any off-colored French Bulldogs like some breeders on the list and they don't ship their puppies as well. They will require you to come and get your puppy at their residence. In general, we recommend that you do pick up your French Bulldog in person instead of using other transportation methods for the safety and health of your future dog.
French Bulldog Breeder Information:
10. Turbo Frenchies Texas
Turbo Frenchies are French Bulldog breeders in Texas within 45 miles southeast of Dallas. For over 10 years, this Frenchie breeder has been in the business of producing high-quality puppies that folks like you will love and adore for many years to come. The breeder started off breeding English Mastiffs and later added French Bulldogs to the repertoire.
Their French Bulldog puppies in Texas are AKC registered and cleared for any health or genetic defects. In addition, their puppies come with age-appropriate vaccines, veterinarian checkups, and dewormings. For the current or planned French Bulldog breedings, you'll need to contact the breeder.
To get on the waiting list, you will need to put down an average of $500.
French Bulldog Breeder Information:
Conclusion for French Bulldog Breeders in Texas
The French Bulldog is a delight for any family, couple, or singles looking for a charming furry companion. This list acts as a guide to help you in your search for a reputable French Bulldogs breeder in Texas.
As always, conduct your research thoroughly before purchasing a French Bulldog puppy and ask the right questions. A bonus tip is to go through the parents' and previous generations' health records to determine their health condition. If the parents have a certain trait or health issue, this may pass on to your future Frenchie. We hope this article helped you out!
Other articles you might like:
Garrett loves animals and is a huge advocate for all Doodle dog breeds. He owns his own Goldendoodle named Kona. In addition, he volunteers at the Humane Society of Silicon Valley, where he fosters dogs and helps animals. Garrett enjoys writing about Doodles and believes that dogs can teach humans more about how to live than humans can teach a dog.
Why Trust We Love Doodles?
At We Love Doodles, we're a team of writers, veterinarians, and puppy trainers that love dogs. Our team of qualified experts researches and provides reliable information on a wide range of dog topics. Our reviews are based on customer feedback, hands-on testing, and in-depth analysis. We are fully transparent and honest to our community of dog owners and future owners.