Looking for bernedoodle puppies in Texas? You're not alone! A bernedoodle is produced when you cross a Bernese mountain dog and a poodle, and they're super popular for many reasons. First, they're largely hypoallergenic which makes them a great option for families with allergy sufferers. Second, they're fun-loving and loyal dogs that get along great with children. Finally, they're highly intelligent, making them trainable and even useful as service dogs! 
If you're looking for bernedoodle puppies in Texas, keep reading! We've put together a list of our favorite reputable kennels so you can find a healthy, happy family member. Of course, each of these kennels has a strict policy against puppy mills, so you can rest assured your dog is coming from a safe and loving environment. 
Other articles you would like: Goldendoodles Breeders in Texas and Labradoodle Breeders in Texas.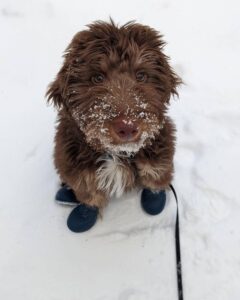 Premier Pups is a wonderful resource if you're considering buying a mini bernedoodle puppy. The company utilizes a large network of responsible breeders who are dedicated to caring for your pup from its very first moments until the day he goes home with you! The kennel screens each breeder before adding them to their list of approved breeders; each must meet strict standards for cleanliness, dog health, and other criteria.
Mini bernedoodle puppies in Texas come with a 10-year health guarantee, and your puppy will have seen a vet for vaccinations, wormers, and a nose-to-tail health exam. You'll receive your dog's health records on Gotcha Day. Despite the affordable cost of Premier Pups' dogs, you can be certain that each puppy has a clean bill of health and is ready to join a family like yours!
Premier Pups specializes in small-breed dogs, so if you're not set on a mini bernedoodle you can check out a whole host of other options! Financing is available should you choose to split up the total cost of your puppy over time. Premier Pups works with Terrace Finance and Credova to offer options that are accessible to the average family. 
If you're looking for mini bernedoodles in Texas, we highly recommend that you check out Premier Pups. The company offering our readers a generous $250 discount off a new mini bernedoodle- use code WLD250.
Bernedoodle Puppy Information:
Generation: Multi-Gen
Size: Mini Bernedoodle puppies
Bernedoodle Breeder Details: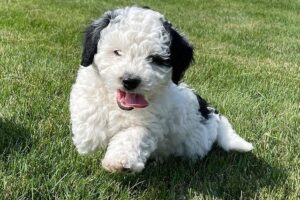 PuppySpot is next on our list of places to find bernedoodle puppies in Texas. They're another network of responsible breeders who are screened and vetted before they're permitted to post puppies. They, like Premier Pups, have a zero-tolerance policy for puppy mills so you can have confidence that your dog is healthy and pre-loved! 
We love that you can purchase a puppy from PuppySpot almost immediately! While family-run and small breeders in Texas can typically have waiting lists that are months long, many of the PuppySpot pups are ready to go home with you right away. Use the site to search for breeds, then sort by age, size. color, and sex. Each puppy comes with a health guarantee and will be vaccinated, wormed, and vet-checked before joining your household.
Can't find a puppy you like that's located in Texas? That's okay! PuppySpot will work with you to make travel arrangements to have your dog delivered to your local airport! The company uses its own USDA-certified planes and vehicles to transport dogs across the country. Whether your puppy is located in Tennessee or Maine, he or she can be in your arms within a matter of days. 
Bernedoodle Puppy Information:
Generation: All generations including F1, F2, F1B, F2B, and multi-gen
Size: Mini, Medium, and Standard Bernedoodle puppies
Bernedoodle Breeder Details:
3. Fort Mason Bernedoodles Texas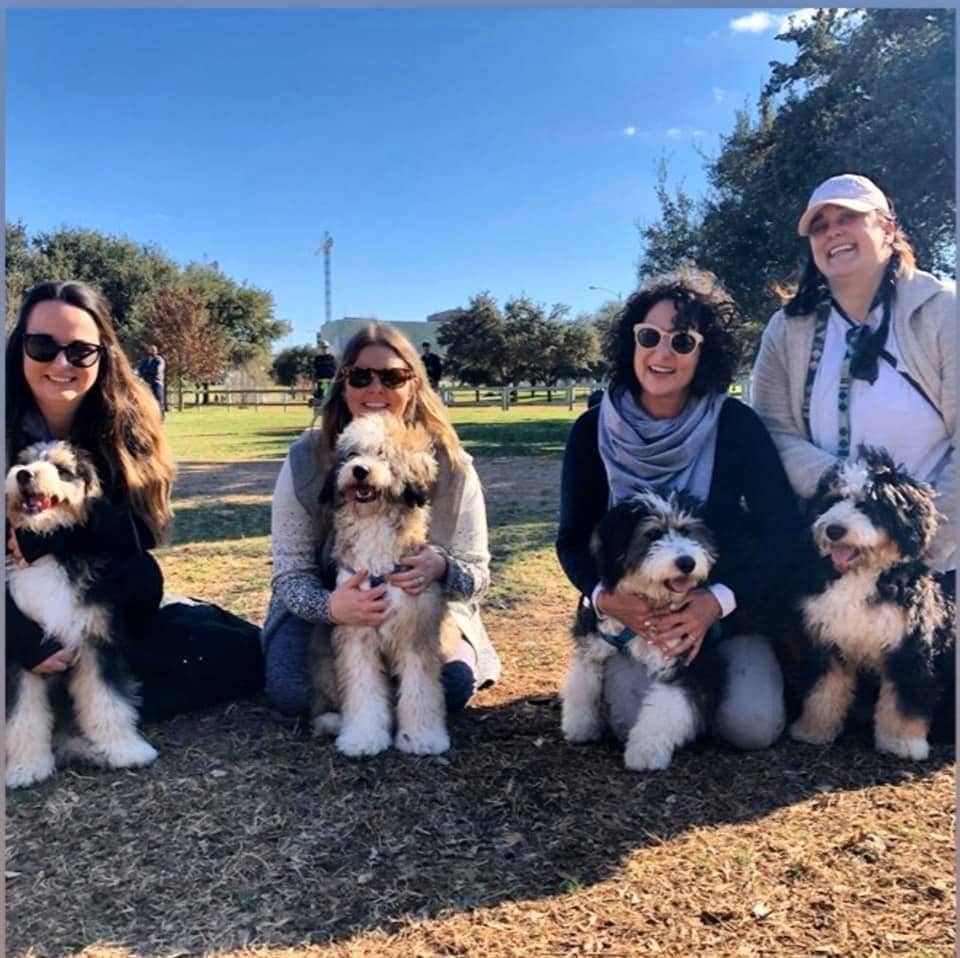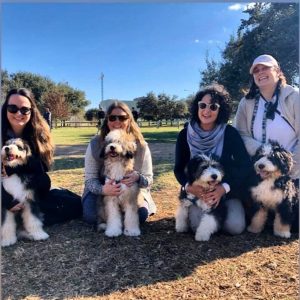 Fort Mason Bernedoodles Texas is a family-owned and operated breeder that's run by Joy and Garland Gallagher. They have worked hard to produce some of the healthiest bernedoodle puppies in Texas, and their dogs are marked as companions and service dogs. 
Fort Mason Bernedoodles was begun using dams and sires with champion bloodlines, both from the United States and abroad. Parents are genetically tested and temperament tested to increase the likelihood that your dog will be healthy and easygoing. Puppies are priced accordingly, with standard bernedoodles costing $3,500 and mini and medium bernedoodles costing $3,750. A deposit of $500 is required to hold your place on the pick list. 
Puppies come with a one-year health guarantee that can be extended. Speak with the breeders for more information about the supplements required to extend this warranty to two years. This is optional. 
Fort Mason Bernedoodles Texas offers three delivery options. You can pick up your dog in person, have your dogs shipped via personal delivery, or you can choose to fly your puppy with the assistance of a flight nanny. Speak to the kennel owners about the cost of delivery to your specific area of Texas. 
Bernedoodle Puppy Information:
Generation: F1 Bernedoodle puppies
Size: Mini, Medium, Standard Bernedoodle puppies
Bernedoodle Breeder Details:
Location: Mason County
Address:506 Ranch Hand Rd, Mason, TX 76856
Telephone:325-347-2482
Website:www.fortmasonbernedoodles.com
Email: fortmasonbernedoodles@yahoo.com
4. Fritcher Ranch Doodles in Texas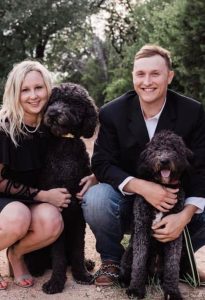 Fritcher Ranch Doodles specialize in standard-sized Goldendoodles and bernedoodle puppies in Texas. Their goal is to breed healthy and long-living champions that shed are low-shedding and hypoallergenic. Like any responsible breeders, the Fritcher team genetically tests parents for hip, elbow, and other common bernedoodle health conditions. Only dogs that pass with flying colors are permitted to produce litters. In the interest of transparency, results of tests are posted online for you to view. 
The average wait time for a bernedoodle puppy is between six months and one year if you're particular about your dog's color, sex, or other criteria. If you don't mind the color or sex of your dog, you can expect to wait between one and three months. To reserve your spot on the waiting list, you'll be asked to place a non-refundable deposit of $250. 
Fritcher Ranch Doodles come with a three-year health guarantee and lifetime support. Your puppy will be raised in East Texas until he's old enough to join a new home – if you're not local to the eastern part of the state you may contact Fritcher about delivery. Choose from cargo flight (we do not recommend this), hand-delivery, in-cabin flight with a nanny, or airport pickup. 
Bernedoodle Puppy Information:
Generation: F1B Bernedoodle puppies
Size: Medium, Standard Bernedoodle puppies
Bernedoodle Breeder Details:
Location: Texas
Address: East Texas
Telephone: 903-288-7898
Website: www.frdoodles.com
Email: info@frdoodles.com
5. Echt K9 Bernedoodles in TX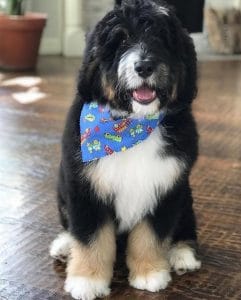 Echt K9 is a standard bernedoodles breeder located near Waco, Texas. The puppies they produce are socialized and an emphasis is placed on their ability to get along with kids and with other pets. Your dog will grow up on a small farm and will have plenty of time to learn, play, and explore before he or she is introduced to a new home. 
Care for these bernedoodle puppies in Texas does not end on Gotcha Day! The Echt K9 crew offers lifetime support for their babies. Should you have any questions or concerns, help is just an email or a phone call away. In addition, your dog will come with a 2-year health guarantee and can be registered with the Continental Kennel Club. 
A standard bernedoodle sells for $4,850 and the mini bernedoodle for $5,800. The kennel also offers an option to purchase a Breeder's Choice bernedoodle puppy. A standard Breeder's choice bernedoodle puppy sells for $12,800, and a mini bernedoodle Breeder's Choice puppy is $10,800. While Echt K9 puppies are a bit higher in cost than is typical in Texas, you can be certain that care and attention has been given to producing quality dogs. 
Interestingly enough, Echt K9 offers delivery to those who are not located near Waco, Texas. If you prefer, however, you can choose to stay at one of the kennel's vacation rentals! Why not make a weekend out of Gotcha Day and enjoy the sights and sounds of Waco?
Bernedoodle Puppy Information:
Generation: F1 Bernedoodle puppies
Size: Mini, Standard Bernedoodle puppies
Bernedoodle Breeder Details:
Location: McLennan County, TX
Address: Near Waco, Texas
Telephone: 254-495-8566
Website: www.echtk9.com
Email: krosschellcl@hotmail.com
6. Lonestar Bernedoodles Texas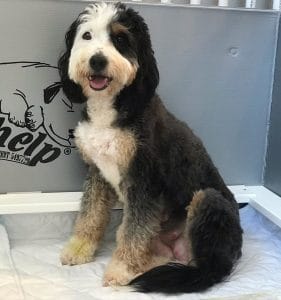 Next on our list of sources for bernedoodle puppies in Texas is Lonestar Bernedoodles. This kennel is located just outside Dallas, and they breed goldendoodles, Australian shepherds, Bichon Frise, Shih Tzus, and poodles. No matter whether you're adopting a purebred or a designer breed, you can be certain that your puppy's parents have had rigorous health testing. 
We love that Lonestar Bernedoodles takes the socialization of their dogs very seriously! In fact, puppies are raised in the family's living room and will have enjoyed many, many cuddles before joining your household. In addition, your dog will have seen and heard the sights and sounds of everyday activities – your vacuum cleaner, telephone, or doorbell won't bother these puppies! 
Puppy pricing starts at $3,000 and is set based on the color and size of the dog. Minis and micros are available for a higher price. There is a $300 deposit required to hold your plae on the waitlist, so fill out your application and put your name on the list as early as you're able! 
Bernedoodle Puppy Information:
Generation: F1, F1b, F2, F2b Bernedoodle puppies
Size: Mini, Micro, Standard Bernedoodle puppies
Bernedoodle Breeder Details:
Location: Central Texas
Address: Near Dallas, Texas
Telephone: 972-804-4099
Website: www.lonestarbernedoodles.com
Email: lonestarbernedoodles@gmail.com
7. Namaste Poodles and Doodles TX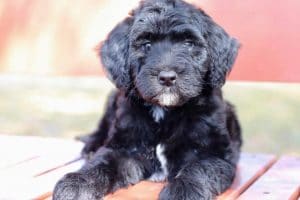 Namaste Poodles and Doodles is located in Dallas, Texas, and they specialize in the bernedoodle breed. The breeder offers some of the healthiest little bernedoodle puppies in Texas; you won't be disappointed! Dogs are sold as companions only – breeding rights are not available. You'll be required to spay or neuter your dog, and this may affect puppy's one-year health guarantee. Speak with the kennel team for more information. 
 Your dog's parents – and your dog – are kept in excellent health by the Namaste Poodles and Doodles crew. Your puppy will have been nose-to-tail vet-checked and will have current vaccination and worming records upon pickup. You will need to bring your puppy to a vet of your choosing within a few days of picking him up to activate the puppy's warranty. 
Namaste does offer hand delivery, so if you're not close to Dallas speak to them to make arrangements to meet. Travel costs vary depending on the distance traveled; contact the kennel for a quote if you're unable to make it to Dallas on Gotcha Day. 
Bernedoodle Puppy Information:
Generation: F1, F1b Bernedoodle puppies
Size: Mini, Standard Bernedoodle puppies
Bernedoodle Breeder Details:
Location: Central Texas
Address: Dallas, TX
Telephone: 214-364-7114
Website: https://namastepoodles.com/
Email: info@namastepoodles.com
8. Shady Oaks Bernedoodles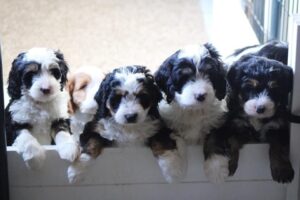 Shady Oaks Doodles is one of the most reputable mini bernedoodle breeders in the United States. They rigorously health test all the parent dogs to ensure that puppies are healthy. Additionally, puppies are health tested through local veterinarians to ensure that they will be de-wormed and up to date on vaccines prior to leaving for your home.
Bernedoodle puppies in Texas are treated as members of the Shady Oaks family in the weeks leading up to their adoption. They don't utilize foster families, but instead raise the dogs in-home so that they can keep a close eye on them! Before you pick up your dog, call Shady Oaks if you're interested in training services. A private trainer can be enlisted to crate train your dog, and to begin obedience training, too!
Similarly, if you're interested in a service dog you'll need to let the team know as soon as possible. This training is available but must be begun at an early age. 
Bernedoodle Puppy Information:
Generation: Multi-Generational
Size: Miniature Bernedoodle puppies (mostly hypoallergenic and non-shedding)
Bernedoodle Breeder Details:
Bernedoodle Puppies in Texas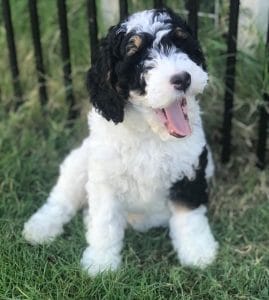 When selecting a Bernedoodle or any other breed, it is crucial to ensure that your future dog can survive and thrive in the climate of the area you live in. 
Bernedoodles can do well in Texas, provided you make it easier for them just like any other breed. During summers in Texas, go for a summer cut for your Bernedoodle so they do not overheat or get dehydrated. Don't let their coat grow long and give them an adequate supply of water. In addition, take them to a professional groomer for regular grooming as their coats get tangled and mat easily without daily care.
During winters in Texas, you can let your Bernedoodles coat grow longer. Let their coat grow long to keep them warm and if they feel too cold, buy them a doggie sweater. Also, remember to take them out for their daily exercise whether that is running, walking, or playing. It will keep you active and lift your spirits as well as your fur buddy.
Conclusion for Bernedoodle Puppies in Texas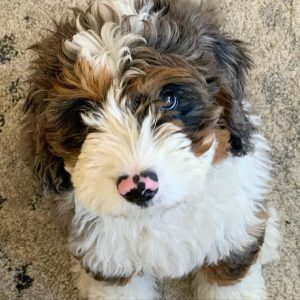 As you select a Bernedoodle breeder in Texas, please take the time to do thorough research to avoid problems down the road. A good breeder ensures that they do their due diligence in selecting the parents and crossing the different breeds that are healthier and better than their parents. The Bernedoodle is only likely to inherit a health problem that is common to the Poodle and Burmese. These two breeds, however, share very few common diseases, such as Hip dysplasia. 
This disease, however, is considered genetic. A good breeder will check for this genetic disease as they carry out health testing for their potential parent dogs. If the potential parent dogs have it, good breeders usually pass over the dog and choose a better one with no genetic conditions. 
Ask for health records and don't rush into buying a Bernedoodle puppy. It will be worth it in the end. We hope that you enjoyed our article on Bernedoodle puppies in Texas! Happy puppy hunting!
Other articles you might like: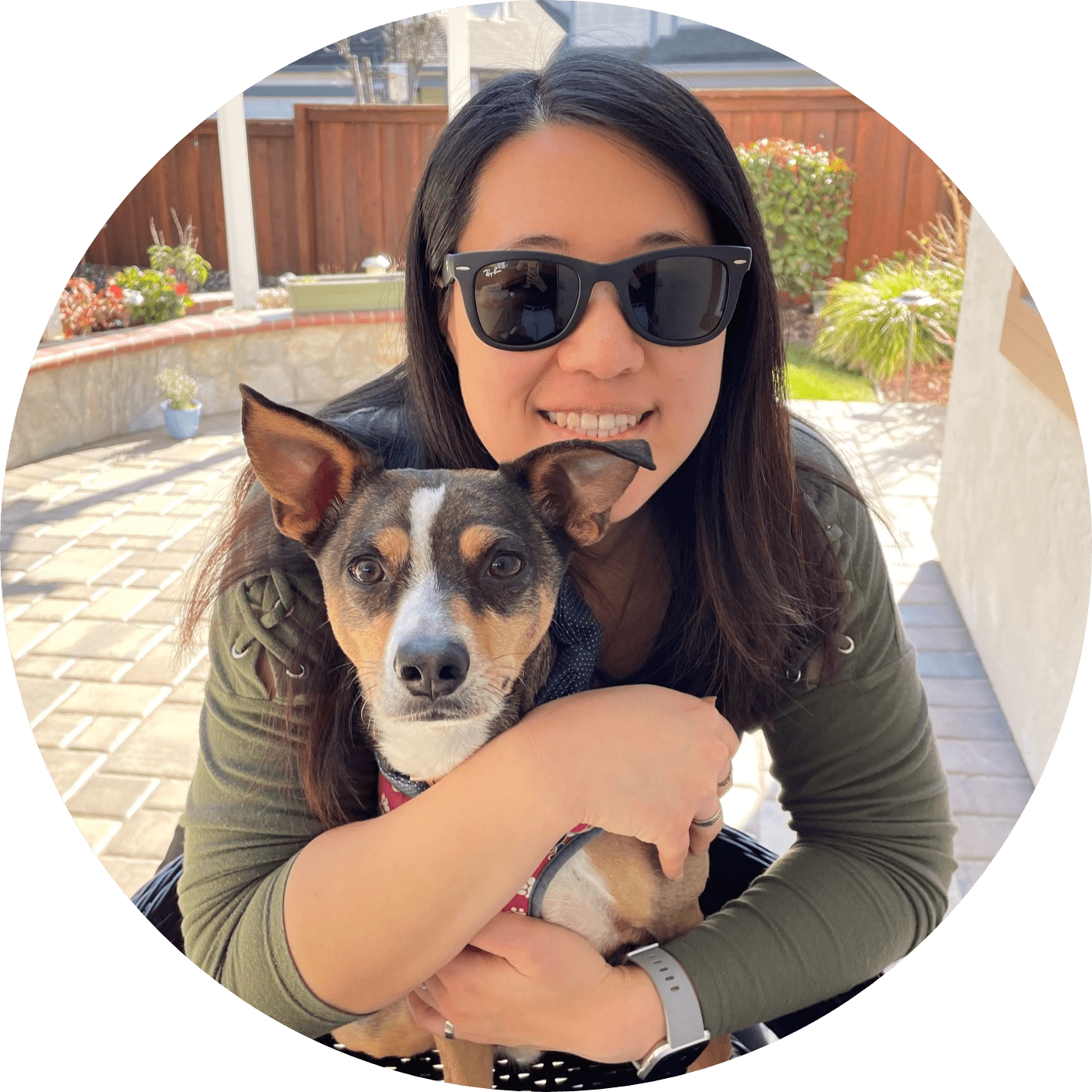 Dr. Sabrina Kong graduated from the Royal Veterinary College in England in 2016 and has been working at a small animal clinic in Northern California since then. She grew up in the Bay Area and got her bachelor's degree from Cal Poly San Luis Obispo. She also became a Certified Canine Rehabilitation Practitioner through a program at the University of Tennessee.
When she isn't in the clinic taking care of her four-legged patients, she enjoys traveling and trying new foods with her friends and her three-legged dog, Apollo. She adopted Apollo from her clinic when he was a puppy with numerous health issues. Dr. Kong truly cares about taking care of animals.