If you're searching for the best French Bulldog breeders in California, then you've come to the right place. California is the most populous state in the United States, with close to 40 million inhabitants. About one-third of the population is dog owners. There are many benefits of having a family dog and why you should also get one for your household.
One dog breed to consider if you want a small and calm dog breed is the French Bulldog. French bulldogs are the 4th most popular dog breed in the world according to the American Kennel Club (AKC) due to their beautiful looks, playful attitude, and high intelligence. If you are a lover of bulldogs and live in California, this is the right place for you to look for good breeders.
However, there are many French Bulldog puppies for sale in California and it can be difficult to choose the correct breeder. The post will introduce you to some of the best French bulldog breeders in California based on our own independent research. We verified health checks, puppy warranties, and breeder information.
However, we also recommend that you do your own due diligence before purchasing a French Bulldog puppy in California. We aren't affiliated with any of the breeders so their practices may change over time.
Before scrolling down this list of French Bulldog breeders in California, you can check out these other recommendations from our team at We Love Doodles: English Bulldog Breeders in California and Corgi Breeders in California.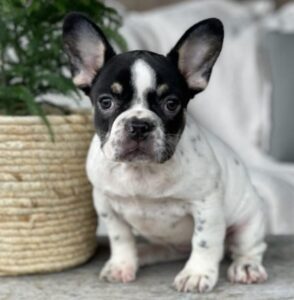 PuppySpot is committed to finding happy homes in California for healthy French Bulldog puppies. You can find any breed from thoroughly vetted and screened breeders with PuppySpot – the #1 marketplace in the USA.
They make sure you're sourcing your puppy from the right French Bulldog breeder by having in place strict rules that the breeders have to meet. So, if you place an order at PuppySpot, you'll get a healthy dog from a breeder that raised it properly to have the right temperament. 
PuppySpot also provides additional resources for breeders and new dog owners, ensuring that both the breeder and the owner stay informed. All the French Bulldog puppies on their website come with a 10-year health guarantee.
Because they believe in responsible breeding and pet ownership, your puppy will be registered with the appropriate registry for its breed, which will be categorized as a companion dog rather than a breeding or show dog. We highly suggest that you check them out.
French Bulldog Breeder Details:
2. Royal Empire French Bulldogs (Southern California)
Royal Empire French Bulldogs is reputable for treating all puppies under their program as part of their family. This concept enables them to breed friendly, healthy, and happy French Bulldog puppies in Southern California. They raise and train their puppies indoors which makes it easy and convenient for every Royal Empire dog to adjust to a new family. 
This French Bulldog breeder in California is also recognized for selling AKC-registered French bulldog puppies. One excellent advantage of registering your dog with the American Kennel Club (AKC) is that you will get to enjoy the support of the club throughout your dog's lifetime. It also means that the Royal Empire is adhering to the purebred standards of breeding a French Bulldog puppy.
Royal Empire French Bulldog breeders are highly experienced at dog training. They have been in business for more than two decades and are one of the oldest breeders on our list. Another reason why this breeder is popular among California residents is its health guarantee.
Royal Empire gives you a two-year guarantee on all of their puppies in California that covers genetic illnesses. This further proves how great this breeder is when it comes to dog care. When getting your French Bulldog, you will be provided with a certificate of health, registration, and a healthy puppy.
French Bulldog Breeder Details:
Products and Services:
AKC registration of puppies
Deworming and vaccination of puppies
Issuance of health certificate
Potty training
Crate training
Socializing with both adults and children
Socializing with other animals
Playing with toys
3. Coronado Crown French Bulldogs (Southern California)
Coronado Crown French Bulldogs is another top dog breeding business based in San Diego, California. These breeders nurtured different dog breeds but settled for the French bulldogs as their favorite so they started breeding purebred puppies.
Like the Royal Empire-bred dogs, the French Bulldog puppies raised in this environment are trained with the utmost love and care which is one of the reasons they are so happy and friendly. Hence, they come highly recommended whether you need the dog as a family companion or a future show dog. 
The Coronado Crown breeders love dogs which ultimately allows them to choose to who they selling their French Bulldog puppies. They have a very strict puppy application and will only match puppies with responsible pet parents. One of their requirements is to provide regular updates on the dog. If you can no longer raise the dog, they encourage you to reach out so that they can take it back. They don't want their French Bulldog puppies to end up at any dog shelter or rescues.
French Bulldog Breeder Details:
Products and Services:
Training of any breed
Offering professional advice on French bulldogs
Dog vaccination
Arranging health care and regular veterinary visits 
Requesting periodic updates and pictures of your dog
Willing to receive your dog when you're unable to keep up with its care
4. Champion Pups (Southern California)
You can never ignore these breeders when discussing French bulldog breeding. Champion Pups is a business based in Los Angeles, California. They are one of the most famous French Bulldog breeders in California and come with many satisfied customers. 
Another reason why the Champion Pups is well-known is the experience they have in the dog breeding world, particularly with show dogs. A family of breeders owns the business and just as the name implies, they raise French Bulldogs in California with a DNA of championship bloodline.
Many of the dogs from Champion Pups have won numerous shows and exhibitions both in the U.S. and other parts of the world. This development has made it possible for this dog breeding outfit to sell puppies to buyers all over the world. 
Again, all French Bulldog puppies under their care are registered with AKC. When buying a puppy from them, there is a guarantee that the pet will come with an AKC registration paper. Aside from this benefit, you'll equally be purchasing a healthy puppy because they carry out regular dewormings and vaccinations.
One reputable thing about these breeders is that they do not have any kennels at home. The dogs are regarded as part of the family and are, therefore, allowed to sleep in their beds. They have offices in Long Beach, Anaheim, and San Francisco. 
So, you can visit the kennel location closest to you for inquiries or interest in purchasing a French Bulldog. Open house opportunities are also available every weekend where you can tour their facilities. You can contact them to book an appointment if you are interested.  
French Bulldog Breeder Details:
Products and Services:
Dogs receive regular vaccination and deworming to keep them healthy
Training the bulldogs to become champions
Arranging open house opportunities
Providing professional advice on how to keep your bulldog healthy and obedient
Offering home delivery service
Lamb and rice are prepared every morning as breakfast for the dogs
5. Bay Area Bulldogs (Northern California)
Bay Area Bulldogs is located near Pleasanton, California, and has great reviews online via their Yelp page, website, or Google reviews. Their French Bulldog puppies cost around $5000 which is a little more on the expensive side and they do not come with AKC paperwork. However, when you purchase one of their puppies they do send you lots of pictures.
In addition, this French Bulldog puppy breeder is highly educated on this particular dog breed. You can ask him all about the parent dogs, caring for your puppies, or even about the food that you should be feeding your Frenchie. Their French Bulldogs are typically black and brown, or white and brown in coat coloring.
At this point in time, they don't seem to have a waitlist. You can currently buy puppies that are black and tan or cream in color. You'll have to fill out a puppy application and pay for a deposit if you want one of these French Bulldog puppies in California. 
French Bulldog Breeder Details:
Products and Services:
Helping with purchasing of dogs
They have a resource center and will also provide you with knowledge on this particular dog breed
6. English and French Bulldogs (Southern California)
These are professional breeders based in Southern California, and a member of the California Bulldog Association (CBA). English and French Bulldogs have been in existence for nearly two decades which means they are highly experienced in the breeding business.
Aside from being a CBA member, puppies from English and French Bulldogs are also registered with the AKC. This means that you will always receive the club's support when you purchase your puppy from English and French Bulldogs.
French Bulldog Breeder Details:
Phone: (657) 252-0820
Location: Southern California. They prefer not to disclose their address due to privacy concerns.
Products and Services:
Working with other professional breeders from Southern California

Regular vaccination of dogs

Helping with purchasing of dogs

Offering full dog training

Provision of professional assistance
7. Cheerful French Bulldogs
Another professional breeder worthy of mentioning is the Cheerful French Bulldogs. This breeder raises strong and healthy bulldogs but is more reputable for its flight nannies. These nannies are assigned the task of hand-delivering puppies to customers, and they're responsible for taking care of pets during the journey.  
Apart from these breeders' contact details, you can also reach them via FaceTime video call and Skype. This implies that there are numerous channels to communicate with them if you need to make inquiries. 
French Bulldog Breeder Details:
Phone: (702) 931-4269  
Location: They originated in California. It looks like they recently moved to Las Vegas, Nevada
Products and Services:
Home delivery of puppies through a flight nanny
Breeding of healthy Blue French Bulldogs
Offering professional assistance in choosing the right puppy for you or your family
8. Melzano Frenchies (Southern California)
Melzano Frenchies is the best French Bulldog breeder in Southern California (San Diego) on our list. They breed quality Frenchies that are designed to be family companions. The owner, Brandon, strives to produce French Bulldog puppies that are extremely socialized, happy, and healthy. They even socialize all of their puppies with other animals like cats and birds.
Additionally, Melzano Frenchies breed for quality and not quantity. It's important that you find a French Bulldog breeder in California that knows how to raise Frenchies, care for them, and socialize them. This breeder checks all the boxes and treats their puppies like family.
They offer several colors of French Bulldog puppies in California including blue Frenchies. Additionally, all their puppies come with an AKC registration, Melzano's Frenchies e-book, 30 days of pet insurance, health warranty, deworming, and full vaccinations. Their website also includes tons of information and we highly recommend that you check them out.
French Bulldog Breeder Details:
Products and Services:
AKC registration of French Bulldog puppies
Full deworming and vaccination of puppies before the sale
Health Guarantee
Start of potty training
Start of crate training
Tons of socialization
Conclusion For The "Best French Bulldog Breeders in California"
We understand that choosing a top breeder for your French Bulldog may be a little confusing because there are numerous professional breeders in the state. For this reason, we decided to recommend some of the best French bulldog breeders in California that aren't puppy mills or backyard breeders.
You can contact any of them to buy your next French Bulldog. They breed the strongest, obedient, friendly, and lovely French bulldog puppies. Many breeders on our list can assist with the delivery.  
For more guides similar to this list of French Bulldog breeders in California, you can check out:
Before you bring home a French Bulldog puppy from a breeder in California, you can learn more about this dog breed by watching the "French Bulldog – Top 10 Facts" down below:
Garrett loves animals and is a huge advocate for all Doodle dog breeds. He owns his own Goldendoodle named Kona. In addition, he volunteers at the Humane Society of Silicon Valley, where he fosters dogs and helps animals. Garrett enjoys writing about Doodles and believes that dogs can teach humans more about how to live than humans can teach a dog.
Why Trust We Love Doodles?
At We Love Doodles, we're a team of writers, veterinarians, and puppy trainers that love dogs. Our team of qualified experts researches and provides reliable information on a wide range of dog topics. Our reviews are based on customer feedback, hands-on testing, and in-depth analysis. We are fully transparent and honest to our community of dog owners and future owners.