One of the first things you'll notice about an English Bulldog is their thick, stuffed up snout that makes them so well-loved. While these dogs are known for being courageous and strong, their pudgy and wrinkled faces help them to be a well-loved breed for all ages. The appearance of an English Bulldog makes them clearly distinguished from other dog breeds.
From the small city space apartments to large houses, English Bulldogs can find their home in a variety of settings and with all different kinds of lifestyles due to their easygoing temperament and personality. In fact, they are the 4th most popular dog in the world according to the American Kennel Club (AKC).
Despite weighing between 40 to 50 pounds, they'll still want to curl up in your lap and cuddle. This behavior aligns with their calm and friendly personality that they're so well-known for. The English Bulldog has a variety of coat colors that are smooth, soft, and come in a variety of colors.
However, the increase in popularity for the English Bulldog puppies in California has caused an increase in puppy mills and backyard breeders. These are people that will breed unhealthy dogs and sell them at low prices. Thus, we created a list of reputable English Bulldog breeders in California to help you find a healthy and happy puppy.
Other articles you might like: Pitbull Breeders in California and Labrador Breeders in California.
Best English Bulldog Breeders in California
If you're looking to add an English Bulldog puppy into your home in California, you've got a variety of breeders to choose from. With high standards in aligning with AKC regulations, you'll discover resources and insights to help you choose the right pet for you and your lifestyle.
To help get you started, we have a list of some of the top breeders for English Bulldogs in California. You'll find a quick summary followed by the breeder's contact information if you're interested in learning more about the English Bulldog puppies they have available. All of the breeders that we selected needed to have AKC certified dogs and provide some genetic and health testing to ensure that you will get healthy and happy puppies.
1. Big Bulldogs California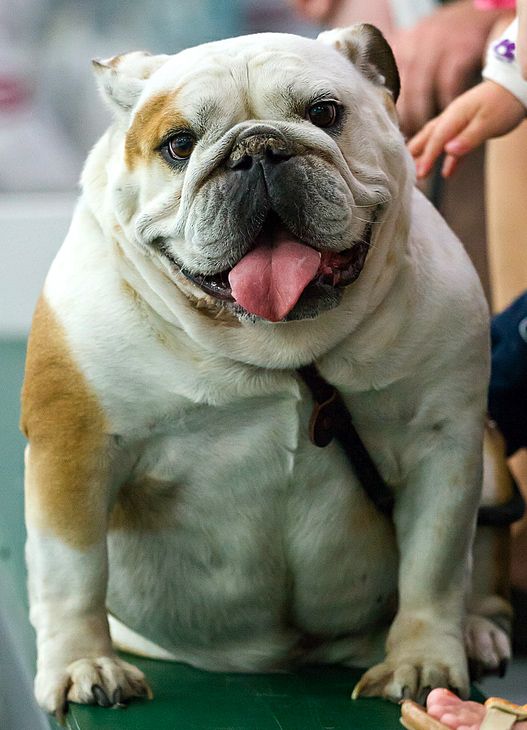 Puppies at Big Bulldogs California have a priority of health, temperament, and looks. With decades of experience in English Bulldog breeding and attention to the health and well-being of puppies, you'll find a match that's just what you're looking for.
Their website shares several stories of happy families and individuals who have chosen to add joy to their lives through an English or French Bulldog. As you choose to move forward with adopting a Bulldog, an experienced representative will help you through the process and provide the information you want to know as you grow your family. 
Each English Bulldog puppy from Big Bulldogs comes with a two-year health guarantee so you can be confident in your dog's health. Their English Bulldog puppies in California also receive their first round of shots, de-worming, and pass a full health check by a licensed veterinarian.
In case life circumstances require you to return your English Bulldog puppy, you can do so at any time with Big Bulldogs. They absolutely care for their puppies and do not want any of the dogs to end up at rescues or shelters.
Todd Howard, owner and operator of Big Bulldogs, also shares helpful information and insight about caring for your Bulldog on his website. As you prepare to add an English Bulldog puppy into your family, you can learn all about the breed by asking them questions. They also offer nutritional products and vitamins you may want to consider as you take care of your dog's health. They are one of the most reputable English Bulldog breeders in California.
English Bulldog Breeder Details
2. Schoolyard Bulldogs California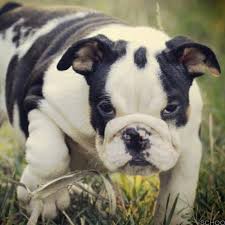 With a passion for celebrating the joy and beauty of Bulldogs, the team at Schoolyard Bulldogs raise their puppies like their own. Their English Bulldog puppies in California are brought up in a home setting to help them transition into a family living lifestyle. In addition, this breeder is family owned and operated, which helps each new puppy get the time and attention they need as they grow and socialize.
They have several litters throughout the year, so be sure to make an inquiry if you're interested in getting an English Bulldog puppy from them. They can also make referrals to other local breeders that you can trust if they don't have puppies available.
Along with their selling English Bulldogs, they also share helpful tips and insights for raising a Bulldog. They promote NuVet products which help the development and well-being of English Bulldog puppies, particularly at a young age. They're made with all-natural ingredients and are designed for puppies of all ages.
English Bulldog Breeder Details
3. Honorable English Bulldogs California
As a family breeder, the team at Honorable English Bulldogs is dedicated to providing families with quality English Bulldogs. After their own journey of finding a reputable Bulldog breeder for their dog, they sought out the opportunity to share the love of English Bulldogs with other dog enthusiasts.
Through their small English Bulldog breeding operation, they seek to spread the opportunity to add Bulldogs into loving and caring homes. Puppies from Honorable English Bulldogs come equipped with resources and information you can be confident in. They have a veterinarian health certification as well as a health guarantee for one year. Their English Bulldog puppies in California have also received all needed vaccinations and a deworming process.
Their puppies are also microchipped and registered with the American Kennel Club (AKC). To help them grow strong and healthy, these puppies also come with a NuVet sample. As you welcome your new puppy home, the team at Honorable English Bulldogs will also be available to answer your questions and concerns regarding your English Bulldog.
English Bulldog Breeder Details
4. Sandov's English Bulldog California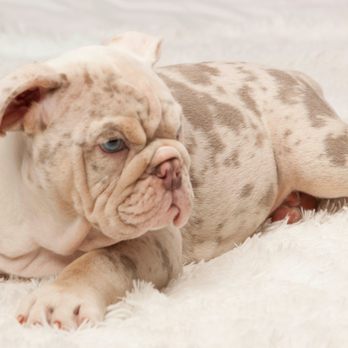 When you're ready to add an English Bulldog puppy into your home, the team at Sandov's English Bulldogs makes it easy. Through their easy to use waitlist, you can explore prices and determine if now is the right time for you to to get an English Bulldog puppy. Their prices vary on the color and style of the English Bulldog, which you can view beforehand as well.
Each of their English Bulldog puppies in California comes with vaccines and the puppy's health record. They'll also have their deworming and all dogs are veterinarian checked so you don't have to worry about the health of your puppy.
In addition, Sandov's English Bulldogs breeds with some of the highest-quality champion dogs as they seek to improve the bloodline and provide families the best possible English Bulldog puppies.
Sandov's English Bulldogs also comes with insight and resources in finding the best dog food for them to grow with, as well as offering products right from their website. They also offer additional resources about breeding English Bulldogs, things to know about English and French Bulldogs as well as tracking their litters. We think this is a reputable 
English Bulldog Breeder Details
5. Seaside English Bulldogs California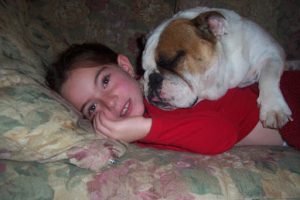 As a small, family-owned operation, the love and passion for English Bulldogs is very apparent with this breeder. Their breeding practices emphasize the health and safety of their female dogs in the breeding process.
As they only have a few dogs at a time, they have a limited quantity of litters but they believe their quality makes up for their quantity. Their English Bulldog puppies are raised in their home in Northern California, surrounded by kids and other dogs.
All of their English Bulldogs are AKC registered. In addition, you can reference their veterinarian for more information on the health of their dogs.
If you're interested in purchasing one of their puppies, you can submit a deposit to save your spot on the waitlist. Their price of one of their English Bulldog puppies in California depends on several factors like color and demand. While they can run a little expensive, their health and confidence in good genetics can be worth it in the long run.
English Bulldog Breeder Details
Adding an English Bulldog Puppy to Your Family in California
With its adorable face and loyal personality, an English Bulldog can be a great addition to your home and lifestyle. With its well-known, loved face, and strong build, the English Bulldog will both walk with you and curl up in your lap. Its wrinkles and loud breathing are characteristics you can't help but love.
If you're searching for an English Bulldog puppy for sale in California, this quick list of available breeders can set you in the right direction of finding a reputable breeder. Be sure to do your research in caring for your new puppy so you can welcome them in with confidence and joy.
Conclusion for Best English Bulldog Breeders in California
English Bulldogs puppies have become incredibly popular in California. With so many puppy mills to be aware of, you'll need to do a significant amount of research to ensure that you find a reputable breeder. We have compiled a list of English Bulldog breeders in California to help guide you in finding the right puppy. We always recommend that you reach out to the breeder, ask for health checks, visit the facilities, and ask lots of questions before purchasing your puppy!
Other articles to check out:
Garrett loves animals and is a huge advocate for all Doodle dog breeds. He owns his own Goldendoodle named Kona. In addition, he volunteers at the Humane Society of Silicon Valley, where he fosters dogs and helps animals. Garrett enjoys writing about Doodles and believes that dogs can teach humans more about how to live than humans can teach a dog.
Why Trust We Love Doodles?
At We Love Doodles, we're a team of writers, veterinarians, and puppy trainers that love dogs. Our team of qualified experts researches and provides reliable information on a wide range of dog topics. Our reviews are based on customer feedback, hands-on testing, and in-depth analysis. We are fully transparent and honest to our community of dog owners and future owners.