If wiggling butts don't make you crack up, you might need to reevaluate whether you want a Pitbull. For many people, the term PitBull is used to refer to a diverse group of bully breeds. These breeds include the American PitBull Terrier (APBT), the Staffordshire Bull Terrier, the American Staffordshire Terrier, Bull Terrier, Stuffawler, Colby, Chamuco, Johnson among others.
For Pitbull lovers, the excellent temperament, loyalty, and outgoing nature of these canines make them a favorite household member, companion, and service dog. If you have your heart set on getting a Pitbull in California, you're in the right place. We've done a lot of our own independent research to verify that these breeders aren't a puppy mill or backyard breeder. Here's a list of the top 6 PitBull Breeders in California.
1. Anderson Pitbulls California
Anderson Pitbull is a family-based Pitbull breeder in Northern California. They pride themselves in breeding the best bullies in the world. They breed and raise their dogs to be the best family pets with nonaggressive temperaments and personalities.
Anderson Pitbull works with you to ensure that they match you with the best Pitbull, whether you're looking for a service dog, athletic running partner, show dog, or a couch potato. They also have Pitbull puppies for sale in California in almost every color. Some of their previous breedings have included the following coat colors: Tri-color PitBull puppies, Rednose Pitbull puppies, and Blue Nose Pitbull puppies.
The breeder carefully plans their Pitbull breedings based on the best bloodlines that exhibit excellent temperament, health, function, structure, and beauty.
Anderson Pitbull ships their Pitbulls across the U.S. and some international areas not just in California homes. You'll have to pay for the transportation costs, but you'll be buying a healthy and happy Pitbull from a reputable breeder.
Pitbull Breeder Information
2. Riverside County Pitbulls in Southern California
Riverside County Pitbulls is the home of huge Pitbulls like the Bane. They specialize in XL and XXL Pitbull bloodlines such as Butthead, Ganghis Kon, and Iron Cross Bloodlines. They have some of the best blue nose Pitbull puppies and tri-color Pitbull puppies in California.
Their breeding program is dedicated to improving the breed and the Pitbull's reputation. They do this through selectively breeding for superior intelligence, excellent health, mellow temperament, natural working ability, and big sizes. Not every Pitbull needs to have the reputation of being overly aggressive and hurting other dogs. Each Pitbull puppy costs around $2,500 from Riverside County Pitbulls in Southern California.
Pitbull Breeder Information
3. California Pits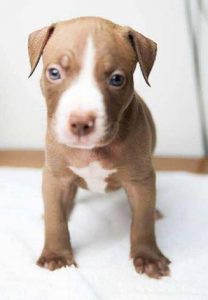 For the past 38 years, Tekla Castillo has been breeding top-notch American Pitbull Terriers. Tekla is the world-famous originator of the Castillo Pitbull Bloodline.
The canine has the best line bred Grand Champion and Champion UKC Purple Ribbon bloodlines you will come across. Their Pitbull puppies in California make excellent guard dogs, show dogs, or family pets.
Tekla Castillo of California Pits has every sire and dam undergo extensive health testing to determine their health and generational health. The Pitbull puppies are raised on a 24/7 watch and socialized with adults, children, and other animals. You can rest assured that your puppy will come well socialized from a loving environment.
For information on pricing and shipping, please contact Tekla on the details below. California Pits is one of the oldest Pitbull breeders in California that we could find.
Pitbull Breeder Information
4. Strongside Bullies in California
Strongside Bullies is an American bully breeder in Southern California. The breeder specializes in short pocket American Bullies.
Pocket Bullies are the more compact American Bully and shorter. They trace their foundation bloodline to the Razors Edge. Strongside Bullies, however, does out-cross with other bloodlines such as Miagi blood, Daxline, Gottiline, and Bullseye in their Pitbull breeding program.
Strongside Bullies' primary goal is to produce healthy, happy, and mellow temperamental American Bullies that will excel in a family environment. Their adult Pitbull dogs undergo extensive genetic and overall health testing before they are admitted into the breeding program. The dogs are cleared of any illnesses to give way to produce a sound puppy.
All their Pitbull puppies in California come with an ear crop, UKC/ABKC registration papers, deworming, 2 sets of vaccinations, and microchipped upon request. Strongside Bullies ships to any state in the U.S for $400. They also ship worldwide depending on the circumstances. All Pitbull puppies are shipped at 9 weeks old. If you're looking for an American Pitbull breeder in California, this could be your breeder!
Pitbull Breeder Information
5. Bossy Kennels California
Bossy Kennels is a premiere Pitbull breeder in California. They breed and sell bully style Pitbull puppies from famous and worldwide bloodlines. Their Pitbull breeding program is structured to produce tall, short, and medium-sized wide XXL Pitbulls.
Their adult Pitbulls are cleared for any health and genetic conditions as well as come UKC registered. You can view their upcoming Pitbull breedings on their website and also check if they have any puppies available.
Bossy Kennel's ships to different states and internationally. Domestic shipping is $550 while international shipping is $600+ depending on your location. The breeder prices their Pitbull puppies according to the dog, coat color, and litter pick. A 3rd pick male will range between $8000 to $10,000. 4th Pick Male will range between $8000 to $9000. 1st Picks cost upwards of $25,000. This is of one the most expensive Pitbull breeders in California, but they do have great dogs.
Pitbull Breeder Information
6. Empire Bully California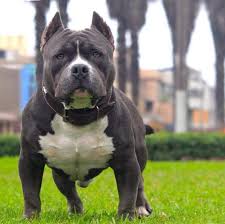 Empire Bully California is the premier breeder of pocket American bullies and XXL Pitbull Terriers. The Southern California breeder aims for health, correctness, structure, and temperament. All of their blue Pitbulls are UKC registered and purple ribbon which means they are of high quality. Their aim is to improve the overall Pitbull breed and preserve the finest worldwide bloodlines.
This Pitbull breeder ships their puppies all over the United States and abroad in countries such as China, Italy, Turkey, Netherlands, Philippines, South Africa, Brazil among others. Every Pitbull puppy comes with a 2-year health guarantee with UKC registration. 
Pitbull Breeder Information
What you should know before getting a Pitbull Puppy in California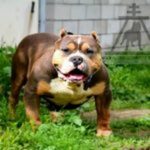 The Pitbull is not your typical dog. Many people who purchase a Pitbull end up discovering that they aren't cut out for Pitbull ownership. By this time, they have wasted their time and money. Before bringing a Pitbull puppy into your family – here are 4 things you should know.
1. Do your Pitbull homework
Before purchasing a Pitbull puppy in California, do extensive research. This is the only way to avoid problems and surprises in the future. Extensive research will help you prepare for your life with a Pitbull, understand a Pitbull's nature, and select the right Pitbull for you from a breeder like the one on this list or from a rescue. Ideally, you'll want to find a Pitbull breeder in California that does genetic health testing to ensure that you are purchasing a healthy dog.
2. Pitbulls are hands-on
You will need to spend a lot of time with your Pitbull. Pitbulls love to be up and about. They enjoy chewing, digging, and lots of exercises. Boredom brings a ton of problems. Remember, these canines are active animals who have a lot of energy. If that energy is not channeled properly, you might have a Pitbull that jumps on people, paces, and even bites.
You will need to dedicate a lot of time to training and socializing your Pitbull when they are young. Early socialization and training will help control and curb tendencies such as dog aggression. You must also ensure you supervise your Pitbull at all times. This majestic canine is an escape artist who can get out of any enclosure and roam free if you leave it unattended.
3. Stringent Laws
In certain states, Pitbull ownership is subject to certain rules and regulations. This may include a certain length on a leash or even a complete Pitbull ban. Many insurance companies will even drop you and deny coverage if a Pitbull is in the area. To avoid this, learn about what your state and insurance say about owning a Pitbull.
4. Puppy mill or ethical Pitbull breeder?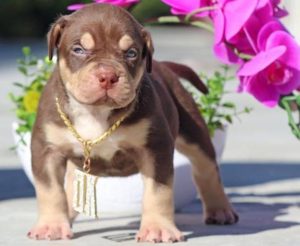 There are tons of breeders who specialize in bully breeds in California. Some are selective, ethical, and dedicated people who produce the best Pitbulls, carefully screen their puppy's future lifetime homes, and keep in contact with the new puppy owners throughout the Pitbull's life.
For others, it is a means to an end. As long as they get a paycheck, they couldn't care less. Check for reputable breeders on dog publications, national breed clubs, and the internet. Your research will help you here.
Conclusion for Pitbull Breeders in California
This list is a guide to help you identify Pitbull breeders in California. Don't rush to make a deposit or commitment before you know what you're working with. Do your homework to avoid problems down the road. Also, make sure you do your research on which type of Pitbull breed that you want.
Other articles you might like: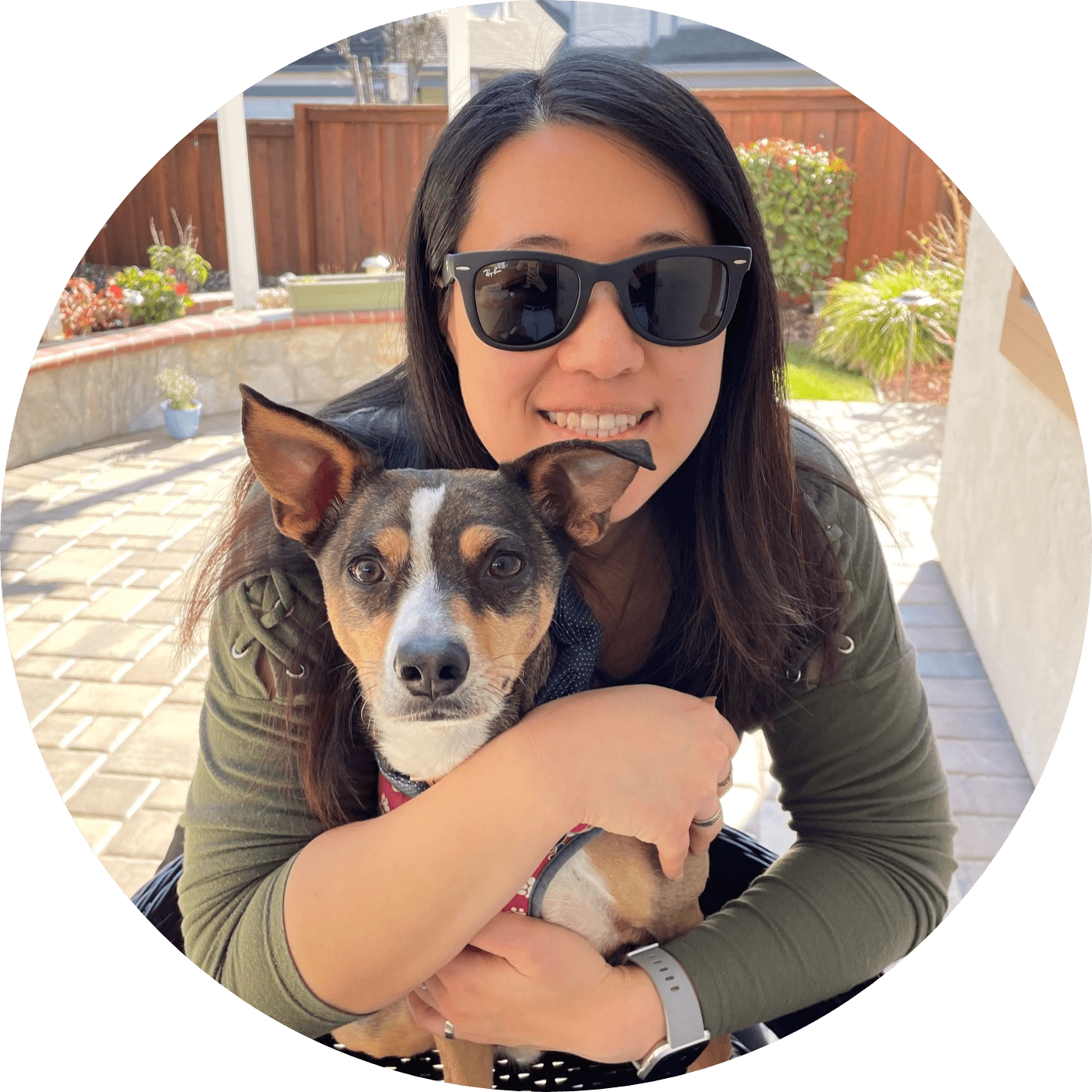 Dr. Sabrina Kong graduated from the Royal Veterinary College in England in 2016 and has been working at a small animal clinic in Northern California since then. She grew up in the Bay Area and got her bachelor's degree from Cal Poly San Luis Obispo. She also became a Certified Canine Rehabilitation Practitioner through a program at the University of Tennessee.
When she isn't in the clinic taking care of her four-legged patients, she enjoys traveling and trying new foods with her friends and her three-legged dog, Apollo. She adopted Apollo from her clinic when he was a puppy with numerous health issues. Dr. Kong truly cares about taking care of animals.