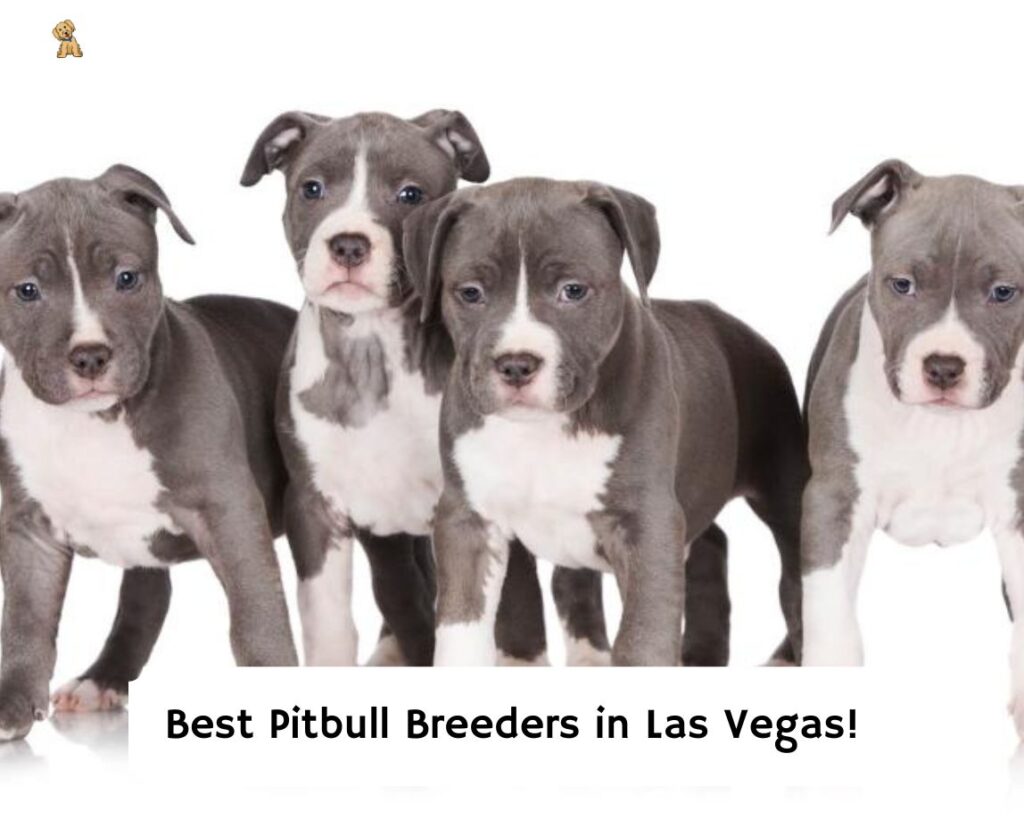 Looking for Pitbull breeders in Las Vegas? Don't know where to start? It's okay, we've got you covered! We're here to help you find your next canine companion. 
For those of you who aren't familiar, Pitbull is an "umbrella name" that covers the following breeds: the American Pitbull, the Staffordshire Bull Terrier, the American Staffordshire Terrier, and the American Bully.
The Pitbull has a pretty rough reputation but rest assured! You can find reputable breeders who will raise healthy, well-tempered dogs, ideal for family life. Here's a lit of the best sources for Pitbull puppies in Las Vegas. 
Before you scroll down this list of Pitbull breeders in Las Vegas, you can check out these other recommendations from our team at We Love Doodles: Shih Tzu Puppies in Las Vegas and Cocker Spaniel Puppies in Las Vegas.
Pitbull Puppies For Sale in Las Vegas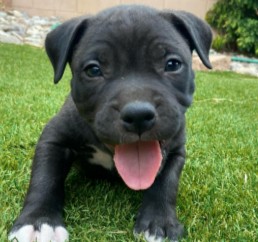 Pitbulls that are raised in less-than-ideal environments can become aggressive, but a Pittie from a responsible breeder – and that has had good training – can be a great family pet. The dogs are energetic, eager to please their humans, and loving. 
The dogs aren't as aggressive as their reputations would imply, but you'll need to find a responsible breeder to raise your pup. Here are the most trusted Pitbull breeders in Las Vegas. 
Pitbull Product Recommendations: Best Shock Collars For a Biting Puppy and Best Dog Bowls Made in the United States.
1. Sin City Pits
Sin City Pits is located in Las Vegas, but you can have your puppy shipped to anywhere in the United States. Sin City Pits is a compassionate breeder that breeds the cleanest, biggest, best lines of American Pitbull Terriers. 
The kennel has been in operation since the late 90s, and they have vast experience in raising quality puppies. Health, muscular builds, size, and looks are their areas of focus, and they have studied the unique health concerns of the breed in order to avoid them. 
Pups have non-droopy, clean blocky, tight skin and sinister heads. All their dogs are APBR and UKC registered as American Pitbull Terrier (APBT). This breeder continues to enhance its operation with knowledge, dedication, and research to ensure its breeding program keeps getting better.
They breed and raise their Pitbulls with the respect and love of family members. The breeder also pays close attention to the health of the pups. The pups have stable characters and family-oriented personalities. Sin City provides its puppies a suitable setting to help them socialize. They have enough space to play and the best environment to grow.
Sin City Pits Details
2. Nevada Kennels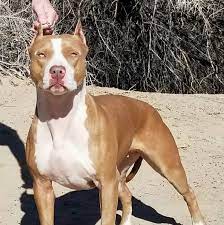 Nevada Kennels is dedicated to producing fine-quality American Pitbull Terriers. This kennel has been breeding, raising, and showing UKC-registered Pitbulls since 1979. They are one of the oldest Pitbull breeders in the state of Nevada. Nevada Kennels has many sires and dams. All their dogs are UKC registered and tested for different health conditions.
Their dogs are cardiac clear by auscultation and cleared for breeding by a cardiologist. They are DNA tested and cleared for Neuronal Ceroid Lipofuscinosis 4A (Ataxia), Degenerative Myelopathy, Progressive Retinal Atrophy, Cone-Rod Dystrophy 1 & 2. With more than six dams, this breeder always has available puppies.
Nevertheless, they allow the dams to rest for months before breeding again. You can read about their sires and dams on their website, including their health information. This breeder does not hide anything regarding the health of its dogs and puppies. If there are no available pups on their website, contact them to join the waiting list for the upcoming litter.
The only requirement to join the waiting list is to make the initial deposit. Licensed vets also examine the puppies before joining their new families. Your puppy will come with a complete health report, which you are expected to take to the vet for confirmation. The puppies from this breeder come with a one-year health guarantee.
The breeder is responsible for any genetically-induced severe illness within the guarantee period. However, the chances of experiencing such are slim, as this breeder has an outstanding record of producing perfectly healthy puppies. Furthermore, they spend quality time with the dogs and puppies, helping build their behavioral and socialization skills.
Your puppy will come home bold and friendly. The breeder also provides basic command, potty, and crate training. Hence, you will go home with a semi-trained and well-socialized Pitbull puppy with perfect health and excellent temperament. You can also arrange with them to ship your puppy to any state you want.
Nevada Kennels Details
3. Garcia Kennels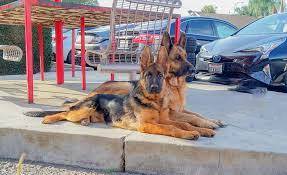 Garcia Kennels is a small kennel dedicated to breeding and raising American Pitbull Terriers. This kennel is located in Las Vegas, but its services extend to other parts of the state and beyond. The puppies from this breeder have excellent temperament, power, and athletic ability.
They are ideal for sports dogs, watchdogs, security dogs, and companions. Their bloodlines consist of Chevy, Redboy, Chinaman, and Camelot. Garcia Kennels registered their dogs through UKC and ALBA. The goal of this breeder is to contribute to this dog breed by showing the dogs as loyal pets instead of "media-induced beasts."
You have to make an initial deposit to secure your puppy. The deposit is non-refundable. Nevertheless, you can transfer the deposit to another litter. You must also pay all deposits in full on or before the pup turns seven weeks of age. The breeder releases its puppies at seven weeks of age. However, those who made shipping arrangements will get their puppies at eight weeks (minimum shipping age).
All puppies sold will be on up-to-date vaccinations and worming. They come with a health certificate to show their current health state. This breeder knows the importance of training Pitbulls early, so they start their training at three days old. They train the pups to be friendly with kids, adults, and other pets. The puppies also undergo potty and crate training.
Garcia Kennels Details
4. High Line Kennels
Last on the list of the best Pitbull breeders in Las Vegas is "High Line Kennels." This kennel is located in Los Angeles, CA, but they can ship your Pitbull puppy to you wherever you are in Nevada. You can rely on this breeder if you are looking for purebred American Pitbull Terriers. They started breeding Pitbulls in 2000, with more than two decades of experience producing and raising this breed.
High Line Kennels is a family-based kennel, and the entire family contributes to the breeding program's success. They breed for maximum features in large brick-shaped heads, good muscle definition, incredibly thick bodies, and more. The breeder strives to produce super healthy and happy puppies for families in the state and beyond.
The main bloodline of this breeder is Razors Edge, but they also use other traits and features from other bloodlines to enhance their breeding program. High Line Kennels is careful about who they sell their puppies to, as they do not want their dogs to be used for illegal purposes. They also work on the behavioral and social skills of the dogs. However, most of the training tasks are left for you to complete.
High Line Kennels Details
Conclusion For The "Best Pitbull Breeders in Las Vegas"
Pitbulls are large breed dogs that require attention, training, and care. If you have decided to settle for this dog breed, ensure you conduct extensive research to know how best to care for them.
They have unique nutritional and health needs, so you want to prepare yourself emotionally and physically for that. However, you will have a great and easy start with your new canine friend when you buy them from the best Pitbull breeders in Las Vegas.
For more guides similar to this list of Pitbull breeders in Las Vegas, you can check out:
Before bringing home a Pitbull companion from a breeder in Las Vegas, you can learn more about this dog breed by watching "Types of Pitbull Breeds That Are Popular Today" down below: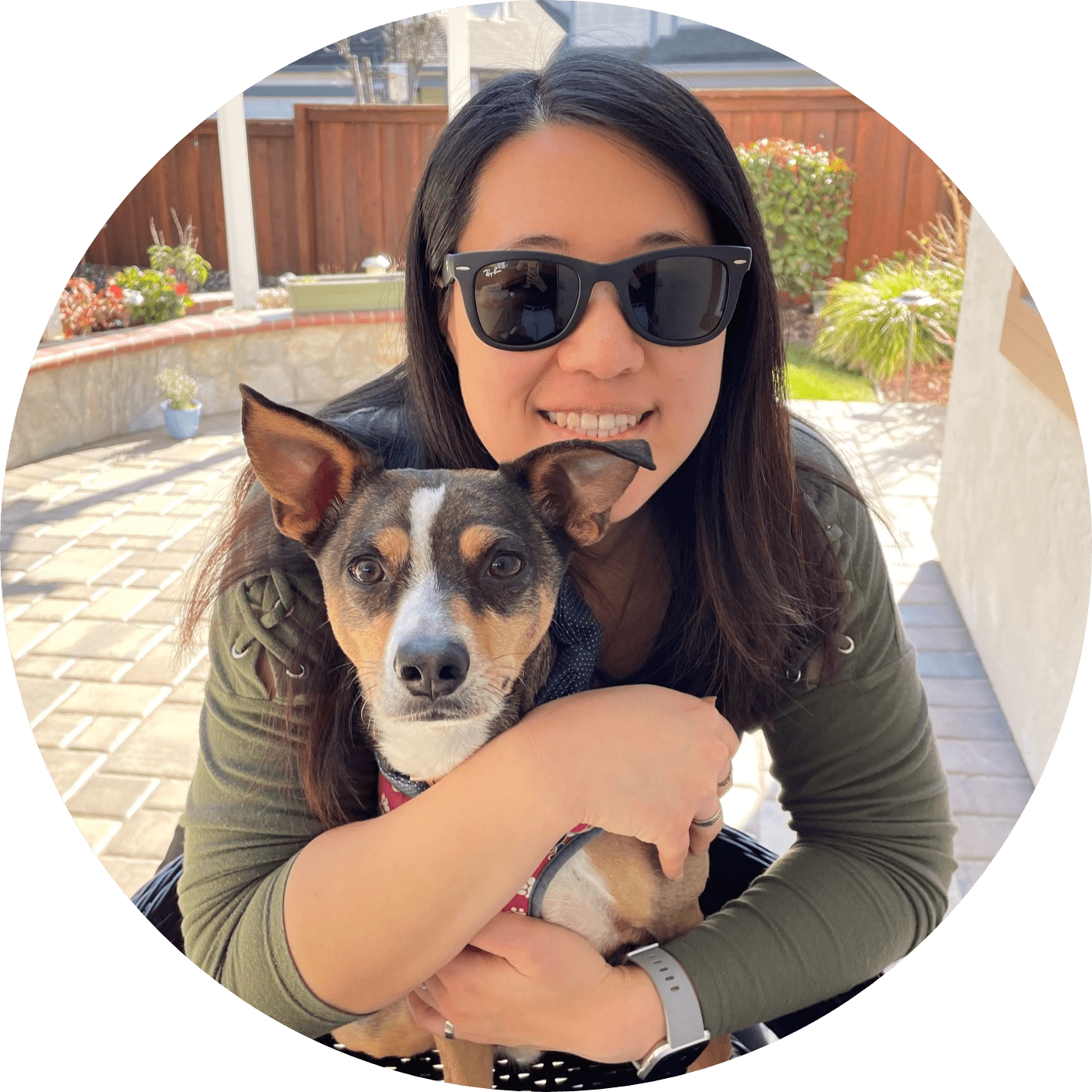 Dr. Sabrina Kong graduated from the Royal Veterinary College in England in 2016 and has been working at a small animal clinic in Northern California since then. She grew up in the Bay Area and got her bachelor's degree from Cal Poly San Luis Obispo. She also became a Certified Canine Rehabilitation Practitioner through a program at the University of Tennessee.
When she isn't in the clinic taking care of her four-legged patients, she enjoys traveling and trying new foods with her friends and her three-legged dog, Apollo. She adopted Apollo from her clinic when he was a puppy with numerous health issues. Dr. Kong truly cares about taking care of animals.