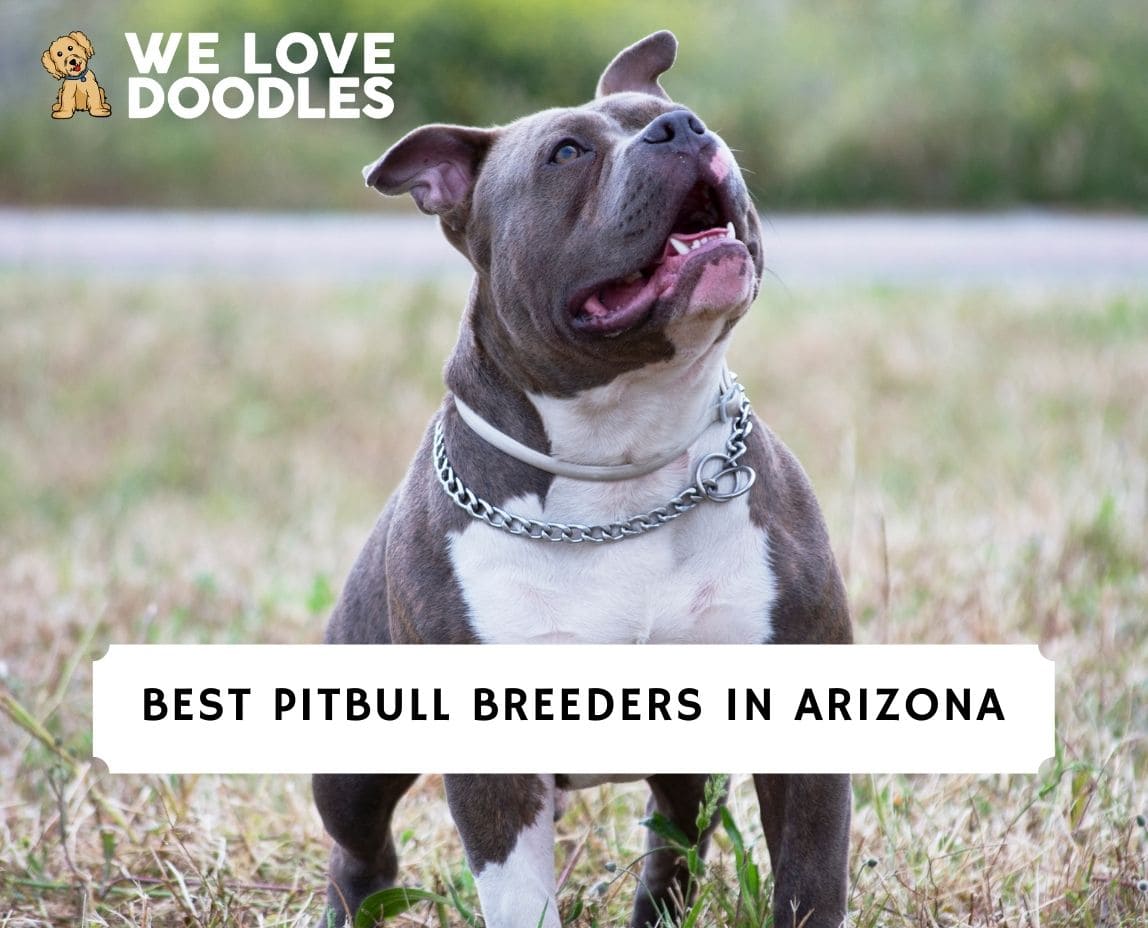 Here's what you need to know if you're searching for the best Pitbull breeders in Arizona. Protective, faithful, loving, and loyal are all qualities of the Pitbull. The Pitbull was initially bred to bait bulls but later evolved into farming dogs and are now considered family dogs.
The Pitbull can be overly protective of babies and children, ensuring their safety. There are a few misconceptions about Pitbull, with bans in a few states fueling the stereotypes.
An adequately bred Pitbull is obedient, fun-loving, and protective in the face of danger. The strength and agility of the Pitbull make them the perfect show dogs. If you're looking to adopt this breed, you'll benefit from knowing the top Pitbull breeders near you.
Before scrolling down this list of Pitbull breeders in Arizona, check out these other recommendations from our team at We Love Doodles: Best Dalmatian Breeders in Arizona and Best Maltese Breeders in Arizona.
Pitbull Puppies For Sale in Arizona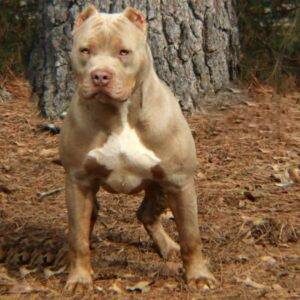 Pitbulls are used in weight-pulling competitions, showcasing intelligence, strength, memory, and training ability. A good Pitbull makes for excellent human companions due to its fun and loyal character. Here's a list of reputable breeders in Arizona for Pitbull lovers.
Pitbull Product Recommendations: Best Toyota 4Runner Dog Barriers and Best Go Pro Dog Harnesses.
1. Canyon Pits
Canyon Pits is a small kernel located in Arizona and run by Alex and Kirk. It is a family-orientated dog breeding program focused mainly on breeding American Pitbull Terriers and American Bully puppies. The dogs are raised in a social environment where they are constantly exposed to children and adults.
As a result, the puppies are family-friendly and social. All the dogs are duly registered with the United Kennel Club (UKC) and American Bully Kennel Club (ABKC). Canyon Pits aim to produce the best quality American Pitbull Terriers and American Bully puppies.
Their website contains pictures of their dogs and all their contact details. You can reserve a puppy for $500, which is non-refundable but can be transferred to a different breed. If you are in the market for a quality Pitbull, you should check out canyon pits. You can quickly contact the owners by emailing them, calling them, or messaging their social media.
Canyon Pits Details
2. King of Bullys
"King of Bullys" is a well-known premium dog breeding program in Phoenix, Arizona. Their breeding program includes American Pitbull terrier, French bulldog, and English bulldogs. King of Bullys has spent years of careful and expert selective breeding to produce the best well-bred Pitbulls.
With a total commitment to research, development, and improvement of their dogs, they have succeeded in being one of the best. Their Pitbulls are easily identified by their big bones, bullish-styled, broad frames close to the ground. The dogs are designed to be quiet, indoor, sitting on the couch.
Not the hot-tempered ones, which could tear up your home because you didn't take them for their daily walk. Their Pitbulls possess the recessive blue gene, producing the highly coveted blue nose when properly bred. The puppy is constantly dewormed and vaccinated against infections until they are sold.
None of the puppies are fed supplements to achieve the best natural look. The puppies are ready to be shipped once at least six weeks old. All their dogs are correctly registered with the American Kennel Club (AKC), United Kennel Club (UKC), and American bully kennel club (ABKC).
The price of their puppies varies between $1,000 to $6,500 depending on various factors, such as breeding, stud fees, and shipping. King of Bullys requires a $500 holding deposit to reserve any puppy or other breeding. But if you are looking to buy other breeds of a Pitbull, you can still contact the king of puppies. King of puppies would help you reach other breeders that breed different-styled dogs.
If you want to buy the thickest, bulliest Pitbull, the King of Bullies is your best choice. King of Bullys sells puppies all over the united states and also ships to select overseas countries. Click on their website to know all about the program and see pictures of their Pitbulls. You can contact them directly by their contact telephone, email, or by writing to their postal address.
King of Bullys Details
3. Crump's Bullies, LLC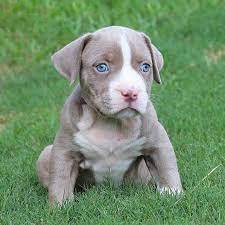 Crump's Bullies, LLC is located on a ranch on the city's outskirts. It is an organization that started breeding quality Pitbulls and American bullies in 2012. Puppies raised by Crump's Bullies are exposed to different social experiences, from family events to traveling.
Their Pitbull puppies possess the most desirable traits every dog lover seeks when buying a dog. The dogs are healthy, beautiful, happy, and possess outstanding temperaments. Crump Bullies offer you mean looking Extreme, XL, or XXL American bullies. The breeders are selected from the best and most sought bloodlines worldwide.
Some of their dogs include highly-rated United Kennel Club (UKC) and American Bully Kennel Club (ABKC) champions. The fully vaccinated puppies are ready to be shipped out once they are eight weeks old. A deposit of $500 which is non-refundable, is required to reserve a puppy if the puppy is younger than eight weeks.
The price of their Pitbull puppies is pretty high, starting from $3,500 and above, depending on the buyer's preferred breed. Crumps's bullies ship their puppies to Arizona and different parts of the country in perfect health conditions.
If you want some of the most extreme XL Pitbulls, then crump's bullies are the right choice. You can contact them by clicking on their website and filling out an online form. Their regular business hours are from 7:00 am to 11:59 pm every week. You can also call or text their phone within working hours. There is a $500 discount for active or retired military personnel.
Crump's Bullies, LLC Details
4. Gatorback Kennels
Gatorback Kennels is a family-run and managed dog breeding program started in 2003. The dogs are bred in the desert of Arizona on a 4-acre desert. Over the years, they have focused on producing some of the finest XL bullies. They are among the best, with a complete commitment to strategic selective breeding, research, and being active in the community.
The Pitbulls are athletic and bright while having the best physical structure. At Gatorback Kennels, they work with each dog individually and set out to find what motivates each dog individually. The result of the research with each dog is analyzed and shared with the relevant community to create awareness.
Gatorback Kennels emphasize acquiring puppies from the most reputable and skilled breeders around the country. They are known for their rare Kamo X Vida and Kamo X Halle XL Pitbull breeds. Gatorback Kennel has built a sterling reputation, as shown by its 4.7 user rating on Google. They also provide a Pitbull store where all pet products like collars, leashes, pets, and more can be easily bought.
Gatorade Kennels is easily the most popular Pitbull breeder in Arizona. Their Pitbull can be pretty expensive, with the XL Pitbull having a price range of $5,000 to $7,000. You can quickly contact Gatorade Kennel by clicking on their website and having a live chat with their online support. Subscribing to their newsletter is an excellent way to be up to date with the newest dogs in their stock.
Gatorback Kennels Details
5. Bully Pride of Arizona
Last on the list of the best Pitbull breeders in Arizona is "Bully Pride of Arizona." Bully Pride of Arizona is a dog breeding, bully advocacy, and resource sharing center. Founded by Monique in 2015, they have become one of the most prominent dog advocacy groups. They run a campaign to stop dogfighting and improve the image of Bulldogs.
Bully Pride of Arizona offers breeder referrals, provides Pitbull training classes, and promotes dog adoption. There is limited information about their activities online, but satisfied customers have positive reviews. You can contact them by clicking on their website and chatting with the online support through the contact tab. Their email is also an excellent way to get in touch with them.
Bully Pride of Arizona Details
Conclusion For The "Best Pitbull Breeders in Arizona"
There are many Pitbull sellers in Arizona. The number of fake pages online has skyrocketed over the past decade, making it tough to find a reputable breeder. Ensure your desired breeder is registered with the United Kennel Club (UKC) and American Bully Kennel Club (ABKC).
You can also check out the testimonies of past customers before buying from a breeder. A trusted breeder is an absolute priority. Lastly, do extensive research on the dogs' temperament and the breeder's reputation. A good Pitbull makes for an exceptional addition to your family.
For more guides similar to this list of Pitbull breeders in Arizona, you can check out:
Before you bring home a Pitbull puppy from a breeder in Arizona, you can learn more about the breed by watching "Tips For First Time Pitbull Owners" down below:
Garrett loves animals and is a huge advocate for all Doodle dog breeds. He owns his own Goldendoodle named Kona. In addition, he volunteers at the Humane Society of Silicon Valley, where he fosters dogs and helps animals. Garrett enjoys writing about Doodles and believes that dogs can teach humans more about how to live than humans can teach a dog.
Why Trust We Love Doodles?
At We Love Doodles, we're a team of writers, veterinarians, and puppy trainers that love dogs. Our team of qualified experts researches and provides reliable information on a wide range of dog topics. Our reviews are based on customer feedback, hands-on testing, and in-depth analysis. We are fully transparent and honest to our community of dog owners and future owners.