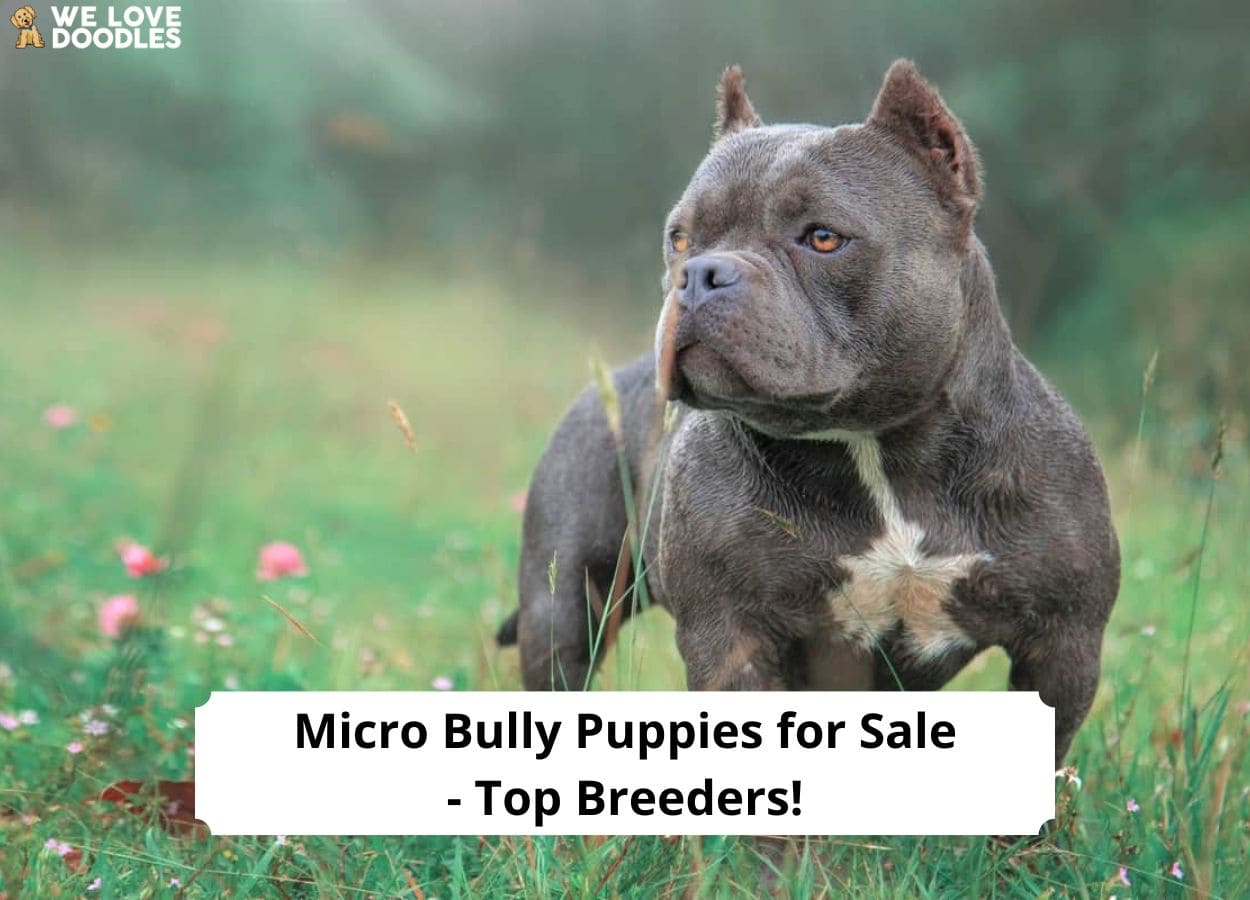 Looking for a comprehensive list of breeders offering Micro Bully puppies for sale? You're at the right place. This blog post will give you a thorough overview of the most reliable Micro Bully breeders, plus tips on choosing a responsible dog breeder.
Imagine the American Pitbull: 21 inches tall, 35–120 pounds of pure muscle, alert eyes, and fierce expressions. Now imagine the same dog in a smaller size, and you'll get the Micro Pitbull.
At 13–16 inches tall and 25–50 pounds, the Micro Bully is considerably smaller than the classic or Standard American Pitbull. Despite the reduction in size, the Micro Bully possesses most of the prized Pitbull qualities, such as courage, tenacity, and empathy.
Given these qualities and the more manageable size, Micro Bully dogs make great companions for people with anxiety, PTSD, and autism. Their empathic and caring nature provides comfort and calmness.
In theory, Micro Bully dogs could cost about the same as regular-sized dogs — but they are harder to find as only a handful of breeders are raising them. If you are in search of a genuine and ethical breeder to adopt a Micro Bully puppy, check out the detailed list of breeders provided below:
Before scrolling down this list of breeders with Micro Bully puppies for sale, check out these recommended articles: Pocket Bully Puppies For Sale: Top 5 Breeders! (2023) and Bully Puppies For Sale: Top 5 Breeders! (2023).
1. Southeast Bully Kennels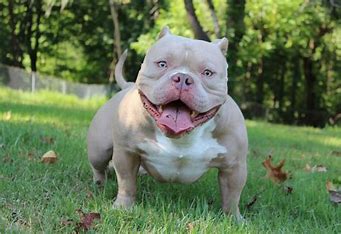 Southeast Bully Kennels produced Block Bloodline Bullies, and their 'extreme' body type American Bullies compete in the Pocket, Micro, and XL categories. This organization is widely acknowledged as the leading breeder providing Micro Bully puppies for sale.
Southeast's Block Bloodline Bullies consistently produce high-quality results in the breed due to their exceptional and consistent genetics. All the Bullies you see on their website — and social media — are solely from this breeder.
They are located near Charlotte on the border of South Carolina and North Carolina, but they transport the Bully pups and provide stud services for Pocket Bullies, Micro Bullies, and XL Bullies worldwide. Their breeding program includes many of the most successful studs and dams in the American Bully and Exotic Bully communities.
Each of their American Bullies is registered with the American Bully Kennel Club. The breeder requires a $1,000 non-refundable deposit for Bully puppies in standard colors and a deposit worth half the cost of a dog for unusual or exotic colors.
Deposits are non-refundable and applied to the purchase price of your bulldog puppy. The kennel will resell the dog if the Bully puppy's deposit is received after he is six weeks old.
The ears are tucked behind the puppy's head at around seven weeks, and the puppy is ready to go home at around eight or nine weeks. Local and international door-to-door shipping is available, so contact the breeder for more details.
Southeast Bully Kennels Details:
2. Venomline – Texas Size Bullies
Venomline – Texas Size Bullies produces some of the biggest and smallest Pitbulls in the USA, yet their dogs have a stellar reputation for health and conformation. Despite their small stature, their Micro Bullies have strong bones, broad chests and shoulders, short muzzles, and hefty builds.
Unlike most breeders, they do not use the traditional cage-and-run system. Instead of spending the day in kennels, their dogs sleep in beds with the rest of the family. The dogs have exceptional temperaments and are athletic despite their muscle mass and dense bone structure.
Moreover, the puppies also come with a health certificate, ABKC registration paperwork, vaccinations, deworming, and a health guarantee covering any genetic-related issues. All of their dogs have been DNA and health tested.
Although their litters frequently sell out before the puppies are born, you can get a Venomline Micro Bully for sale by reserving a spot in one of their upcoming litters.
For details, you can contact Venomline at any time. If they do not answer the phone, text them, and they will return your call as soon as possible. You can usually expect a response within 24 hours.
A $1,000 deposit is required to reserve any available options. Deposits are non-refundable, but you can put yours toward purchasing another puppy from the same litter or a stud credit.
Venomline – Texas Size Bullies Details:
3. Bully Garage
Bully Garage is a small kennel in Delaware. Here, the breeders exclusively breed companion animals for close friends and family and sometimes have a few pups left over for sale. They have committed to providing high-quality animals at competitive prices, with a focus on breed excellence, temperament, and showmanship.
This organization specializes in American bulldog breeds such as Mini, Pocket, Standard, Extreme, and Exotic. You can purchase a puppy from them if you meet the following conditions:
The buyer must submit a deposit when reserving a puppy. The deposit will be fully reimbursed if Bully Garage cannot deliver the reserved puppy. However, it will not be returned if the adopter backs out at the last minute.
The buyer must submit full payment when the pups are eight weeks old.
The buyer must provide sufficient food, comfortable housing, and veterinary care for the dog.
The buyer must have the financial means to give the dog the appropriate veterinary care. In addition, the customer is responsible for adhering to their veterinarian's vaccination and deworming program.
The buyer is required to give an undertaking that they will keep the dog as a pet only. Moreover, they will not use the dog for dog fighting or any other unlawful purpose. Furthermore, neither the dog nor its children will be sold to any pet store or wholesale canine firm.
Unless otherwise stated, Bully Garage is happy to give breeding rights to the buyer, but they will not assume any responsibility if the dog becomes infertile.
Moreover, Bully Garage will not assume any responsibility if a dog marked "show quality" doesn't turn out to be suitable for shows upon growing up. There is no certainty that a dog will turn out to be a show dog because, before the age of one year, the puppy is still susceptible to change.
If you want to buy a surefire show dog, Bully Garage offers older show-grade puppies for sale that they have tested for compliance with the breed standards at a more suitable age.
Bully Garage offers puppy delivery services throughout the United States. The price varies according to the shipping method; contact the breeder for further details. Cashiers, certified checks (payable to Bully Garage), and credit cards (Visa, Mastercard, Discover, American Express, and PayPal) are the only accepted payment methods.
Bully Garage Details:
4. NWG Bullies
NWG Bullies can sell the Merle Exotic American Bully, Blue Tri Bully, Lilac Tri, Black Trident, and Micro Bully puppies at this kennel. Their popular dog breeds include Bape, Bitcoin, Daxline, Bullseye, and Miagi.
Each puppy has a purchase agreement and a health guarantee, and they offer international shipping and ear cropping. Their puppies are all registered with the United Kennel Club (UKC), American Bully Club (ABKC), British Bulldog Club of America (BBCRA), or United States Bully Registry (USBR).
NWG Bullies have been breeding Micro Bully puppies for sale for nearly 18 years! This company breeds dogs for sale on a global scale.
Here are a few things to keep in mind when buying a puppy from NWG Bullies:
You must take your puppy to the vet within 48 hours of pickup. Don't hesitate to contact NWG as soon as possible if there is a problem; however, they cannot refund veterinary or shipping fees. There are no refunds if you want to return a sick or injured puppy, but they will give you another puppy.
Mild heart murmurs are not a cause for concern. Puppies with heart murmurs are replaced only if they die of heart failure before age two. Inform the breeder if your veterinarian detects a heart murmur during your first visit, as they will need the veterinarian's official word on whether the murmur is significant. Even though NWG's veterinarian examines the puppies before they are shipped, the organizers reserve the right to require the buyer to have them reviewed by another veterinarian at the buyer's expense.
The breeders don't consider Imperfect hip sockets, teeth, or tails to be medical emergencies. Imperfections are common in this breed, so it is now classified as a "Bully" breed.
If your puppy develops a serious illness before six months, get in touch with the breeder immediately for a replacement.
A licensed veterinarian must provide the breeder with written documentation that includes a diagnosis and prognosis for the puppy. While NWG reserves the right to insist on a joint consultation between their veterinarian and yours, their veterinarian will make the diagnosis.
NWG Bullies Details:
How to Find Micro Bully Puppies for Sale in the USA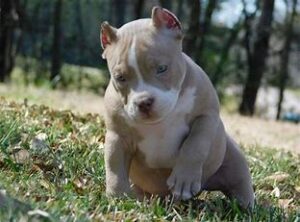 Finding a well-bred Micro Bully breeder can be a daunting task. There are so many bad breeders out there that it's hard to know who to trust.
You need to find someone with a verified reputation for producing high-quality puppies. You should also make sure the breeder is willing to answer any questions you have about their program.
One way to find good Micro Bullies breeders is to look online. Many reputable breeders offer information about their programs on websites like Breeders Referral Network (BRN). BRN is a website that connects dog owners with quality breeders.
You can browse through the listings and find a breeder that suits your needs. Meeting with the breeder before buying a puppy from them is essential. You can also visit their kennel and see the dogs in action, giving you a better idea of what you're getting.
Make sure you ask many questions about the program and the dogs themselves. If you're still unsure whether a particular breeder is right for you, ask other dog owners in your area if they know of any good breeders. Trust your intuition – if something doesn't feel right, it probably isn't!
Frequently Asked Questions
How much do Micro Bully puppies cost?
Brace for some sticker shock — Micro Bully puppies can cost anywhere from $3,000 to $20,000, depending on the color and breeding pair.
How large is a Micro Bully compared to a Pocket Bully?
While both are on the compact side, the Pocket Bully is larger (30 to 50 pounds) compared to the Micro Bully (20 to 40 pounds).
Does the American Kennel Club recognize the Micro Bully?
This small and particularly compact variation is not recognized by the AKC.
Conclusion For "Micro Bully Puppies for Sale – Top Breeders"
This article listed four of the best Micro Bully breeders in the United States. All listed breeders have been breeding Bullies for years, and they produce healthy dogs that conform to the breed's standards.
Outside of this recommended list, be sure to research any prospective breeder thoroughly before making your purchase, as not all breeders are reputable.
For more guides similar to this list of Micro Bully puppy breeders in the United States, you can check out:
Before bringing home a Micro Bully puppy from a breeder in the US, you can learn more about this dog breed by watching "Micro Bully vs Pocket Bully: What's The Difference)" down below: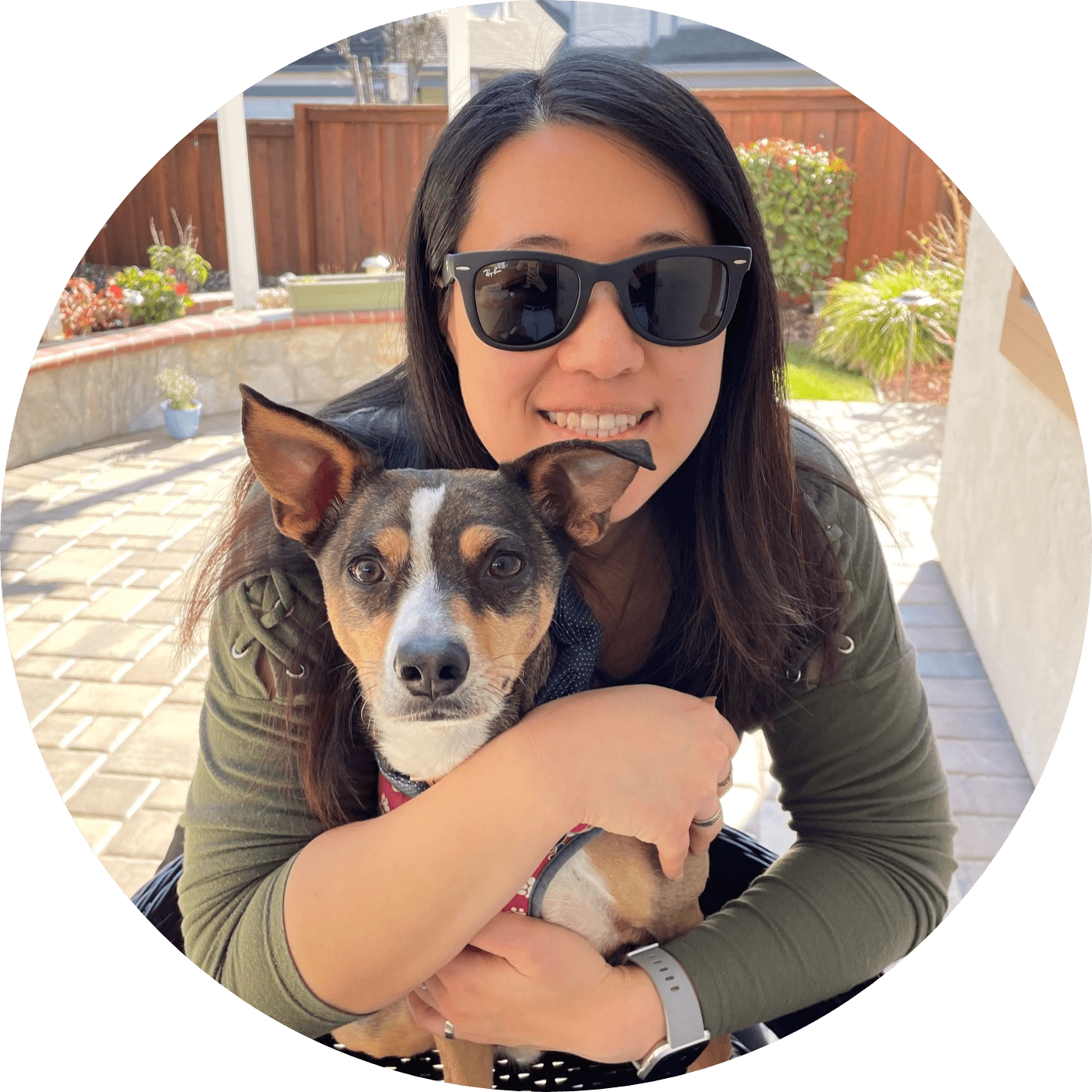 Dr. Sabrina Kong graduated from the Royal Veterinary College in England in 2016 and has been working at a small animal clinic in Northern California since then. She grew up in the Bay Area and got her bachelor's degree from Cal Poly San Luis Obispo. She also became a Certified Canine Rehabilitation Practitioner through a program at the University of Tennessee.
When she isn't in the clinic taking care of her four-legged patients, she enjoys traveling and trying new foods with her friends and her three-legged dog, Apollo. She adopted Apollo from her clinic when he was a puppy with numerous health issues. Dr. Kong truly cares about taking care of animals.