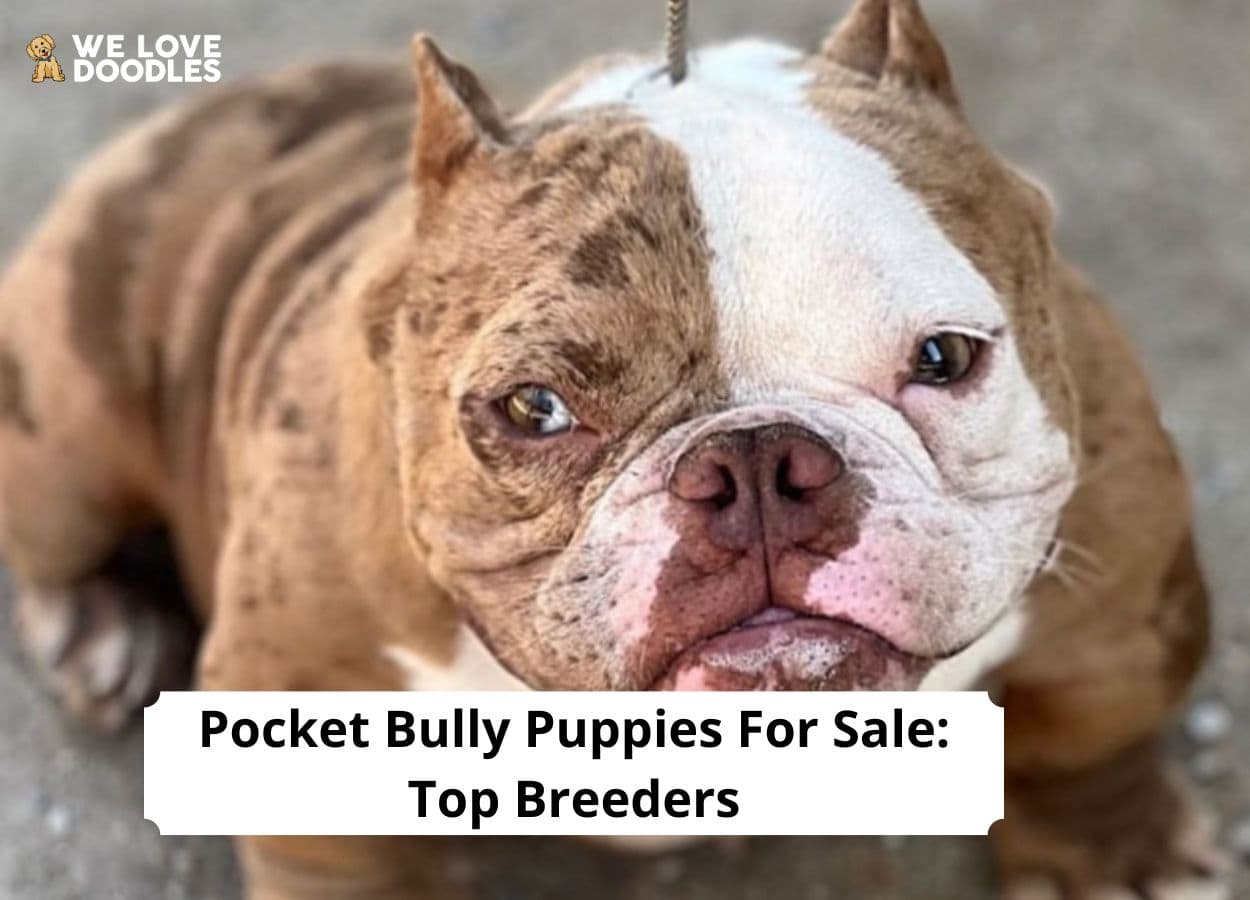 If you're searching for breeders with Pocket Bully puppies for sale in the United States, you've come to the right place. The Pocket Bully is a hybrid dog bred from a Patterdale Terrier and an American Pit Bull Terrier. These dogs make great family companions and pets because they are loving, gentle, and get along with children.
However, Pocket Bullies can become aggressive if mistreated or not socialized properly, so you need to get your puppy from the best breeder. When looking for Pocket Bully puppies for sale, your focus should be on family-owned breeders that adhere to good breeding practices.
Reputable breeders always focus on breeding and raising superior puppies with excellent health and temperament. Another benefit of buying your Pocket Bully from the right breeder is that your puppy will come home socialized and semi-trained.
Socialization is essential for such breeds, and some breeders dedicate a lot of time to socializing their puppies before releasing them to their new families. We've listed some wonderful, ethical breeders from whom you can buy a Pocket Bully puppy.
Before you scroll further down this list of breeders with Pocket Bully puppies for sale in the United States, you can check out these other dog-related recommendations from our team at We Love Doodles: Bassetoodle Puppies in the United States For Sale and Cadoodle Puppies in the United States For Sale.
Pocket Bully Breeders in the United States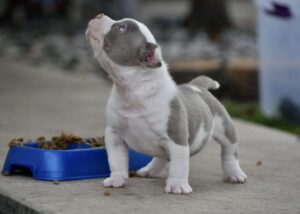 Some of these breeders are widely popular and have high prices. However, it is better to pay a premium price for a premium puppy than buy a cheap puppy and spend a lot of money on vet bills. Here are some of the best Pocket Bully puppy breeders in the United States
Pocket Bully Product Recommendations: Best Dog Steps For Bed and Best Wet Dog Food For Small Breeds.
1. Venomline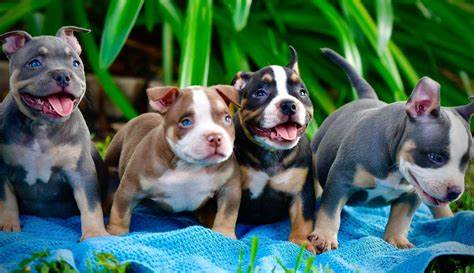 If you are looking for well-bred and socialized Pocket Bully puppies for sale, Venomline is one of the best options to consider. Originally from Houston, Texas, this breeder is now in sunny South Florida. Venomline is a family-owned breeding program.
The family works with other professionals, including licensed vets, to ensure all puppies and dogs are perfectly healthy. One unique thing about Venomline is that their puppies are bred without making any concession to their conformation or health. They are known for breeding and raising some of the world's thickest bully dogs and puppies.
Their bullies are known for having:
Short muzzles
Massive heads
Broad chests
Dense bones
Wide shoulders
The puppies are being packed rock solid with muscles on compact and short frames. They pride themselves in breeding dogs with exceptional factors along with excellent temperament and athleticism despite the heavy bones and muscles they carry.
Dogs from this breeder have been featured in music videos, TV shows, and magazines like BULLY KING Magazine, Rolling Stone Magazine, and Bully Girl Magazine. Another thing that makes this kennel different is that they don't use the traditional kennel setup.
Their dogs and puppies are part of their family and sleep on beds. They are not locked up in kennels as some breeders do. All the breeding sires and dams are health and DNA tested to ensure they produce only the healthiest puppies. The puppies are also health-tested before joining their new families.
Your puppy will come with a health certificate, shots & deworming, ABKC registration, and a health guarantee to cover any congenital-related problems. Venomline also comes to the aid of other breeders by helping them improve their breeding program.
Being a family-owned breeding program, the kids socialize and play with the puppies daily. They handle the puppies with love while raising them in the best environment possible. The puppies from this breeder are expensive but are worth it.
All the breeding dogs are loved and cared for like family members. They are also vet-checked and up-to-date on age-appropriate vaccines. The family also provides lifetime support for all their puppies, meaning you can always reach out to them if you have any questions or need assistance raising your dog.
Venomline Details
2. Muscle Boom Kennel
The best breeding programs are often those owned and managed by families. That is because most families are in the business for the love and passion they have for these dogs and not for profit. Also, the various family members play unique roles in the breeding program, including helping to socialize the puppies and introducing them to the everyday activity of family life.
Muscle Boom Kennel is a family-owned and operated breeding program. The family is 100 percent devoted to the breeding program to ensure they provide you with the best puppies possible. This family is very good at breeding dogs with utmost care.
Muscle Boom Kennel is one of the best options to consider if you are looking for a healthy and carefully bred Pocket Bully puppy for sale. The family's journey started when Kali, a female Pocket Bully, entered their lives. Everyone in the family loved this breed so much, so they decided to venture into the breeding field.
The family started their breeding practice out of love for this breed. Today, they are one of the best Pocket Bully puppy breeders in the United States. People travel long distances to get puppies from this breeder because they are passionate and highly knowledgeable about the process.
They are known for producing puppies with lovely appearances and the finest temperament. Temperament, health, and appearance are some of the vital things they consider before breeding. All the sires and dams are tested for those three factors before being added to the breeding program.
Their ultimate goal is to produce high-class American Pocket Bully puppies that are social, prosperous, and have a great temperament. Their dogs are great as family companions or pets and can be used for exhibition purposes, thanks to their unique pedigrees and amazing appearance.
All puppies from this breeder are:
Examined by a professional vet
Up-to-date on age-appropriate vaccination
Dewormed
Microchipped
Come with ABKC certificates
The Bullies come from high-praised pedigree, so rest assured you're getting the best puppies possible. You can also rely on them for puppies several times a year, as they have many sires and dams for breeding.
Muscle Boom Kennel Details
3. Cap City Bullys
In Erie, Pennsylvania, Cap City Bullys is one of the best places to buy a Pocket Bully puppy. This breeder commands much respect because of their experience and dedication towards their dogs. Cap City Bullys has been producing and raising Bullies for over 15 years.
With almost two decades of experience, this breeder has delivered a perfect strategy for producing and raising healthy, well-socialized, and genetically sound puppies. You can rely on this breeder whether you want a puppy for your home or a show-quality dog to win that championship.
They are professionals in breeding bullies with healthy bone structures and exceptional temperament. This family-owned breeding program is within driving distance from Cleveland, Ohio, and Buffalo, New York. You can drive to the kennel to see and meet the puppies before finalizing the purchase.
Driving to the kennel from other parts of the State is also worth it, as these puppies are bred with the highest standards possible. The family works with only premium champion bloodlines to ensure their customers get the best puppies possible.
As a small family breeder, they have nothing but love for this dog breed. With several years of experience in this field, they breed to show quality and excellent temperament. In addition to having their sires and dams from champion bloodlines, the family thoroughly examines them before adding them to the breeding program.
All the males and females are genetically tested to ensure they are free of hereditary health conditions that could affect the puppies in the long run. All their breeding dogs are also nationally registered under the American Bully Kennel Club (ABKC). The family specializes in breeding and raising Micro and Pocket Bullies.
They occasionally have litters of Exotic Bullies due to their high demand. Cap City Bullys has dogs across the country because they offer special worldwide shipping. Hence, regardless of where you are in the United States, you can get a puppy from them.
Besides that, all the puppies from this breeder come with the following:
A health certificate
Registered with official kennel clubs
Fully vaccinated
The puppies also have a 30-day health guarantee to protect against congenital health issues. Another amazing thing about this family is that all their puppies are moderately priced.
The family does not overprice their puppies to ensure anyone who wants a well-bred Pocket Bully can easily get one. With a starting price of $3,000, you can go home with a healthy and well-socialized puppy. However, the prices can go up depending on the litter's lineage.
Cap City Bullys Details
4. Bully Garage
If you reside in or around Delaware and are looking for the perfect place to buy Pocket Bully puppies, Bully Garage is a great option to consider. Bully Garage is a member of the United Kennel Club, the American Bully Registry (ABR), and the United Bullynation (UBN).
They are one of the most trusted and recognized pocket bully breeders in the United States. Bully Garage is a small family breeder specializing in breeding pocket American Bully dogs as family members and friends. Their sires and dams are first their friends and family members before breeding dogs.
They are treated with love and respect and are given all the care and attention they need. This family always strives for excellent temperament, breed excellence, and show ring qualities. Bully Garage has been the number one choice for many dog lovers who want to buy Pocket Bullies because they sell premium quality puppies at affordable rates.
The family also marries Exotic, Extreme, Standard, and Micro American Bullies. This family doesn't over-breed puppies too frequently. They always breed within their capacity to ensure they can care for the puppies properly and give them the attention, love, and care they need.
However, since they don't breed too frequently, you'll have to wait for some time for available puppies. If you are lucky, they might have an upcoming or current litter with puppies for sale. We highly recommend jumping on their waiting list as soon as it opens.
The wait is worth it, as the chances of regretting buying a puppy from this breeder are slim. All their puppies are free of health issues and defects. They conduct proper health and DNA tests on the sires and dams before breeding to ensure they do not have any genetic issues.
Bully Garage Details
5. Southeast Bully Kennels
Southeast Bully Kennels is the Home of Block Bloodlines. This premium breeder focuses on various American Bully classes, including Micro, Pocket, and XL height. Their block bloodline bullies are known for their consistent and superior genetics that are evident in their production.
Being an in-house breeder, all their puppies are bred and raised in their home. All the dogs and puppies are taken as family members and are treated as such. Health and temperament are the major focus areas of this family.
All their sires and dams undergo various health and DNA tests to ensure they fit perfectly. Southeast Bully Kennels is located on the border of North Carolina and South Carolina, near Charlotte.
However, they offer nationwide shipping services, meaning they can deliver your puppy to you regardless of where you are in the United States. They also ship puppies internationally, another reason they are globally recognized and respected.
Southeast Bully Kennels was established in 2007 –  more than 15 years of experience in breeding and raising bully breeds. They have learned the secrets to consistently producing outstanding Pocket Bully puppies.
Southeast Bully Kennels Details
Conclusion For "Pocket Bully Puppies For Sale"
We hope the breeders listed here are helpful in your quest for the best Pocket Bully breeders in the United States. We carefully selected these breeders for you because of their level of experience, commitment, and breeding practices. However, do not forget to do your interview and ask all necessary questions before choosing a breeder to work with.
For more guides similar to this list of breeders with Pocket Bully puppies for sale in the United States, you can check out these other dog-related articles from our team:
Before you bring home a Pocket Bully companion from a breeder in the United States, you can learn more about this dog breed by watching "American Bully Pocket vs. Standard Bully" down below: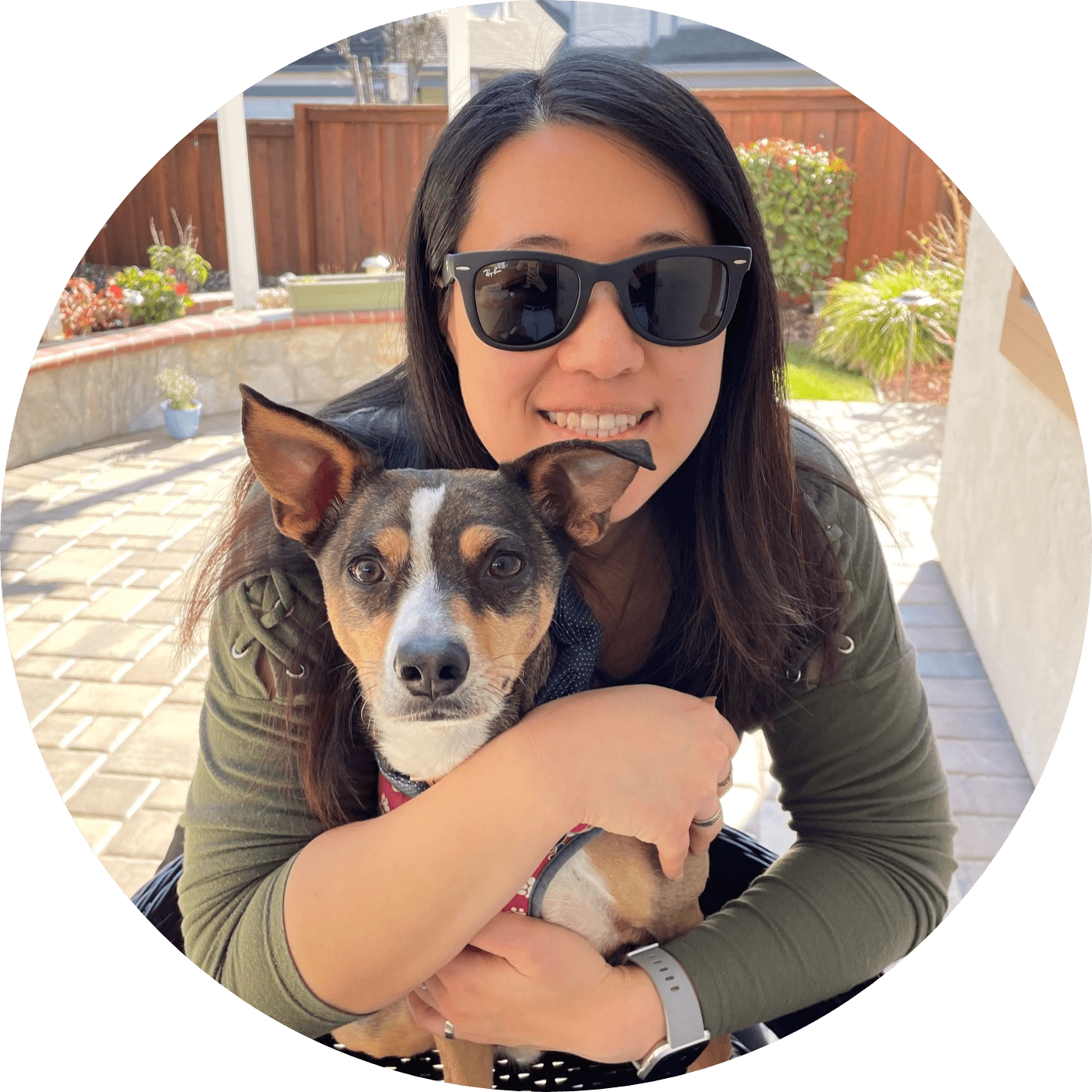 Dr. Sabrina Kong graduated from the Royal Veterinary College in England in 2016 and has been working at a small animal clinic in Northern California since then. She grew up in the Bay Area and got her bachelor's degree from Cal Poly San Luis Obispo. She also became a Certified Canine Rehabilitation Practitioner through a program at the University of Tennessee.
When she isn't in the clinic taking care of her four-legged patients, she enjoys traveling and trying new foods with her friends and her three-legged dog, Apollo. She adopted Apollo from her clinic when he was a puppy with numerous health issues. Dr. Kong truly cares about taking care of animals.