Here's what you need to know if you're searching for the best dog daycares in Cleveland, Ohio. If you're looking for a dog daycare center that is more than just letting dogs run around together, Cleveland has the perfect places for you.
Before scrolling down this list of dog daycares in Cleveland, Ohio, check out these other recommendations from our team at We Love Doodles: Best Poodle Rescues in Ohio and Best Australian Shepherd Rescues in Ohio.
Find a Dog Daycare Near Me in Cleveland, Ohio
There are a few on this list that offers daycare programs with daily enrichment activities and training by coaches. Check out this list for some of the best dog daycare centers in the area.
Dog Product Recommendations: Best Dog Quiet Dog Clippers and Best Luxury Dog Bowls.
1. The Mutt Hutt Dog Socialization Center
At The Mutt Hutt, dogs are always first. All breeds are welcome to the positive social experience. Dogs receive individual care and handling from staff members with positive behavior intervention. The Mutt Hutt encourages you the explore their website to get acquainted with their daycare center.
Your dog's first day will include dedicated time and attention to make sure they are comfortable with the handlers and the other daycare guests. The Mutt Hutt limits the number of new dogs each week, so you need to reserve your initial visit in advance. A $25 non-refundable deposit is due when booking the first visit.
The Mutt Hutt requires all dogs to be up-to-date on particular vaccines. These vaccines include ​Distemper/Parvo (Puppies must have at least two rounds of distemper-parvo shots), Rabies, Bordetella, and Canine Influenza H3N2 or H3N2/H3N8. All dogs must be spayed or neutered after six months of age.
When your dog completes his first day, staff members will note observations of your dog's experience. They will provide an open and honest assessment. They may offer suggestions for future visits to ensure your dog enjoys his stay and feels successful. And they must be on active flea and tick prevention.
Typically, staff members follow up with dog owners after the first few visits to continue helping your dog grow as a proper member of society. The rate structure for Daily Socialization is pay-per-visit, charged at checkout. They do not offer multi-day packages. A full-day visit consists of six or more hours. Half-day visits are less than six hours—all dogs must check-in by 9 a.m.
1 Mutt, Full day: $30
1 Mutt, Half day: $20
2 Mutts, Full day: $50
2 Mutts, Half day: $36
The Mutt Hutt offers an add-on service of Mutt-Wash for an additional $15.
The Mutt Hutt Dog Socialization Center Details
2. Inn The Doghouse Pet Resort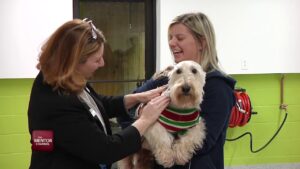 With two convenient locations within Cleveland, you are sure to fall in love with Inn The Doghouse Pet Resort. They offer two options for daycare with an element of extra learning. "Enrichment Daycare" and "Trick of the Month Club" include staff members working with your dog, providing mental stimulation, and teaching new tricks. Enrichment Daycare ($40 per day) involves structure to engage your dog's senses and challenge their mind. This daily schedule includes:
Group
Individual enrichment (puzzle toys, scent walk, snuffle mat)
Naptime, possibly with food enrichment (frozen Kong, popsicle)
Small group play
Obedience session (recall, loose leash walking, group sit, tricks)
Naptime
Small group play with enrichment (fetch, rope toys, obstacle course)
Tactile sensory enrichment (refresh and doggy massage)
Evening rest
Enrichment coaches teach your dog a new trick each month in Trick of the Month Club ($40 per day). Dogs in this club get at least one 15-minute session each week. Tricks get progressively more challenging as your dog learns. Owners receive worksheets after each session to continue teaching their dogs at home.
Inn the Doghouse limits this club to 10 dogs per month. Members must commit to at least one full day of daycare per week. Regular daycare, Enrichment Daycare, and Trick of the Month Club require a trial day ($10 fee) to assess your behavior and temperament. Appointments are not needed Monday through Thursday.
Fridays require appointments for all services. Dogs must be at least four months old and spayed/neutered after seven months of age. Required vaccines include DHLPP, Bordetella, and Rabies. Please see Inn the Doghouse's website for the Rules and Requirements Form, the Health and Temperament Form, and the Boarding Cancellation Form.
Full days of daycare incur a fee of $33. Half days incur a fee of $25. Enrichment Daycare and Trick of the Month Club are $40 per day. Ten and 20-day packages are available for both full days and half days. These daycare packages include one free nail trim.
Inn The Doghouse Pet Resort Details
3. K9 Cleveland
K9 Cleveland is a family-owned business inspired by Dexter, a golden retriever who was once the center of attention to a young vet student. K9 Cleveland strives to give dogs like Dexter the engagement and social interaction they deserve in their short life. K9 Cleveland offers ten other services in addition to daycare.
Grooming, training, K9 Cab, Poop Scoop, boarding, UWash, homecare, Vet Shuttle, K9 Bakery, and event space are all in their repertoire. Your dog needs to go to daycare, but you're swamped with work? K9 Cab can handle that for you. Backyard scattered with little brown gifts from your dog? The Poop Scoop team and get rid of them.
Your dog needs a bath, but you don't need a professional groomer to do it? UWash is available to you. Your dog needs a vet appointment, but you're stuck at home with work or kids? K9 Cleveland resides in an old nightclub building, making it the only doggy daycare in the area where dogs get a doggy dance floor and skylights. Vet Shuttle will take it there.
The riverside patio gives dogs outdoor space with a fantastic view to watch boats float by. A full day of daycare (up to 12 hours) costs $29. A half-day (up to six hours) costs $19. A monthly weekday pass costs $315. a 10-day full-day pass costs $261, and a 10-day half-day pass costs $171.
K9 Cleveland Details
4. Merry-Go-Hound Dog Daycare
Merry-Go-Hound Dog Daycare center has a cozy, home-like feeling where your dog will feel like he's visiting a friend's house instead of staying in a kennel. The owners will happily tell you about your dog's day when you pick it up to go home. The facility is all indoor with a limited number of dogs each day, so no one gets overcrowded and overwhelmed.
Daycare services are available Monday through Friday from 6:30 a.m. to 6:00 p.m. Pickup and drop-off hours are between 6:30 a.m. and 9:00 a.m. and then from 3:30 p.m. to 6:00 p.m. A full day for one dog costs $20 and a second dog from the same household costs an additional $10. Half-days cost $10.
You can purchase a 10-day package for $190. Please schedule a one-hour evaluation before enrolling in daycare. Your dog must be at least three months old and have up-to-date shots with veterinary records and flea/tick prevention. And please provide a fecal exam with the Giardia screening. All dogs must be spayed or neutered.
Merry-Go-Hound Dog Daycare Details
5. Dogtropolis Doggy Daycare
Owner Connie Karlowicz leads the pack at Dogtropolis Doggy Daycare. She maintains an open, relaxed, and fun environment for the dogs with climbing structures and activities for everybody. Connie knows each of her doggy guests by name.
She pre-screens each dog to ensure it will behave with the other dogs and have fun at daycare. The dogs get to run and play in 8,000 square feet of indoor and outdoor space. Dogs must be at least 12 weeks old with two rounds of puppy shots. Required vaccines include DA2PP, Rabies, Bordetella, Influenza, and Leptospirosis.
Dogs older than six months of age must be spayed or neutered. An annual physical exam, negative fecal exam, and heartworm are also required. Please provide shot records before your first visit. Don't hesitate to get in touch with Dogtropolis to schedule a trial day, as well.
A single full day of daycare costs $32, while a half-day costs $24. Purchasing ten full days gets you one free day for a total of $320. Buying 20 full days gets you three free days for $640. Ten half days get one free half-day for $240. And purchasing 20 half days gets you three free half days for $480.
Dogtropolis Doggy Daycare Details
6. Cleveland Metrobark: A Daycare for Dogs
Last on the list of the best dog rescues in Cleveland, Ohio, is "Cleveland Metrobark." Cleveland Metrobark is Cleveland's first indoor/outdoor daycare for dogs. It's a cage-free facility with 6,000 indoor square feet and 14,000 outdoor square feet of space. Outdoor areas include a sunbathing deck, swimming pools, sprinklers, and misting fans.
Dogs get to enjoy play structures, playing in the snow (and sometimes lots of it), and naps on beds. The employees at Cleveland Metrobark are trained to anticipate problems between dogs and break up excessively rough play and serious fights. Staff uses various "Time Out Techniques," including a spray bottle of water, a soft mesh muzzle for rough play or overstimulation, and quiet time in a separate kennel.
Dogs need to have medical records on file at all times. Please keep your dog at home if it is sick. If your dog was ill in the past 30 days but is healed up, please provide a veterinarian verification that it is safe for him to attend daycare. All dogs are screened for aggression; however, an aggressive incident could mean dismissal of daycare if:
Staff members had trouble intervening
The incident resulted in dogs or staff members getting broken skin
The aggression continued after some time
Please send the New Dog Paperwork and the Health Assessment to Metrobark before your first visit. You need to provide proof of certain vaccines, including distemper, hepatitis, parainfluenza, parvovirus, Bordetella, and rabies. Your dog also needs to be on active heartworm and flea prevention. It also requires a yearly fecal exam.
Puppies must be at least 12 weeks old. Dogs older than six months must be spayed/neutered. Metrobark does not enforce any breed restrictions. Metrobark offers multi-dog discounts. A full day costs between $21 and $25, depending on the package you purchase. Half-day costs between $15 and $17, depending on the package you buy.
Cleveland Metrobark: A Daycare for Dogs Details
Conclusion For The "Best Dog Daycares in Cleveland, Ohio"
Hopefully, you found the daycare center that will work for you. As always, we recommend visiting a daycare center and asking for a tour before enrolling your dog. Make sure they pay attention to your dog and give it the care it needs.
Sitting in a kennel all day will not give it the enrichment it needs. Ask if staff members play games with the dogs and encourage play and exercise. And if your dog excitedly pulls you toward the door, you know you've found the right daycare.
For more guides similar to this list of dog daycares in Cleveland, Ohio, you can check out:
Before you bring a dog to a daycare location in Cleveland, you can learn more by watching "Integrating a New Dog Into Doggy Daycare" down below: