If you're searching for the best dog daycares in Bend, Oregon, then you've come to the right place. Bend, Oregon is a peaceful area with a lot to offer for dog owners. Hiking trails, parks, open space to run, and everything else a dog loves.
That includes daycare centers that enrich a dog's mind and strengthen its body. As you will see from this list, Bend features some fantastic doggy daycare centers run by loving people who only want the best for your dog.
Before scrolling down this list of dog daycares in Bend, Oregon, check out these other recommendations from our team at We Love Doodles: Best Dog Rescues in Oregon and Best Australian Labradoodle Breeders in Oregon.
Find a Dog Daycare Near Me in Bend, Oregon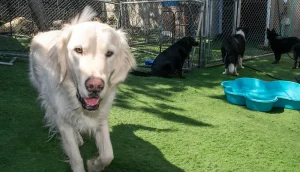 Do you have a senior dog who wants to relax all day? Bend has a daycare for that. Do you have a young puppy who needs to run for hours to burn off some energy? Bend has a daycare for that, too. We hope you find a daycare that fits your dog's personality and needs.
Dog Product Recommendations: Best Shock Collars For Dogs Barking and Best Shampoo For Curly Hair Dogs.
1. Wag Bend
Wag Bend offers drop-in daycare sessions for your convenience if you are just going out for a few hours. The new WB Ranch gives dogs and their owners an acre of grassy lawn, a pond, and a sniff training station. Wag Bend members are eligible for 1.5-hour blocks of playtime.
Daycare at Wag Bend consists of free-range play with the other dogs. Reservations are not required so you can drop off your puppy at your convenience. Wag Bend separates playgroups into big dogs and small dogs. The big dog area has enough space for them to move about and exercise easily.
They have access to small pools outside during the warmer months. Inside, dogs can chill out in divided areas where it is a little quieter away from the group. Small dogs get equal amounts of space, exercise, and socialization.
All dogs go through a temperament test to make sure they can get along with the other daycare guests. Contact Wag Bend for a questionnaire if you are interested in daycare.
They require a $25 appointment for the temperament screening, which takes two and four hours. Wag Bend does not allow intact males or females after their first cycle. They also require proof of basic vaccinations. Contact Wag Bend for rates.
Wag Bend Details
2. Dancin' Woofs Dog Training and Daycare Center
Dancin' Woofs is more than just daycare. They might be the best option for you if your dog needs to learn or relearn his manners. Dancin' Woofs offers behavior counseling in private sessions for house training, barking, destructiveness, bad manners, separation anxiety, incessant barking, fear, biting, and lunge barking.
Both you and your puppy could learn to work together at a training center conveniently located within the daycare center. Daycare at Dancin' Woofs provides dogs with a safe and healthy play environment to fulfill their desire for social interaction, mental stimulation, and an outlet for releasing energy.
Dancin' Woofs asks that you commit to 8 weeks of daycare with at least one visit per week (same day each week). Being a regular guest lets your dog get to know the other dogs and reduces the stress of meeting unfamiliar dogs all the time.
Daycare consists of supervised play on the agility equipment, splashing in swimming pools during warm days, and running around with friends and staff members. On your dog's first day of daycare, you will need to drop him off at 7:45 a.m. and pick him up between 3:30 and 4:00 p.m. Give Dancin' Woofs a call for an interview.
Schedule an appointment to review your application, sign paperwork, and complete his temperament test. This initial consultation costs $20. Provide a copy of your dog's vaccination records and a recent fecal test. Daycare requires reservations. Dancin' Woofs does not accept walk-ins. Daycare costs between $30 and $35 for up to 10 hours of playtime.
Dancin' Woofs Dog Training and Daycare Center Details
3. Doggieville Ranch
The Doggieville Ranch is an exclusive daycare and boarding center. They accept a limited number of guests each day, so your dog is not overlooked. Their true home environment keeps your dog comfortable and away from the "kennel" atmosphere. Dogs are constantly supervised and never left alone in a cage.
Each day consists of playing, swimming, hiking, and interacting with staff members. Doggieville Ranch cares for their dogs in a structured group with staff members acting as established pack leaders to ensure a healthy pack mentality. Dogs must pass a behavior evaluation. They must also be spayed/neutered before enrolling if they are older than 9 months.
Required vaccinations include Bordetella, rabies, and distemper. Doggieville recommends the canine flu vaccine but it is not required. Puppies may not attend daycare until they are fully vaccinated. The daycare fee is $45 per dog per day. This fee includes six hours of play at the Doggieville Ranch.
Doggieville Ranch Details
4. Happy Tails Pet Resort
Happy Tails Pet Resort offers daycare for dogs with group playtime twice each day in outdoor and climate-controlled indoor play areas. Staff members supervise all playtimes. Staff members take dogs on nature walks and play ball toss to keep brains occupied and engaged.
Please bring proof of vaccination records to keep on file. Your dog will not be able to attend daycare without this paperwork. Required vaccines in rabies, distemper, and Bordetella. Daycare is available at a very affordable price of $15 per day.
Happy Tails Pet Resort Details
5. Kindred Spirit Pet Care
Kindred Spirit Pet Care specializes in small dogs and larger senior dogs who need a little TLC. Owner Martina Muller opened her cottage in 2006 to a few small and elderly dogs who needed special care while their owners were busy. Each day at Kindred Spirits begins with a three-mile trail hike for the younger and energetic dogs.
Elderly dogs enjoy a leisurely walk through the neighborhood. Dogs get to choose a couch or dog bed for nap time each day. Kindred Spirits is low-tech with no cameras and no artificial turf. Staff members spend the entire eight hours each day supervising playtime and interacting with the dogs.
The dog-to-human ratio is the lowest in town at 4-1. All dogs need to complete a meet-and-greet and pass a temperament test before beginning daycare. Males older than eight months must be neutered. Please provide proof of current vaccinations and the name and phone number of your regular veterinarian.
Dogs must have protection against fleas and ticks. Small breeds must be at least 8 pounds unless accompanied by a larger "sibling." A one-day drop-in pass for small breeds who live in town is $30. Out-of-town dogs cost $35 for one day. A 5-punch card costs $140 for residents ($28 per day). Half a day costs $20. Families with multiple dogs receive a $3 discount for each extra dog.
Kindred Spirit Pet Care Details
6. Pet Paradise
Last on the list of the best dog daycares in Bend, Oregon, is "Pet Paradise." Pet Paradise is a 57-acre boarding, daycare, and bathing facility. Daycare at Pet Paradise is divided into three areas: active dogs who want to play together, introverted dogs who prefer to hang out alone, and senior dogs who just want to relax.
Outdoor play areas at Pet Paradise total 1.5 acres with large shade trees. Indoor play areas are climate-controlled for everyone's comfort during the ever-changing weather. Small breeds get their own indoor/outdoor playground. Please provide proof of rabies, distemper, and Bordetella vaccines. Daycare costs $25 per dog per day.
Pet Paradise Details
Conclusion For The "Best Dog Daycares in Bend, Oregon"
Hopefully, you found the perfect doggy daycare center for your puppy. Bend has quite a few good places to offer. Some places even offer senior care and special needs care.
Every daycare center on this list loves your dog from the moment he walks in the door. They will care for it and make sure it is happy.
As you are looking for a daycare center, be sure to take a tour of the facility and ask as many questions as you need. You want to make sure your dog will be safe, well-socialized, and happy at daycare.
It may be nervous for its first couple of visits, but it will settle in and learn to love daycare. If it pulls you through the door when you arrive, you know you have found the right daycare center.
For more guides similar to this list of dog daycares in Bend, Oregon, you can check out:
Before you bring a dog to daycare in Bend, Oregon, you can learn more by watching "Integrating a New Dog Into Doggy Daycare" down below: