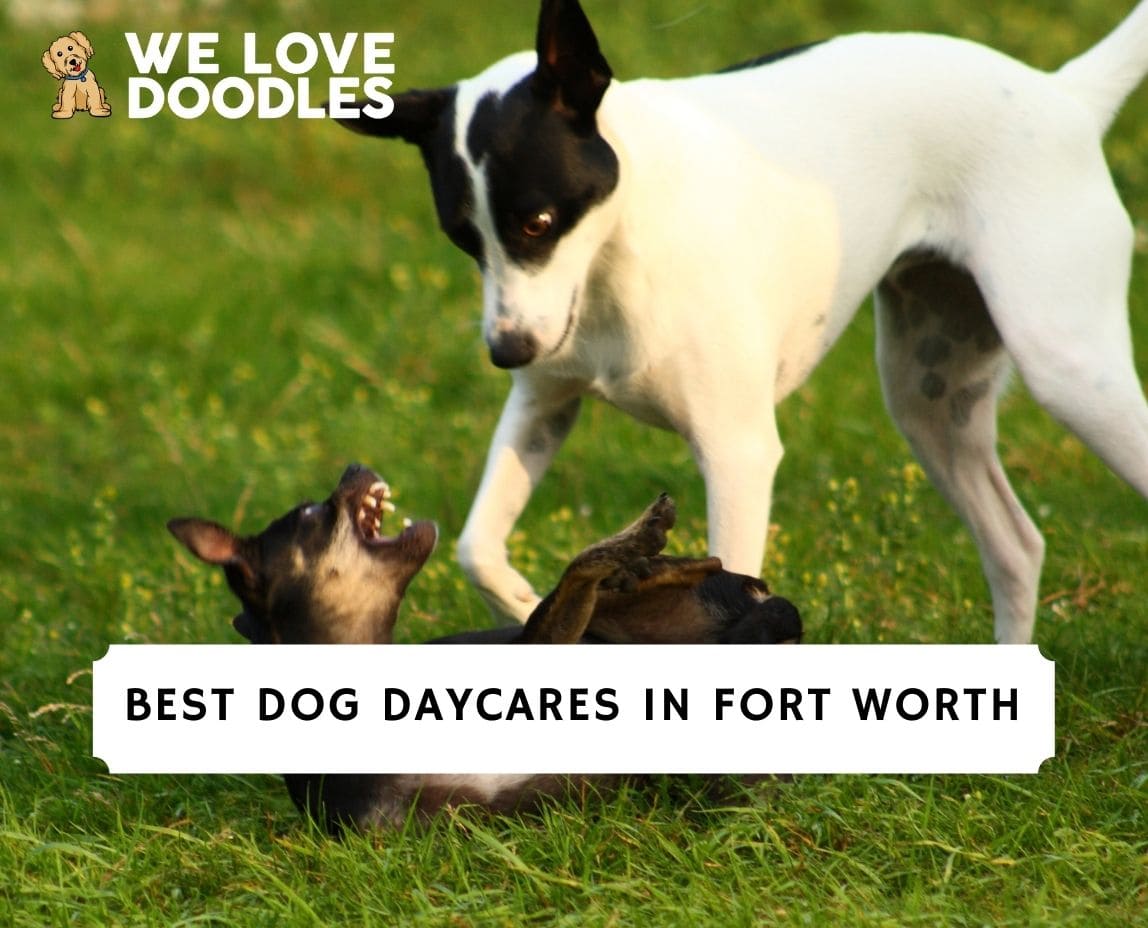 If you're searching for the best dog daycares in Fort Worth, then here's what you need to know. Some say Fort Worth is famous for its museums, botanical gardens, and the fact that it is the twin city of Dallas. However, it is also home to some of the best doggy daycares in the country.
There are a variety of options to choose from, but we have narrowed it down to 6 of the best daycares in town. Just like humans, each dog is unique and its needs may differ depending on size, shape, personality, energy level, and a host of other factors. But not to worry, we have found a daycare for everyone.
Each daycare is equipped with certified and loving staff, trained specifically to care for your dog. We also looked at a variety of other factors, including but not limited to playtime, area safety, customized care, and amenities. You can be confident that your dog will be lounging in a comfortable and playful environment if you choose one of these renowned daycares.
Before scrolling down this list of dog daycares in Fort Worth, check out these other recommendations from our team at We Love Doodles: Best Dog Daycares in Los Angeles and Best Dog Daycares in San Jose.
Find a Dog Daycare Near You in Fort Worth
Look out for extra amenities and boarding options. Sit back and relax, and get ready to reel in your dog's excitement before they visit their new daycare, and home away from home.
Dog Product Recommendations: Best Dog Crate Alternatives and Best No-Spill Dog Bowls.
1. Ruff Resort & Spa
Supervised by the loving staff at Ruff Resort & Spa your dog can enjoy some cage-free play in one of their 3 indoor and 4 outdoor play areas. This is the perfect place for your dog to stay if they have separation anxiety whilst you are at work or if they simply need to get back out there and socialize.
Every dog appreciates some time with friends, and after an action-packed day at daycare, they may be less anxious to sniff every other dog in your neighborhood on their next stroll. They have 4 beautiful wash stations for grooming, and unlike many daycares they allow owners to jump in on the action and wash their pets.
They understand that some dogs would prefer their human friend to clean them. However, their trained staff are also on duty to bathe your dog whenever they need it. You can even choose the shampoo and cologne. If your dog needs to learn a manner or two, then Ruff Resort & Spa employs Iron Sharp K9 to train your dog.
The owner, Stan, understands that each dog has their way of processing information, some loving treats, praise, and toys, and others simply needing a belly rub. He's ready to help you communicate with your dog going forward. Your dog can also stay in one of their kennels runs for the night, receiving loving attention until it's time to sleep.
Ruff Resort & Spa Details
2. Camp Bow Wow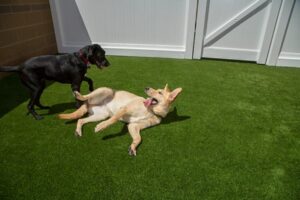 Trustworthiness is the name of the game with Camp Bow Wow. Their certified camp counselors will provide your dog with tender loving care, exercise, and socialization whilst you are away. With their safety first protocol, your furry friend is in safe hands so you can focus on the task at hand in your day.
And, if you have a break and want to catch up with your puppy, tune into their live camper cams. Their spacious play yards with small obstacle courses are a great place for your dog to exercise and play with friends, gaining that much-needed mental and physical stimulation.
Camp Bow Wow provides a nurturing and fun environment for your dog to be the best version of themselves, so it's no wonder they see dogs pulling their owners to the door every single day.
They understand that bathing your puppy can sometimes be a stressful activity, but their grooming areas are specifically designed with your dog's comfort in mind, so your dog can walk away from the day looking, feeling, and most importantly smelling good.
After all, you are the one who has to smell your dog. If you're going away then your dog can rest comfortably for the night in their cozy cabins, whilst munching on their nightly treat.
Camp Bow Wow Details
3. Dog's Unleashed Daycare
Dog's unleashed daycare is at your beck and call 7 days a week, and has managed to curb unwanted behaviors such as barking, and digging, even proving to relieve separation anxiety in your dog through loving attention and interaction.
With locations across Texas, your dog has a second home even if you're exploring the state this year. They emphasize your dog's need for care and attention throughout the day, and their group play allows your dogs to return to their pack nature, socializing and playing with other dogs.
You can only hope your dog has a keen sense of smell as they race through the doggy tunnels and play hide and seek with friends. And, after a long morning of play, they can relax in the climate-controlled rooms before a slower-paced afternoon of play and belly rubs.
They also offer a doggy spa after a long day of play, so your puppy can sit back, relax, and enjoy some pampering. If your dog deserves some extra treatment, be sure to sign up for their premium package. Don't be surprised if there's a little too much pep in your dog's step after their next visit to the doggy spa.
They also offer boarding services if your dog needs a place to stay for the night and is in the process of creating new collapsible dog dens. Check out their latest innovation on their website.
Dog's Unleashed Daycare Details
4. Cowtown Canines
Voted the best dog boarding in fort worth, Cowtown Canines inevitably makes the list. Only using large kennels and room dividers, your dog can enjoy a spacious and comfortable stay at Cowtown Canines during your next trip.
They feed your dog according to your preferences so that they don't disrupt your dog's diet, and they can provide your puppy with some much-needed familiarity when they are staying away from home.
Whether your dog wants to play in a spacious outdoor area, inside an air-conditioned playroom, clubhouse, pool, or even watch a dog-oriented movie, the decision is theirs.
Your dog will enjoy cage-free, all-day play, and their observant staff is on hand to divide the dogs according to size and energy level if they need to. They also reinforce positive behavior with love and the occasional treat.
We all know that our well-intentioned furry friends sometimes need some training and guidance, so Cowtown Canines has your back. Just a few of the commands your dog will learn at their composure training are; sit, down, wait, and leave it. In no time your dog will become the best companion around.
Cowtown Canines Details
5. Metro Animals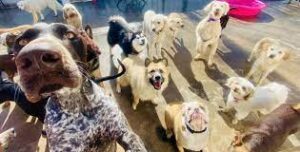 If you can think of it, Metro Animals most likely offers it. With daycare, boarding, grooming, self-serve washing, training, and even taxi services, they quite literally tick all of the boxes. And, best of all, their low dog-to-human ratio allows for constant care and attention throughout your dog's day.
They offer your dog the mental and physical stimulation they need throughout the day through a variety of activities. They can socialize and play tug of war with friends, and during those hot sunny days cool off with a paddle and splash in their doggy pools.
They've proven to enrich dogs' lives and their enrichment activities reduce any boredom or destructive behaviors. Their pack leaders are also trained in dog behavior and canine communication so your dog can enjoy a safe playtime environment Metro Animals understands just how demanding and busy our lives can become, and their taxi service ticks one box on your to-do list.
Don't worry about rushing in the morning to drop your dog off, just simply call Metro Animals and they will collect your dog for you.  They also have state-of-the-art wash stations, so that your dog can look their best after a fun day rolling around the yard with friends.
Metro Animals Details
6. Doggie Diggs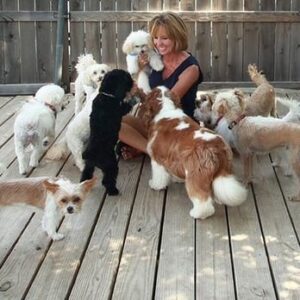 Last on the list of dog daycares in Fort Worth is "Doggie Diggs." If an artsy colorful building catches your eye during your next drive through Fort Worth then you've probably just seen Doggie Diggs for the first time. It's hard to miss. But, it's not just a pretty building.
Doggie Diggs is also the home of a huge grass yard, dog pools, play equipment, climate-controlled areas, sofas, and doggy movie screens. If your dog is 30 lbs and under, they can enjoy all of these amenities at the hands of the gentle dog-loving staff that prides themselves in caring for small breeds.
This reduces any threat of accidents from size differences and exposes your dog to friends with similar playing styles. Your dog will meet friends for life at this daycare. They also offer boarding services with individualized attention, soothing music, and aromatherapy.
Your dog can enjoy the relaxing scent of lavender and chamomile while they doze off at Doggie Diggs. They also offer grooming and dog washing services in their professional-grade tubs. If you enjoy getting your hands dirty, then feel free to use their resources with their self-service washes too. Doggie Diggs is a great second home for your dog if they are on the smaller side.
Doggie Diggs Details
Conclusion For The "Best Dog Daycares in Fort Worth"
You can't go wrong with any of these daycares, so now it's up to you to decide. Many of the daycares come equipped with doggy pools to combat that hot Texas heat and each has a caring loving staff with your best interests at heart. Feel free to use the contact information to inquire about your dog's new daycare.
For more guides similar to this list of dog daycares in Fort Worth, you can check out:
Before you bring your dog to daycare in Fort Worth, you can learn more about them by watching "Integrating a New Dog Into Doggy Daycare" down below: