Dogs live for their owners. It's part of the reason why people love them so much. Dogs are considered "man's best friend," and they deserve to be treated as so. Sioux Falls has a great deal to offer both people and pets alike. For those with four-legged friends, there is plenty of opportunity for fun and socializing with other dogs.
Dog daycares in Sioux Falls, South Dakota offer a place for dogs to play and socialize with other dogs and people and provide a safe space where owners can leave their furry family members while they are at work or just busy doing errands.
If you ever wanted to give your dog that "home away from home" feeling, then check out the best dog daycares in Sioux Falls, South Dakota!
1. Paws Pet Resort
First on the list of the best dog daycares in Sioux Falls is Paws Pet Resort. At Paws Pet Resort, they believe that every detail should prioritize your pet's comfort, health, and happiness. As a result, the cutting-edge facility offers rooms, services, and care that is tailored to maximize your pet's enjoyment.
The daycare provides your dog with the care he needs while you're at work. Your puppy will be more active and engaged during his stay, which means it will have a higher chance of making new friends! During their day-stay program, dogs are cared for in smaller group sizes for more personalized attention (or individually if required).
They have a variety of breaks throughout the day, including playtimes and one-on-one activities like an outdoor walk or pool time, after which they wind down each day with a frozen Peanut Butter Kong (if allergies are a concern, we may substitute this for another service).
The Paw Pet Resort recognizes that certain pets need unique or personalized levels of attention. For those who require additional medical care, they provide a customized program for an extra fee.
A Chauffeur Shuttle Service is offered by Paws Pet Resort to transport your pets to and from our resort safely. This service is ideal for individuals who need additional convenience or work early or late each day.
The Pet Cams are in the 1,400-square-foot nonslip indoor playroom that allows you to observe and converse with your dog.
Dog Daycare Information:
2. Precious Pets Grooming Salon & Doggie Daycare
A wonderful destination for a happy dog. Precious Pets was created with the intention of being a place where dogs want to return, wagging their tails and enthused to be there. Their fully supervised indoor/outdoor doggie daycare provides the greatest fun possible for your companion!
Precious Pets is the perfect location for your dog to get exercise, meet new friends, and have fun under the watchful eye of our trained staff.
Your dog will enjoy the day while you're gone thanks to the surrounding 11 acres of natural grass yards at the Country Resort and a convenient Daycare facility with climate-controlled indoor play areas.
Your dogs' play areas consist of:
Indoor play areas with climate control for when it's raining.
Play yards with turf appropriate for our furry visitors to play on are available.
At our rural retreat, there are 11 acres of unspoiled nature to explore, making it ideal for outdoor play in the open air at their Country Resort.
Yards have gated exits and perimeter fencing.
Ramps, stairs, and tunnels are among the playground equipment.
Playgrounds are always supervised and carefully staffed.
Precious Pets offer doggie daycare, dog and cat boarding, and pet grooming on site.
If your furry family member needs to have an overnight stay you can choose between a themed luxury suite or a cozy condo. You can be sure that your pet will be lovingly taken care of. We really like Precious Pets and think they are one of the best dog daycares in Sioux Falls.
Dog Daycare Information:
3. Dog Days
The Dog Days facility is a premier Doggie Daycare and Boarding facility run by three sisters. They are devoted dog lovers and would want to pamper pooch as much as they do their own!
The facility has non-slip rubber flooring in the 3 indoor play areas. Thank goodness it is non-slip because the dogs just love bubble time.
The dogs receive plenty of personal attention, premium quality of care, and lots of playtime and interaction with staff.
Dog Days has 4 large outdoor play yards with artificial turf that is safe for the dogs to run and romp around on. They have play equipment for climbing on and through holes in the equipment. What fun!
If your dog needs to spend a night away from home, you can choose from three levels of accommodations. All guest rooms include access to the outdoors and have elevated beds and fleece blankets.
If your dog needs a more private environment, he can get a semi-private area to stay in and if you want to make your doggie feel like he is at home you can get a suite that looks like a home with a window, raised cushioned beds, fleeces blanket, and other amenities.
Dog Daycare Information:
Check out for more: Best Dog Daycares in Houston! and  Best Dog Daycares in Sacramento, California!
4. Smoken Dakota Kennels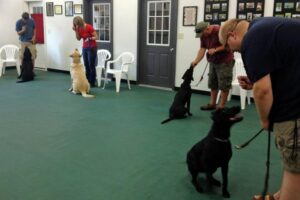 Don't want your four-legged companion to be alone at home while you're at work or going about your business? Smoken Dakota Kennels has got you covered! Just like in the case of childcare, you can leave and collect your dog in the mornings and evenings.
They categorize the dogs by size, age, and personality rather than by daycare or boarding, giving all of our visitors a full day of fun! They provide naps between play for the guests to avoid being over-stimulated and have multiple big open areas where they can play if the weather doesn't allow them to be outside.
Some of Smoken Dakota Kennels' activities include:
Lots of fun outdoors with pools, tunnels, and climbers
Biscuits freshly baked daily for the puppies
Personalized Playtime
Supervised Group Play
Tons of cuddles and belly rubs
Playtime with bubbles
Bedtime stories if your dog is staying overnight
Smoken Dakota Kennels is a pioneer in the pet care sector, they aim to provide their clients and visitors with a unique experience. It begins with their luxurious, well-kept, and top-of-the-line facilities.
Dog Daycare Information:
5. Posh Paws Parlour & Boarding
Posh Paws is still in its early stages as a new enterprise, but they have big ideas for something fantastic!
They consider the well-being of our canine clients to be extremely important. They are committed to providing your four-legged companion with a pleasant environment at Posh Paws.
You can rest easy knowing that your favorite companion is socializing and getting much-needed exercise in a clean, safe environment. Your pooch will want to return to Posh Paws again and again.
Coming soon, they are adding a fenced and turfed outdoor area for fun off-leash playtime as well as an indoor, climate-controlled dog park for those chilly South Dakota winters.
Posh Paws' final plan includes a beautiful facility housing both grooming and daycare services along with a separate acreage with plenty of room to run!
Posh Paws Parlour offers a boarding and dog grooming service. They will make sure your pet is groomed exactly how you want it to be. Based on your breed type, we may also provide recommendations.
They offer comprehensive pet care that is tailored to each customer's requirements. Each pet receives individualized attention during his or her stay and the customers appreciate the personalized service provided.
Posh Paws provide full-time or part-time daycare so that your canine companion can remain happy while you are away. Whatever your pet needs, Posh Paws can accommodate.
Dog Daycare Information:
Address: 2001 S Minnesota Ave, Sioux Falls, SD 57105
Telephone: (605) 681-6120
6. Mini-Critters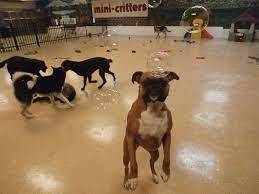 Last on the list of the best dog daycares in Sioux Falls is Mini-Critters. Are you concerned about your dog being at home alone all day? We have a solution for you: Interactive Doggie Playcare! Monday through Saturday, leave your dog with Mini Critters to play with other dogs and our team!
Mini-Critters daycare isn't only intended to cure your dog's boredom; it's also designed to improve their mental and physical well-being. A weary dog is a cheerful canine.
Mini-Critters' primary aim is to create a safe place for your dog to mingle. It also improves your dog's social skills for both people and animals, as well as their general health. It serves as a safe and loving home for your dog.
Active play is a great way to provide mental and physical stimulation for your dog. Just like when people exercise, regular activity is required to keep a healthy, fully functional body.
Your precious puppy can play in the huge indoor play area or in the large outdoor fenced yard. They will socialize and play with other dogs all day.
Tired of cleaning up after your dog when bathing him or having to pay for expensive grooming services? Bring the mess to Mini-Critters and use their do-it-yourself dog wash. There is no need for an appointment, just walk in any time you like!
Dog Daycare Information:
Conclusion For The Best Dog Daycares in Sioux Falls SD
Sioux Falls may be a smaller city, but it's still home to plenty of pet-loving people who need a place to leave their furry friends while they're at work. That's where dog daycares come in! These businesses provide a fun and safe environment for dogs during the day, giving their owners peace of mind. If you're looking for a great place to take your puppy, check out one of these local dog daycare options.
You will also like:
Garrett loves animals and is a huge advocate for all Doodle dog breeds. He owns his own Goldendoodle named Kona. In addition, he volunteers at the Humane Society of Silicon Valley, where he fosters dogs and helps animals. Garrett enjoys writing about Doodles and believes that dogs can teach humans more about how to live than humans can teach a dog.
Why Trust We Love Doodles?
At We Love Doodles, we're a team of writers, veterinarians, and puppy trainers that love dogs. Our team of qualified experts researches and provides reliable information on a wide range of dog topics. Our reviews are based on customer feedback, hands-on testing, and in-depth analysis. We are fully transparent and honest to our community of dog owners and future owners.