Sacramento is home to some pretty cool doggy daycare centers with some pretty cool amenities. Luxury suites and swimming pools are just a couple to mention. The people of Sacramento know that dogs deserve the best lives. Dogs are on this planet for much less time than humans, so why not pamper them to the fullest. Hopefully, you find the right dog daycare in Sacramento for your puppy within this list. Be sure to check them out, take a tour, and maybe meet some of the puppies!
Other articles you would like: Best Dog Breeders in California and Golden Retriever Breeders in Northern California.
1. Arcade Creek Kennels
First on the list of dog daycares in Sacramento is Arcade Creek Kennels. Arcade Creek Kennels offers more than just daycare for dogs. Do you also have a cat or a rabbit? Arcade Creek takes care of a variety of animals besides dogs. No matter the type of animal you have, they will find a way to care for it while you're away.
The well-trained staff members will do everything in their power to provide the best experience for your dog. Dogs get individual feeding as well as grooming and medication administration if needed. Feel free to discuss your needs when enrolling and making reservations.
Daycare at Arcade Creek includes playtime on an entire acre of land. The fee is only $20 per day plus an additional $1 for medication administration. Arcade Creek requires reservations, regardless of a regular weekly or daily schedule. You may prepay for daycare. Multi-dog discounts are available. Please have your dog on a leash when you arrive, but otherwise, it is an off-leash facility.
Sacramento Dog Daycare Information:
2. Best Friends Pet Hotel Sacramento
Best Friends Pet Hotel offers over a dozen amenities at their location on the outskirts of Sacramento. Luxury suites include luxury bedding options and room service. Indoor and outdoor play areas feature playground equipment to keep your dog's attention. Staff members will be more than happy to administer medication if your dog requires it. And you will gain access to their webcams to watch your puppy play with his friends during your spare time.
Daycare at Best Friends is available in a few different boarding styles. "Play and Stay" is comfortable boarding one day at a time in spacious, luxurious suites. "Puppy Play Group" is for puppies ages 8 weeks to 12 months who consistently attend the playgroup.
Consistent attendance helps puppies establish rank within the group and learn social structures among canine groups. "Doggy Daycamp" is for the fully grown dogs who need a place to hang out while their owners are out. These dogs spend their day playing, exercising, socializing, snacking, and napping.
Doggy Daycamp costs $25 per day or you can purchase 20 days for only $20 each. Puppy Playgroup costs $25 per day and is scheduled for Tuesdays and Thursdays. Schedule a tour to meet the staff members and the facility.
Sacramento Dog Daycare Information:
3. Lucky Dog Grooming & Daycare
Lucky Dog Grooming and Daycare offers just that – grooming and daycare! (As well as overnight boarding) Lucky Dog understands that each dog is different and requires special attention whenever they attend daycare. Staff members are willing to accommodate all needs your puppy may have. Dogs of different ages, sizes, and temperaments play in separate areas so no one gets into a tussle.
Daycare costs $30 per day. Feel free to sign up for any of their grooming services while your dog is there so he comes home fresh and clean. Give Lucky Dog a call to make a reservation and ask about enrollment requirements.
Sacramento Dog Daycare Information:
You will also like: Best Dog Daycares in Cincinnati and Best Dog Daycares in Jacksonville
4. Grateful Dog Sacramento
Grateful Dog is downtown Sacramento's first dog daycare and cage-free boarding facility. This daycare center started with a man on a mission to give dogs the cage-free playtime and comfortable rest they deserved. Now Grateful Dog has blossomed into a full-service boarding, grooming, and in-home dog walking business.
Daycare is devoted to playing. Sometimes with a splash in the pool! Younger dogs often play hard in the mornings and recuperate in the afternoon while older dogs pace themselves throughout the day. Midday is when dogs get their spa services with nail trims and baths.
A full day of daycare consists of more than 5 hours and costs $37. A half-day of daycare consists of less than 5 hours and costs $23. Multi-dog discounts are available. 10-day packages and monthly memberships are also available.
Sacramento Dog Daycare Information:
For More Puppy Content: Best Types of Goldendoodle Haircuts!
5. Camp Bow Wow – Elk Grove
Camp Bow Wow understands that your dog is more than just a pet. They take every step possible to treat your dog as part of the family. Your dog's safety and happiness are their priority every day. Daycare guests get to enjoy spacious play areas both indoors and outdoors. Counselors keep a close eye on playgroups. All staff members are certified in canine CPR and first aid in case of an emergency.
Dogs get all the socialization and exercise they need at daycare. Counselors encourage interaction and proper manners between dogs. While your puppy stays at Camp Bow Wow, sign him up for extra individual enrichment activities. Some activities include Snuggle Time, Play Pals, and Sniff & Seek.
Daycare costs $35 for a full day. Half a day consists of up to 5 hours and costs $29. Multi-dog and multi-day packages are available. Extra individual enrichment activities cost $15.
Sacramento Dog Daycare Information:
6. Animal Den Pet Resort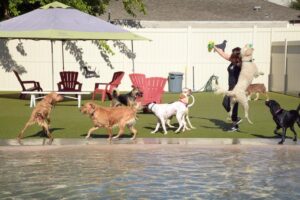 The Animal Den Pet Resort understands that you may not want to put your dog in a boarding facility, even if it is just for daycare. They want to assure you that your dog will be completely happy and well taken care of at their daycare center. The Animal Den has an awesome feature that is worth writing home about!
In addition to daycare services, Animal Den Pet Resort has a private individual swim center. The swim center is strictly one-on-one with owners and dogs. This is for owners who prefer private swim time with their dog, for dogs who have never been around water before or need time away from other dogs, or for dogs who are not spayed or neutered.
Daycare options at The Animal Den include regular Dog Daycare and Daycare Plus. Dog Daycare is your typical all-day off-leash play with exercise and socialization. Daycare Plus is for dogs who settle in better away from crowds of dogs or simply get along better with humans. The Daycare Plus Program includes a private room with an escort in and out of the building. These dogs still get plenty of playtime in the yards and interaction with staff members.
Both daycare programs require up-to-date vaccinations. Dog Daycare requires an evaluation to ensure your dog can behave with other dogs. Give Animal Den Pet Resort a call for rates.
Sacramento Dog Daycare Information:
7. Wag Hotel Sacramento
Last on the list of dog daycares in Sacramento is Wag Hotel. Wag Hotel is the ultimate boarding facility with swanky private rooms with plush bedding on full-sized beds, TVs, and mentally stimulating activities. Your dog's first day at Wag is free since it is an evaluation day. You have a few different options to choose from for daycare, depending on how much human and dog interaction your dog prefers. And remember that Wag Hotels require up-to-date vaccines for daycare.
Wag Hotels offers three different daycare options. First, All Day Play Plus consists of fun daily activities that incorporate exercise, wellness, rest, and stimulation. Second, Day Stay is for dogs who enjoy a little group play but not a full day of group play.
Part of the day is spent in group time and part of the day is spent in a private room for alone time. And third, One-On-One consists of private time spent with a staff member instead of group play with the other dogs. These dogs are either in a private room to relax or with a staff member to play and interact.
All Day Play Plus costs $37 for a day but discounts are available through multi-day packages. Day Stay costs $37 for a private room or $73 for a deluxe suite. One-On-One costs $37 but discounts are available through multi-day packages.
Sacramento Dog Daycare Information:
Conclusion For The Best Dog Daycares in Sacramento
As you can see, Sacramento has a lot to offer in terms of doggy daycare centers. They have amenities that your dog will love – like swimming pools and full-size beds. Pick a few daycare centers that seem like a solid choice and ask for a tour.
Meet the staff members, ask lots of questions, and see how your dog interacts with the other canine guests. Try out a few different places to see how it goes. And then see where your dog gets the most excited. That's probably the one to pick! We hope that you were able to find the best dog daycare in Sacramento for your puppy!
Other Articles You Are Going To Like:
Garrett loves animals and is a huge advocate for all Doodle dog breeds. He owns his own Goldendoodle named Kona. In addition, he volunteers at the Humane Society of Silicon Valley, where he fosters dogs and helps animals. Garrett enjoys writing about Doodles and believes that dogs can teach humans more about how to live than humans can teach a dog.
Why Trust We Love Doodles?
At We Love Doodles, we're a team of writers, veterinarians, and puppy trainers that love dogs. Our team of qualified experts researches and provides reliable information on a wide range of dog topics. Our reviews are based on customer feedback, hands-on testing, and in-depth analysis. We are fully transparent and honest to our community of dog owners and future owners.