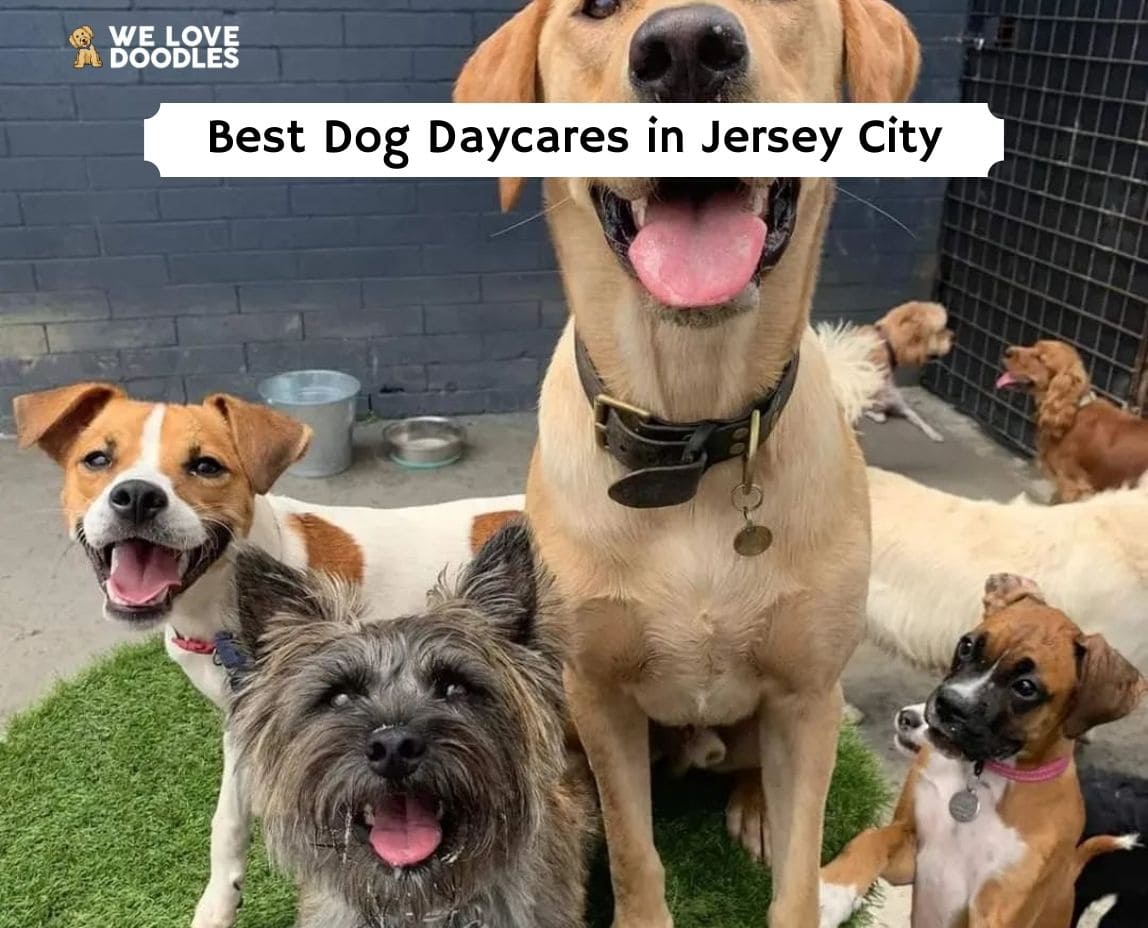 Do you live in Jersey City with a dog, but don't have time to take your beloved dog to the local dog park or walk him regularly? Are you looking for somewhere that will give both you and your canine companion the absolute best care while still allowing plenty of playtime?
Good news. There are many wonderful doggy daycares right in Jersey City. You and your dog will get to make new friends, socialize with other dogs, and experience all sorts of fun activities together! It might even be a nice change of pace from the daily routine you're used to at home.
So take a look at the list below and see what sounds like the best fit for you and your dog at one of Jersey City's top doggy daycare centers.
Other articles you would like: Best Dog Rescues in New Jersey and Labrador Breeders in New Jersey.
Every dog at the Executive Dog Lounge receives the same amount of one-on-one attention. The owners of the EDL pictured a place that was like home for your furry family member, with sofas, chairs, a fireplace, and a TV to keep them entertained.
A place like home where your dog can play all day while under the watch of attentive, concerned staff.
The Executive Dog Lounge is the only luxury dog daycare facility in Jersey City focused on tiny breeds! With a maximum of 6 visitors per team member, the staff gives hands-on care and individual attention to every dog.
The EDL believes that Modern Boarding is a way to provide overnight care for dogs, which they believe is the next stage in pet care evolution. Dogs' separation stress can be significantly reduced by familiar sights, noises, and scents of home.
Dogs spend their day at the EDL and then are taken home to sleep in the comfort of their own home at night then picked up the next morning and spend the day at EDL. This is repeated until the pet's parents pick them up from daycare.
The Executive Dog Lounge has the feel of home and they do everything they can to make your furry family member feel at home. We really think this is one of the best dog daycares in Jersey City.
Jersey City Dog Daycare Information:
Address: 192 York St, Jersey City, NJ 07302
Telephone: (201) 451-0672
Since 2009, Paws & Tales has been providing services to the Jersey City area and has been pampering their neighborhood dogs.
Paws & Tales dog daycare in Jersey City understands that dogs thrive on activity and fun, which is why they provide them with plenty of it. In addition to offering the puppies free play and organized games, Paws & Tales ensures they are active, happy, healthy, and comfortable throughout the day.
The weekday doggie playgroups are designed with playtime in mind. Your dog will be well-socialized and become an even better friend to you because of it. Activities that make the playgroups more than just a regular doggie daycare.
Are you concerned about adopting a dog from a shelter or getting a puppy? Paws & Tales will collaborate with you to offer a consistent training program in their playgroup and at your home.
Paws & Tales also provide free pick-up and drop-off to your house. When they deliver your dog, they will make sure he has fresh water and other amenities until you return home.
Walking and playgroups are offered on weekends. Boarding in a safe and secure home with a professional dog handler provides socialization and the dogs are never put in a cage.
Jersey City Dog Daycare Information:
Address: 36 Brook St, Jersey City, NJ 07302
Telephone: (201) 936-9153
Dogs at Jersey City Pet Resort day camp receive 5 hours of play and rest in the sun each day. This is the optimum daily amount of play and exercise for dogs.
They can run at their full intensity while playing on the huge property, which covers three-quarters of an acre and allows them to cover ground quickly while developing muscle and maintaining a healthy weight.
Your dog will love relaxing on the pool deck or in the shade with a member of the staff if he is older or is a calmer dog. The staff members divide the day camp playgroups into different categories based on their size and disposition.
Add a swim session for them to have an ultimate day of fun in the 1,100 square foot saltwater pool. Pet parents can now swim with their dog during the summer months, thanks to their new swim with your dog sessions.
All dogs that stay at our hotel will be able to play all day with our day camp dogs and have an additional 30 minutes in the early morning and evening before bed. Each guest is provided with a private room with a bed and blanket.
Make certain to watch your dog play on the pet cam to see all the excitement and fun he will have!
Jersey City Dog Daycare Information:
Address: 619 Marin Blvd, Jersey City, NJ 07310
Telephone: (201) 786-7900
The K9dergarten is proud to provide the finest dog care and a variety of services in Jersey City.
They are dedicated to revolutionizing the daycare sector with unrivaled daycare, luxurious boarding, and smooth transportation, as well as excellent grooming, walking, and training services.
It is our contention that with continued creativity, we can continue to provide the highest standard of living for every dog. K9dergarten is dedicated to enhancing the lives of canines through innovation in a loving, active, and healthy environment. They are dedicated to giving our best friends the finest care possible.
Dogs enjoy playing with their friends, the sun, and huge play areas. These are simply a few of their favorite things K9dergarten thought about when designing their state-of-the-art facility.
With a committed staff dedicated to the canine and human clients, they are determined to improve the doggy daycare business and make every day more memorable. Every dog deserves a stress-free, happy, and healthy experience at their home away from home.
Whether you're browsing their fashionable boutique or watching your canine companion play with friends, you'll know they are in a safe and pleasant environment. K9dergarten is delighted to be your canine companion's second home.
Jersey City Dog Daycare Information:
Address: 173 Newark Ave, Jersey City, NJ 07302
Telephone: (201) 435-8700
Camp Bow Wow has been providing dependable doggie daycare services for your furry family members since 2000. They have become very well known for their Doggie Day CAMP, but they also offer overnight boarding.
Doggy daycare services at Camp Bow Wow® help to improve the quality of life for your dog in a fun, safe, and caring environment.
They provide both canine and human interaction, which is beneficial to mental stimulation and socialization. Our large play areas allow for optimum enjoyment while allowing your four-legged family member to release some of that pent-up energy.
The Benefits of taking your dog to Camp Bow Wow are:
Maintains a healthy weight by engaging in regular physical activity.
Reduces homesickness, separation anxiety, and mischievous behavior.
Improves interactions with dogs and people
Increases your dog's general happiness
They can provide you with peace of mind that your dog isn't confined and alone at home. You can trust Camp Bow Wow to handle your dog with the finest, most experienced, and loving hands possible. If you're looking for a bigger corporate dog daycare in Jersey City, this should be your top pick. Camp Bow Wow is an established company with several procedures in place to care for your dog.
Jersey City Dog Daycare Information:
Address: 1414 Grand St Suite 101, Hoboken, NJ 07030
Telephone: (201) 503-4622
The staff of Tamed Paws feels that your pet is family, not simply a member of the family. They know that your pet is in excellent hands with them every time you call for an in-home pet sitter or for a fun day at doggie daycare because they have skilled personnel that is ready to care for your loved ones when you need it.
Your furry family member will love the 7000 square foot indoor/outdoor play yard. They understand how much you love your dog, and they'll be treated like royalty every time your family member is in their care. Even if it's only for a brief stay.
Tamed Paws' staff is committed to providing the highest level of care for your home and pet, and our extensive experience ensures that your property and pet are being looked after with the greatest of care.
The purpose and objective of their work have remained the same since their Pet Care and Dog Daycare services began: to treat clients' pets as if they were their own.
Jersey City Dog Daycare Information:
Address: 110 River Dr. S, Jersey City, NJ 07310
Telephone: (201) 969-6538
Last on the list of dog daycares in Jersey City is Palisades Pups. Palisades Pups take pleasure in offering the greatest daycare services for your dog. Their services are provided for your dog's well-being and happiness because they understand the critical role they play in your pet's life. They believe that they know them best, and it is through this understanding and knowledge of your loved one that they offer their quality care.
Your dog has fun and makes a few new friends in his community! They get to play in a 1200 square foot indoor play area and 600 square foot outdoor play area.
Palisades Pups also provides dog walking services rain or shine and pet grooming for your convenience.
Jersey City Dog Daycare Information:
Address: 216 Central Ave, Jersey City, NJ 07307
Telephone: (201) 656-0959
Conclusion for Dog Daycares in Jersey City
If you're looking for a reliable and trustworthy dog daycare, look no further than Jersey City's best. We've listed some of the top dog daycares in Jersey City to take your puppy while you work or play!
Other articles you would like:
Garrett loves animals and is a huge advocate for all Doodle dog breeds. He owns his own Goldendoodle named Kona. In addition, he volunteers at the Humane Society of Silicon Valley, where he fosters dogs and helps animals. Garrett enjoys writing about Doodles and believes that dogs can teach humans more about how to live than humans can teach a dog.
Why Trust We Love Doodles?
At We Love Doodles, we're a team of writers, veterinarians, and puppy trainers that love dogs. Our team of qualified experts researches and provides reliable information on a wide range of dog topics. Our reviews are based on customer feedback, hands-on testing, and in-depth analysis. We are fully transparent and honest to our community of dog owners and future owners.