Quaint Lexington, Kentucky, is home to a handful of wonderful doggy daycare centers. Certainly, one of them will be perfect for your puppy. These facilities evaluate your dog before officially enrolling him in daycare, for the safety of all the other dogs and staff members. It is also a good idea to keep your puppy up to date on vaccines so it does not get other dogs sick. When you have that all setup, you are ready for dog daycare in Lexington! Check out the list below and hopefully, you find the perfect daycare.
Other articles you would like: Best Dog Groomers in Georgtown, Kentucky and Goldendoodle Breeders in Kentucky.
Dogtown of Lexington is a fun and safe environment for your puppy to run and socialize in a way that is healthy for them. Dogtown is a cage-free facility where dogs play indoors and outdoors on grass and mulch, instead of concrete. They even celebrate your dog's birthday!
Daycare is currently by reservation only. A half-day of dog daycare costs $20 while a full day costs $26. Drop off for a full day or a half-day in the morning is 6:30 am to 9:00 am. Pick up for half-day mornings is noon to 1:00 pm. Drop off for a half-day afternoon is from noon to 1:00 pm. Pick up for a full day or the half-day afternoon is 4:00 pm to 6:00 pm. This dog daycare in Lexington is reasonably priced and very flexible.
Lexington Dog Daycare Information:
Address: 1026 Manchester Street, Lexington KY 40508
Telephone: 859-252-3647
Also known as a doggie paradise, Uptown Hounds is home to the only dog pool in Lexington. The in-ground saltwater pool is open three days per week for your puppy to enjoy a party with his friends. Adjacent to the pool is the huge backyard where dogs get to stretch their legs and run all day. And inside the facility is a large open area for puppies to run when it is too hot or rainy.
Daycare dogs are grouped by similar size unless a dog's personality shows they are a better fit in a different group. Additionally, dogs have constant access to fresh drinking water. They receive regular trips to the potty yard throughout the day.
Dog daycare enrollment begins with an interview and an evaluation day. Your puppy will get to know the daycare center and the other doggy guests. Once your dog successfully completes this – you are good to go!
DayPlay costs $32. DayBoard costs $40. 5, 10, and 20-day packages are available. For an extra $10, your dog may splash in the pool during pool season. We really like this dog daycare in Lexington.
Lexington Dog Daycare Information:
Address: 466 Agliano Avenue, Lexington KY 40508
Telephone: 859-554-2583
Dogtopia is an off-leash, open-play environment that encourages exercise and socialization. They strive to be the safest and cleanest daycare in the area. The play areas are sanitized twice daily. Dogs are separated based on size and temperament. Still feeling separation anxiety? Feel free to check on your puppy through the live webcams!
Your dog will need to do a meet and greet to make sure he is comfortable with off-leash play. The evaluation takes between 20 and 30 minutes with a staff member. During that time, you will get a tour of the facility and get to ask any questions you have.
A single dog daycare session costs $32. A half-day costs $22. Weekend daycare also costs $22 per day. 5, 10, 20, and 30-day passes are available with discounts. Monthly memberships are also available with 8 days per month, 12 days per month, and unlimited days per month.
Lexington Dog Daycare Information:
Address: 3801 Nicholasville Center Drive, Lexington KY 40503
Telephone: 859-755-4777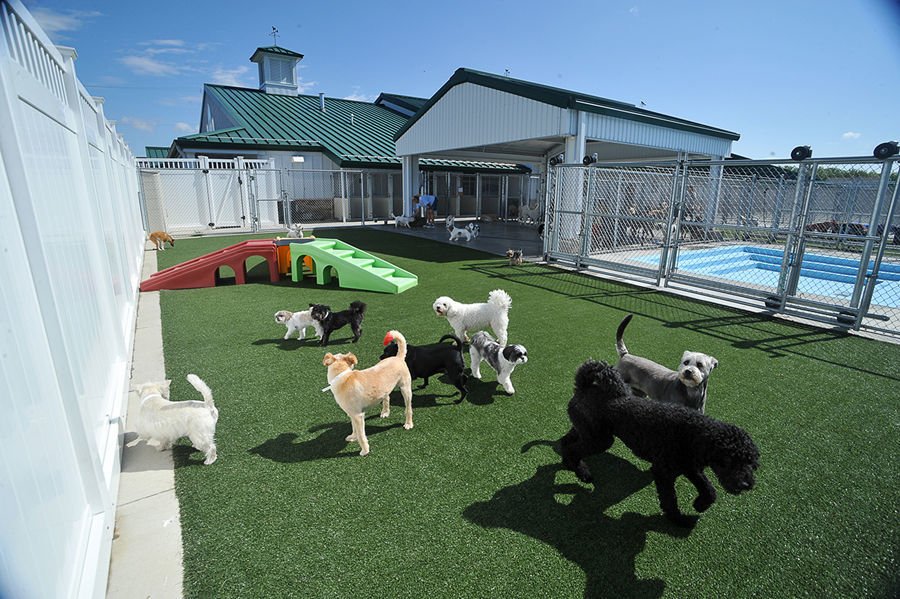 Pet Suites speaks to your dog. The team of Pet Pros gives your dogs personalized care in a fun environment. Each daycare guest is given a two-part evaluation before enrolling to ensure they are comfortable at Pet Suites and being off-leash with many other dogs. Dogs who are not so comfortable with off-leash free play get personal playtime with a Pet Pro.
Play areas include spacious indoor and outdoor areas for the playgroups. These play areas have many play structures for dogs of all sizes and energy levels. Dogs also have raised beds to relax on when they need a break. Water bowls are placed in many areas. Shaded areas let dogs cool off in the heat. And pool parties in the in-ground bone-shaped pool give your dog a chance to chill out and splash around!
Day Play includes 8 hours of structured playtime for the price of $27. Half days cost $19. Purchasing a 10-day package costs $25 per day. A 20-day package costs $23 per day.
Dogs must be spayed or neutered to participate in Day Play. In-tact dogs will be given the Day Board option. A single day costs $32. 10-day packages for Day Boarding costs $30 per day. A 20-day package costs $28 per day. If you're looking for personalized dog daycare in Lexginton, this should be your top choice.
Lexington Dog Daycare Information:
Address: 2057 Bryant Road, Lexington KY 40509
Telephone: 859-687-2347
5. The Local Wag Lexington
The Local Wag is your dog's happy place. They not only care for your dog to the best of their ability, but they also strive to educate the community about the issues that afflict dogs on a daily basis. Leaving your puppy in a kennel may seem like a good idea while you are away for the weekend, but it can be completely different from a dog's perspective. All the noise and smells in a strange place can be extremely stressful for your puppy. That is why so many daycare centers do a trial run for only a few minutes or hours, instead of all day. The Local Wag takes every step possible to keep your dog comfortable in a new environment and learn to love being at daycare.
Daycare gives your dog a healthy outlet to be themselves while you are going about your day. Your dog will be evaluated before officially enrolling in daycare. The Local Wag staff members look for social skills, play type, confidence level, temperament, communication skills, and problem-solving abilities. Through this, staff can look for any potential problems that may arise if your dog attends their daycare. Your dog may be super excited and overwhelmed at first, but The Local Wag understands that daycare helps your dog develop into more of a well-behaved, well-mannered member of canine society.
A full day of daycare costs $25 while a half-day costs $15. 5, 10, and 20-day packages are available. Daycare can be as cheap as $12 for half a day if you purchase a package deal.
Feel free to stop by their storefront to pick up some treats or toys for your puppy!
Lexington Dog Daycare Information:
Address: 371 Thompson Road, Lexington KY 40508
Telephone: 859-523-2516
Last on our list of the best dog daycares in Lexington, Kentucky, is LexPets. LexPets daycare program emphasizes good behavior and proper manners among all its canine guests. Your puppy will certainly be super excited and overwhelmed when he first visits LexPets, but the staff members will teach him to be a proper member of society. He will be playing nicely with his new friends in no time.
Dogs spend their days in the newly renovated Ruff Arena and in private kennels for quiet downtime. Not every dog has the same disposition for playing all day and LexPets understands that. So, they strive for a balance of play and rest.
Commonwoof Stadium is an outdoor play area with artificial grass and shaded areas. There is a designated fenced-in area for regular bathroom breaks to keep your dog on a routine.
Dogs are required to have vaccinations from licensed veterinarians, including rabies, DHPP, a fecal exam, and Bordetella. Senior pets and pets with special needs are welcome – just call to discuss special accommodations. Guests may not, however, have stitches, bandages, casts, splints, or wearing a head-cone. Females may not be pregnant or in heat. Puppies must be at least four months old. All pets must be free of fleas. LexPets will do their best to accommodate all dogs but an evaluation is required before enrolling in daycare.
Lexington Dog Daycare Information:
Address: 2111 Capstone Drive Suite 150, Lexington KY 40511
Telephone: 859-279-1862
Conclusion for the 6 Best Dog Daycares in Lexington, Kentucky
Hopefully, you found this list helpful in finding the perfect dog daycare. Lexington has a wonderful variety of doggy daycares in a variety of locations for your convenience. Be sure to thoroughly inspect a facility before leaving your dog for daycare. Ask for a tour (most places will happily oblige), chat with staff, watch the dogs play, and see how the staff handles emergencies and suddenly aggressive dogs.
You want to make sure they take the absolute best care of your dog while you are gone. Do staff members initiate play with the dogs? Are there play structures and kiddie pools to splash in? An open area to run around is great, but after a while, your dog will want activities. Staff members should have toys for mental stimulation and human interaction. And of course, if your puppy is pulling you towards the door when you arrive each morning, you definitely found the right doggy daycare!
Other articles you would like:
Garrett loves animals and is a huge advocate for all Doodle dog breeds. He owns his own Goldendoodle named Kona. In addition, he volunteers at the Humane Society of Silicon Valley, where he fosters dogs and helps animals. Garrett enjoys writing about Doodles and believes that dogs can teach humans more about how to live than humans can teach a dog.
Why Trust We Love Doodles?
At We Love Doodles, we're a team of writers, veterinarians, and puppy trainers that love dogs. Our team of qualified experts researches and provides reliable information on a wide range of dog topics. Our reviews are based on customer feedback, hands-on testing, and in-depth analysis. We are fully transparent and honest to our community of dog owners and future owners.