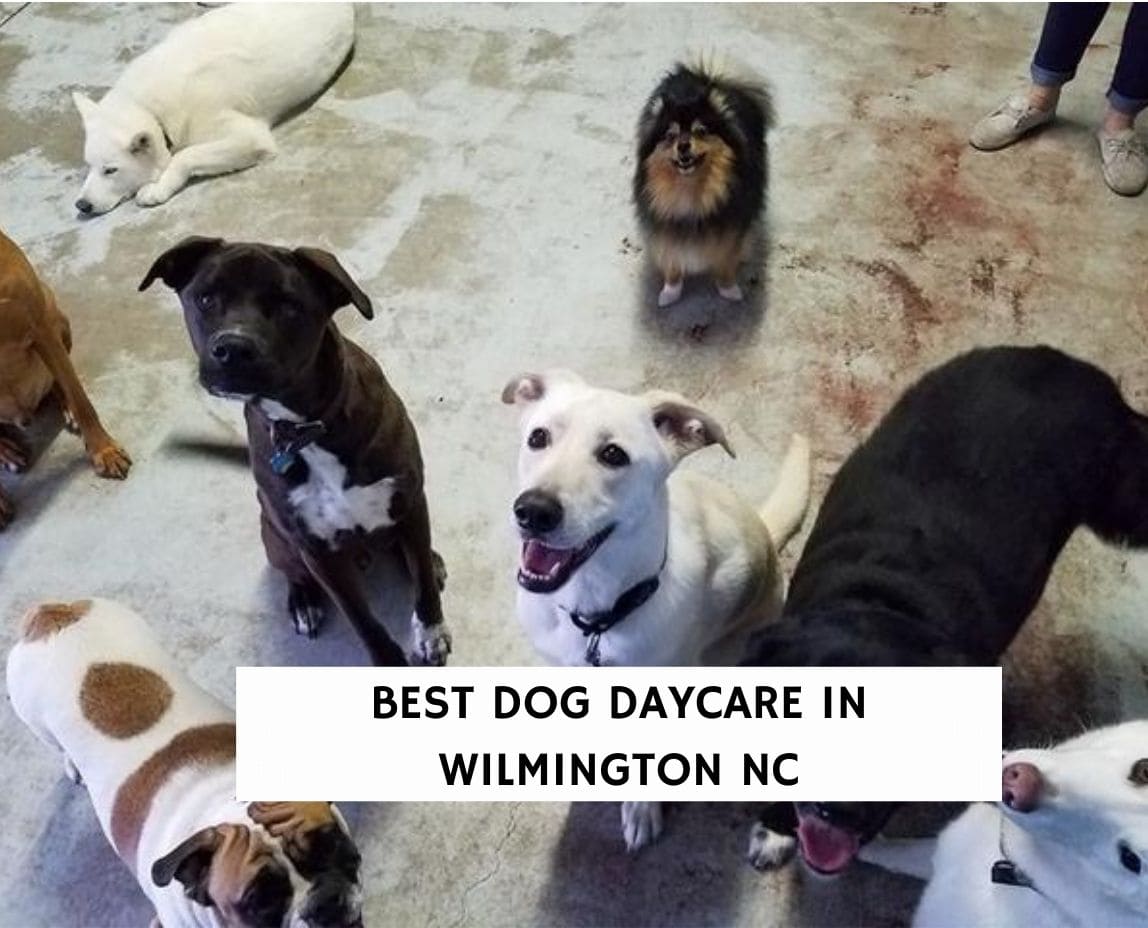 Every dog needs a little fun in its life. Daycares are the best way for most dogs to have that little extra fun every week. This is very true if you work all day and can't give your puppy the attention he deserves. But which of the many doggy daycares in Wilmington, North Carolina, is the best? Well, there are a few you should keep in mind.
Before scrolling down this guide, check out these related topics: Golden Retriever Rescues in North Carolina and Corgi Rescues in North Carolina.
Your dog will be ecstatic about its 11,000 square feet of canine paradise! It's brimming with activities to keep your dog entertained, including playing with pals, swimming, fetching, receiving cuddles from our hands-on staff, and learning new skills…to cite a few.
The Dog Play Spot is open and staffed 24 hours a day. The best thing about this dog daycare is that it is cage-free, so your dog will never be couped up.
Upon registering your pup, they do a personality test on them, which is extremely important, especially since the facility is cage-free. In addition, the Dog Spot has four webcams, so you can watch your pup play while sitting on your couch at home or from work.
This dog daycare in Wilmington, North Carolina, promises a day filled with socialization, activity, training, and fun. Their team of caring staff will treat your dog with the love and respect he deserves.
The Dog Play Spot also offers boarding. However, what they do instead of boarding is more akin to having a puppy-filled slumber party where your dog can chill out with their pals and snuggle with our team all night long!
Wilmington Dog Daycare Information:
Address: 2541 Carolina Beach Rd, Wilmington, NC 28401
Telephone: (910) 399-1463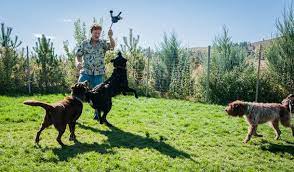 Rover's Ranch is the ideal location for your beloved companion to enjoy himself, make new friends, and get plenty of loving care.
Treat them to a "country feel in the city" at our 1.5-acre park-like getaway tucked among huge shade trees, which offer nearly-perfect privacy. They have two huge play areas with beautiful oak trees for your dog to run and play with other canines. It's simply not possible to get any better than this!
Rover's Ranch is one of the most significant dogs boarding and play camps in the Wilmington region. Each of their visitors is important to them, and they work hard to ensure their health, pleasure, and well-being. They also collaborate with our clients to ensure that any particular needs for their dogs are being met.
Social interaction is an essential behavior for dogs that helps them develop a well-rounded temperament. It is widely acknowledged that dogs who aren't allowed to exercise and socialize with other canines could become aggressive or destructive.
Their team carefully considers our daily "Play-day Camp" sessions, which is why they're so successful. Size does not always matter. The temperament and energy levels of the pets in a playgroup are essential factors to consider when making group selections and determining how they enter the playground area.
Their experienced care staff continuously supervises the full and half-day play camp at Rover's Ranch. As a result, you can be assured that they are as committed to your dog's enjoyment and safety as you are.
Wilmington Dog Daycare Information:
Address: 7030 Market St, Wilmington, NC 28411
Telephone: (910) 686-2332
Pet Paradise has got playtime covered for your furry family member.
Imagine a dog daycare facility that is so exciting that your dog's tail is wagging the moment they walk through the door.
Stop daydreaming because Pet Paradise provides all the playtime activities, swimming pool jumps, veterinary checkups in play yards, and behind-the-ear scratches to make "going to daycare" a billion times more enjoyable. It's a new era for pet care, and it looks like paradise.
An employee is always on hand to make sure your dog's day at day camp is a day in Paradise, whether it's playing with a bouncy ball or performing a cannonball.
This dog daycare is a paradise. They have splash pads & kiddie pools, and bone-shaped swimming pools and offer air-conditioned rooms to play in on those hot summer days. If your dog doesn't like getting wet, there are misting fans in the outdoor shaded yards.
Pet Paradise has playtime coordinators that supervise the dogs during playtime. Playgroups are based on size and activity level. Pets will enjoy the artificial grass play areas with jungle gyms and a ton of toys, and at days end, every pet parent gets a Lil' Camper Report Card for their pet.
They have live webcams to observe all of your dog's activities throughout their stay, including in case you want to check up on them to see what they're doing, who they're playing with, or simply how they're settling in. Don't be shocked if you find yourself becoming a Pet Paradise binge watcher!
Wilmington Dog Daycare Information:
Address: 6101B Market St, Wilmington, NC 28405
Telephone: (910) 392-0588
The most crucial elements of a joyful and healthy canine companion are exercise and interaction. The Diggs allows your dog to run, play, and socialize with other dogs.
They have two to three playgroups, each of which is tailored to a specific type of dog (smaller breed dogs and tiny pups), a medium group (if our daycare is big enough to be split into three groups; includes high-energy smaller breed dogs and puppies, as well as medium/larger dogs which are calm-tempered.
Staff will assign dogs to groups based on temperament evaluations and the other people in that day's gatherings.
The Diggs has both indoor and outdoor play areas for each group, all of which come with quiet spaces where your dog may take a break or relax without being disturbed.
Their doggy playgrounds are paved with porous yet thick turf not only to keep your pet clean but also to allow for thorough cleaning of feces and regular disinfection. While outside, every dog is supplied with enough shade, wading pools, and soaking ponds, as well as drinking water.
The Diggs indoor rooms are climate controlled, with ceiling fans for air circulation. The non-abrasive rubberized flooring provides a comfortable play surface and is waterproofed for sanitary purposes.
Paws & Claws Animal Hospital is located beside The Diggs, so if any pet emergencies arise, no problem. Their staff of professionals is well-versed in the best ways to care for your pets, and they follow a high standard of care for both their customers and pet parents.
Wilmington Dog Daycare Information:
Address: 210 Giles Ave, Wilmington, NC 28409
Telephone: (910) 408-2955
They are the area's best cage-free doggie daycare in Wilmington, North Carolina, so let them be your cherished puppy's safe haven. Leave your pet in their caring and capable hands whether you're away for a week or need someone to sit for a day.
They offer more personal playgroups, which are limited to 10 dogs and are meant to be less overwhelming.
Their whole staff has been properly trained on how to respond to difficult circumstances and establish a positive play environment, as well as avoid them. Boredom or overstimulation, which might lead to disruptions, is combated with a change of scenery and frequent rest breaks in our program.
A typical day at their daycare will include smaller playgroups that are switched between spending time in the indoor rooms and outside play yard, where they may run about even more.
Plus, for a change of pace, they have nap time halfway through the day when the lights will be dimmed and cots will be brought out so that they may relax before resuming their playtime.
These measures are in place to make their Doggie Daycare program as enjoyable and stress-free for the dogs as possible.
Wilmington Dog Daycare Information:
Address: 4140 S College Rd, Wilmington, NC 28412
Telephone: (910) 395-6555
Hounds Town is a fully interactive doggie daycare that allows your dog to engage in a structured, natural pack setting with other dogs of similar size and disposition. Dogs require regular interaction, which is an essential element of a dog's well-being.
Hounds Town – Wilmington, with more than 6,000 square feet of innovative doggie daycare, overnight dog boarding, and pet grooming services, is the ideal location for dogs to be dogs!
They provide a natural pack environment for dogs to play in groups of their size, temperament, and play style all day long, which is vital for a dog's healthy development.
Their state-of-the-art doggie daycare facility in Wilmington, NC, is a town for dogs with a cinema, barbershop, firehouse, police station, and pet hotel with luxury suites.
Your new dog pals are eager to play, and your furry companion is greeted by a teacher who will ensure that they get all they require throughout the day. Their unique dog daycare allows your pup to run and play with his pals for the day at our fully interactive doggy daycare while you're away for the day.
Wilmington Dog Daycare Information:
Address: 1611 Castle Hayne Rd, Wilmington, NC 28401
Telephone: (910) 800-4686
Conclusion for Best Dog Daycares in Wilmington, NC
We hope you enjoyed our list of the best dog daycares in Wilmington, NC., and hope this has helped find the best dog daycare for your furry friend. Before you choose a dog daycare, we highly recommend that you go and visit them in person and tour their facilities. You should also ask about their requirements for daycare as well as boarding. Most dog daycares will require your puppy to pass a temperament test as well as have up-to-date vaccines.
You will also like:
Garrett loves animals and is a huge advocate for all Doodle dog breeds. He owns his own Goldendoodle named Kona. In addition, he volunteers at the Humane Society of Silicon Valley, where he fosters dogs and helps animals. Garrett enjoys writing about Doodles and believes that dogs can teach humans more about how to live than humans can teach a dog.
Why Trust We Love Doodles?
At We Love Doodles, we're a team of writers, veterinarians, and puppy trainers that love dogs. Our team of qualified experts researches and provides reliable information on a wide range of dog topics. Our reviews are based on customer feedback, hands-on testing, and in-depth analysis. We are fully transparent and honest to our community of dog owners and future owners.