Having a dog can be very rewarding due to the unconditional love they provide. However, having a day job can leave you without someone to take care of your dog during the day.
If you are tired of leaving your dog alone at home for 8 hours every day, then it is time that you found Anchorage's best dog daycare. With daycares, your dog will be able to socialize with other dogs and play throughout the day.
Questions to Ask a Dog Daycare in Anchorage
When searching for Anchorage's best dog daycare, research is key to finding a place where you are comfortable leaving your furry friend. Here are some questions you may want to ask a potential daycare or boarding facility before deciding if they are the best for your puppy:
How long is the waiting list?
What is their vaccination policy?
Is my dog required to be spayed/neutered?
Will there be other dogs in with my dog?
Can I bring food and medicine for my dog?
What is the staff to pet ratio?
Do they provide fun services like grooming and training?
These are only a few of the many questions you should ask any potential daycare or boarding facility. In addition, these reviews often contain helpful information about what to expect from a daycare center and how your dog will be treated throughout the day.
They want their dogs to have a wonderful day. So they offer two huge interactive play areas with both indoor and outdoor settings.
They will look at your doggie's temperament and place them in the pack that is most suitable for them, with other dog pals who match their disposition and play style.
Before attending daycare, every dog must complete a 4-hour temperament test. Then, our new friend is introduced into our packs to determine which one they prefer.
They provide a variety of activities and games to keep your dog active and social, whether you have a lively puppy with lots of energy or an older dog who just needs some attention while you're away at work.
When you pick up your dog, they will be weary and pleased, making winding down after a long day at work more pleasurable. Besides, a sleepy dog is a good dog!
Anchorage Dog Daycare Information:
Address: 6130 Burlwood St, Anchorage, AK 99507
Telephone: (907) 561-3647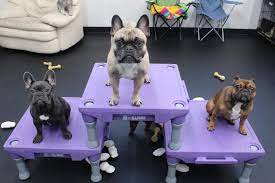 The K9 Tired Dog Activity Center caters to dogs of all ages, sizes, and breeds that are behaviorally sound. Their objective is to offer a dynamic combination of mental and physical exercise in a secure, entertaining environment for their canine guests.
They offer a variety of group and individual activities to keep your dog engaged, including off-leash play sessions. Each dog's unique interests are emphasized throughout its programs.
Each group and pet has its own unique hand-picked fun activities to offer physical and mental stimulation. Training games, scent tracking games, sports-related activities, brain games, massages for older dogs, picnics, and so much more are all part of the fun! This is balanced with rest time as well as delicious snacks between activities!
They have never offered a one-size-fits-all doggie daycare service. However, from experience and knowledge in the daycare business, they know that dogs can become bored or unsuccessful in a large group setting where socializing is the only entertainment option.
Most dogs will still benefit from group play as a source of exercise, but their staff is trained to provide these enhanced activities for a well-rounded day.
Anchorage Dog Daycare Information:
Address: 310 E Fireweed Ln, Anchorage, AK 99503
Telephone: (907) 334-6962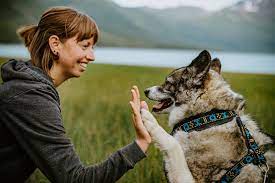 They are the first and only daycare and boarding facility in Anchorage, owned and operated by a Certified Professional Dog Trainer.
The facilities at Howling Peaks provide four distinct inside play areas for its canine clients. For big dogs, they have two huge indoor play areas. Both small and medium dogs have their own separate rooms.
Dogs are put in a group based on their energy level and temperament. They also have separate outdoor play areas for small and large dogs.
Dog Daycare is a fantastic way to enrich your dog. It might also help manage separation anxiety, avoid boredom at home, develop social skills, and more. They provide a stimulating social setting where your dog can meet their needs.
Why leave your dog at home when they may enjoy the day at Howling Peaks?
Anchorage Dog Daycare Information:
Address: 6614 Lake Otis Pkwy, Anchorage, AK 99507
Telephone: (907) 336-3647
The owners have many years of experience with dogs. They are now Mom and Dad to a five-year-old Shepherd mixed breed and an excitable three-year-old Siberian.
They have over 20 years of combined expertise working with animals and 10 years of direct experience working at doggie daycares, which has aided them in developing a well-rounded idea of puppy personalities and management techniques.
Arctic Tails offers the largest indoor open-air play area in Anchorage! An enclosed outside yard with steps, slides, bridges, and more built for dogs fulfills their need to run free. Large and small dog areas keep everyone safe while promoting positive relationships.
They are super pumped to roll out their new schedule, featuring recall training, daily enrichment, and playtime!
Enjoy their care every day for your fur baby while you're at work or vacationing.
Anchorage Dog Daycare Information:
Address: 1601 E 84th Ave #107, Anchorage, AK 99507
Telephone: (907) 644-1040
Animal Daycare & Boarding knows how important it is to provide your pet with a place that feels like home. They want your pet to enjoy their stay. Therefore, they play, pet, and give your dog plenty of time running and playing with the other dogs. As a result, you may leave your pet in Animal Daycare & Boarding's care with confidence.
The proprietors have years of expertise caring for animals and are animal lovers by nature. They've wanted to open Animal Daycare & Boarding facility; they began creating it a reality in late 2006 and opened in January 2007. They've attended dog training courses and are certified in Red Cross Canine CPR and First Aid.
They come across dogs that haven't had much to do with other dogs all the time. This isn't an issue because dogs learn at Animal Daycare & Boarding to have fun with other dogs. They also know that this is a secure environment and that humans are the pack leaders.
Most dogs make positive behavioral changes due to new experiences, such as being in a pack of dogs, using a dog treadmill, or utilizing a dog door. Many dogs learn to play, some get over their fear of other dogs, and many become more self-assured.
Anchorage Dog Daycare Information:
Address: 5716 Kennyhill Dr, Anchorage, AK 99504
Telephone: (907) 338-7777
Pampered Paws is a homestyle dog boarding, grooming, and daycare facility in Wasilla (near Anchorage), Alaska, that is both licensed and cage-free.
What does the term "homestyle dog boarding" imply? Your dog can walk about freely in their comfy home and huge securely fenced yards at Pampered Paws Dog Boarding, Grooming & Daycare.
When you're away, your dog may enjoy himself and socialize with other friendly canines instead of sitting home alone in his cage. You may take that much-needed break and rest easy knowing that your furry companion is having a fantastic time. Pets are also regarded as loved family members; thus, your pets are treated as houseguests at their home.
Choose from a variety of services at Pampered Paws. Pick your preferred timetable and services, and then just leave the rest to them.
~When your pets are there, they're family~
Anchorage Dog Daycare Information:
Address: 2550 N Tait Dr. Wasilla, AK 99654
Telephone: (907) 376-2275
Krystal's Canines is a company dedicated to giving your furry family members the most satisfactory level of care and pack experience possible! They try to create a fun environment and one that emphasizes excellent conduct/basic pet dog commands.
The dogs are together the whole day and aren't separated into single dog runs. As a result, it must first be assessed before enrolling your dog at Krystal's Canines. Krystal's Canines does not take in dogs with significant behavior or aggressive behaviors issues.
Krystal's Canines makes sure to get your dog familiar with the run before they bring them in. Dogs that are new to their facility get a transition period. Then they're put into playgroups of about six dogs per group.
They have an outdoor play area enclosed with a fence and a 2,000 sf indoor area for the dogs to romp and learn all during the day.
Come visit their doggie daycare or book a consultation today!
Anchorage Dog Daycare Information:
Address: 2110 s Glenn Hwy, Palmer, AK 99645
Telephone: (907) 414-3647
Conclusion for Dog Daycares in Anchorage, Alaska
One of the most important decisions you can make as a dog owner is finding an excellent daycare to take care of your puppy.
There are plenty of dog daycares in Anchorage to choose from. It is essential to care for your dog and keep them entertained and socialized with other dogs. If you're looking for one in Anchorage, we hope this list has helped!
Other articles you would like:
Garrett loves animals and is a huge advocate for all Doodle dog breeds. He owns his own Goldendoodle named Kona. In addition, he volunteers at the Humane Society of Silicon Valley, where he fosters dogs and helps animals. Garrett enjoys writing about Doodles and believes that dogs can teach humans more about how to live than humans can teach a dog.
Why Trust We Love Doodles?
At We Love Doodles, we're a team of writers, veterinarians, and puppy trainers that love dogs. Our team of qualified experts researches and provides reliable information on a wide range of dog topics. Our reviews are based on customer feedback, hands-on testing, and in-depth analysis. We are fully transparent and honest to our community of dog owners and future owners.