If you happen to be looking for a safe, loving, and professional daycare for your dog to spend their day then you've come to the right place. We've chosen some of the best dog daycare facilities in Tucson, to save you from the tiresome research. So, sit back, relax, and find your dog's future home away from home.
We know how important it is for you to find a credible place for your dog to stay. Each daycare center services an experienced and certified staff, trained in all things dog. We also looked at amenities, area safety, playtime, customized doggie care, and a variety of other factors that are important for creating a safe and joyful environment. Each dog daycare in Tucson offers different amenities so that your dog can look good, feel good, and have a place to stay when their main family is far away from home. So, let's get started. You'll find the details for each daycare center below. Check them out!
Other articles you would like: Labrador Breeders in Tucson and Friendliest Dog Breeds!
1. Dawg House
It's all fun and games at the Dawg House. Their staff promises that you'll be glad to pick up your exhausted puppy after a long day interacting with their friends. Approaching their dogs with compassion and patience, enables the dogs to enjoy a safe space with friends, and teaches them to be gentle in their daily lives.
They're not afraid to do the dirty work either. For a small fee, they offer baths, brush-outs, grooming, and even anal gland expressions. Yes, it's as fun as it sounds. Your dog will come out of the Dawg House feeling fresh as a daisy, and you don't have to prepare for that troublesome bath day.
After a long day playing with friends, dogs have the opportunity to stay in Great Dane-sized crates. Their climate-controlled room offers a comfortable and safe sleepover for your furry to dream the night away. Be sure to pack a lunch for your dog, when they next visit Dawg House. We love their dog daycare in the Tucson area.
Tucson Dog Daycare Details
2. Sit! Stay! Play! Tucson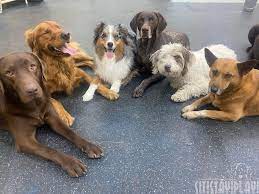 With years of experience and lives spent happily with dogs, Sit! Stay! Play!'s team can be trusted caring for your dog. They have staff studying animal behavior, veterinary science, and rescuing dogs in their spare time. Good luck finding a safer place.
When it comes to facilities, they tick all of the boxes. 6500 square feet of indoor and 1000 square feet outdoor space, climate-controlled rooms, safe rubber flooring, separated playrooms, webcams, and the list goes on for their dog daycare in the Tucson. Your dog will have the chance to socialize with friends in a supervised environment, providing stimulation and teaching them social skills and polite behavior. They'll be ready to make new friends during their next visit to the local dog park and will be acting their best when your in-laws are next in town. No sniffing Grandpa's crotch today.
Their reward-based training methods are dedicated to enhancing the human-canine bond. Following up-to-date research and guidelines, they will happily teach your puppy to become your number one companion, through both group classes and in-home training. They also offer comfortable boarding and give your dog the chance to have some fun in the bubbles at their doggie spa.
Be sure to check out their website for some adorable photos of their puppies at play.
Tucson Dog Daycare Details
3. Sol Dog Lodge and Training Center
This daycare center has certainly proved its worth, winning the Arizona Daily Star's Readers' Choice Award for Best Dog DayCare/Boarding. And, it's no surprise. They focus on supporting and protecting the special human-dog bond.
How do they do this exactly? People training classes. They will teach you, as the owner, to communicate clearly, foster the relationship, and understand your dog better during their two-class sessions. You will learn from Genie, a dog trainer and book writer who has won countless awards, including President Obama's Volunteer Service Award. This innovative approach to human-dog training has had a positive influence on many dog owners' lives.
You'll be happy to hear they also offer dog training, if you can't find the time, or prefer conventional methods. Also, your dog can relax for the night with their spacious boarding options or receive some well-deserved grooming at their dog daycare.
If any of your friends are looking for a new family member, they can adopt or volunteer/foster a dog through Sol Dog Lodge. There's nothing quite like the joy of providing a dog with a loving home.
Tucson Dog Daycare Details
4. Auntie Cathy's Dog Daycare
Specializing in doggie daycare for those 25 lbs and under, Cathy's is a wholesome place for your pooch to play, relax and wander with friends. Her clean home-style environment doesn't have runs or kennels, allowing your dogs the freedom to roam.
Auntie Cathy's has a personal touch that many dog owners love, with plenty of one on one human interaction and play with puppies of a similar size. If they need a place to stay for the night, then they can relax in the warmth of Cathy's home as they would if they were at their own home. It's quite literally the definition of a home away from home. Lots of TLC, brushes, and TV cuddle time, will be some of the highlights of your dog's day.
Each and every household member will have plenty of time to play and socialize in Auntie's dog safe yard, where they will be able to show off their skills with toys and entertainment. If your dog loves to showboat, then they'll fit right in. Pet parents will receive texts, pictures, and report cards so that you can tag along with your dog's day. If you want a small dog daycare in Tucson, this should be your top pick!
Tucson Dog Daycare Details
5. Paws Up Tucson
Dogs come in a variety of shapes, sizes, and personalities, and Paws Up is prepared for each and every one. The individually tailored playgroups help the dogs feel safe and secure throughout their day. Less anxiety and more fun. With no more than 10 dogs to a group, your dog will get plenty of time to form strong connections with their friends.
Sitting on a comfortable 1.5 acres of land, your dog will have access to a barn, mature shade trees, grassy areas, and spacious indoor areas. They will be rotated throughout the day so that they can get the full experience. They believe in socialization and engagement, teaching your dog to practice calm and polite behavior. Maybe, just maybe, your dog will sit on first command after their next visit to Paws Up.
Their loving and attentive staff also offer training and boarding. Their basic obedience group classes have proven to keep your dog focused in distracting environments. Quite possibly, not only a dog problem. Whether your dog needs some practice sitting, or nibbles a little too much, Paws up has you covered. Boarding options are also available, after those long days playing with friends, so that they can get the rest and recuperation that they need.
Tucson Dog Daycare Details
6. Dogtopia of Oro Valley
According to Dogtopia, we send our children to learn, have fun, and make friends along the way, and our dogs deserve the same treatment. They focus on enriching your dog's day through a safe but stimulating environment focused on learning, socialization, exercise, and play. Not only do they have certified and passionate staff but their facilities live up to all of the hype.
The perfect playground does exist, with lots of space to jump and roll, exciting obstacle play areas, and an off-the-leash approach, your canine pal will have the freedom to express themselves. Their indoor climate-controlled facility and rubber floors provide paw padding and keep your dog comfortable throughout their stay. Their team is also trained in dog body language so that they can support your dog during their open play.
If your dog needs a place to stay for the night then you can take advantage of their five-star accommodations. Boarding dogs enjoy full access to the open playrooms and comfortable home-style crates. Dogtopia knows that you'll miss your dog while you're away, so you can check in throughout their stay via their live webcams. Deep down, your dog knows you're watching.
Tucson Dog Daycare Details
Conclusion for Dog Daycares in Tucson
We understand how busy your lives can be, and therefore it's important to find the perfect place for your dog to meet friends, exercise, relax, and feel at ease even when they're away from their loving home. We've hand-picked six dog daycares in Tucson that you can trust, with an option for everybody. If your dog is a home-loving pooch, a playful pug, or just wants some good pampering action, we have a place for you.
Other articles you would like:
Garrett loves animals and is a huge advocate for all Doodle dog breeds. He owns his own Goldendoodle named Kona. In addition, he volunteers at the Humane Society of Silicon Valley, where he fosters dogs and helps animals. Garrett enjoys writing about Doodles and believes that dogs can teach humans more about how to live than humans can teach a dog.
Why Trust We Love Doodles?
At We Love Doodles, we're a team of writers, veterinarians, and puppy trainers that love dogs. Our team of qualified experts researches and provides reliable information on a wide range of dog topics. Our reviews are based on customer feedback, hands-on testing, and in-depth analysis. We are fully transparent and honest to our community of dog owners and future owners.